Tech Talk
French Polishing and Furniture Repair
Don Wagg
French Polishing is really just a way of applying wax. It is a way to highlight the grain of the wood as it produces a deep, clear finish. It's not good for table tops as it is not a sturdy nor water resistant finish. But it is good for touching up a piece. It seals in the color coats of a repair.
To start, fold a piece of soft cotton in 3rds to form a pointed piece. Wrap a piece of tightly woven linen around it to form a nice flat spot. This is the French Polishing pad.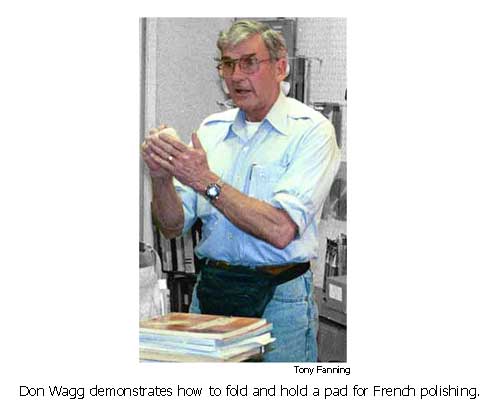 Equipment: Don uses a plastic drip bottle (old mustard bottle) for applying shellac to the rag. He also has a small plastic spray (pump) bottle for spraying on the alcohol, and a small plastic squeeze bottle filled with baby or mineral oil.
First you must fill the pores of the wood: Sprinkle pumice on the wood or on the cloth and oil the wood with the rag. Use a different rag for each operation. Don't clean off the excess oil with alcohol. Use paint thinner instead, so it doesn't pull out the shellac. Applying the shellac: You can build up as many layers of shellac as you want, as the alcohol will melt each new one into the old. The secret's in not rubbing it dry and in using the "airplane stroke."
The French Polishing pad is held in the fingers and palm and applied to the wood surface with the classic "airplane stroke" (mimic an airplane taking off and landing in parallel strokes). Don't use circular motions. Apply layer after layer. Rub only about 4 square feet at a time, then move to the next section. Let each rubbed coat dry (cure) at least overnight. Drop more shellac or oil onto the pad surface from time to time as needed. You can store the used pads in a Peanut Butter size jar so they don't dry out. Just spray a little alcohol on the rag before closing the lid.
Don protects his pieces with "Water White" (Bar Top) Lacquer by U.S. Cellulose (San Jose) as it doesn't obscure the grain. He buys in "high gloss" as you can always add silica flattener or flat lacquer.
You can use shellac over any other finish type. You can use analine (powder) dye to adjust color to match existing. Spray it on cardboard and pick it up with the rag for applying to the piece. Apply it to spots of turned legs, etc. that you want to highlight or simulate aging.
After the French Polish layering is done you can polish the final surface with Rottenstone, or add the aforementioned Bar Top Lacquer to protect the French Polish. Apply the lacquer with an HVLP gun. Don keeps one gun just for shellac, and one just for lacquer.
The first and last coats of the shellac can be 1/3 lacquer thinner. Bulls Eye brand liquid shellac has wax in it. But you can decant this by letting it settle to the bottom and pouring off the top shellac. Don also sprays a couple of shots of "Old Smoothy" (avail. from auto paint supply store) into the lacquer, so it doesn't fisheye when it hits the silicone that's often in existing finishes.
Shellac sticks heated with an electric or butane "Hot Knife" can be dropped into a crack and then pressed in as it cools. Good for a moderate depth hole up to 1/4in. deep. Then cut the shellac with 400 grit sandpaper. Be careful of the stain around the hole.
Or use the new 2 part epoxy fill sticks. These stick better to the edges of pieces, but you then have to color them.
---
References:
Understanding Wood Finishing - Bob Flexner's
The New Wood Finishing Book - Michael Dresdner
Hand Applied Finishes - Jeff Jewit
The Furniture Doctor
Wood Finisher's Handbook
The Manual of Furniture Restoration
Antiques Restoration and Maintenance BAWA Meeting - March 21, 2002
NOTE: This paper was prepared by Craig Mineweaser. It was so good that I just threw away my notes.
Mark Rand