The style of our future meetings
After we had to cancel our regular Foster City meeting in March last year and knowing it would be a few months until we could resume them, we dived into our Zoom on-line meetings in April without being sure if they they would be popular, or how they would evolve.
Zoom meetings had been suggested by some members who had already used them for private and business meetings; Bruce had a Zoom license and had already run meetings, so we had our experienced expert and off we went.
The meetings went very well; we had good attendance (including past members who were no longer in the Bay Area) and we were able to invite Guest Speakers from out of the area.
Bruce ran the password controlled invites and Paul ran our Virtual Workshops where members showed pictures of their workshops. He soon realized it worked better for some attendees if they sent their pictures to him in advance so he could assembled them with words into a slide format.
Way back in July this year we had a very enjoyable in-person picnic in Belmont which we were hoping would be the prolog to our regular meetings starting back in Foster City. Unfortunately the virus did not give up that easily and we had to continue Zoom meeting for a few months longer.
We are now hoping to start combined in-person / Zoom meetings in November. This is like starting fresh: we can change / improve the way we have our meetings and show our work etc.
Paul has sent out a survey on when and how best to hold our future meetings so if you have not already done so please take time to respond and add any comments you like on how you think we should continue.
Enjoy your woodworking.
---
The meeting was called to order by President Frank Ramsay.
Announcements:
October we will be another Zoom meeting. Patrick Edwards, the creator of Old Brown Glue, will talk about glues.
---
Respiratory Disease in the Workshop
Tom Gaston was our speaker. He spoke about respiratory disease in the workshop.
He noted that the nose and naval cavity are very good at filtering most of the dust that enters the body. Dust particles come in all different sizes and only the smallest particles will make it past the nose and into the lungs.
These particles are so small that they cannot be seen floating around in the air.
Tom mentioned that certain tools make finer dust particles than other tools. For instance, the bandsaw, lathes, and sanders produce finer dust than the tablesaw or router/planer/jointer.
He said that the best defense is to catch dust particles at the source - with dust collectors, rather than cleaning up the dust after the fact.
He said that you should not use compressed air to clean off surfaces, as that just circulates the dust. Much better to vacuum up dust than to blow it off.
Some people are allergic to wood dust and certain woods are known to be more prone to causing allergic reactions.
He listed a few websites where you can see what woods are the most likely to cause allergic reactions.
As for wearing dust masks, he uses disposable masks and does not throw them out after a single day, but is sure to let them dry out after each use, as moisture from your breath will collect in the mask.
The best news was that the hobby woodworker is not likely to suffer any serious respiratory disease from woodworking dust.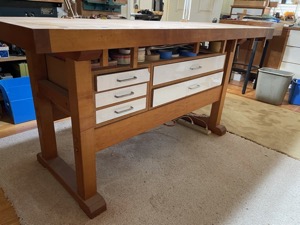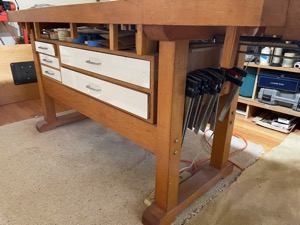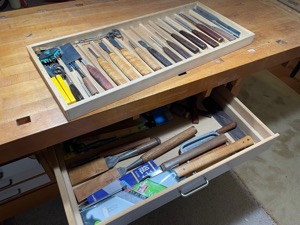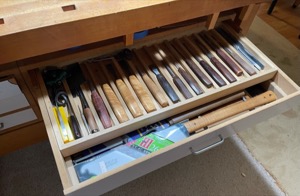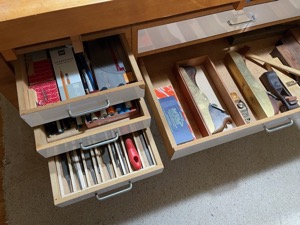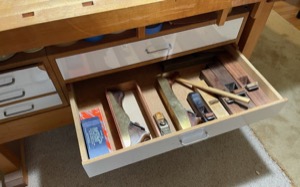 Yeung showed off his hand tool storage under his workbench. He has drawers for hand planes, knives, rulers, marking tools, and files. All neatly arranged.
Tom Gaston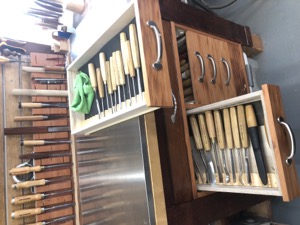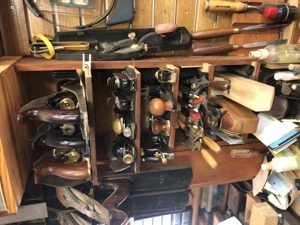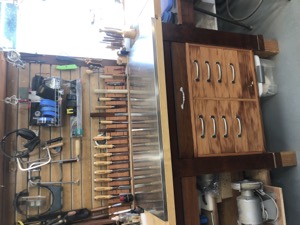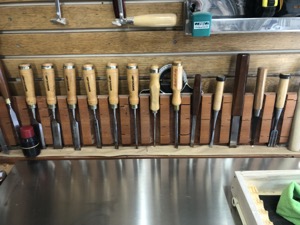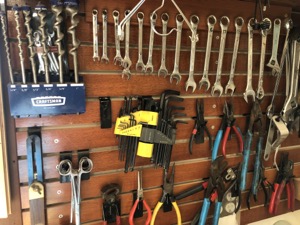 Tom showed us his chisel, carving tool and plane storage He has a slatwall for hanging a number of tools.
Harold Patterson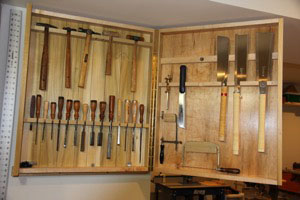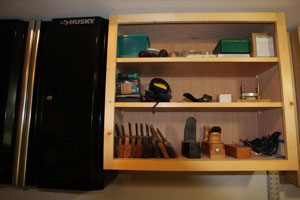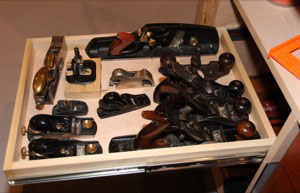 Harold showed his full extension drawer mounted under his workbench He keeps his most used planes in it.
A wall cabinet houses molding & specialty planes and tools.
He has a metal cabinet for finishes. He made a wall cabinet for chisel, saws and hammers
John Wilson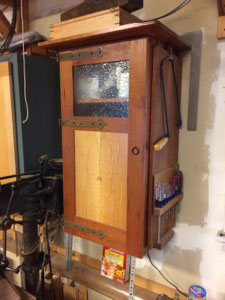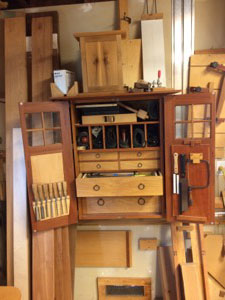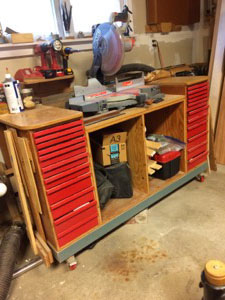 John showed his handsome hand tool storage cabinet and chopsaw stand with storage.
Lloyd Worthington-Levy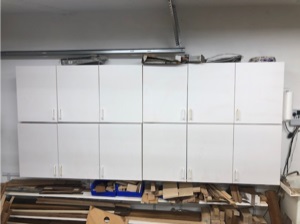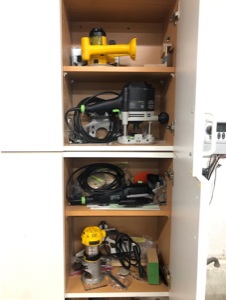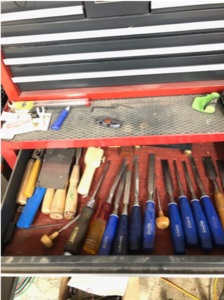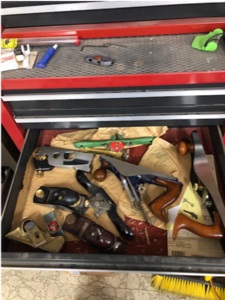 Lloyd showed his Ikea wall cabinets that have been with him through 4 different houses over the years.
Most of his smaller tools are in steel rolling tool cabinets.
Dennis Yamamoto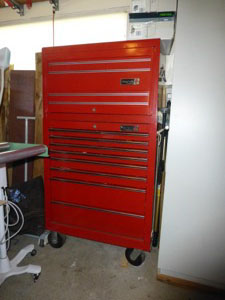 Waterloo mechanics cabinet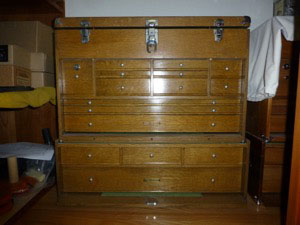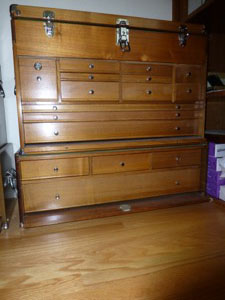 Dennis has a particle board cabinet, a re-purposed kitchen cabinet
and a Waterloo mechanics cabinet.
He also has two very fine Gerstner and Sons wood tool chests.
Jon Kaplan
Jon showed us his "Cheapo" workbench with plenty of storage.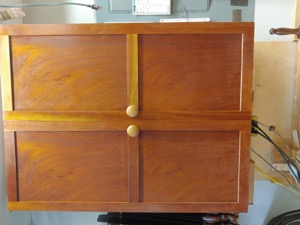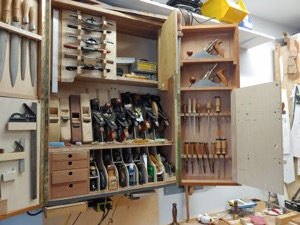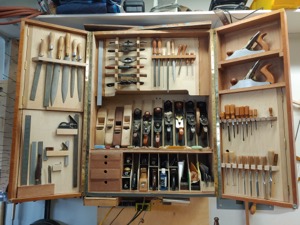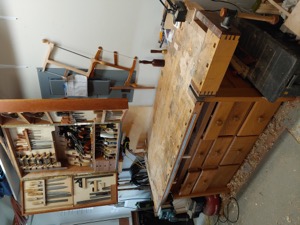 Neal White showed off his custom made tool cabinet
filled with a large assortment of hand tools.
---
Burt Rosensweig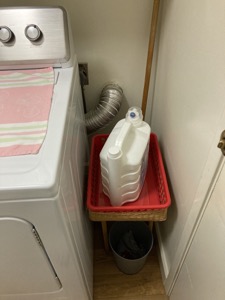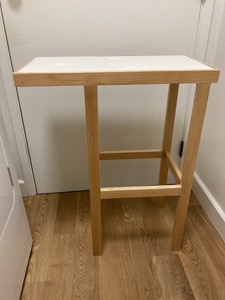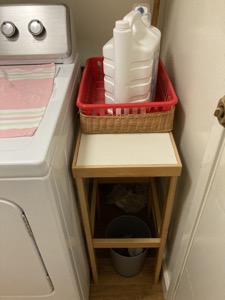 Burt showed photos of the laundry detergent stand he built that hides the dryer vent.
He mentioned that it was made from maple recovered from a bed frame that was being thrown out.
Machined mortise and tenon joints are used.
Burt has a MicroMark desktop milling machine that he used to cut the mortises.
He cut the tenons with a Freud dado blade on the tablesaw.
Mateo McCullough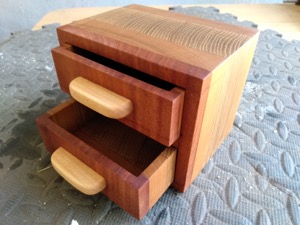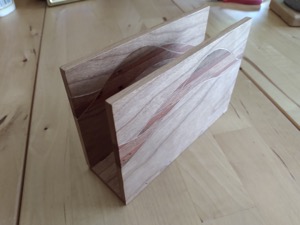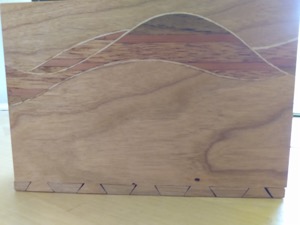 Mateo showed his bandsawn box with drawers, made from Maple, Oak, and Cherry.
He mentioned that he was given a bandsaw,
so he created the box and he created a nice mail holder with wavy laminated sides
made from Redwood, Mahogany and Ash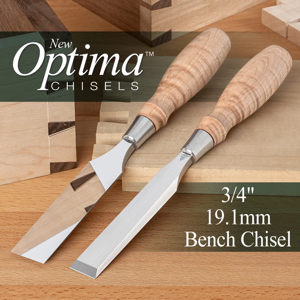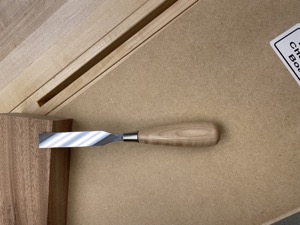 Jon showed the Optima chisels from Blue Spruce.
They have mirror finished backs that are extremely flat.
Jon Kaplan
Jon showed the female head he created (for a work project) using his CNC router.
Harry Filer
Harry showed another one of his boxes. This one had a live-edge on the top and was made from Redwood and Maple.