Brooklyn Basin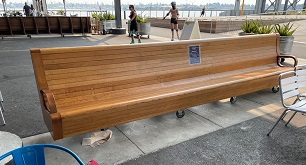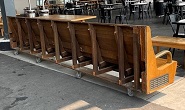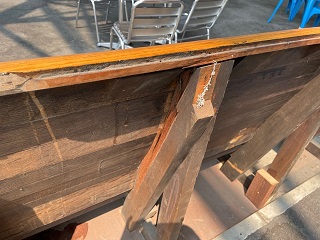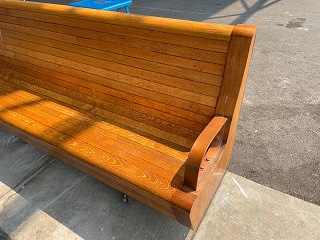 We visited Brooklyn Basin in Oakland recently, a new, 3500 unit, development next to the water front.
We were not looking for a new home but had read about the Public Park and decided to visit it.
It is the site of the 9th Avenue 180,000-square-foot Terminal building
Originally built in the 1930s, it has been changed into a recreation area next to the bay for concerts and other activities.
The woodwork connection I found was the dozen or more 10 ft. long wooden benches
that had been mounted on casters so they can be moved around and taken inside at night.
I think they are from an old railway station and had been been cutout and stored.
(I thought the benches were from the Sacramento main line station or the old transit center in San Francisco
but, after looking at some pictures, I am not sure.
If anyone knows where these benches were from I would appreciate it if you let me know)
Enjoy your woodworking.
---
The meeting was called to order by President Frank Ramsay.
Jon Kaplan announced we have 43 paid members.
Announcements:
New Members:
We were pleased to welcome:
Mark Hanson, a beginning woodworker, and David Millard, a returning member after a long absence
Guest:
Mike Pocock of San Rafael - Mike plans to join.
---
Jon Kaplan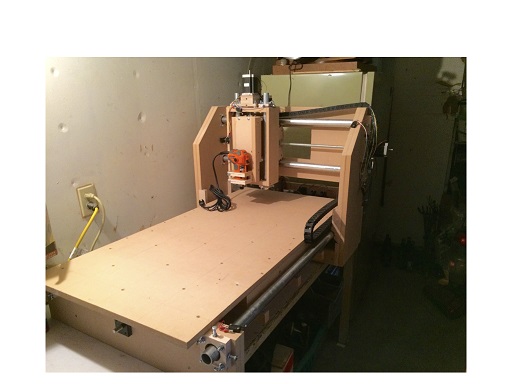 "My first CNC router designed and built by me."
"Mostly MDF with a Ridgid trim router."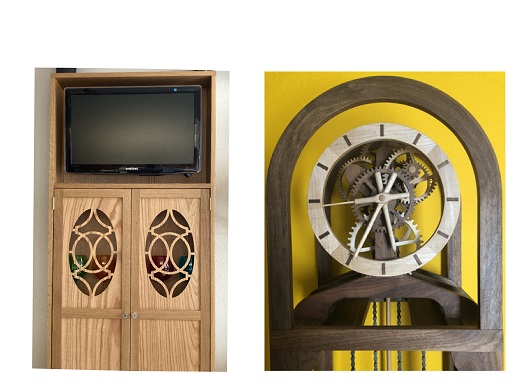 "For some furniture and, of course, clock parts"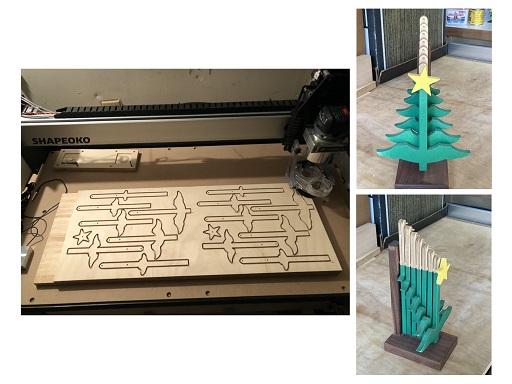 "But I've used it mostly for 2D work"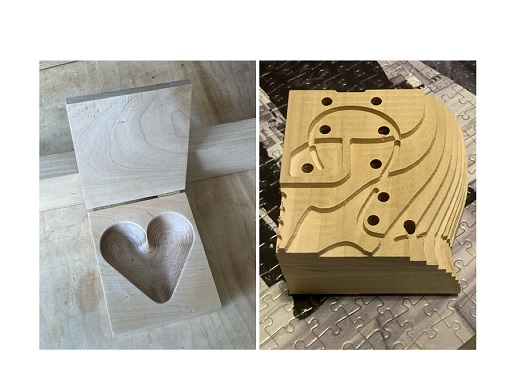 "Fully 3D capable"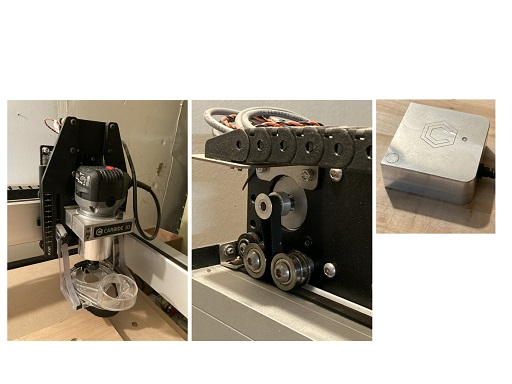 "Spindle with dust collector apron "
"Driven by timing screws, no lead screws"
Touch plate for zero-ing the Z axis - well worth the expense"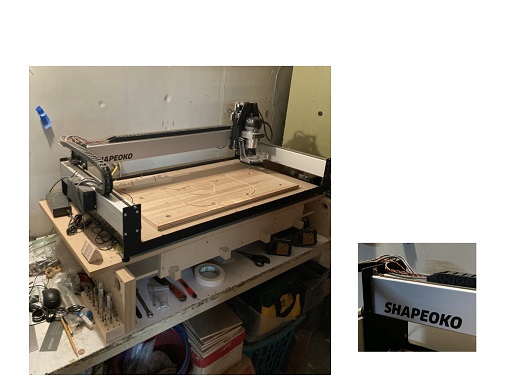 "Upgrade to a well designed, purchased, machine"
Shapeoko by Carvon 3D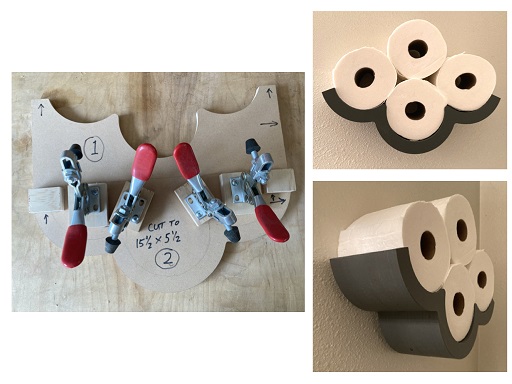 "Also really grest for making routing templates"
Lloyd Worthington-Levy
3D printed cyclone filter
3D printing is a convenient way to make that "one of a kind" part for a template, jig or other more complex parts.
My experience has been with a PRUSA Mk3 printer which can print parts accurate to 0.1 mm.
Some of the 3D models available for download are exactly what you might need. Others can be designed in one of the free 3D CAD programs like Fusion 360.
Online resources like youtube have a lot of useful tutorials on both 3D printing and 3D CAD.
This example is a mix of a downloaded cyclone separator and custom hose adapters: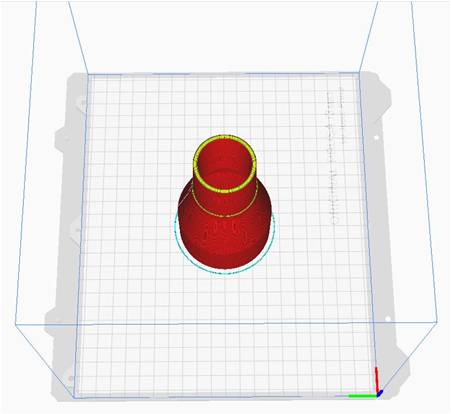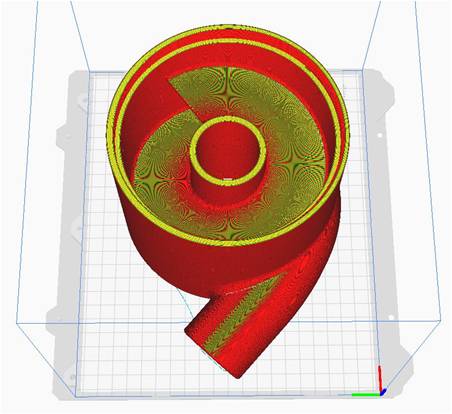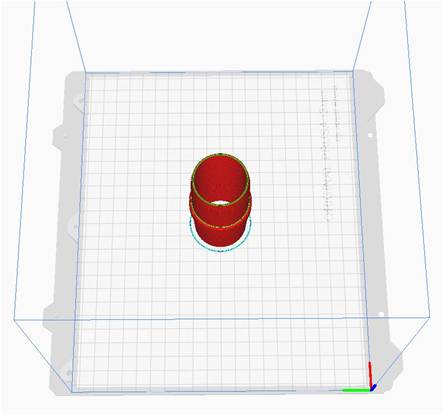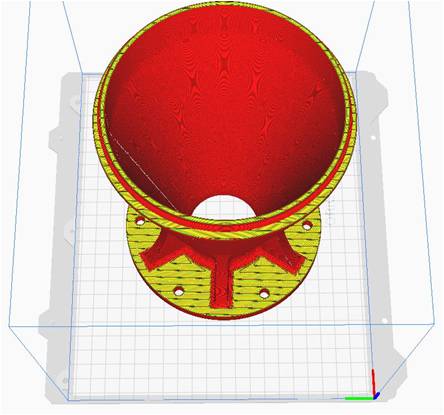 3D models are sliced into layers for printing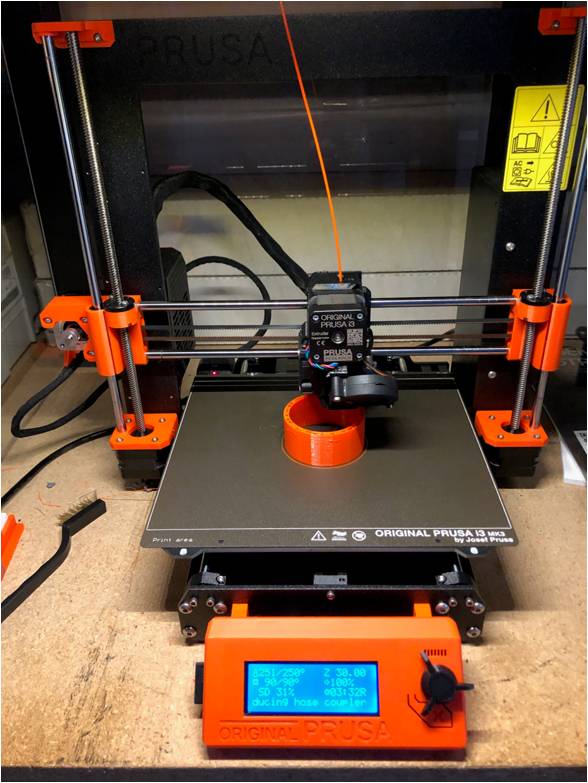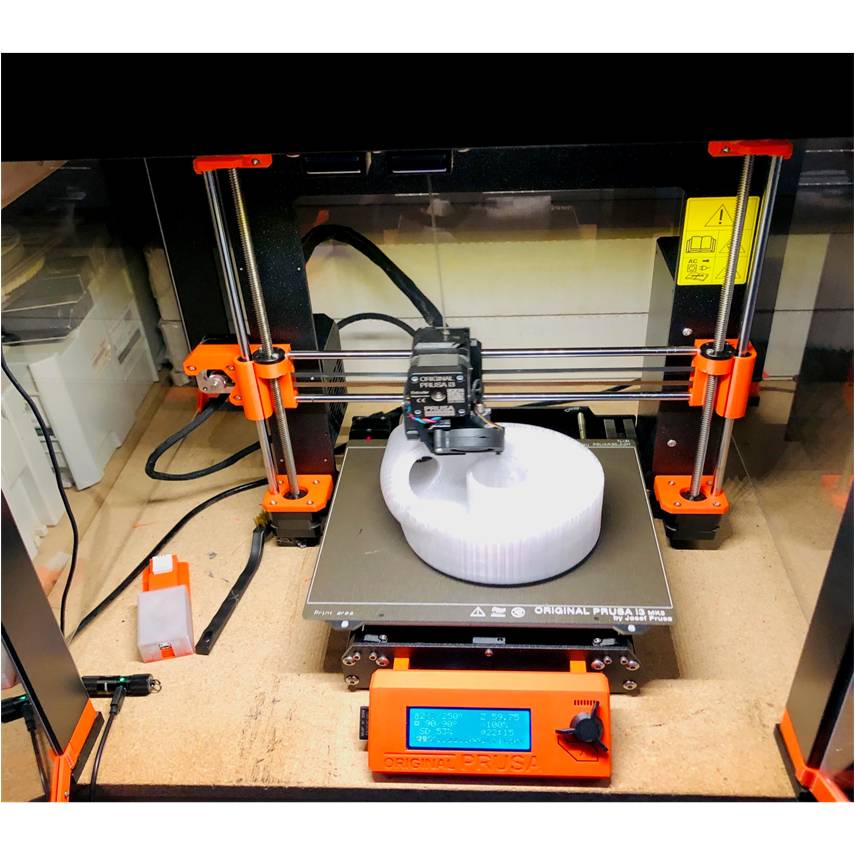 div class="row">
Sliced models are printed - it took about 5 days to print the parts.
Paul Krenitsky 3D modeling.
Paul talked talked about the process of growing, or building, things by means of 3D modeling.
The process is called: Fused Deposition Modeling (FDM) or Fused Filament Fabrication (FFF) - they are both the same, just a trade mark difference
There are many companies that offer a service where you send your 3D design file over the internet and they send your 3D grown part to you a short time later. Jamie designed his own dust mask which is a molded plastic mouth piece that takes standard size 3M filters. 3D printer material comes on roles that cost $25 to $45 per role but last a long time. Jon showed a 1Kg spool of 1.75 mm diameter material that cost $40

---


John Wilson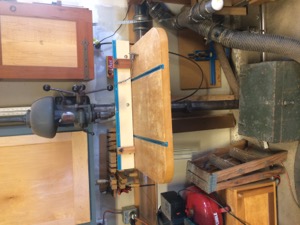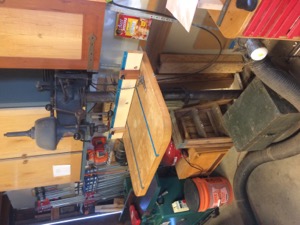 "15" Walker Turner floor mounted drill press.
I've added a table with fence and adjustable stops."
Burt Rosensweig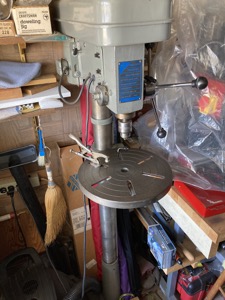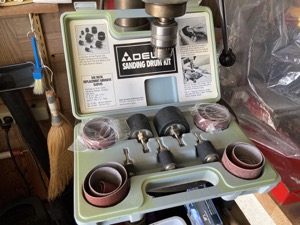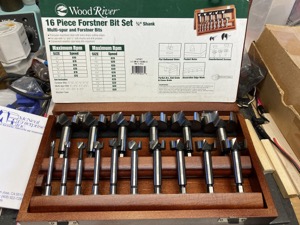 It is a Jet 5 speed 14" floor standing. I use it for woodworking and metal working. I picked up a nice Delta sanding drum set at a garage sale.
It is quiet, has a built-in light, easy to move the table around, easy to set the depth stop, and to change speeds. The only limiting factor is that it is only a 5 speed
I can't slow it down as much as you can with a 12 or 15 speed.
Jonathan Axelrad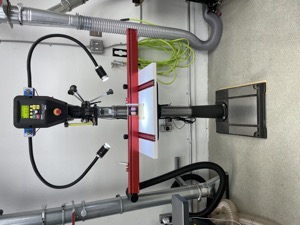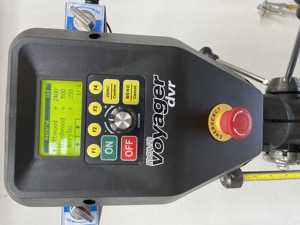 "This is a Nova Voyager drill press, which I bought last year to replace my 25 year-old Craftsman.
It has a direct drive motor, which means no belts and pulleys. You set the speed with the press of a button.
It also has a bit of artificial intelligence built-in. You can input the type/size of bit you're using and the material you're drilling into.
Then it will tell you the recommended speed and allow you to set that speed with the press of a button.
This is a great feature and I use it all the time. It has a bunch of other bells and whistles, most of which I don't use.One feature, which is supposed to stop the bit from spinning when you reach a pre-assigned depth, is a bit finicky.
While it mostly works, I prefer to use the mechanical depth stop, visible on the left.
Overall, I'm very, very happy with this drill press. It's very solidly built, has virtually zero run-out, and is easy to use. I highly recommend it.
The magnetic-base lights are from Woodturners Wonders.
The older I get, the more light I seem to need.
These are very bright and easy to adjust."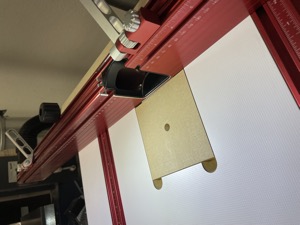 The red fence on the table is from Woodpeckers. The best thing about it is the built-in dust collection which, frankly, is awesome. The flip-stops are "ok" but not great.
Someday, I'll make or purchase some better flip-stops.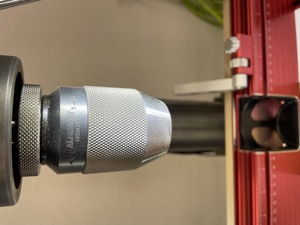 While the OEM chuck that came with the drill press was pretty good, I upgraded to the keyless Albrecht chuck you can see in the photo.
When I installed this chuck, the overall runout improved from very good to downright excellent. It's also quite nice to ditch the chuck key.
The one "negative" of this approach is that you can't use the keyless chuck and run the drill press in reverse.
Yes, the Nova Voyager can run in reverse. Having said that, over the course of the last year, I've never actually had a situation in which I wish I could have run the drill press in reverse.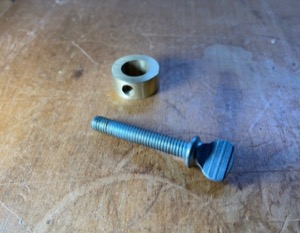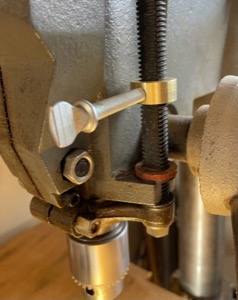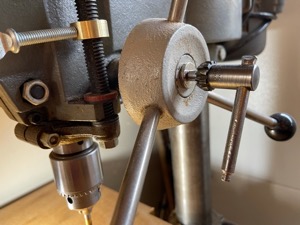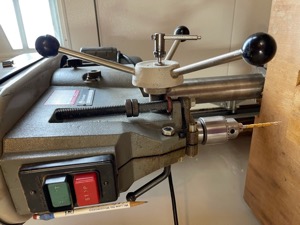 "I made this modification:made a depth adjustment replace the two round nuts(too slow!)also a magnet key holder."
Bill Henzel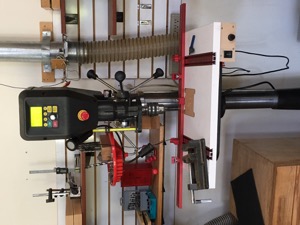 Dennis Yamamoto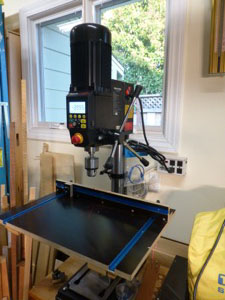 Nova Viking
DVR variable speed
Shop built table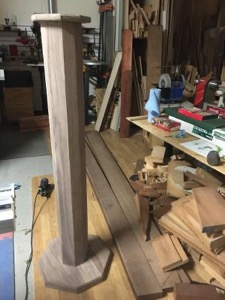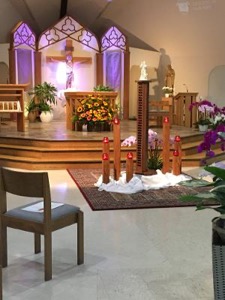 Here are some photos of a memorial tower that I just finished this past week for show and tell.
The tower is made of eastern black walnut.
It is is 53 inches high representing the 53 parishes that make up the diocese of San Jose.
The brass plates contain the names of all the priest that have died since the diocese was founded.
The tower was dedicated last Wednesday, the feast of Saint John Vianney.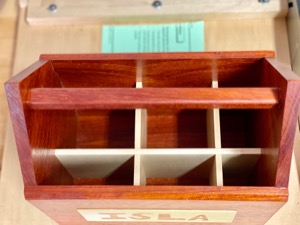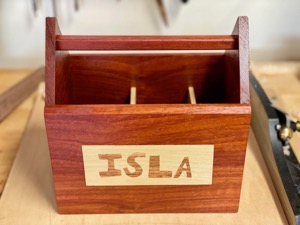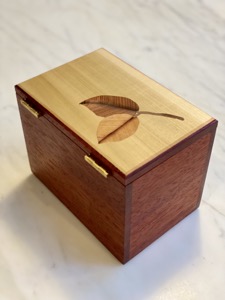 My neighbor who is in grade school build the tool caddy and the lidded box.
Dennis Yamamoto
Bathroom cabinet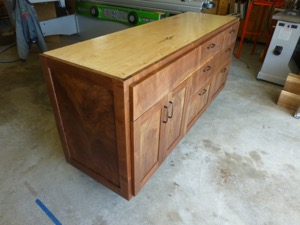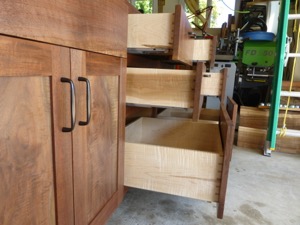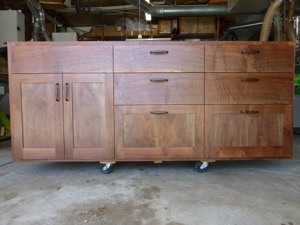 Walnut face frame, doors and drawer fronts
Soft Maple drawers
pre-finished Maple plywood carcass
Blum Movento slides and clip-top hinges
Paul Krenitsky
Hall Stand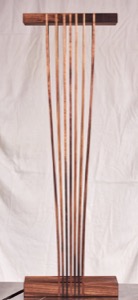 The legs are made from Walnut 1/4 in thick glued with epoxy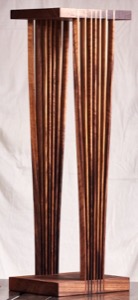 Side view shows legs set into the base.
>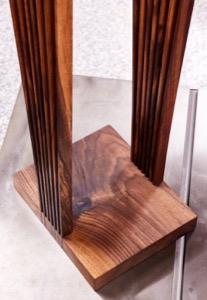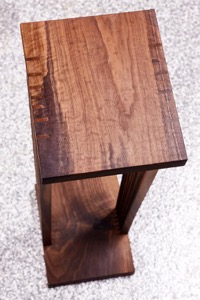 Walnut top showing transition from heartwood to softwood
"The table has a very slight left to right sway but is very strong"
Plus House Number Plaque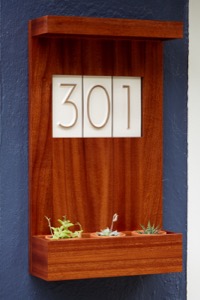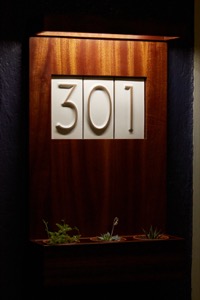 "My first attempt at veneering
The boxes are veneered with Sepal cut at 1/16 thick"
"As the Plaque will be in an outside exposed location I used epoxy for the veneering"
Comment from Jamie: "Gorilla glue is a polyurethane glue and best for gluing in this type of situation as it expands to fill gaps.
(It is a replacement for formaldehyde glues which are no longer allowed in CA)
Provided the wood is clamped tight together the foam only oozes out at the ends and easily scraped off.
It needs 70oC to cure."
Neil White
Pennsylvanian Spice Cabinet
/div>


The cabinet is based on the Fine Woodworking plans about 30? years ago.
Walnut
Holly stringing
Neil used a Lee Valley Scratching Stock (Neil has not yet been able to varnish the box due to the heavy rains on the east coast)


---