Presidents Message
Fellow woodworkers
This President's Message is about this Newsletter.
You will notice a major format and style change. This is because I wanted to change the style to be "reconfigurable" which means readable on all sizes of screen from cell phone and tablets to full size computer screens as many people only use a cell phone or handheld device for reading items on their computer these days.
The old format was readable on a cell phone but you had to enlarge the text with swipes of your fingers to be able to read it. This change is intended to remove that problem.
BAWA website Home page and the Schedule, or Calendar, have been in this format for a couple of months.
In BAWA we do not employee a large team of software quality experts or even guinea pigs to run through these pages to see if they work on all computers and devices etc. so the new styling will be full of bugs. I would appreciate it if you let me know of problems you encounter or improvements you can suggest to make this a better reader experience.
---
The meeting started late. Eight-foot long strips of mahogany cluttered the tables along the edges of the room. The scavengers had pounced; prying prized molding strips out of stacks from under the noses of their less aggressive, but still frenzied BAWA members.
Was this behavior a collapse of decorum? Pandemonium? Had the BAWA members suddenly reverted to juvenile incivility?
No, the answer was too simple. It was greed.
Bruce Powell had snagged, at a fire-sale price, a raft of long Mahogany molding strips at the closure auction for Wooden Windows, a door manufacturer in Oakland. Tonight these rare and beautiful strips were being offered to BAWA members at the ridiculously low price of $1 or $2 each. And, the frosting on the cake is a prize, a $25 gift certificate to Rockler. At the March BAWA meeting, members will vote to choose the best wood project made using this mahogany wood. Toilet paper racks anyone?
New Members and Guests:
Joining us as guests tonight were Frank, Hans and Scott who is a member of West Bay Wood Turners, lives five blocks from Woodcraft!
Upcoming Meetings:
March: Ken Napior, Finishing and the Molding Contest
April: John Lavine, Chinese and Japanese joinery
June: Jon Kaplan, How I made my own three axis CNC router
July: John Vogel, Wooden screen pattern making
Announcements: The Palo Alto Adult School has a large drum sander for sale. See Claude Godcharles. BAWA now has 40 paid up members for 2019. Hans joined this evening. Our goal is 54 members. Jon Kaplan will be attending a class hosted by a colleague of Larry White, our BAWA presenter in December 2018. If anyone is interested he is willing to share a drive to Rancho Cucamonga.

---
Bruce Powell
Jigs and Fixtures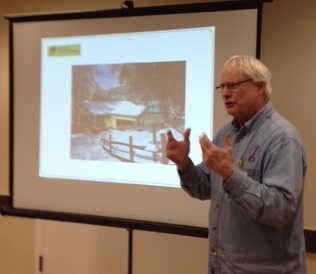 Bruce has two shops, one in his garage in San Francisco, the other at his house in Groveland. With limited shop space and traveling between two shops, it is easier to haul jigs and fixtures than machines.
Bruce designed this presentation to be interactive and encouraged BAWA members to bring in examples of their own jigs and fixtures and to be part of the presentation.
Bruce classifies his jigs and fixtures into three categories:
1. Essential Jigs—Use everyday
2. Necessary Jigs—Use sparingly
3. Specialized Jigs— Use for specific projects only
Essential Jigs
In 2009, FWW magazine published an article titled "Jigs 101" in issue #209. It is a good starting point.
The table saw sled is an indispensable tool for accurate cross cutting work.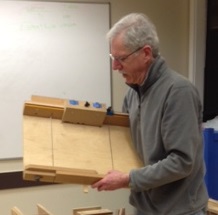 Jon Kaplan made one for his shop that is multi-functional: a sled for crosscutting and also for tenon cutting.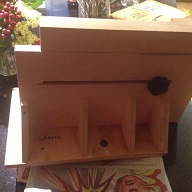 Tom Gaston's tenon cutting jig. This type of jig can be mated to the table saw fence. Mortising jigs are used with hand held routers or on the router table.
Bruce Powell made a cutting sled for the router table that can be also be used as a rip saw guide.
Necessary Jigs
Include feather boards used on band saws, table saws and router tables.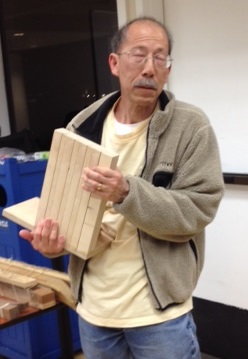 Dennis Yamamoto made a band saw featherboard with polycarbonate feathers to hold the work piece against the fence.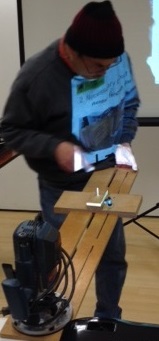 Yeung Chan showed us his circle-cutting jig, first presented in FWW magazine in 2005, Issue #177. It can cut circles up to 72 inches.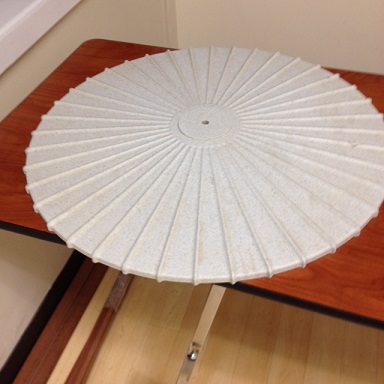 Yeung's complementing the circle cutter is a bridge jig allowing Yeung to carve pie shaped sectors into a round table top, each defined by a raised vein radiating from the center to the outer edge. He used a dual headed cutter, with a spacer for the panel thickness.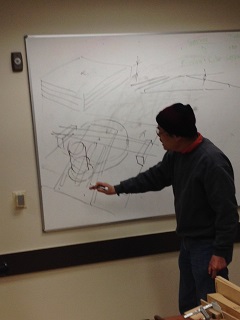 Yeung explaining how he cut his round table top.
Yeung Chang made a 45 degrees angle cutting sled for his Felder saw.
Burt Rosensweig has been hanging lots of doors and has made a hinge mortise jig.
Bruce Powell made a jig for cutting variable angles on panels by simply adjusting the fence angle and locking it in place.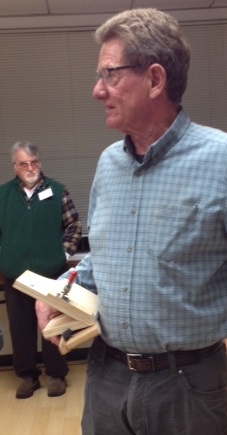 John Blackmore devised an angled hold down for his router table fence that permits accurate cutting of 45 degree miter slots for making boxes.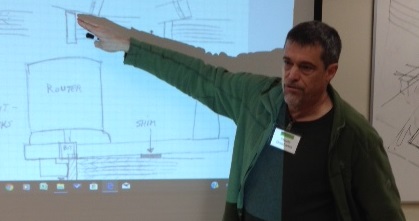 Claude Godcharles mounted a small router to the end of a 18" board to facilitate edge trimming and dovetail trimming. It is shimmed slightly proud of the panel surface and with a slight forward slope, thereby assuring that only the raised edge is cut.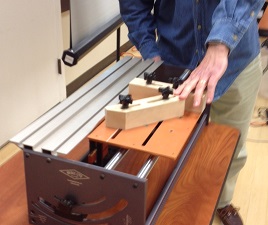 Chris Pribe has a galley shop in his garage and has chosen to forego big machines and the resultant dust. His solution is the JointMaker Pro from Bridge City Toolworks.
The table of the saw has a sliding platform that runs over an inverted Japanese saw.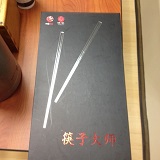 Chris also makes his own chopsticks with the Chopstick Master kit.
Specialized Jigs
You might only use these jigs once. But they are frequently indispensable.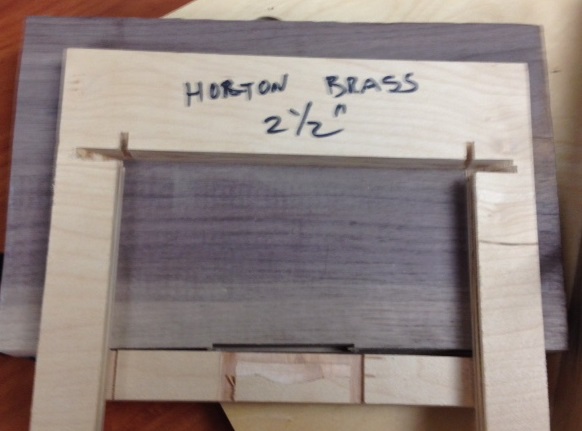 Jon Kaplan made a jig to cut accurate mortises for Brusso angled hinges. Just reverse the jig for the opposing side.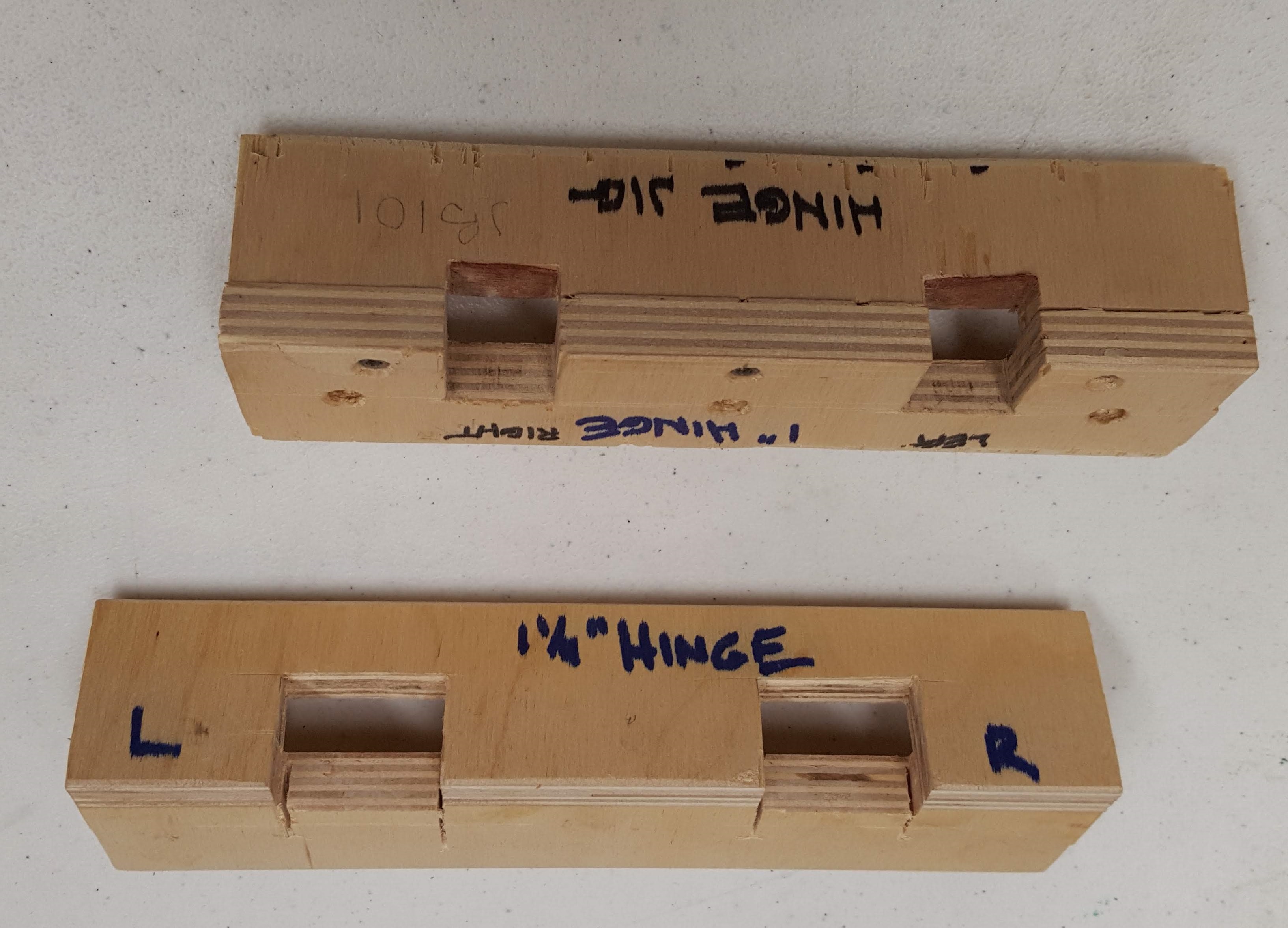 John Blackmore made simple jigs for mortising the Brusso butt hinges, 1 inch and 1/1/4 inch.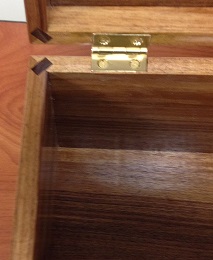 The hinges on John Blackmore's box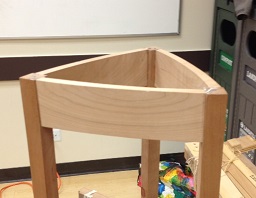 Bruce Powell has been making variations of his triangular, three legged table, with curved skirt pieces.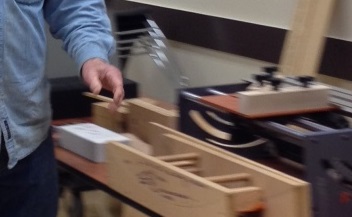 Bruce made a jig to create the flared shape of the legs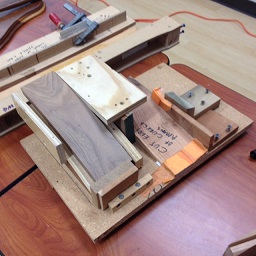 And another sled jig to cut the curved skirt pieces on the jointer (did he really say the chop saw?) and a cross cut sled to cut the angled skirt ends.
A double flared flush trim bit was used to trim the tabletop edges.
And we could go on and on. Jigs and fixtures are limited only by your imagination.
Thank you, Bruce.
---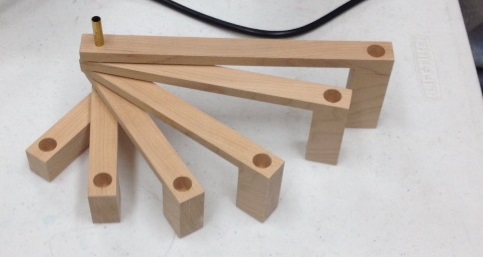 Jon Kaplan made a Valentine's Day gift for his wife: A wooden stand with spinning plastic pendulae. He also made a cherry candleholder with several legs, each holding a candle. The fire marshal suggested brass cup inserts to hold each candle. Jon's final piece is a toy suggestion for the Toy Workshop—a porcupine walking hedgehog slide.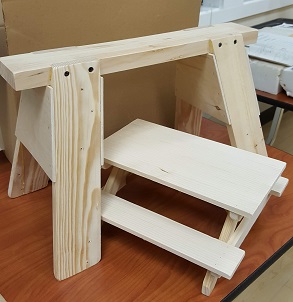 Frank Taylor made miniatures of a sawhorse and a picnic table. If only people grew that small. Let us march on to Lilliputia.