---
President Message
In August a friend gave us tickets to the American Craft Show at Fort Mason that I last visited about 5 years ago and was disappointed by the lack of woodworkers participating - but this year, to my pleasant surprise, the woodworkers were there in force, at least there was 20+ in amongst the 2000+ stalls.
Scot Wynn, a friend of BAWA who has been our featured speaker several times, was there with a selection of his furniture and Jon Sauer, who gave us a demonstration of chatter turning in April, was there with his museum quality turnings and buttons.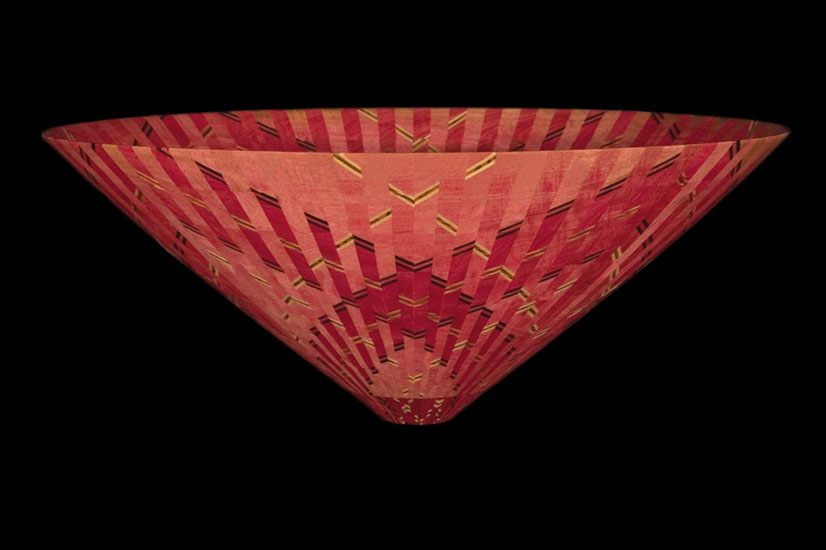 Mike Shuler - wood vessel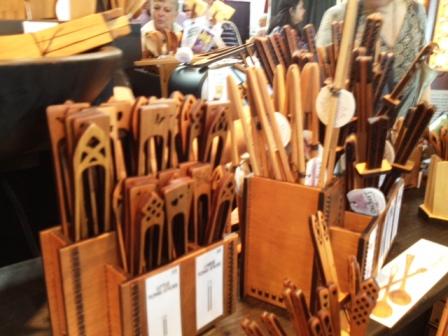 Jonathan's spoons
Mike Shuler from Santa Cruze had some of the finest looking segmented bowls I have ever seen and Jonathan Simons and friends, spoonmakers were there selling more spoons than I ever thought a man could make! Looking closely I think there was a CNC Laser involved and with some spoons at under $10 he must have a very efficient manufacturing system.
Others included Barry and Laura Uden from Morgan Hill, showing some very delicate turned vases; Rodger Combs, a furniture maker from Atascadero; hand made Native American wooden flutes by Guillermo Martinez of Modjeska, CA; Jerry and Deborah Kermode showed their woodturnings, (they also show at the Sausalito Art Festival); and Dugan Essick from Grass Valley promoting his Woodworking school; plus much more.
The craft of woodworking is making a comeback, away from the wood slabs on metal legs that appeared to be the dominating the theme of many shows recently.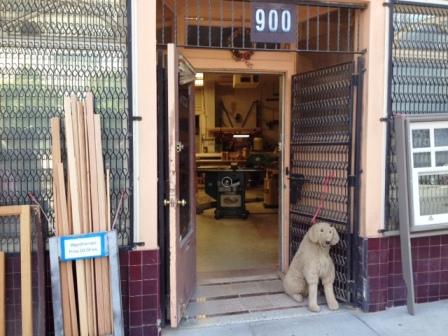 Per Madsen and I were walking back to our car after Arnie's funeral service on Cortland Avenue in the Bernal Heights neighborhood of San Francisco. It is an interesting local area where shops look as though they have been there for decades. We passed a normal looking shop with its door open; inside was a complete woodworking shop where they made custom widow frames for houses in the neighborhood. I took a picture when the owner came over to check us out. We explained why we were in the area and why we were looking in his shop; turns out he knew Arnie who lived just down the street and as he was not the kind of person who would walk passed a woodworking shop without looking inside. The little shop has been there since 1982 making custom windows for the neighborhood. The house are mostly pre-1930s and have twisted a bit over the years so the window frames that the shop leaves extra wood on the sills so they can be trimmed to square when they are installed.
Great to see woodworking shops still serving the local community.
Check them out: A. G. River Wood Windows and Doors
Arnie's Hand Planes
John Blackmore received a telephone call from Arnie Champagne's nephew telling him that Arnie, in his will, donated his hand plane collection to BAWA so that the club can sell the planes and raise money for itself. John picked up over 50 planes ,cataloged them and estimated their individual values. These will be on sale at our September meeting with all proceeds going to BAWA funds. See list attached.
---
President Frank Ramsay called the meeting to order at 6:10 PM.
Announcements
Per Madsen announced a silent auction for 2 power screwdrivers and a charger.
Stan Booker announced the wood raffle pieces, 2 Sapele boards purchased from Moore Newton.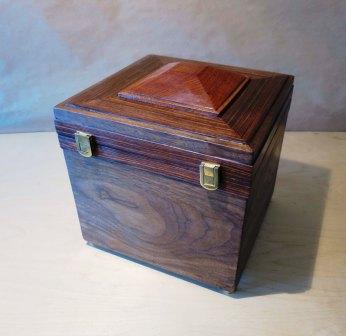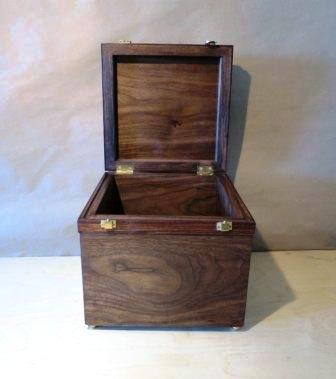 Frank then described the box that club members constructed for Arnie Champagne's cremains. They used the Walnut that Arnie had won in a recent wood raffle and added Kingswood banding and Thai Rosewood top.
John Blackmore reported that dues would be raised to $48 per year in order to cover our deficit. The sale of the wood from Arnie's shop yielded $400 for the club.
Frank described the upcoming programs.
September the speaker will be John Lavine.
October Mark Tindley will talk about constructing a Green and Green table.
November is open and December is the Christmas party.
It was noted that McBeath Hardwoods San Jose location is now closed.
---
Featured Speakers from BAWA Membership
Bruce Powell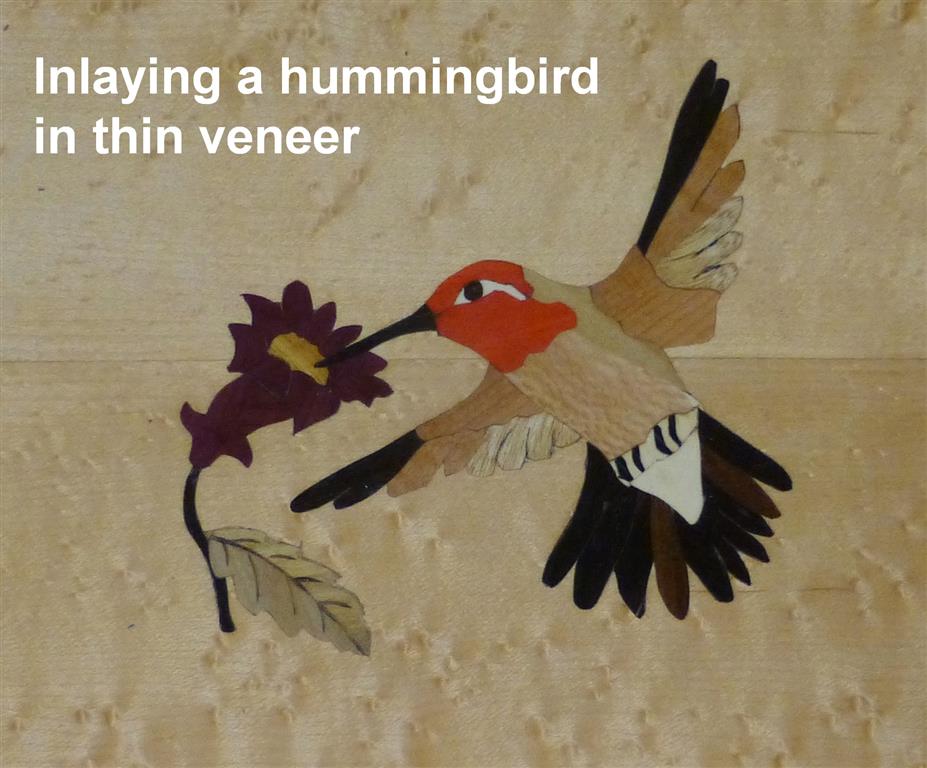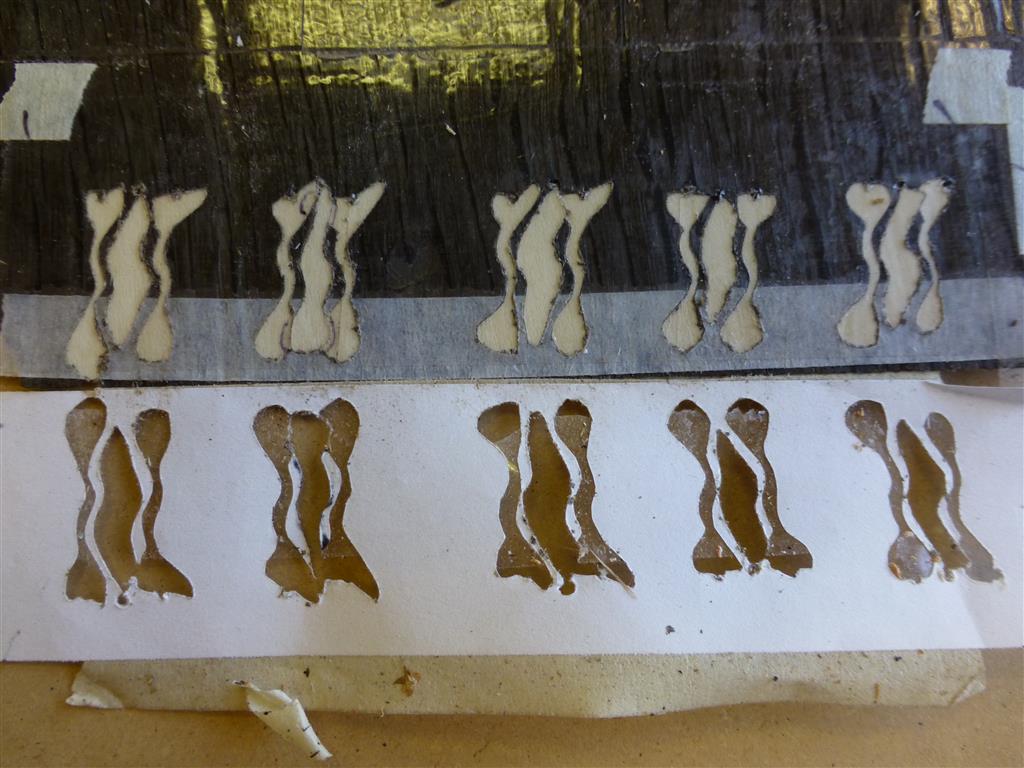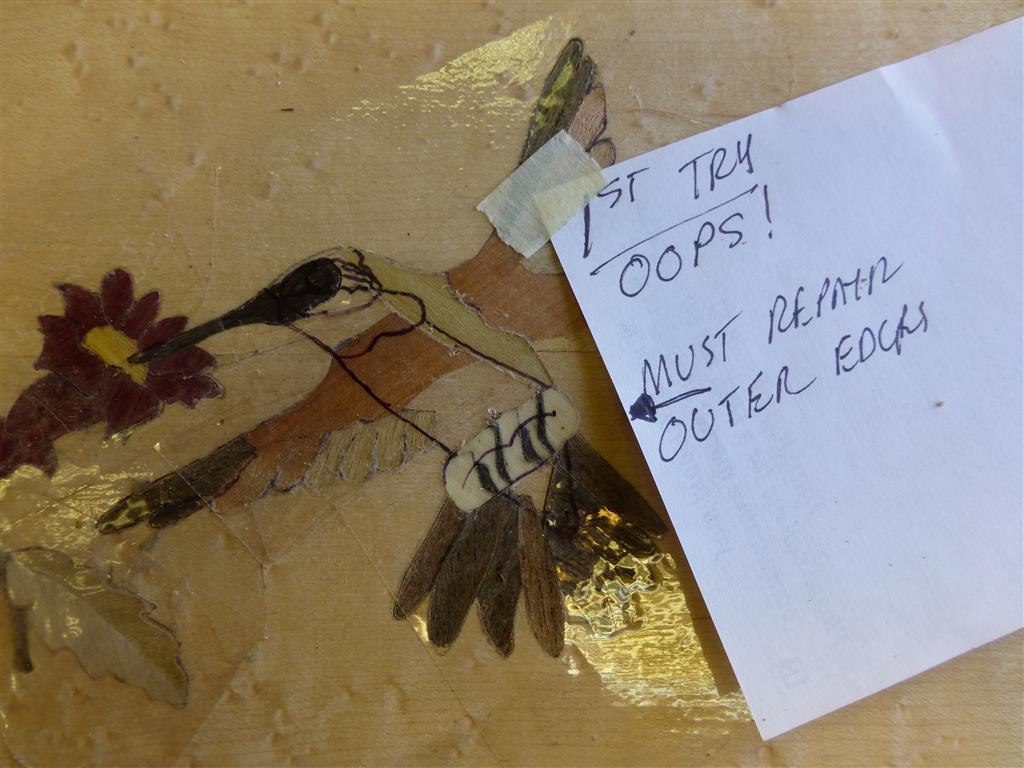 Bruce talked about marquetry projects he has done and the techniques used to create a picture of a hummingbird. The most important skill is to be able to cut out small pieces on the scroll saw. He learned his technique using 5/64in. thick veneer rather than thinner commercial veneers, which are 1/42in. thick. He now mostly uses those commercial veneers. He uses packing tape to attach the veneer to the base rather than veneer tape since he feels that the packing tape is easier to remove. He then showed some works by Vincent Doan, a master marqueteer who uses a CNC laser cutter to cut out his veneers allowing him to fabricate the smallest details.
Mike Bray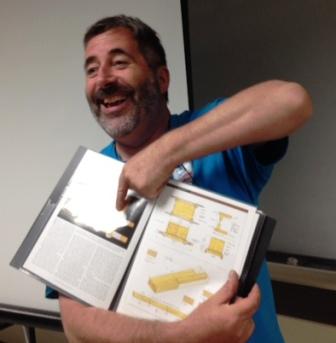 Mike was the next speaker and he talked about fabricating wooden spoons and his recent visit to Spoonfest in England. He first showed us a Scandinavian hatchet that he bought at Spoonfest and resharpened to use as a tool for rough cutting the spoon blanks to shape. He recommends the book Swedish Carving Techniques by Willie Sundquist if you are interested in learning spoon carving. He showed his personal collection of carving tools. Among them is a sloyd knife as well as various other knives with curved blades for refining the shape. It is best to use green wood for carving since it is soft at first but hardens as it dries.
Spoonfest 2017 - The Worlds Largest Spoon Carving Festival
Frank Ramsay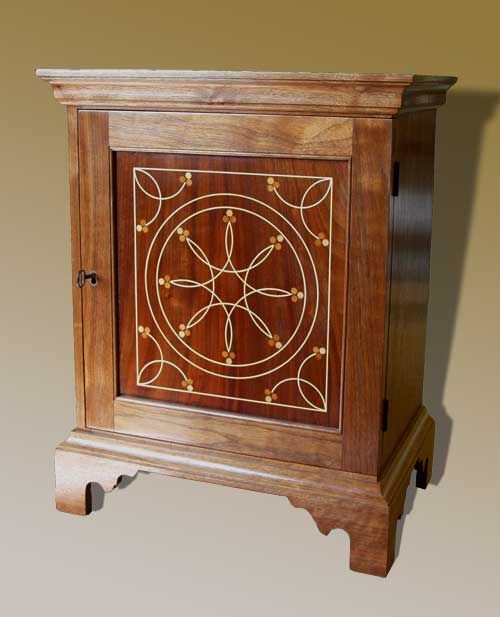 The design that influenced door design of Pennsylvania Spice Box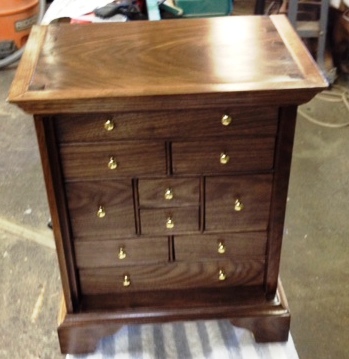 Frank's cabinet that has sat waiting for the door to be completed for several months

1/16in. Square Hard Maple stringing cut on a 10in. blade table saw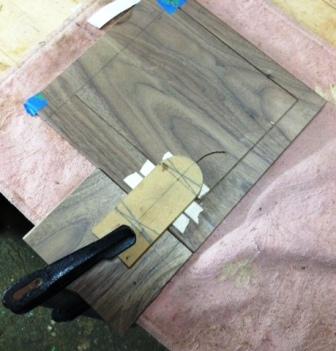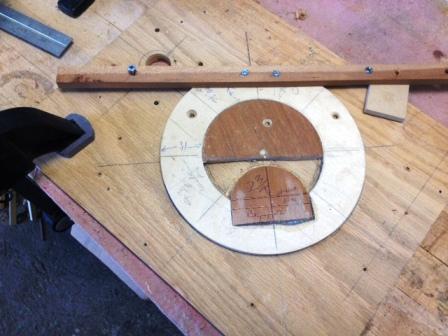 Jigs used for cutting the corner and center patterns
The final speaker was Frank who talked about stringing. Normally done by scratching the pattern in to the surface of the wood, Frank is trying to do it with a Dewalt 1.25-HP router with a 1/4in. bushing and a 1/16in. bit with proper templates to guide the bushing. The 1/16in. square string material is cut using the table saw, which although wasteful of material gives pieces of high quality that need no further treatment before installation. To get pieces to a curved shape he soaks them overnight in water and shapes them on a curved form then they are fitted into the slot with the aid of a hammer. He noted that Veritas sells tooling for hand cutting inlays and installing stringing.
---
Following the break Jamie Buxton introduced the 2x4 challenge.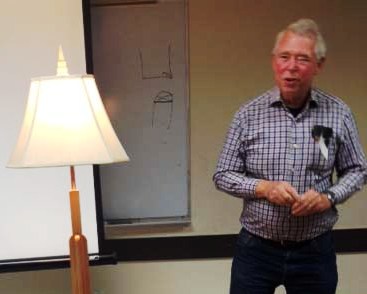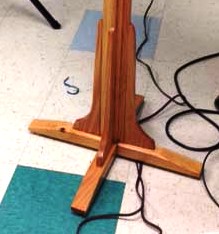 First up was Harry Filer who showed a Douglas Fir floor lamp that was finished with tung oil and a bit of stain. The joinery was done with dowels and mortise/tenon joints.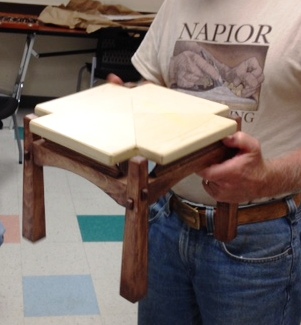 Next, Ken Napior showed a prototype footstool in the Arts and Crafts style. He used through tenons for joinery and only needed about half of a 2x4.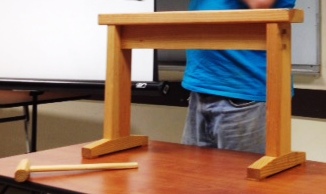 Mike Bray showed some pictures of items he had made that were featured in a Woodwork Magazine- a cabinet, a lava lamp, and a mortising bench.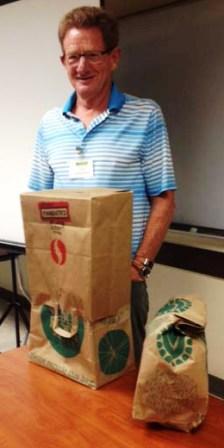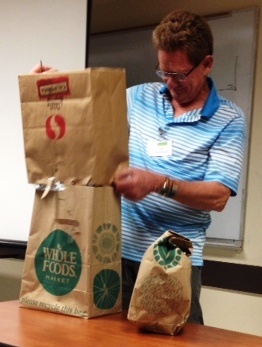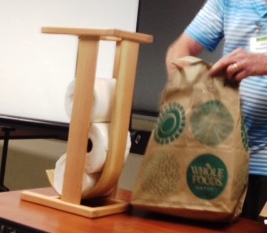 Next was John Blackmore who was inspired by what he had seen on a recent trip to Brazil to fabricate a copy of a toilet paper holder using through tenons and a wax finish.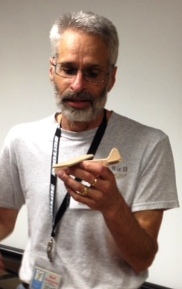 Bert Rosenzweig showed a small airplane he made.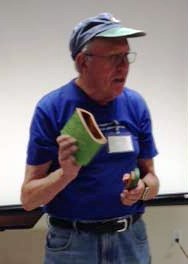 Richard Winslow showed some bandsaw boxes made from cutoffs, one of which was painted green to look like a bronze patina.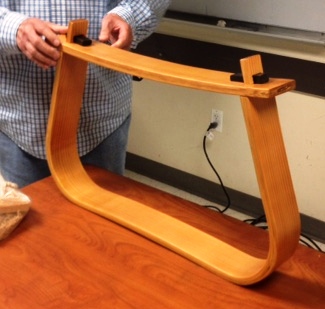 John Wilson showed a chair with a narrow seat using bent laminations that were formed over a ¾ MDF form.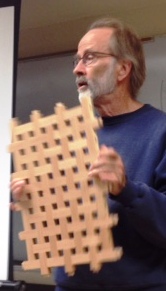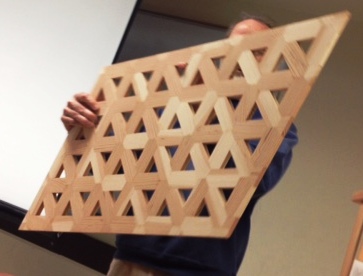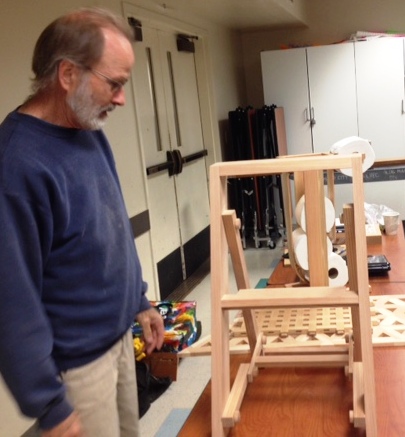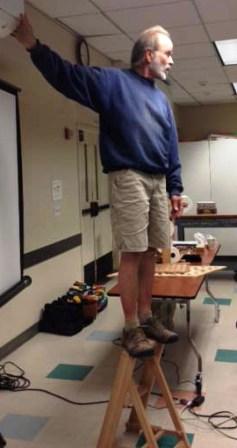 Finally, Jamie showed two prototype speaker grills as well as a step stool made entirely of wood even including wooden rivets.
---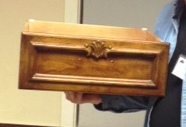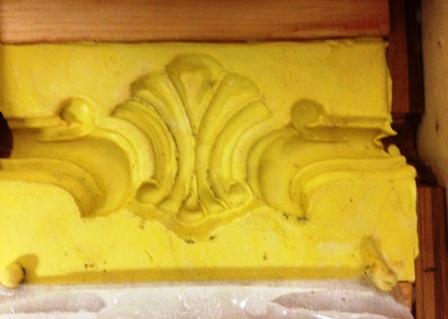 Bruce Powell was asked by a customer to make a replica of a 30-year-old nightstand drawer that was stolen in a robbery. Instead of carving a complicated feature that was on the original drawer he cast an epoxy replica using one of the other drawers as the model.
The meeting adjourned at 8:30 PM.
Steve Rosenblum
Secretary steve@rosenblums.us
---