---
President's Message
Fellow woodworkers
In the world of crafts there has always been "progress" where tools and methods continually evolved and changed the way craftsmen worked - but today, thanks to the increasing perverseness of electronics into everyday life, change is evolving at an ever increasing pace.
The other day I upgraded my iPhone to the new iOS 7 operating system (which is free). What is this to do with woodworking you are asking? Well it makes another woodworking tool redundant.
In the workshop I often need to make angled cuts by tilting the blade of my tablesaw. I use the crude markings on the edge of the saw table as a guide and occasionally use a bevel gauge along with a protractor to get a more accurate calibration. Earlier this year a BAWA member brought a digital angle gauge as a Show and Tell to one of our meetings. Since then I have been thinking of purchasing one. They are compact, accurate, much simpler to use than the bevel gauge and protractor method and only cost about $40.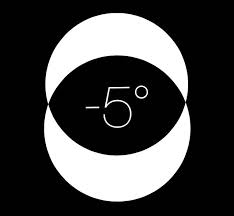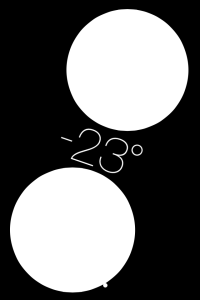 Exploring the changes in my iPhone's iOS 7 I happened to look at the compass application (one of the standard "freebies") and discovered it now has a digital level function. Just place your iPhone on a sloping surface and it provides a digital reading of the angle.
So a free upgrade to the iPhone makes digital angle gauges obsolete even though they have only been on the market for about 5 years.
Also if you use your iPhone in conjunction with a straight length of timber you have a spirit level. No need to spend money on an old fashioned bubble type spirit level when you get one for free with your phone.
The advancement of electronics is also eliminating the need for other tools:
Digital readout bevel gauges have been available for the last few years therefore eliminating one of the requirements for having a protractor.
In the latest Rockler Catalog there are CNC Routing machines with 28 x 36 in tables for $4000 - Are these starting to eliminate the need for carving?
We all know the world is changing. It has been changing for all of our lives, so we learn - sometimes with reluctance - accept change or even embrace it. But sometimes we do not appreciate how fast change has now become.
Enjoy the new world and enjoy your woodworking
Frank [Contact at: frankramsay8@aol.com
---
Frank Ramsay, the BAWA president, called the meeting to order at 7:00 pm. We started with the announcements.
Announcements:
Dan Goodman introduced the new Rebuilding Together project that will be done for the Woodrow Wilson Elementary School in Daly City. We will be making bookshelves/cubby hole cabinets. A workshop will be held at Jamie Buxton's shop on October 19. The sign up sheet is being circulated.
Per Madsen previewed our October meeting featuring Dr. John Shelly from the University of California, Berkeley. He is a professor in wood science and cooperative extension advisor in biomass and forest product utilization.
The annual 2 x 4 contest will also be held at the October meeting. Jamie Buxton described some possible pieces that members can build: flower stands, chairs, tables, puzzles, toys, iPad stands, or even a box.
Harold Patterson announced that the Saratoga Museum will feature some of his wooden toys at a showing on September 28.
Neil White will be attending the Period Furniture Makers meeting in Williamsburg, Virginia in January. He has the information if anyone else is interested.
Frank Ramsay updated us on the Facebook project. Our plywood furniture pieces are being used in the new headquarters.
Bruce Powell has volunteered to assist Frank Ramsay in the web master sphere.
Stan Booker said he expects the paduk door prize to be awarded tonight.
---
LOU KERN - Furniture maker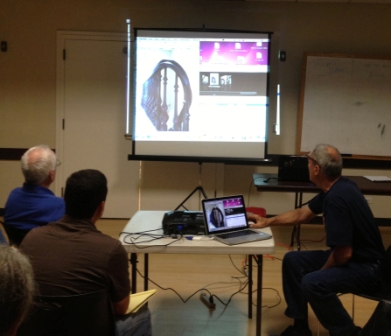 Per Madsen introduced Lou who has a shop in Oakland. Lou began his presentation by postulating that there are really only three basic tools: An Incline Plane, A Hammer and A String. Examples were to follow.
Lou was raised on a farm in the Midwest. He learned to be self sufficient and resourceful, but was not a craftsman or woodworker. He went to Vietnam in the Army, afterwards using his GI Bill to attend college. Upon graduation, he took an office job with a lumber wholesaler. When the economy turned south and the company had a big layoff he found himself without a job. He had always enjoyed working with his hands ad decided to become a carpenter. He loved it.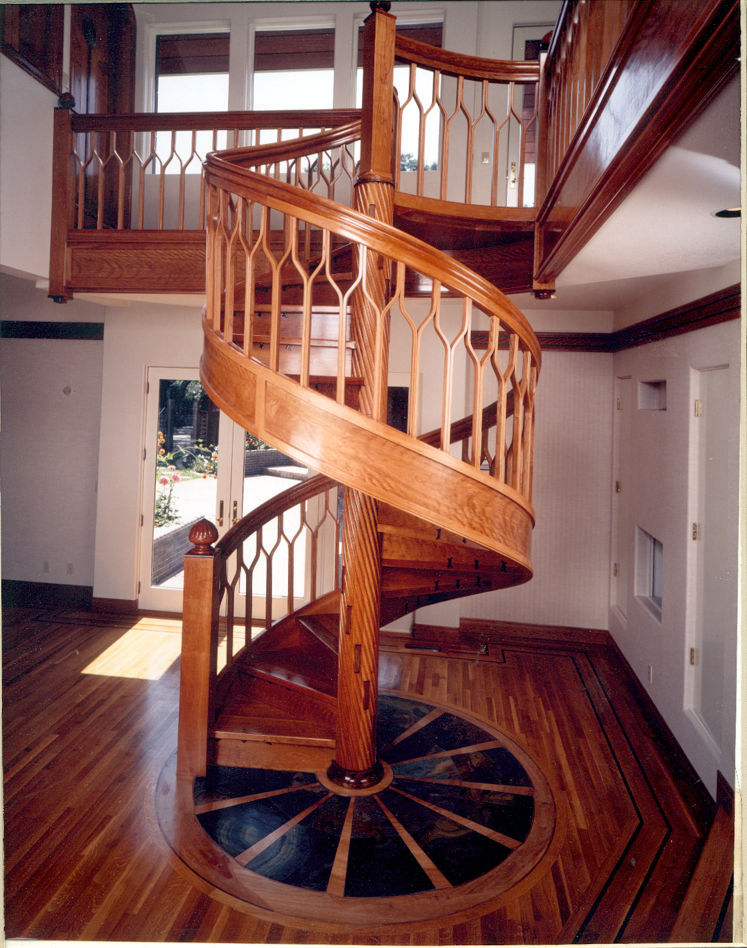 His passion turned towards making staircases using traditional methods and techniques. He showed us a set of photographs depicting a curved handrail set he made for a staircase on Bush Street in San Francisco. It features turned balusters with carved rosettes. The railing is a curved helix with complex curves and a very tight corner that is made of 24 separate pieces. The top and bottom halves of the helix were made separately, then joined. Lou devised a custom die grinder with a PVC guide member to cut the railing parts.
The Clausen staircase is a spiral that took 6 months to build. It is made of cherry, has decorative dovetails and uses no nails in its construction.
Lou Kern also builds Storybook Decks. The Garrison deck has a curved rail made of Western Red Cedar and deck boards of redwood. He bought the lumber from Econo-Lumber in Oakland and was allowed to hand sort for the wood he wanted. The deck is sealed with linseed oil. He recommends buying an old crockpot and heating the linseed oil to no more than 140 degrees to prepare it for application. Watch out for spontaneous combustion.
In another functional art project, Lou made a set of double cherry doors for a house in Atherton. The wood is highly figured and is finished with a Waterlox tung oil. He purchased the wood from a mill in Pennsylvania for $7.50 a board foot. The panels of the door used a core of Finish Birch and were covered with 1/8 inch book-matched veneers of the cherry. The doorframes were made of Philippine mahogany and also veneered with the cherry. Ted Ellison from Oakland made the door window glass.
The last staircase photos were of a three-story project that cost $127,000 to build. Lou bought the curved plywood panels from Anderson International Trading. The staircase featured an atrium glass floor on the third level to prevent falling accidents.
The last set of photographs depicted a bunk bed set made of ash.
And back to the three basic tools:
Inclined plane: chisels, planes, knives etc.
Hammer: any mass in motion
String: tape measures, odometers etc.
Amazing work, classic staircases, and beautiful functional art. Thank you, Lou
You can see more of Lou's work at: http://functional-art.com/
---
Oh, Yes, we had a box contest and only two boxes appeared.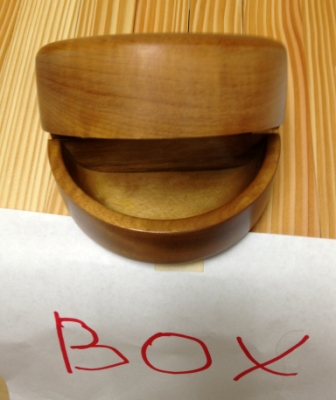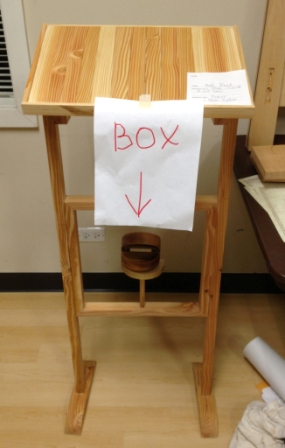 Mark Rand made a podium with his two pieces of 2 x 4, otherwise known as a 2 x 8. On the podium he placed a turned bowl that looked like it might contain his set of dentures. It did not.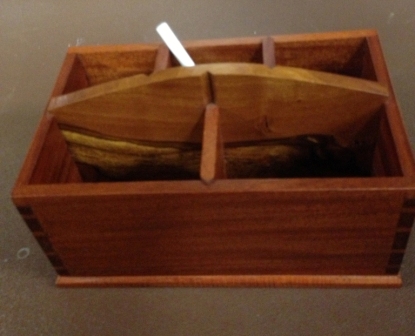 Tom Gaston made a box for his TV remote, glasses and pens. Made of pepperwood, it is divided into compartments.
Mark and Tom swept the awards, each taking home more than 7 certificates apiece, setting a record
---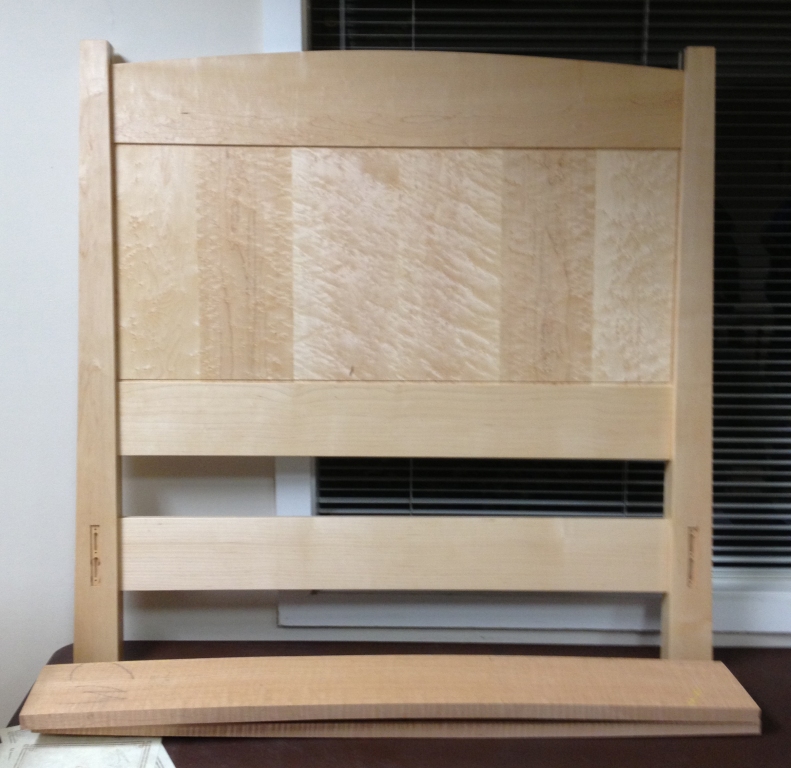 John Blackmore's bedend made from solid Hard Maple
John Blackmore, Secretary
JohnBlackmore@comcast.net
---