Fellow Members :
It is October already. How many of the projects that we planned to do way back when the year was new are finished? I know that I never seem to be able to complete my woodwork projects in time. Part of the reason is that each project involves something new - a new type of inlay, a new router technique or a new finish etc. - and all of these result in the need for a little experimentation or practice before they can be applied to a project. This is all part of what makes our woodworking an interesting and continual learning experience.
I was in Colonial Williamsburg recently and was able to see some of the craftsmen there making the sides and window frames for a new house they were building. (They explained to me that carpenters do the house framing and joiners do the finer work such as window frames, which is not a distinction I knew.)
Making the building frame looked interesting, something I would love to try: "just" large hand cut mortise and tenon joints some of which are pinned. But watching the craftsmen make the window frames using long leaf yellow pine was even more interesting.
Long leaf yellow pine is not a wood I had come across before and I was surprised at how heavy it was. Apparently you used to be able to get boards over 3 ft. wide but as the trees take 100 to 150 years to reach maturity the old ones are no longer being cut. I think it is sustainable grown but that only makes 5-10 inch boards.
The craftsmen were using wooden jointer planes and molding planes the same as we discussed at our last meeting. They make it look so easy. They way they make the window frames also links to what one of our members discussed earlier this year when he was telling us of his experiences while taking a course at the College of the Redwoods. There he had been taught that for a cabinet you make the most difficult piece, the door, first then make the case to fit it. On the colonial windows they started with the glass and made the muntins and frame to fit. Then they made the window casing so it could be adjusted to fit opening in the wall frame. It all looked so easy. These were very experienced craftsmen but once you learnt how to be a joiner in 1776 did you need to continually learn about new tools, woods, finishes, etc? Today's machines, routers, etc, need a lot of set-up to make a window frame or anything. Have they really made woodworking easier? Or faster? Certainly once set up work is faster but with all the practice and time that goes into our continual learning way of working today it may not be a lot faster.
Enjoy your woodwork...there will always be more projects to work on.

Frank R Ramsay
President
frankramsay8@aol.com
---
Frank Ramsay called the meeting to order shortly after 7:00 pm, noticing that we had several guests in attendance.
Announcements
John Blackmore will be presenting results of the BAWA survey that was recently completed at the next meeting.
Per Madsen received the names of people in the survey who had expressed an interest in helping out with the Program Committee. Per plans to start a new committee, tentatively titled T5 and ST (Tips, Tools, Techniques, Tech Talks and Show and Tell). The new committee, whose responsibility would be to find presenters to talk to these subjects at each monthly meeting, would be an exciting way for members to participate in and develop activities for the club. The committee would also help to put together technical seminars and weekend workshops.
Frank Ramsay, our president, will be conducting a weekend seminar at minimal cost to participants on how to use SketchUp. It will be a beginners' class. By showing of hands, at least a dozen people at the meeting expressed an interest in the seminar. Better prepare for a big crowd, Frank.
Ed Marinaro had been working for several months to put together a BAWA Woodworking Show. It has begun to gel. The show is planned for early December at the new Woodcraft store location in San Carlos. It will be non-juried. Ed has several people who have volunteer to help and others are welcome. Several people at the meeting indicated they would like to display their work at the show.
Don Naples talked briefly about the juried woodworking show now being held in Santa Rosa at the museum on 7th Street. It features a chair by Michael Cooper that is priced at $40,000. Greg Zahl is showing a finely crafted and inlaid cabinet with drawer purchased from Ikea. See the EVENTS box for details.
Stan Booker is back and so is the raffle and door prize drawing. The raffle features two zebra wood boards. Stan figures that by next meeting enough tickets would be sold to have a drawing. Be the first on your block to buy tickets. $1 each or 6 for $5. Stan has a deal for a 1,000 tickets.
Frank Ramsay said that Frank Taylor has decorated the two gates made for the Janet Pomeroy Center with elaborate handles and intricate embellishments. Pictures will be presented next month.
Woodcraft Dublin & Woodcraft San Carlos give the club a rebate on all purchases. Give receipts to Mark Rand.
Show and Tell
John Blackmore had made a workbench stool out of Alaskan Yellow Cedar. But having noticed Mark Rand's column in the September newsletter titled Living Dangerously , he called up Mark to describe his technique to drilling compound miters to repair a dining room chair. Mark, not having a drill press, figured out an ingenious way of setting the compound angle using a Wixey Gauge and a drill guide mounted on a square wood base. He put two screws in the adjacent corners of the wood base and simply extended them until he achieved the proper compound angle. Then he was ready to go.
John took another approach. He set the compound angle on his DeWalt shop saw and cut a block of wood onto which he placed his stool seat. With each corner of the seat oriented to the low side, thus slanting the seat board on the drill press table, he drilled the seat post holes at each corner. Then, John made a story stick to cut the angles at the top and bottom of each leg. Right front and left rear legs are the same, as are the left front and right rear legs. Keep the low point of each leg outside at the top and inside on the bottom. Now everyone was confused so Frank Ramsay described how he has been using SketchUp.
Frank has made a cabinet with Chinese joinery. Not only were the joints complicated, but the cabinet sides angled two degrees towards the center. Frank could just not visualize how these joints would go together, so he turned to SketchUp to show the geometry. First he created a cabinet with vertical sides, and secondly he modified it to include the angled sides. We impressed. It all seemed so simple and straightforward. Now the SketchUp class sized has zoomed up beyond the manageable. You have created a conundrum for yourself, Frank.
Jamie Buxton brought in three books from Lark Press for us to look at, entitled 500 Tables, 500 Chairs, and 500 Cabinets. These books can serve as an inspiration for all of us.
In the Silent Auction, 2 thin kerf saw blades donated by Neil White went for song.
And everyone was overjoyed that Stan Booker had returned with the door prizes.
Guests
Jim Bellsion found us through the BAWA website, lives nearby and decided to attend. He hails from Ohio where his father had been in the hardwood business. He is retired from the computer industry. Ken Lum, from San Carlos, joined us to announce that he has a hoard of Honduran Mahogany wood for sale. He is offering the wood at a discount of 15% from the lowest commercial price in the Bay Area. Please see his contact information in the Want Ad Section. Tim Smith, a friend of Ken Lum's, likes to make small items, especially hand tools.
Bruce Powell, also retired from the computer industry has a shop in San Francisco where he has build furniture for some time. He likes to do steam bending, uses Chinese joinery and is working with spalted maple and elm.

The lucky door prize recipients tonight were: Ed Marinaro, Mark Rand and Jay Perrine.
---
Neil White and Don Naples
The Annual Hand Plane Seminar
Neil started the presentation by passing out a sheet describing how to make your own hand plane from a block of wood. The process begins with the selection of plane type and a plane iron. He recommends purchasing the iron from Ron Hock ( hocktools.com). It is a 16 step process and at the conclusion you will have a plane that produces shavings in the micron category. The critical parameter seems to be getting the plane mouth sized properly. Too large and you will get thick shaving and tear out, too thin and it won't cut at all. The watchword: proceed slowly. A refinement to the plane could be a lignum vitae sole. The diagram in the handout shows the proper angles for the fore and rear blocks in the plane.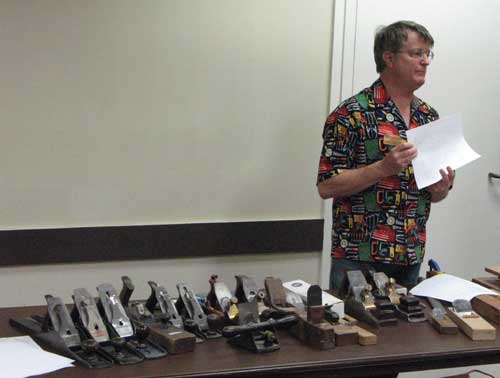 With this introduction, Don Naples discussed the importance of sharpness, quality of blade steel and hand plane techniques. Our presenters had covered two tables in the front of the room with various hand planes and samples of wood, some of it figured and complicated to plane.
Don held up a board of figured, rippled maple explaining that you could run this board through a machine and would be guaranteed to get tear out. The only way to smooth a board like this is to use a sharp hand plane and hand scrapers. The plane removes wood at almost the molecular level, where pattern is irrelevant.
Another example Don showed was a baffle panel he makes for a high end loud speaker. He uses an overhead router to take out wood leaving a radius profile on the bottom. It would be impossible to sand the wood effectively against this raised circular edge. The most effective technique is to hand plane this area.
Another example he showed was a walnut board with a knot near one edge. Run this through a jointer or a dull hand plane and you will get tear out on one side of the knot because the grain reverses direction. The solution is a sharp plane and very thin shavings.
Then Don and Neil began a discussion of types of hand planes. Everyone is familiar with the Stanley and Bailey metal planes that were the workhorses of the woodworking trades before large powered machines. Every house on the block had a Bailey #3 smoothing plane in the garage. But not all Stanleys are the same. Only the flat sided Stanley Bedrock series is a first rate tool. The frog is better seated with a large flat surface area and controlled with 2 locking screws and an adjustment screw. These planes can be a valuable addition to your collection and routinely sell in the $150 to $300 range. The common Stanley and Bailey planes sell for less than $30. If you want a new plane equivalent or even better than the Bedrocks, then look at the Lie-Nielsen product offerings. (lie-nielsen.com). Lie-Nielsen copied, then improved upon, the Bedrock design. These plane blades are made with A2 steel that works very well when sharpened properly. Wind River, sold by Woodcraft, has just introduced a line of hand planes made in China that offer good performance at a reasonable price. If you buy old planes and need replacement parts then look up Peter Niedemeyer in Marin. If you need it, he has it.
The words of advice from our experts: If you are buying your first plane, buy a good one that will work, don't blame your technique, blame the tool. An inferior tool will never work well.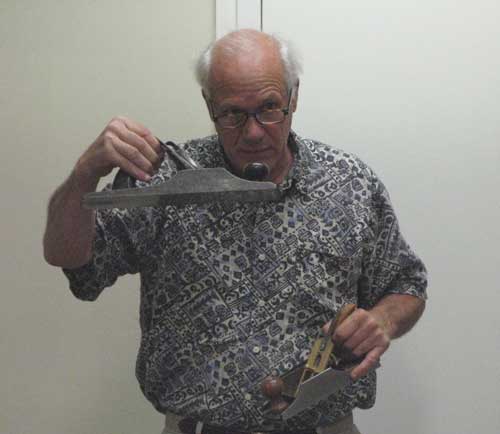 Don and Neil presented their In-Fill planes, truly fine woodworking instruments. The steel is thick, the plane body heavy and the cutting superb. With these hand planes, there is no chatter of steel blades crossing figured wood, just thin shavings. Names to remember are Mathison, Norris, and Spiers. Stay away from so called Transition Planes that had wood soles with metal frogs and throat inserts. These planes simply incorporated the worst features of two types of planes.
Sharpening techniques were discussed next. Remember, it's the back that matters. If the back of the cutting blade is not perfectly flat, the blade will not cut well. To examine an unknown blade, take the blade, hold in bottom down and draw it against a sheet of 6000 grit wet or dry sandpaper. Examine the scratch marks on the back of the blade with a magnifying glass. If the striations run all the way to the cutting edge, you have a good blade. If not, you need to flatten it. Get out your water stones or Lap Sharp machine. Be careful not to DUB (round over the cutting edge) of your blade with water stones that are not absolutely flat.
Blade cutting angles are another consideration. Most American hand planes are set to cut at 45 degrees and this cutting angle works fine in American hardwoods that have straight grain patterns. However, with figured American hardwoods and European hardwoods, the European or York pitch of 50 degrees works better. The infill planes have York pitch. Low angle planes are well suited to working with end grain.
Camber in hand plane blades is another issue of contention. On the larger planes, #5 and above, some people prefer to slightly round the plane blade towards the edges in order to prevent gouging the wood and creating ridges that are complicated to remove. This sharpening technique is effective, but don't do it on your smoothing planes. On these planes, just relieve the edge very slightly if you are having problem with plane tracks.
Hand scrapers complement hand planes and must be prepared properly. Don showed us how to set the bevel in three passes of the burnishing tool. Before you burnish, flatten the edge of the scraper so that there is only a single line of reflection on the edge. Then lay the scraper flat on your bench. The first pass is horizontally drawn to establish the flatness of the scraper. The second pass is vertically drawn to establish the flatness of the edge. The third pass is at an angle of 5 to 1 degrees from vertical to set the bevel in the edge.
When using the scraper once properly sharpened you do not need to flex it creating a curved edge. To do so only creates scallops in the wood and you want it flat not hollowed out. Consider the grain pattern of the wood. If it is rippled, for instance, scrape at 45 degrees to the pattern, otherwise you will simply get ridges. At this point, our speakers were flat out done. A break was called so that everyone could assault the planes on display, handle them and begin to plan-a-plane for their own collection.
John Blackmore, with low humor by Mark Rand
---
No This and That this month
---
Classified ads must be from members or ex-members or their estates who are closing down their workshops. In addition a non-member may attend a regular meeting as a guest and announce personal items for sale that are directly related to member's woodworking. The details of the announcement may be covered in the meeting minutes in the monthly newsletter, subject to editorial review.
Do you have something to sell or trade? Let me know by the last weekend of the month and I'll put it into the next newsletter. Let me know if your item sells so I can delete the ad.

Steve Rosenblum
650-322-9560
212 Santa Rita Ave
Palo Alto 94301
steve@rosenblums.us
---
For Sale (9/10)
Rojek MSP 415 jointer/planer, 16?, single phase, 230V, 60Hz, mobile base, horizontal mortiser, new motor. $3400. johnblackmore@comcast.net
---
For Sale (9/10)
Honduran mahogany lumber, various sizes, 15% discount to lowest Bay Area price. Lum40@comcast.net
---
For Sale
* Jet Horizontal/Vertical Sander (EHVS-80CS). List - $1050.00, Selling Price $850.00. Less than 10 hours of use.
* Jet 14" Bandsaw 1 Hp (JWBS-14CS). List - $600.00, Selling Price $350.00. Slightly used Less than 5 hours.
* Jet 10" Contractor Saw (JWTS-10LFR). Newer Model List for $750.00. Slightly used Less than 5 hours. Selling Price $375.00
* Jet Drill Press (JDP-17MF). List - $520.00, Selling Price $300.00. Slightly used Less than 5 hours.
* Jet Dust Collector (DC-650). List - $300.00, Selling Price $200.00. Never Used, Like new.
* Delta Jointer (Model JD-160). List - $200.00, Selling Price $150.00. Never Used, Like new.
Contact Paul at 415-218-4505 or Rich at 650-346-4183