---
President Message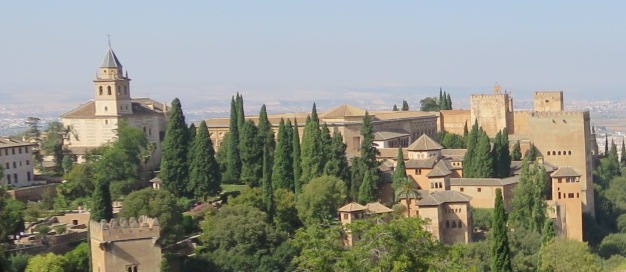 This summer while we were visiting UK we took a short trip to the Andalusia region of Spain to visit Seville and Granada. Granada is famous for the Alhambra Palace which is a magnificent palace full of Islamic architecture.
According to the guide book:
"It rises up above the Red Hill, the royal city of the Alhambra stands proud and external, one of the most important architectural structures of the Middle Ages and the finest example of Islamic art left in the western world"
But from the outside you would not think so; it looks like a plain set of old buildings on hill but the beauty is all on the inside. It is old, the present palace was rebuilt and extended in the twelve hundreds and has not changed much since. Bits have been rebuilt as the result of the various wars that have flowed through the region over years along with shelling by Napoleon's army and bombing in World War II. Its biggest change came in the fifteen hundreds when war resulted in the area being lost to the Muslims and controlled by the Christians. This can be considered just a change of ownership as the new owners kept the Islamic design.
Grandeur everywhere.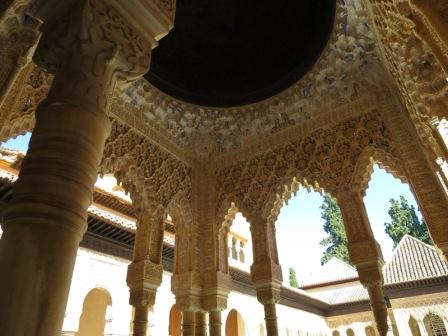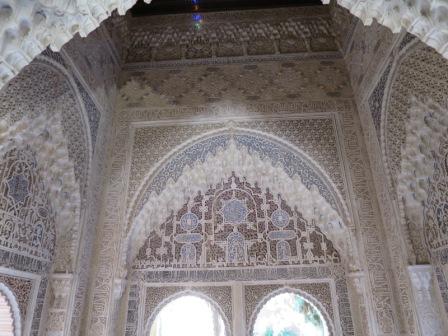 Almost every interior wall is heavily decorated in carved stone and plasterwork or bright colored tiles.
The ceilings are elaborate wooden structures or carved stone.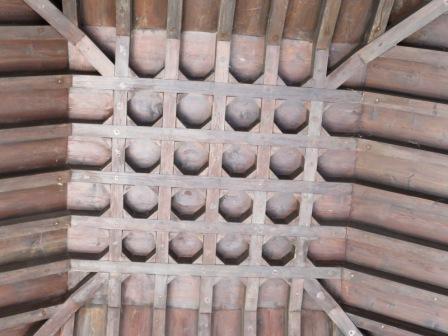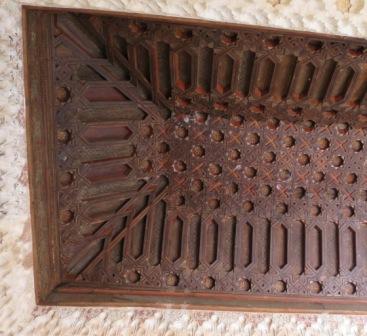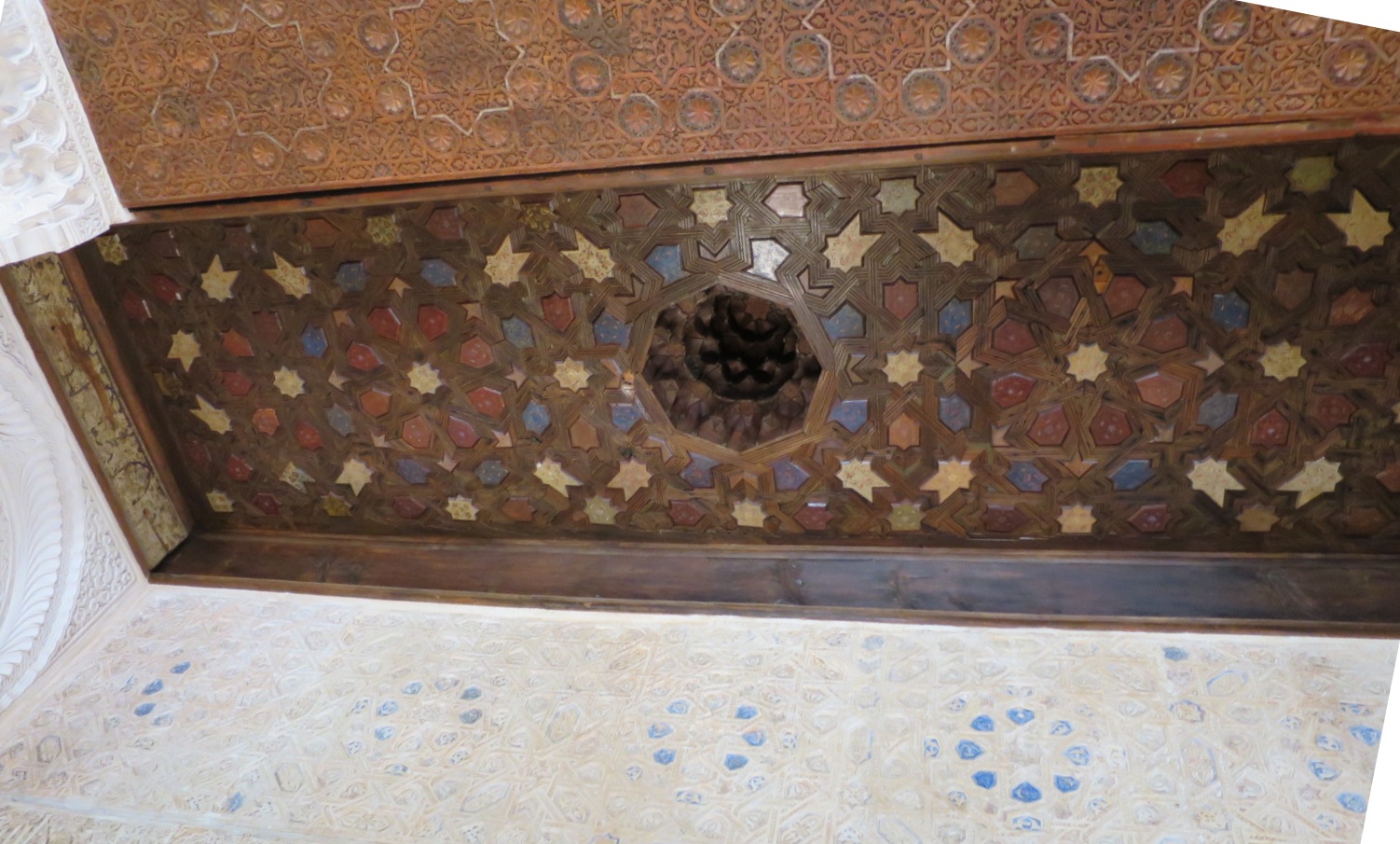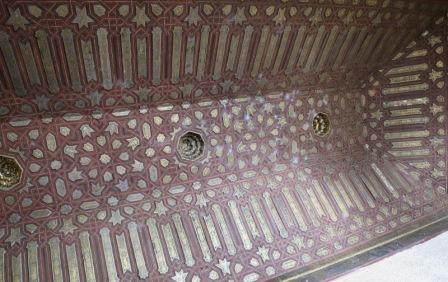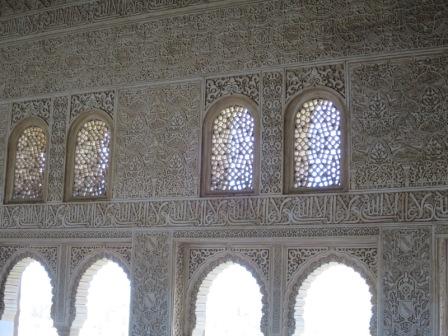 Walls that look like lace.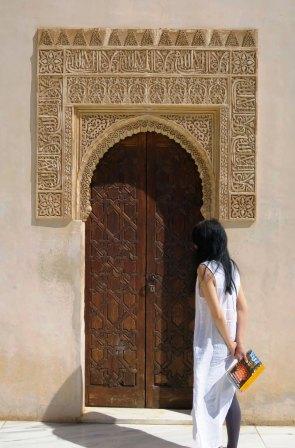 Even delicate door surrounds.
It was hard to absorb the enormity of the place; it took us 6 hours to work our way away round the rooms, corridors and other spaces.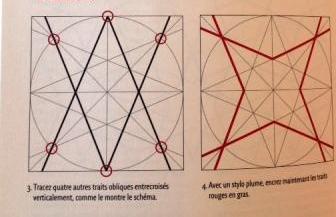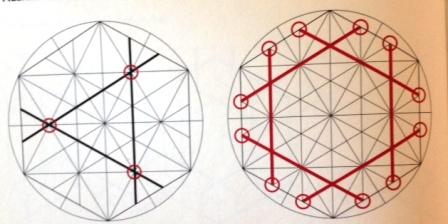 The designs used for the decoration are all based on geometry, lines and circles, with the same basic themes running throughout.
We bought a book on the structure: L'art Motifs Islamiques; it is in French, which I cannot read, but most of it is geometric diagrams based on lines and circles. I am trying to work out how to incorporate them in one of my future projects.
It is available on Amazon: Lart-motifs-islamiques-mode-demploi)
Enjoy your woodworking
Frank (Contact at: Frankramsay8@aol.com)
---
President Frank Ramsay called the meeting to order at 6:05 PM. Our announced speaker, Mark Tindley, could not make it because of the fires in Santa Rosa so John Blackmore has provided a sharpening workshop as a substitute.
New Members and Guests:
Jim Koren, Vernon Maul, John Reinhart
Announcements
The annual Board meeting will take place at 5PM before the November meeting at 6 PM. The Annual Membership meeting will precede it the regular meeting, beginning with a financial report and election of Board members. We need more members to volunteer for leadership positions, especially Program Director.
Harold Patterson announced a Grizzly 10" bandsaw for sale at his shop. Call him if interested. He also brought a miter box and a jig saw for silent auction. Also, free magazines and a 7" grinding wheel.
Some of Arnie Champagne's planes are still available for sale at marked prices.
Yeung Chan brought in a selection of tools for sale including a large number of hydraulic air cylinders that are used as clamps.
Chris Weiss is closing his shop in Oakland and is selling many wood slabs he has collected.
There will be a Japanese Kaizuken demonstration in Oakland next week which will involve cutting and planing big logs with hand tools.
The Box Contest will take place next month.
---
Featured Speakers from BAWA Membership
John Blackmore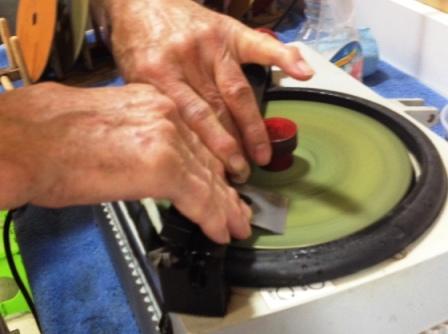 John Blackmore brought in his LapSharp sharpening system as well as a selection of Japanese water stones to demonstrate techniques for sharpening. John first gave a short introduction describing how each system worked to provide two smooth intersecting edges for sharp cutting.
The LapSharp was invented by club member Don Naples and consists of an 8" diameter flat disc turned by a motor and a tool rest with adjustable angle. There are many grits of abrasive available for use from 80 grit down to 3 microns covering the complete range needed. Water is sprayed on the discs and the blade held on the rest at the appropriate angle until the scratches from the previous grit are erased.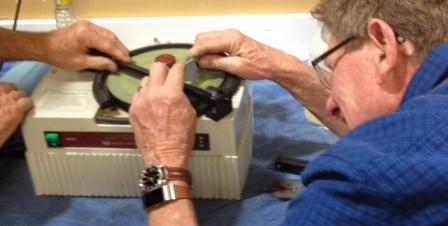 Setting-up
The water stones are based on ancient Japanese natural stones that must first be flattened with a diamond lapping plate. The stones are first soaked in water. The blade is then held in a fixture such as the Veritas Grinding Fixture at the appropriate angle and lapped on succeeding stones until a mirror finish is achieved.
In both cases, the back of the blade must first be ground flat and polished to the highest finish. After the bevel is created, the back of the blade is placed flat on the finest grit to remove the grinding burr.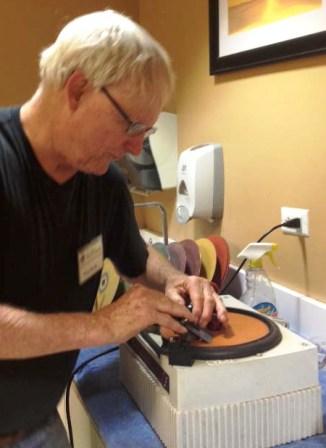 Members brought in their plane blades and chisels to be sharpened and the line for the LapSharp was quite long all evening.
---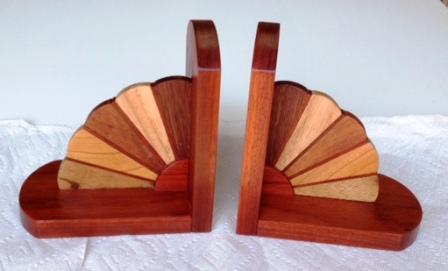 Following the break Frank described a project he has done for Art Stand at Fort Mason which is required to fit inside a 20" cube. It is an Art Deco bookend pair. The procedure for cutting out the five sectors of a circle from differing woods (Mahogany, Jarrah, Maple, Buca) was quite involved and ingenious. It is finished with wipe-on poly and is already sold.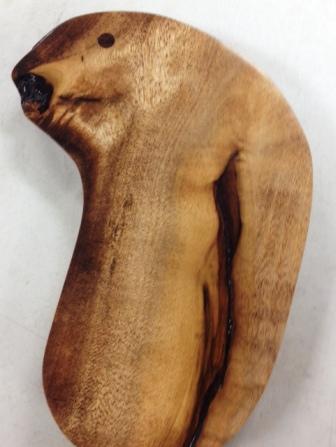 Harry Filer showed a piece of wood that his wife discovered which she decided looked like an otter. Harry agreed and added a contrasting eye and finished it. Quite a piece of artistic serendipity.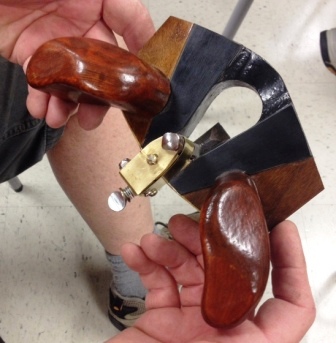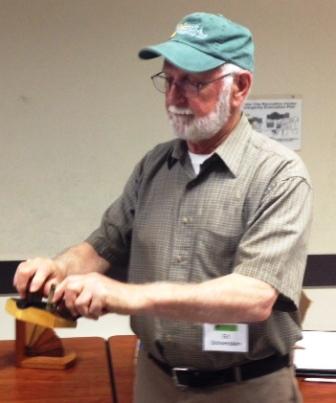 Ed Shoenstein showed a router plane he had made from basswood with a brass plate cut from a cymbal.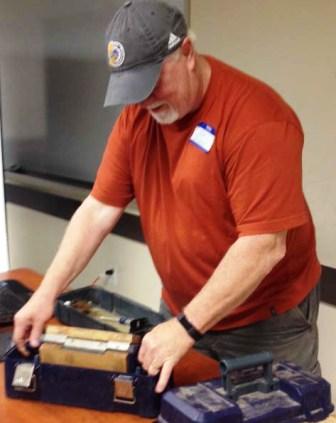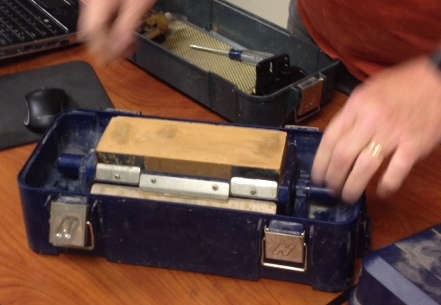 Jim Koren showed a sharpening system he had purchased from Norton which has 3 stones mounted inside a plastic box. It is easily transported and self contained.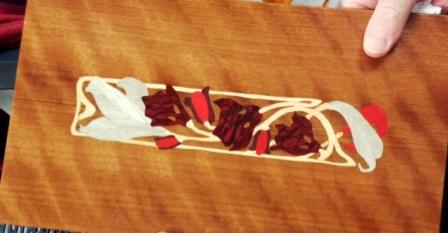 Bruce Powell showed a tray he made from some of Arnie Champagne's wood veneer.
Steve Rosenblum
Secretary steve@rosenblums.us
---