---
---
Fellow woodworkers,
This newsletter is a bit complex. It starts with the report on our BAWA 5th Fine Woodworking Show and then we have the notices for our Board and Annual meetings that will take place on 17 November prior to our regular meeting.
Frank RamsayPresident frankramsay8@aol.com
---
BAWA 5th Fine Woodworking Show
Come, Gone and Again
The Fifth BAWA Wood Show came to a successful close on October 23, 2016 after a three-day run that displayed 38 pieces of work from 20 exhibitors, 17 of whom are club members for a participation rate of 28%, compared to a rate of 26% for the last show.
We started planning for the 5th BAWA Wood Show in May 2016. An early start, we felt, would avoid the last minute rush of entries that has characterized the past BAWA wood shows. The Show Gang this time included: Frank Ramsay, Jay Perrine, Harold Patterson, Jamie Buxton, John Hickman, Steve Rosenblum, Mark Rand, Per Madsen Bruce Powell, John Wilson and myself. Our judges from the last show, John Lavine and Andreas Streive, graciously agreed to critique the exhibited work once again.
The Gang made an early decision to simplify the categories for judging. Along with the Best of Show and Peoples' Choice ribbons the club would award first, second and third place awards at the four skill levels: student, beginner, intermediate and advanced. In addition, there would be first place awards for nine categories of work: table, desk, chair, bookcase, cabinet, creative art, small project and miscellaneous.
The Gang got right to work and meetings were held just prior to the regular BAWA meeting every month preceding the show itself. Ribbons were ordered, a new banner to advertise the show was designed ordered. High schools were contacted to offer students the opportunity to enter the show. Then, we discovered a flaw. Students who had only just returned to school would not have had the opportunity to make any projects. John Lavine, one of our judges who also heads up the Industrial Arts Department at Westmoor High School, suggested we consider holding future Wood Shows in the spring. Point well taken.
By the time September rolled around the early preparations were paying off. New ribbons had been received, the banner was ready to hang, show entry forms were up on the BAWA website, and the registration process began. And, not too surprisingly, we had no interest from the high schools. We would have to address this issue for upcoming shows. Registration began as a trickle, then with telephone call prodding of the BAWA membership, began to accelerate, achieving a last minute rush once again. The show would go on.
Show set up began on Thursday afternoon, guided by John Hickman who got his team to set out the display platforms, draped with white sheets. Exhibitors checked in their work pieces and paid the show fee. Jamie Buxton and Harold Patterson took over from here and photographed each and every piece. Then, John's crew carefully staged the work on the platforms for exhibit. When I came down to Woodcraft early Friday morning all the work was done. It looked stunningly attractive. What a crew. Let the show begin. Now John Wilson and his crew of BAWA greeters would take over.
Friday afternoon before the reception that was to begin in the evening, I toured with the judges as they reviewed all the work, taking notes on their comments and suggestions. It was a most valuable experience. As an aside, I feel that appreciating this judging process will help me to improve my woodworking skills. The judges examined each piece carefully, made insightful and discerning comments, reflecting their keen appreciation for the fine work presented by each exhibitor. The judges will join us for the November BAWA meeting so that we can hear from them first hand. It will be a good learning opportunity for everyone. Ribbons were placed on the winning entries and attention refocused to the party.
Mark Rand and his wife had undertaken the harried task of planning and hosting the opening reception Friday night. And an excellent job they performed. The hors d' oeuvres tasty and plentiful, the donated wine and beer intoxicating, and the crowd mingled and thoroughly enjoyed the festivities. Job well done. We had once again pulled it off and successfully staged another BAWA fine woodworking show.
I express my thanks and congratulations to the Gang, to the exhibitors and to the judges.
John Blackmore, Show Director and Treasurer johnblackmore@comcast.net
---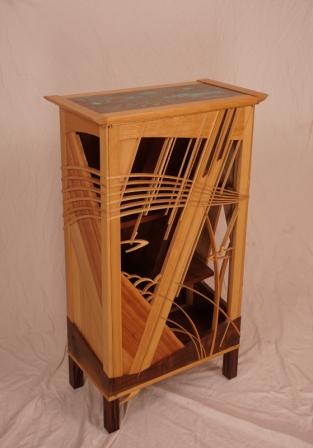 Best of Show (judges award) Scott Wynn - Autumn Rain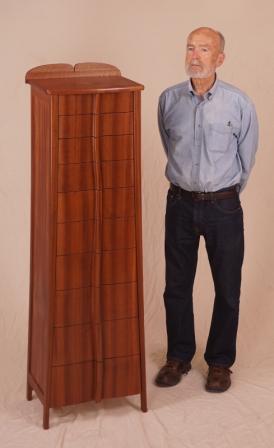 People's Choice (ballot award) Jamie Buxton - Tall skinny dresser
Proficiency Level
Student
First Place: Erik Roise
Second Place: Nathan McNully
Third Place: Nathan McNully
Intermediate
First Place: John Kaplan
Second Place: Stan Booker
Third Place: John Flaherty
Advanced
First Place: Tom Gaston
Second Place: Bruce Powell
Third Place: John Blackmore
Type of Work
Table: John Blackmore
Desk: None
Chair/Stool: None
Bookcase: None
Cabinet: Bruce Powell
Box: John Kaplan
Creative Art: Claude Godcharles
Small Project: Claude Godcharles
Miscellaneous: Bill Johnson
Special Awards Fred Reicher (Cutting Board) & Arnold Champagne (Jewelry Box)
For pictures and details on all show entries: Show 2016
At our next meeting on 17 November will have a Show Review by the judges: John Lavine and Andreas Strieve
---
Notice of the BAWA Board meeting
5.00pm Mist Room
Foster City Recreation Center
650 Shell Blvd.
The agenda for annual board meeting is:
1 Roll call of board members present.
2 Approval of last meetings minutes
3 Financial report - John Blackmore
2016 Expenses to date and projected to year end vs. budget
Proposed budget for 2017
4 Report on our 2016 show and future ideas for the show - John Blackmore
Show expenses vs. budget
5 Program director and 2017 program ideas
6 Location and times for meetings
Due to increase in Bay area commute times shall we consider any different times and/or different locations
Proposal to change our meeting time to Sunday late afternoon or early evening. - John Blackmore
Proposal to change to Thursday at 7.30pm - Steve Rosenblum
7 Membership numbers
8 Discontinuation of Classifieds on website and discussion on member communications - Frank Ramsay
9 Any comments from members present
If you have any comments related to the agenda or have any other items you think the board should consider then please let us know.
---
Notice of BAWA Annual Meeting
7.00pm Mist Room
Foster City Recreation Center
650 Shell Blvd.
We start with our formal annual meeting where we elect the board members for the upcoming year then we move on to our regular scheduled meeting.
As we are an official legal entity "Bay Area Woodworkers Association" we have to operate under rules as defined in our By-Laws, and the laws for associations as defined in the California civil code, which call for an annual members meeting with an election of officers and a financial report.
Our current officers are:
President: Frank Ramsay
Vice President: Jay Perrine
Secretary: Steve Rosenblum
Treasurer: John Blackmore
Newsletter: John Blackmore
Programs: Per Madsen
Membership: John Blackmore
Honorary Board member: Mark Rand
Any member can stand for the board.
I would like to see some more volunteers to help out with the board and the other non-elected positions in the club. As you can see we have John Blackmore currently holding 3 positions.
If you feel you would like to help with the running of the association please volunteer to stand as a board member or help out in one of the other ways.
After election of board members we will have the Treasurer's report from John Blackmore.
---