---
---
President's Message
Fellow woodworkers,
The November meeting is actually 3 meetings rolled together.
We start with a board meeting 5.00 to 6.30pm. Members do not normally attend this but you are very welcome to if you wish. The meeting is in the Spray Room.
The agenda for board meeting is:
1 Roll call of board members present.
2) Approval of the minutes from last year's meeting.
3) Budget discussion and approval of next year's budget.
4) Next year's Show.
5) Change/updating of our By-Laws
- Do we need to update them?
- What process shall we use?
6) Membership - how to increase membership and encourage more younger members to join?
7) What Chairpersons do we need to operate efficiently?
8) Any comments from members present
If you have any comments related to the agenda or have any other items you think the board should consider then please let us know.
After the board meeting we will move to our normal Bluebird Room for the rest of the evening.
We start with our formal annual meeting where we elect the board members for the upcoming year then we move on to our regular scheduled meeting with guest speaker Scott Wynn.
As we are an official legal entity "Bay Area Woodworkers Association" we have to operate under rules as defined in our By-Laws, and the laws for associations as defined in the California civil code, which call for an annual members meeting with an election of officers and a financial report.
Our current officers are:
President: Frank Ramsay
Vice President: Jay Perrine
Secretary: Steve Rosenblum
Treasurer: John Blackmore
Newsletter: John Blackmore
Programs: Per Madsen
Membership: John Blackmore
Honorary Board member: Mark Rand
Any member can stand for the board.
I would like to see some more volunteers to help out with the board and the other non-elected positions in the club. As you can see we have John Blackmore currently holding 3 positions.
The titles of many of the board positions do not mater. One of the agenda items on the board meeting is to discuss the making some of the board positions open. For example the Newsletter Editor position used to have responsibility for keeping the paper down to 4 sides so it would meet the postage weight requirements then printing and posting copies to all members. Today this is a much simpler task as our newsletter is web based but we still need the seven board members to handle the tasks of running the association.
If you feel you would like to help with the running of the association please volunteer to stand as a board member or help out in one of the other ways.
Enjoy your woodworking.
Frank (Contact at: Frankramsay8@aol.com)
---
The meeting was called to order by President Frank Ramsay at 7:05 PM.
New Members and Guests:
Gerald Dietman identified himself as visitor to this meeting.
Announcements:
Per Madsen who described upcoming activities.
Our next meeting on November 19 will be preceded by a Board meeting.
The regular meeting will also include the annual meeting and election of Board members. Please consider volunteering to fill the Board slots and committee chair positions that help to keep BAWA humming along.
The featured speaker will be Scott Wynn who will talk about hand planing.
Dec 10 the meeting will feature our annual Xmas party and Arnie Champagne as the speaker.
The workshop on cutting dovetails sponsored by John Blackmore is scheduled for October 24, 9-12 AM at John's shop and still needs a few more participants. See John to register.
Future talks to be scheduled are on CNC routing, Chinese furniture (Yeung Chan), woodcarving, Dean Santner, and cable car woodcarving.
Frank got an e-mail from Jim Eineck who has a lot of wood for sale in Livermore. Contact Frank for further info.
SF Open Studios will take place over the next two weekends. Bruce Powell, Scott Wynn, and Frank Ramsay will be exhibiting.
Stan Booker announced the wood raffle, a 16" wide oak board and a maple board. There is $70 in the pot with another $30 needed before the raffle can proceed.
Stan announced that he had a bunch of magazines to give away that were donated by Don Naples.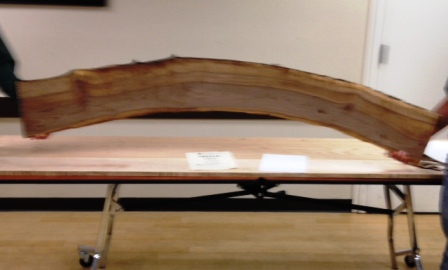 We also need to decide what to do about the curved board kindly donated by WoodMizer.
---
Jamie Buxton introduced the entries into the contest. After which members were asked to select winners in multiple categories.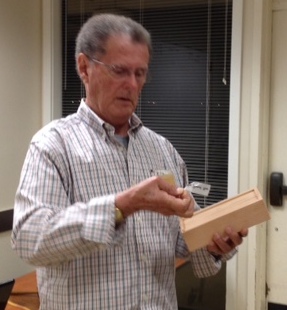 John Wilson showed 7 pencil boxes.
This won the most useful catagory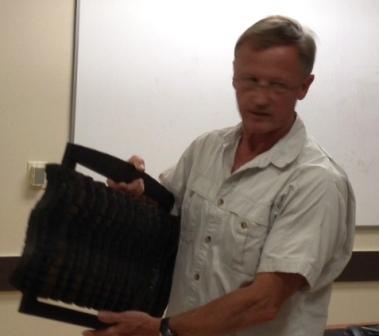 Tom Gaston showed a redwood wall hanging which is intended to look like ocean waves which he finished with a torch.
This won the most wacky catagory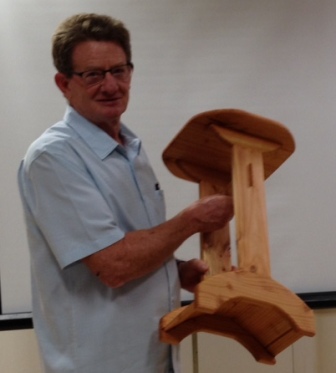 John Blackmore showed a stool with mortise and tenon joinery.
This won the most original catagory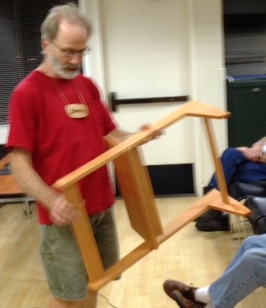 Jamie showed a rocking chair with mortise and tenon joinery.
This won the most beautiful catagory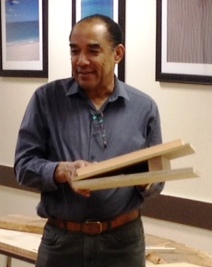 Harold Patterson showed an unfinished step stool with legs set at a 10 degree angle also using mortise and tenon joinery.
This won the most puzzling catagory
---
Paul Discoe of Joinery Associates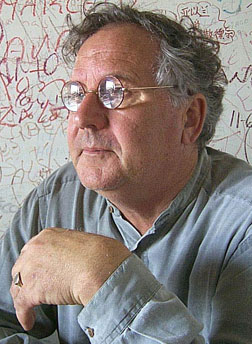 Following the break, Per introduced Paul Discoe of Joinery Associates who is a master of Japanese woodworking and design and has written a book entitled "Zen Architecture" which he offered for sale to members at the end of the meeting. Paul started woodworking early, receiving woodworking tools for Christmas at the age of 6. As a young adult he was inspired to go to Japan to learn Japanese woodworking techniques, even though he understood no Japanese and did not know any Japanese people. As prelude to this experience he had spent 4 years at the Tassajara Buddhist Center and been ordained as a Buddhist priest. He decided to go to Japan to learn the techniques of temple building. The workers he met spoke different Japanese dialects and had little interest in tool use as it seemed like second nature to them. He said that they could cut a mortise faster than you could walk across the room. They seemed most interested in design and layout. Following this apprenticeship he came to the US and did several buildings for the SF Zen Center and several buildings in Europe. He spent most of the rest of his talk describing the work he did on Larry Ellison's compound in Woodside where he was responsible for the design and construction of 12 of the buildings on the 25-acre site.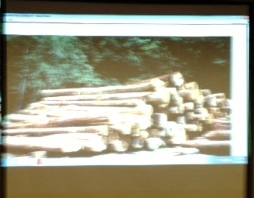 Starting point
The project began with the purchase of 100,000 board feet of Port Orford cedar at $6/bf in 1990. Most of the buildings have thatched or shingled roofs.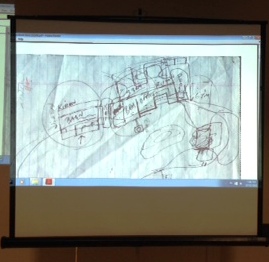 The original plans.
The first one described was the guard house with bullet proof glass. He then described 2 guesthouses, one in a more Western style and one in a Japanese style, which is a copy of a building at the Kyoto Summer Palace.
The next building described was the Entertainment House with kitchen based on the design of a Japanese temple. The construction relies on gravity using only horizontal or vertical members with no bracing. For this reason he had to find curved members for the roof trusses. He was able to locate such timbers at the Georgia Pacific mill in Fort Bragg in a pile that had been set aside as too crooked to cut into lumber. The front of this building overhangs the lake and has a basement under the house, but below the level of the lake.
Paul also built 2 bridges to cross the lake. One uses dry stone assembly with the stones cut to Paul's specs at a factory in China. They were individually numbered and assembled on site.
The next building described was a lakeside stage for Noh plays where the audience sits on boats in the lake.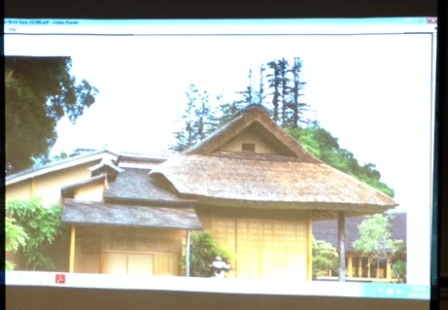 Informal tea room.
Next he showed a 4-1/2 mat informal tearoom, which is used for drinking alcohol and having sex in Japan.
He then described a stone hot tub set into the lake, which was made from a 26-ton block of black granite. It is 6 feet in diameter. It has a polished interior with benches carved into it. It is controlled by a computer, which keeps the water temperature correct and daily empties and refills it from the lake.
The Ellison project occupied him for 10 years, following which he came up with a modular style of Japanese construction based on 3'x6' Japanese plywood dimensions. He has only built 7 of these at a cost of $300/ sq. ft. They are factory-built and assembled on site. To build them he purchased salvaged Dutch Elm logs (Japanese-Hayake) and custom sawed them using a chain mill with hydraulic feed. The boards were then air dried for 1 year and planed to size. The pieces are all marked with a letter and number grid so that they can be quickly placed in the correct spot at the construction site. For machining they use a combination of hand tools and power tools, but no chop saws, Skil saws, or routers.
His most recent activities center around pieces for the Yale Art Museum and the UC Berkeley Art museum using salvaged lumber and a restaurant in SF which will be based on farm to table ideas and will use wastes from fish farming to grow vegetables.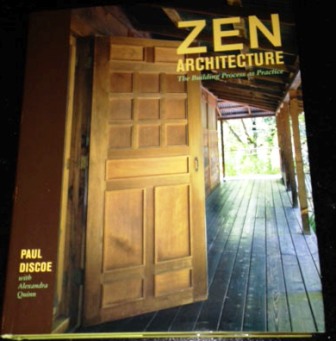 Paul made some copies of his book available for sale, which quickly sold out. Frank proposed to put an order form on our website for further member interest.
Stan then drew winners for the door prizes and the meeting ended.
Steve RosenblumSecretary steve@rosenblums.us
---