---
President's Message
Fellow Members
I went to a very interesting lecture at the CCA a few weeks ago. It was part of their Design and Craft Lecture Series.
The lecture was by David Colwell who they describe as "one of the United Kingdom's most respected designers" His work is in the permanent collections of the London Victoria and Albert Museum and many other places around Europe. His focus is ecological sensitivity sustainable design.
For more information on his work see: davidcolwell.com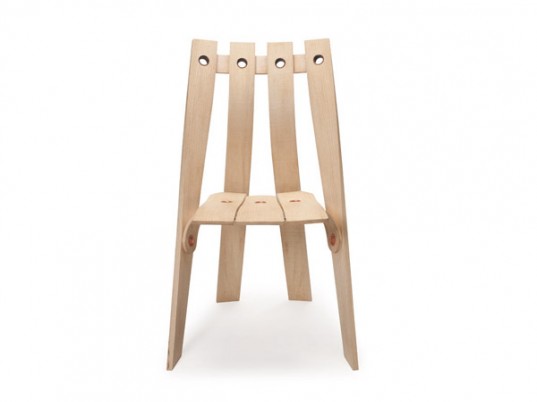 His talk was about the production of a chair made Ash, a tree more commonly known for its use in tool handles, bows and firewood.
David said the Ash tree has very little sap wood so very little waste - also unlike many sustainably grown trees the faster it is grown the stronger it is. He uses the tree totally green straight after it has been felled. The trees are brought directly into the factory, bandsawn into a square block then the blocks are further bandsawn into slats 1/2 - 3/4in wide. The slats are cut to length then immediately put on a large press that bends them into the shape of the chair, holes are drilled and the pieces bolted into position so they cannot change shape. The chairs are left in a drying room overnight then un-bolted, the ends trimmed to size, given a quick sand and then in the final assembly rivets, made from copper pipe, are installed. David says that the chair is very environmentally friendly as the manufacturing does not waste all the energy to dry wood, cut it to size, plane and sand it etc. It is simply cut to final size and thickness on a bandsaw. A very interesting lecture; who needs jointers, planers, sanders and all the big machines we have?
Note: For those interested in such things the California College of the Arts symbol CCA is now

I am still trying to get the relationship between the 3rd character and "A" (Note: Just been informed by our Editor that it is a stylized lower case "a" - which I know you would all have got)
Starbucks with badly made chairs?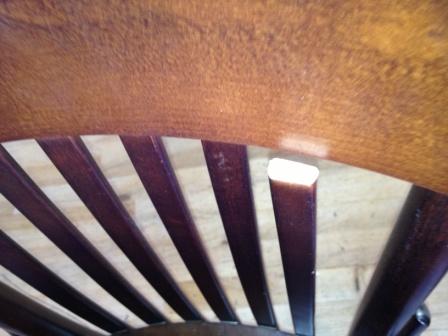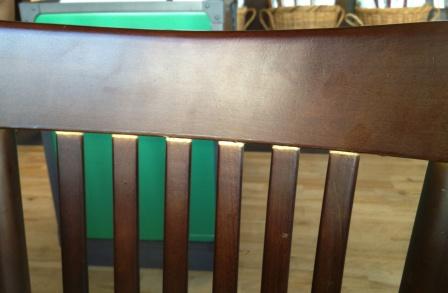 I was having coffee in a Starbucks in San Diego and notice one of the back slats of the chair was hanging loose below the top rail. Then we realized nearly all the chairs in the place had the same problem. The tops had the mortises cut out to the correct depth but the slats were all too short. They were only about 1/16in into the mortise. Made in where I do not know.
Botanical Building in Balboa Park San Diego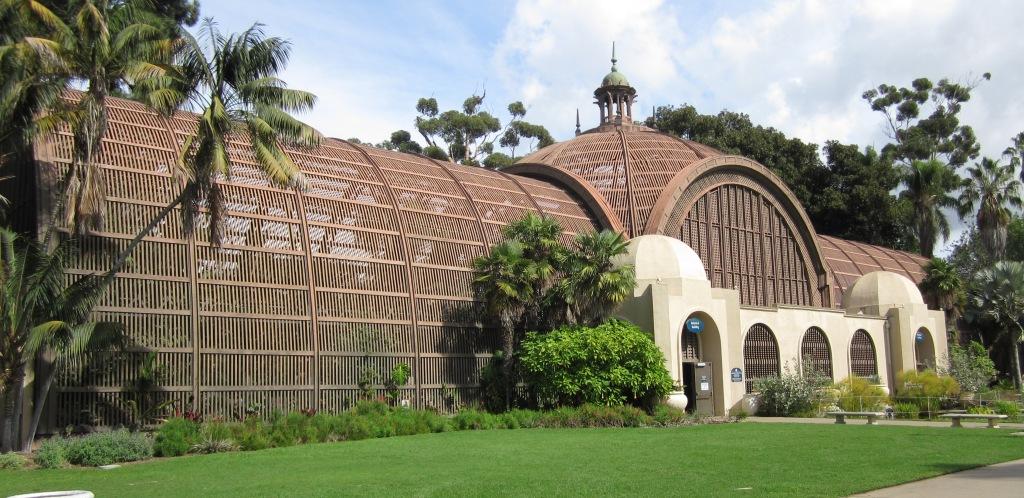 I also saw the Botanical Building in Balboa Park San Diego. Built for the 1915 Panama-California Exposition, the 250 ft long 75ft high building houses a large range of trees plants and other plants. The interesting architectural feature is that it is made from 70,000 ft. of Redwood lath over a steel frame. Must be one of the biggest Redwood structures in the world.
Enjoy your woodworking. Frank
Frankramsay8@aol.com
---
At our meeting on Thursday 15th November our regular meeting will be proceeded by the short Annual Meeting. This main purpose of this meeting is the election of the Directors of the Association for the next year. The Director positions are listed below. If anyone would like to put their names forward for election to any of these positions please inform our Secretary John Blackmore at: JohnBlackmore@comcast.net
President: Present incumbent: Frank R. Ramsay
Vice-President: Present incumbent: Jay Perrine
Secretary: Present incumbent: John Blackmore
Treasurer: Present incumbent: Marcus Miller
Newsletter Editor: Present incumbent: Steve Rosenblum
Program Director: Present incumbent: Per Madsen
Membership Director: Present incumbent: Fred Reicher
---
BAWA 3rd Annual Woodworking Show
The show took place starting with a reception at 6 PM on Friday October 19th at the Woodcraft store in San Carlos.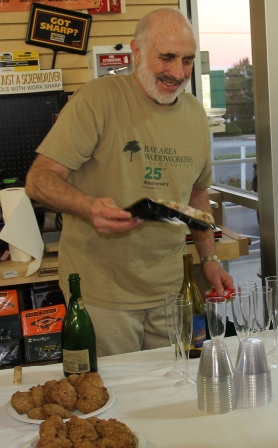 Fred: Hospitality Chef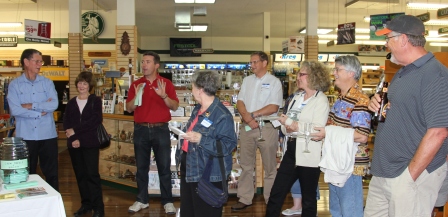 Eric with an audience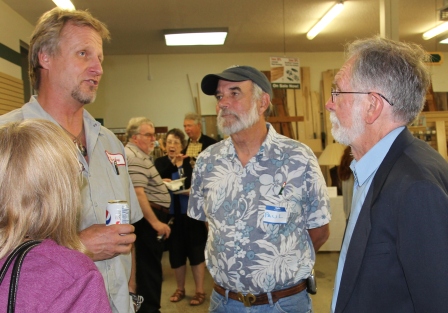 A philosophical discussions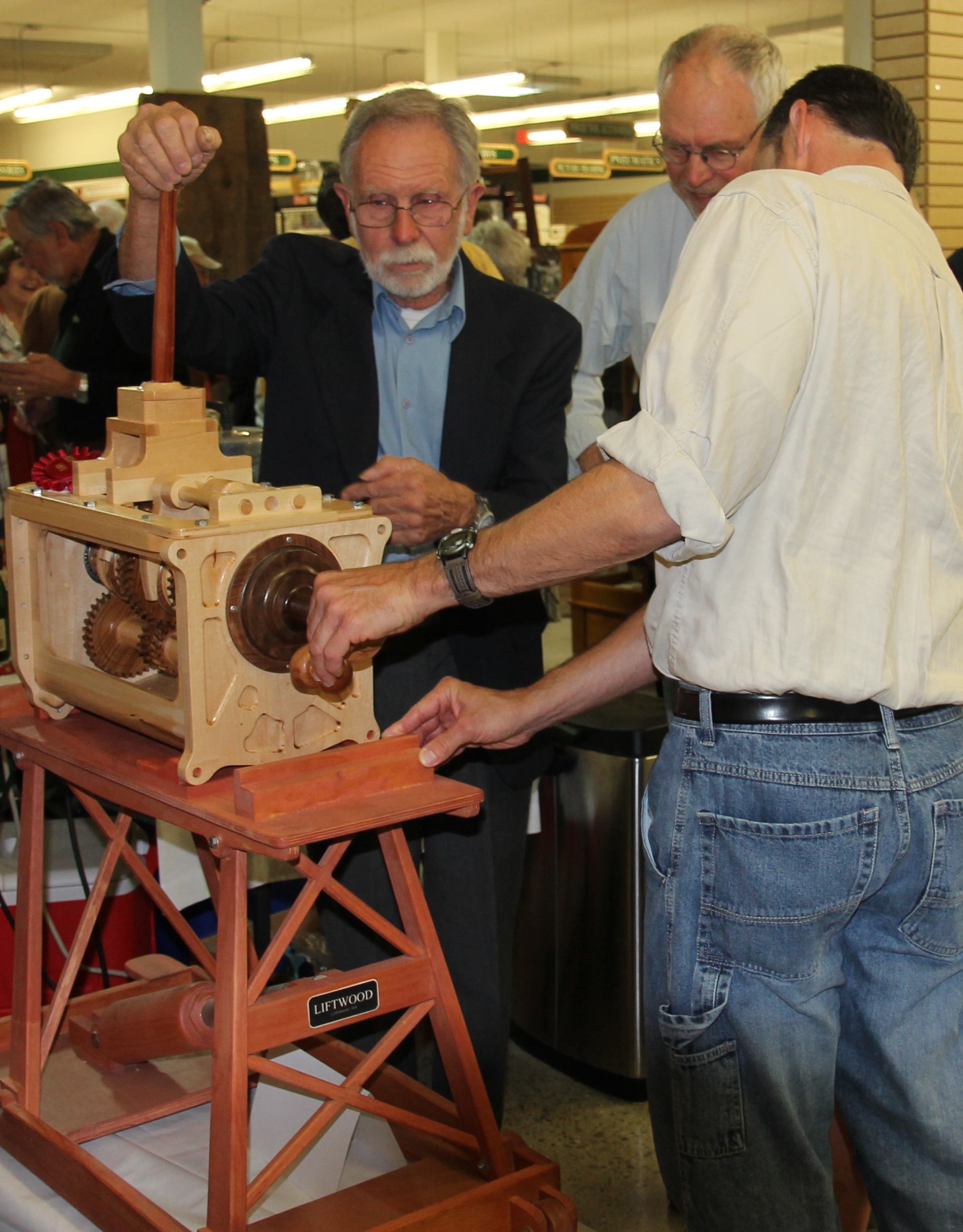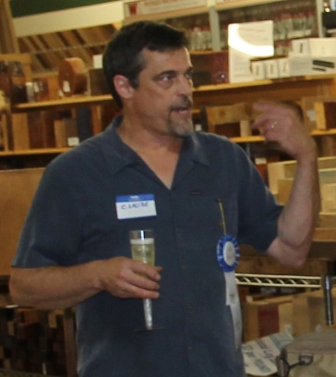 And lots more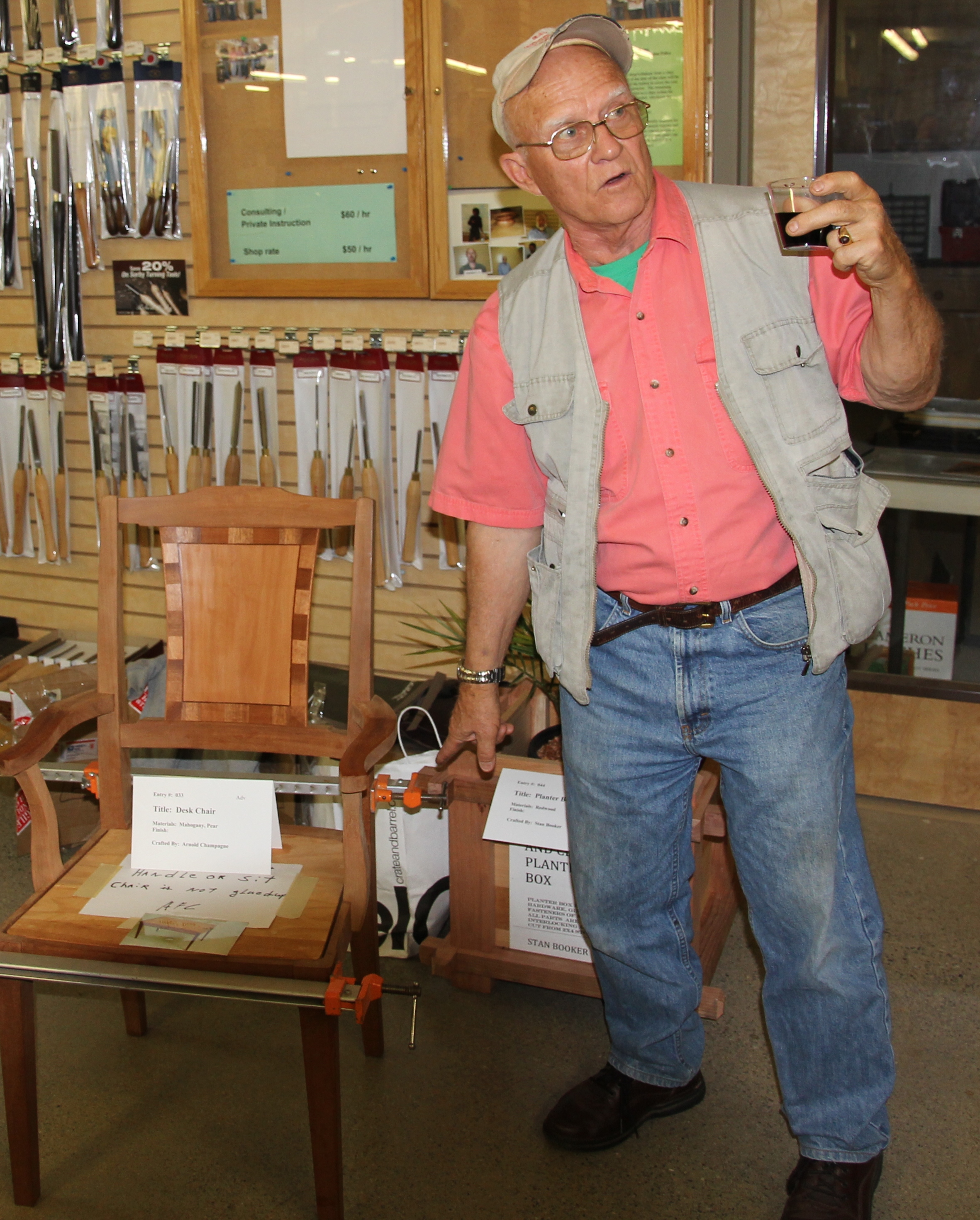 The reception refreshments were dispensed by Fred Reicher and consisted of a delicious combination of cheese, sushi, deli meats, crackers, wine, champagne and beer.
Many BAWA members attended the opening and enjoyed talking with each other about the wonderful array of projects being shown.
The show committee consisting of Claude Godcharles as Chairman assisted by Ed Marinaro, Frank Ramsay, John Blackmore, Fred Reicher, Per Madsen, Jay Perrine, and Steve Rosenblum did a masterful job of attracting and arranging the exhibits, attracting club volunteers to help out, and publicizing the show.
Attendance was probably over 200 people for the two days of the show over the weekend as evidenced by the 102 raffle entries submitted, a number which represents only a part of the attendance figure.
This year we had 28 exhibitors displaying 70 items compared with the first show where we had 28 exhibitors and 60 items.
This year for the first time we divided the exhibitors into skill categories and added a high school woodworking class section.
The judges, John Lavine and Andreas Strieves of Gallery M, spent most of Friday morning looking and evaluating all of the submissions. Here are the results:
---
BEGINNER LEVEL (5 entries):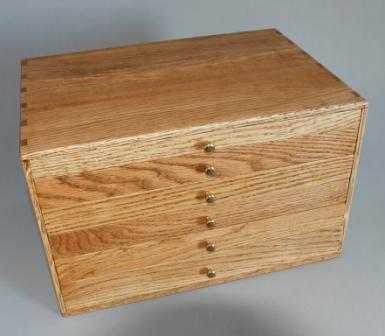 First Place: Jon Kaplan - Watch Box
Second Place: Paul Larson - Shaker Nightstand Third Place: Harry Filer - Redwood Root Lamp
---
INTERMEDIATE LEVEL (21 entries):
TABLE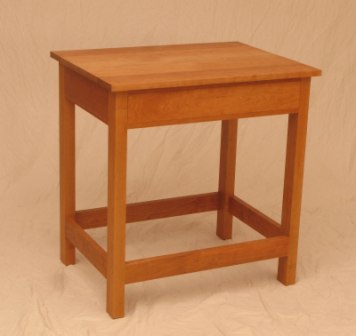 First Place: Bob Young - Tool Chest Table
Second Place: Damon Manni - Nakashima Style Table Third Place: Neal White - Vineyard Cocktail Table
CHAIR/STOOL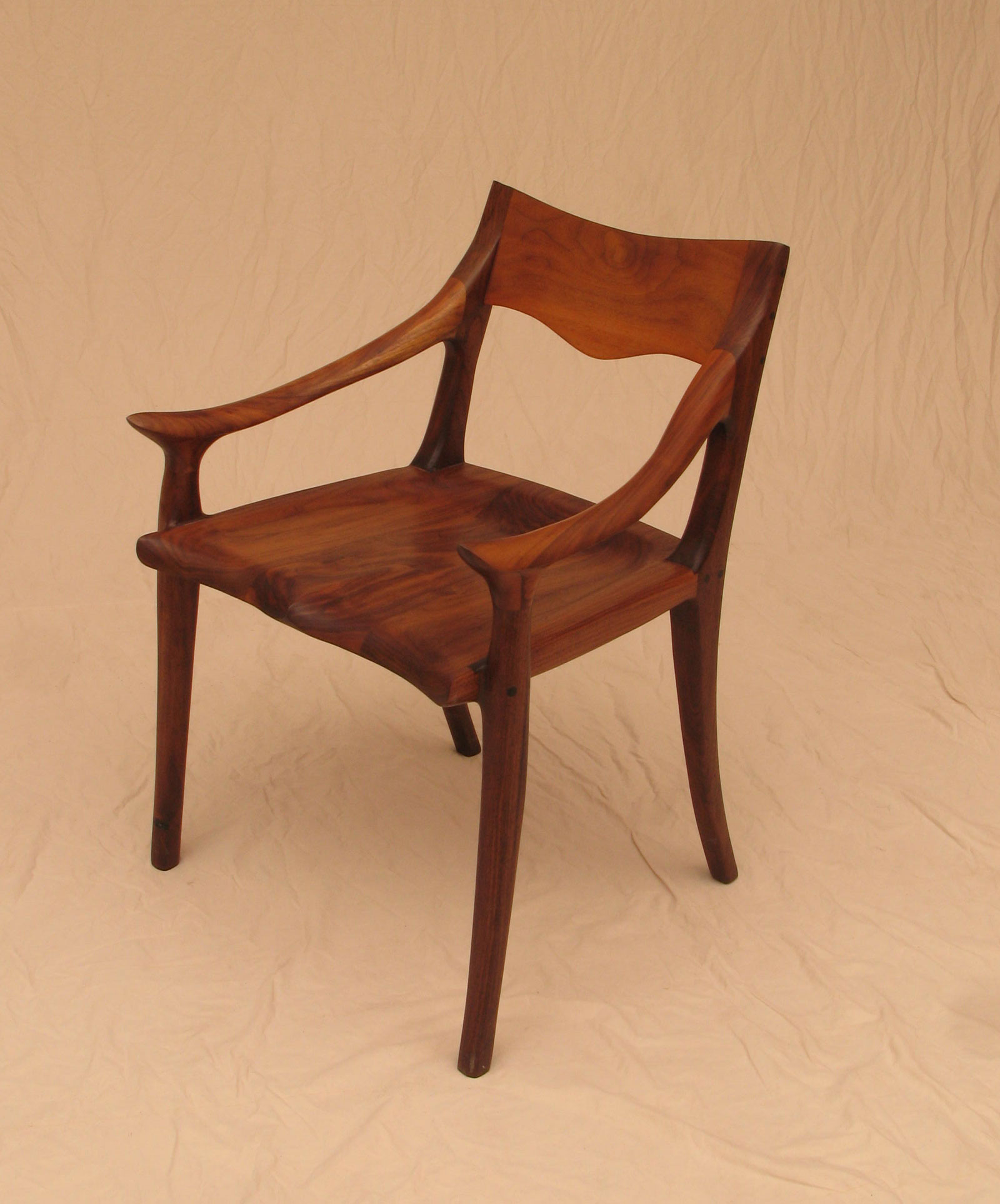 First Place: Damon Manni - Maloof Style Low Back Chair
Second Place: John Wilson - Kitchen Stool
BOX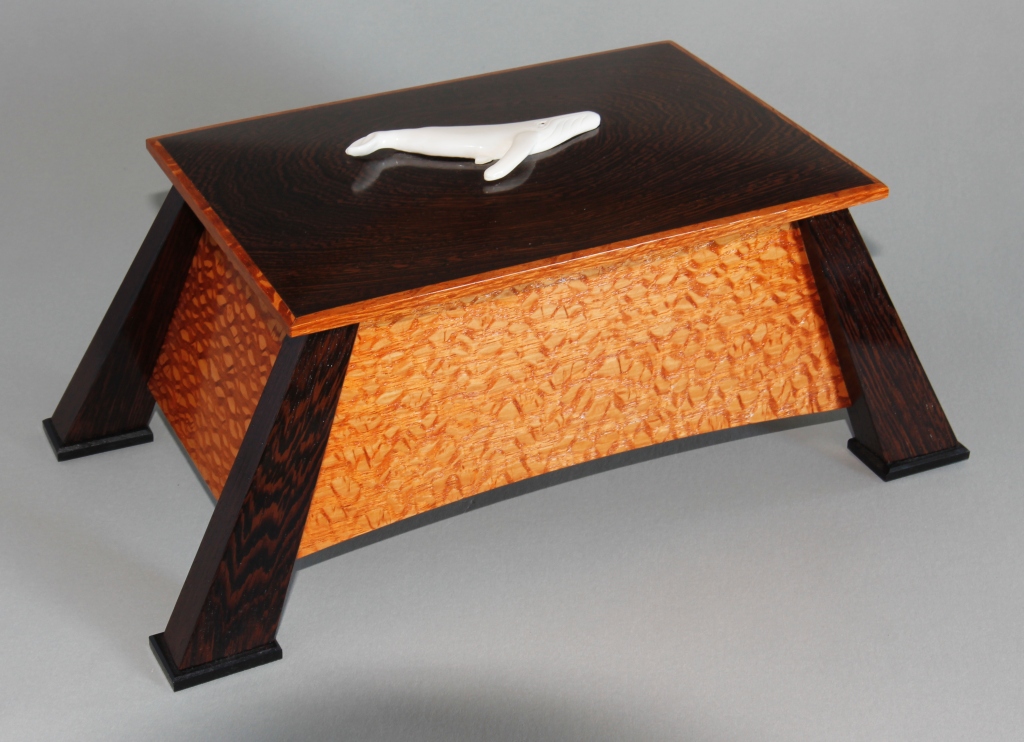 First Place: Jerry Lewis - Lacewood/Wenge Box
MISC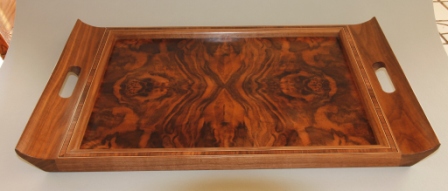 First Place: Harold Patterson - Serving Tray
Second: Place Dan Goodman - Cal-King Bed Third Place: Ed Marinaro - Krenov Style Wall Cabinet
---
ADVANCED/PROFESSIONAL LEVEL (21 entries):
TABLE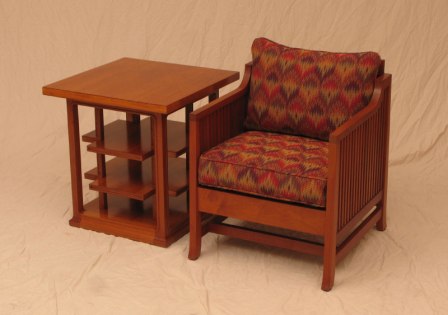 First Place: Mark Bouquet - Frank Lloyd Wright style table
CHAIR/STOOL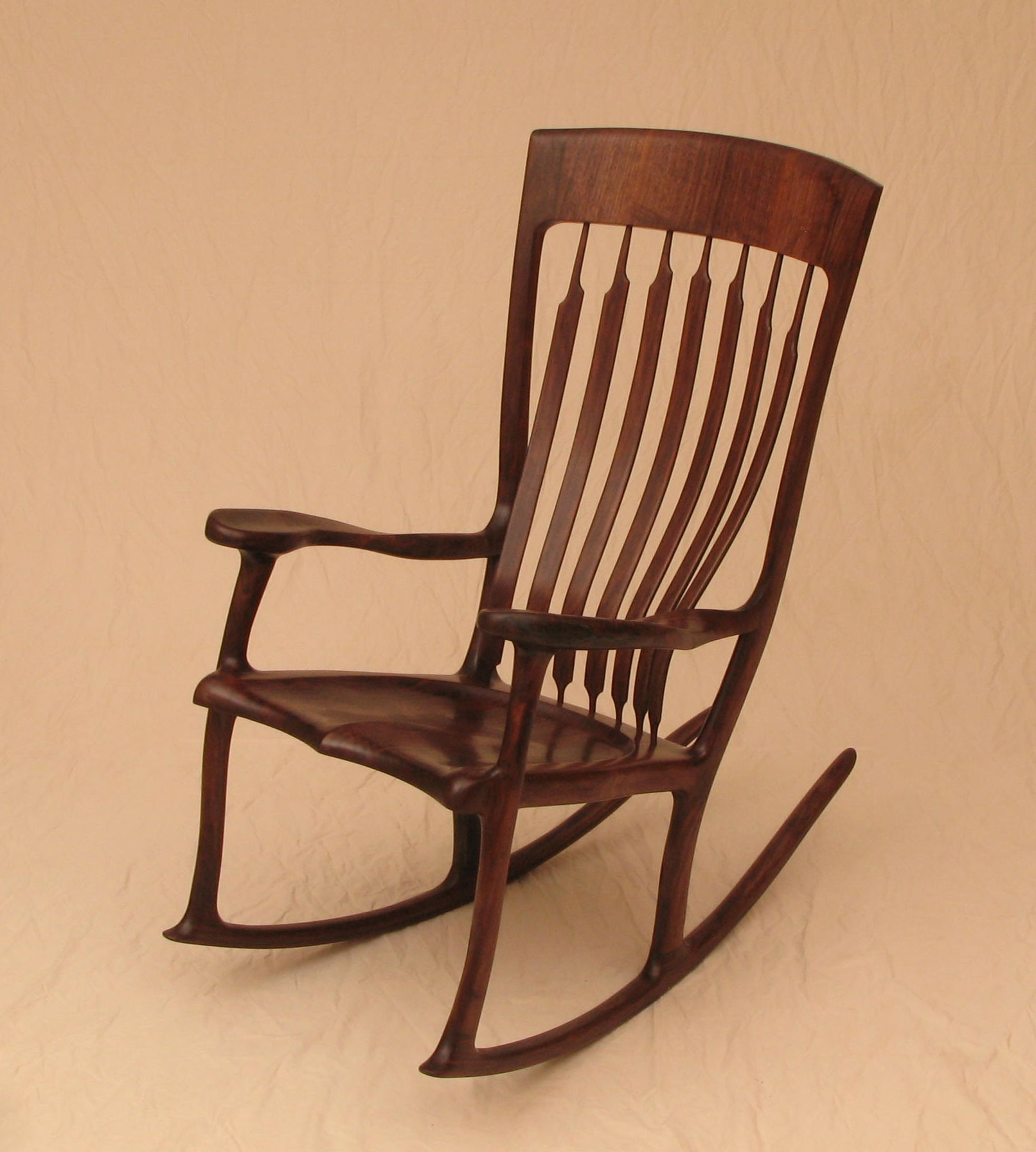 First Place: Eric McCrystal - My Dad's Chair, Maloof style rocker
Second Place: Mark Bouquet - Frank Lloyd Wright style chair
BOX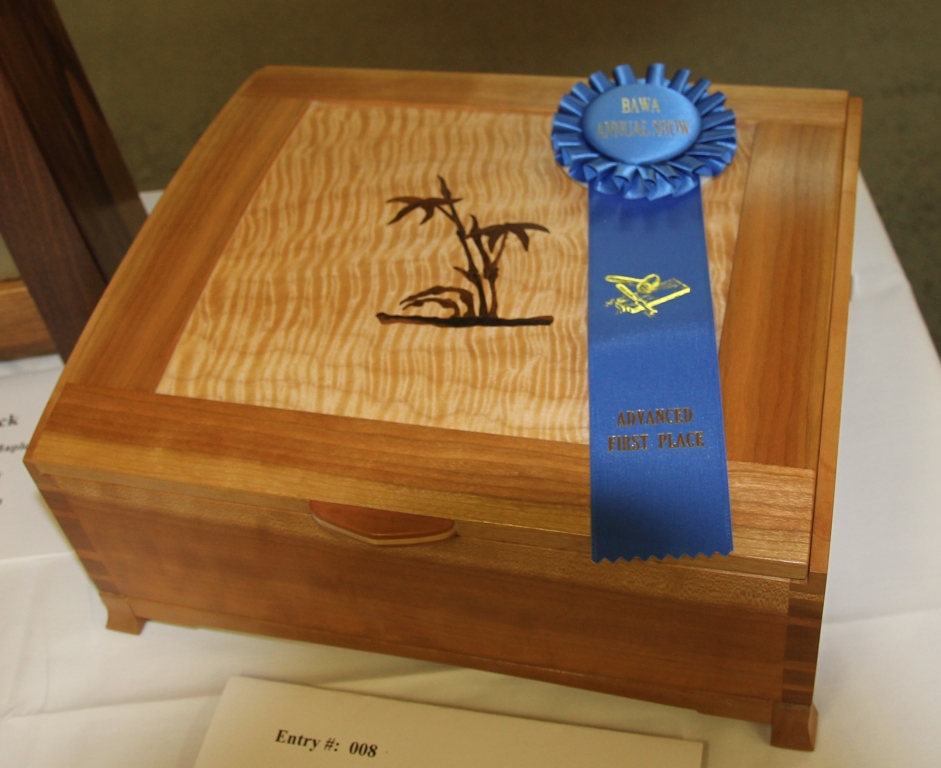 First Place: Arnold Champagne - Tea Box
MISC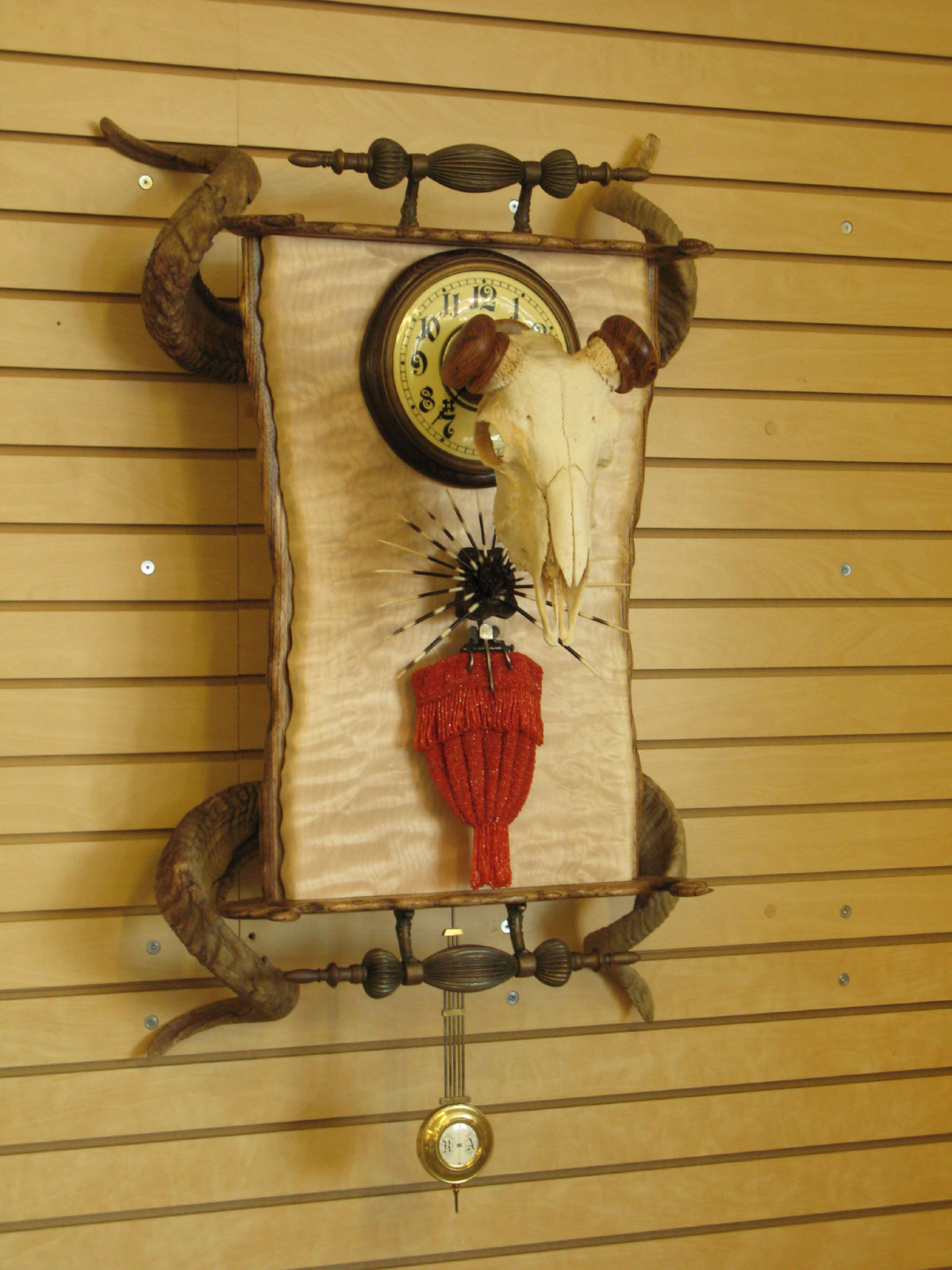 First Place: Michael Standefer - Still Life with Beaded Bag
Second Place: Frank Taylor - 5-Speed Sculpture
---
STUDENT (4 entries):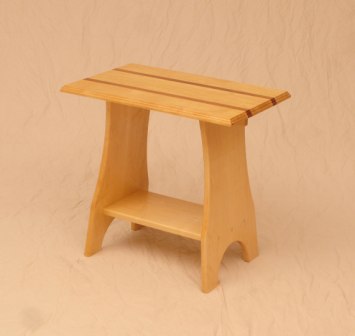 First Place: Dominic Colindres (Terranova HS, Pacifica) - Small Table
Second Place: Ariana Olivares (Terranova HS, Pacifica) - Small Table Third Place: Joey Cordero (Terranova HS, Pacifica) - Small Table
---
BEST OF SHOW (judges award):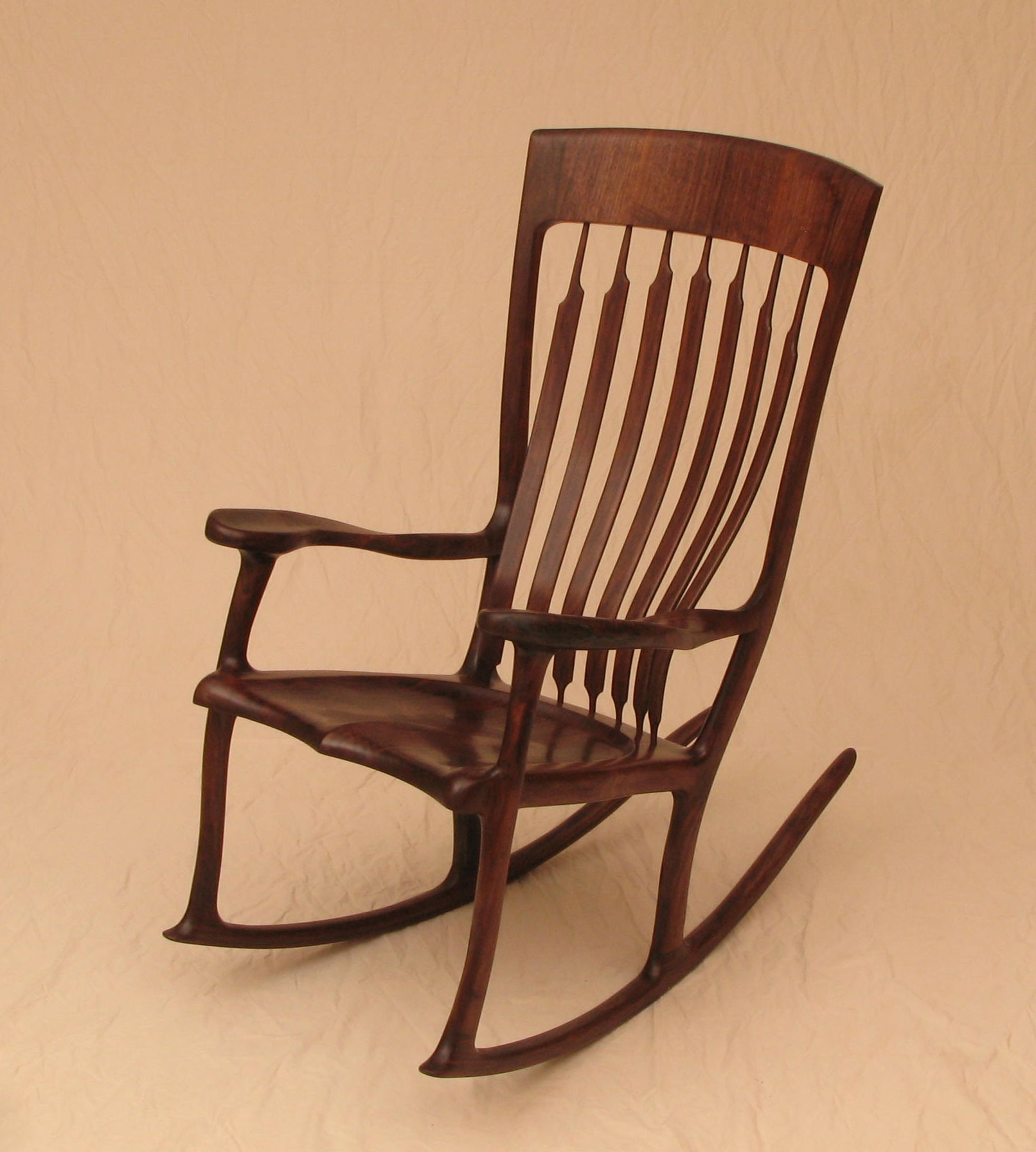 Eric McCrystal - My Dad's Chair, Maloof style rocker
---
PEOPLE'S CHOICE (ballot award):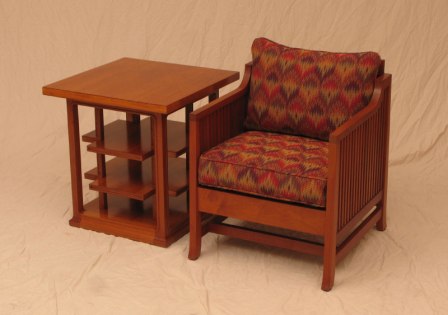 Marc Bouquet - Frank Lloyd Wright Table
---
The pictures of the submitted items which were taken at the show by Jamie Buxton and Harold Patterson attest to the quality and craftsmanship of the exhibitors.
This year we opened the show to non-club members at a higher entry fee and as a result were able to attract 2 new members.
In addition, we would like to thank:
Eric & Charmaine McCrystal who provided the space for holding the show at their store, and donated a toolkit for the raffle.
Taunton Press (Diana Mackay) who provided Woodworking books for the raffle.
West Bay Woodturners (Laura Uden) who provided their show documents and guidance.
Feedback on your entries
At the next meeting you will get a photo print and critique of your entries for the show. The two judges will be present to answer questions and provide more details on their comments.
Show Pictures
For full set of Show pictures go to:
Show Pictures
Stephen Rosenblum steve@rosenblums.us
---