Presidents Message
Fellow Members
We just had our 2nd Annual BAWA Show at Woodcraft in San Carlos. It was a great event and you can see the show report below. I would just like to thank all of you who participated this year. I would also like to thank Ed Marinaro and his group who coordinated and made the show happen. The show committee was: John Blackmore, Per Madsen, Jay Perrine, Mark Rand, Fred Reicher and Steve Rosenblum.
October also was the month for the San Francisco Open Studios where over 800 artists were showing their work in the City for 5 weekends. This year was a special occasion; for the first time I have noticed Open Studios had an actual Furniture maker showing. Scott Wynn, who was our BAWA speaker last January, had a nice display of his work at his workshop. The workshop is in a large building where many other artists were displaying their paintings, sculpture and glass work so visitors were able to see fine woodwork along with the other forms of art. It brings up the art/craft issue again - whether creative pieces of furniture are a form of art. There are Open Studios in Silicon, San Mateo, Marin, and Alameda plus other districts around the Bay area. I hope the trend continues and next year we can have a few more of our professional furniture makers / woodworkers showing their work to a non-woodworking audience. For woodworkers who want to sell their work Open Studios may help them connect with potential clients.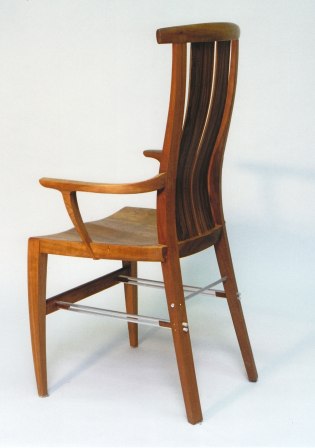 A Scot Wynn chair
We have recently created a BAWA Facebook page. It is still in its early, formative, stage but if you are a Facebook user and "Like" the BAWA site you will automatically receive notification of updates to our website. For example: new pictures or a new set of good tools for sale etc. plus other BAWA information.
Bay-Area-Woodworkers-Association
Enjoy your woodworking.

Frank R Ramsay
President
frankramsay8@aol.com
---
Second Annual BAWA Woodworking Show October 2011
How could the Second One be better than the First One? The simple fact is that participation in the 2nd Annual BAWA Woodworking Show was higher this year than last, the pieces were more varied and of higher quality. This year we had 24 exhibitors showing 22 large works, 9 smaller works, 3 poster exhibits, 23 boxes and 10 2 x 4 entries.
The Wood Show was held at Woodcraft in San Carlos over the weekend of October 21-23, 2011. Eric McCrystal, the owner of this Woodcraft store, once again cleared the entire front floor along the front facing windows for our exhibits. As you might imagine, this year the exhibition space was full, but certainly large enough to show all the work to its full advantage. We extend our thanks to Eric and to Woodcraft for supporting BAWA in this endeavor.
The Gang of Eight, (Marinaro, Madsen, Ramsay, Rand, Reicher, Rosenblum, Perrine, and Blackmore) began planning for the Second One in July. Sure, we had lots of time and we were starting early. So let's address a few key issues. Did we want to have a judged event this year? Who would we get to be judges? Would we have categories for the different types of work? What criteria would be used for judging? Would anyone want to have their work judged? That was the big question.
The Gang unanimously felt that judging would add a new element to the show, perhaps encouraging entrants to work a little harder, do a little better, ratcheting up to a higher level. We considered a panel of outside judges, but settled on just two from within the club. After all we are fortunate to have several very talented woodworkers in our membership. John McCormack accepted our invitation to judge for design and Mike Bray accepted to judge for craftsmanship. And we went one step further - we wanted to encourage audience participation, so we decided to invite all wood show attendees to vote for the Best of Show award.
The other big change this year was categories: large works, smaller works, poster exhibits (for very large work), boxes, 2 x 4 contest pieces, and toys from the Toy Work Shops.
By the time the September BAWA meeting came along, we looked to be short of entries for the show. Panic time? Nope, it was time to man the telephones and call out the troops.
And the BAWA crew responded admirably. Commitments came flowing in, members rushed to complete their projects and on Thursday, Oct. 20, the day for set-up, we were deluged with finished wood work. Per, John Wilson, and I rushed to assemble the display platforms, drape them with sheets and place them on the display floor. As each piece of work arrived, it was photographed, and then placed for display. By Friday at noon we were ready to go. The judges could go to work. Claude Godcharles accompanied the judges, noting their comments and answering questions.
The welcome reception for the Wood Show was held on the exhibit floor Friday evening. Fred and Irene Reicher hosted the refreshments, complemented with some wine donations by BAWA members. Our club treasurer, Mark Rand, has yet to see the bills for food, champagne, beverages and supplies. We are awaiting his dismay.
During the reception, attendees were free to roam the exhibit floor, peruse the fine woodworking, and pick their own favorite works in wood. And there was much to admire. Several people suggested we set up a race between Frank Taylor's motor cycle, Tom Gaston's serving cart and Stan Booker's coaster wagon; but we just did not have a suitable course set up; maybe next year. Jamie Buxton's works were favorites - his folding deck chair, the dining room chair and the elegant 2 x 4 wastebasket that everyone wanted for their own. Could there be a commercial opportunity here?
Ray McKinnon displayed a tall jewelry cabinet and a table made of reclaimed lumber and glass. Maury Ostroff's red oak and cherry cabinet garnered a lot of attention. John Blackmore showed a floor lamp made for his mountain home. Tables were in abundance: Ed Marinaro's bubinga dining room table was beautifully crafted and finely finished, Claude Godcharles' mahogany Greene & Greene style table invited your touch, Eric McCrystal displayed an unfinished craftsman table soon to be the center piece in his living room, and John Wilson exhibited a walnut table with a floating top. Frank Ramsay displayed a Rosewood side table and presented a poster for his window table. The curly maple table with natural edges exhibited by John Blackmore was a standout. Terry O'Donnell exhibited two tables, a side table in mahogany and a small one in white oak. Fred Reicher's maple drop leaf table was a standout.
Several pieces were simply extraordinary: John Seybold's Rising Sun music stand with a marquetry tree was finished to a perfect polish, his boxes the same. John McCormack's pencil chair sat preeminently near the front door. Bruce Powell's poster of his Biedermeier style sideboard offered only a glimpse of what must be a spectacular piece of work. And if you were curious, you could find some stunning work in the display cabinet: Tom Gaston's walnut and copper flower holder, Harold Patterson's fly and gentleman's boxes, Fred Reicher's knife and case, and Mark Rand's decorative wood turning.
The boxes were the big surprise. Who would have thought such small things would attract so much attention. There are sure to be a larger part of the show next year. Jerry Lewis's Spider Box and Whale's Tail Box are beautifully intricate and very finely crafted, John Seybold's redwood tea boxes showing all end grain must have required infinite patience and lots of gluing. Eric McCrystal's humidor with a Spanish cedar interior makes you want to make a reservation to go to Cuba. Ed Marinaro's jewelry box probably has given his wife an excuse to go to Gumps in San Francisco. Arnie Champagne rushed back from his river trip to finish his boxes.
The 2 x 4 contest Items were stuck in the back of the exhibit area, not where they belonged. Some of these items were clearly the best in the show. Jamie Buxton's wastebasket and three-legged stool are simply elegant. Ed Marinaro's music stand is a feat of engineering, craftsmanship and beauty. John Wilson's tool boxes may have us reorganizing our own tools into new boxes.
Near the end of the reception, the judges' decisions were announced and awards presented. Please see Ed Marinaro's write up.
And so the show went on for the weekend, closing Sunday afternoon with a mad dash to close the exhibits, clear the floor and put away the platforms. Now we are ready to begin to plan for next year. This year was a wonderful surprise. We had more exhibitors, more varied work and a lot of very stunning workmanship. The bar has been raised and BAWA vaulted over it. Congratulations to everyone.

John Blackmore
JohnBlackmore@comcast.net
---
The Second Annual show was held at the Woodcraft store in San Carlos, California. This year's show was highlighted by the judge's selection for the Best in Design and the Best in Workmanship. On Friday, October 21st our two judges Michal Bray and John McCormack selected from the over 60 pieces submitted to the show for First, Second and Third place awards in both categories. That evening at the show's reception the awards were announced.
All guest were encouraged to enter the selection for the BEST of Show award. Our CFO Mark Rand counted the ballots and on late Sunday afternoon announce the BEST of Show award:
Sincere thanks to all of our judges for their careful eye toward quality and the outstanding job in selecting the best of all the works submitted.