---
President's Message
Fellow woodworkers,
We stayed in Honolulu recently. In the hotel lobby was this magnificent bit of wood from some old growth Koa tree. It would be hard to find such beautiful logs today.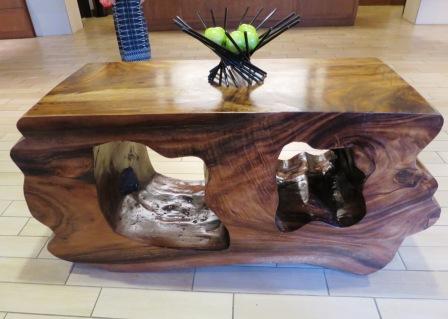 When I looked closely I noticed that the log was not quite big enough to make the large flat table surface so some woodworker had patched in a few smaller planks to make it complete. Very inconspicuous and a great way to stretch you log to make it work.
There used to be a lot of old growth Koa trees on the island but like everywhere else they have been decimated by over-cutting. There are still some old growth trees on the island but today I think they are all protected. The oldest Koa tree still standing is is about 500 years old, 115 feet tall with a 343 in. girth. If you are interested a few years ago there was a forest containing over 50,000 tress, including many old growth Kao trees, for sale in Hawaii for only $22M.
Koa is now one of the most valuable woods on Earth and this situation has led to harvesting methods which are unsustainable. There is still some older Koa wood in the market today but the price is very high is very high. The price has risen more than 1000% in the last ten years and more than 2000% in the last twenty years.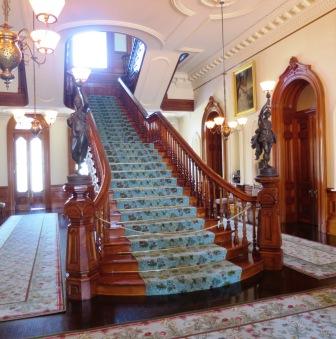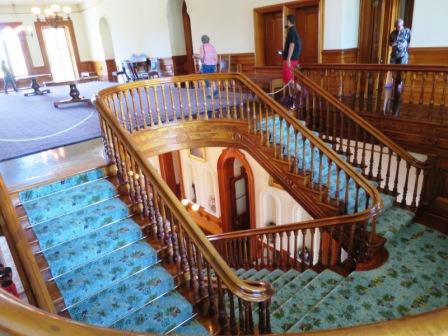 We also visited the Iolani Palace where the last Queen Liliuokalani of Hawaii lived until see was deposed in 1893 because of her objections to the way the American sugar barons were taking over the islands. After she was deposed she was kept imprisoned in on of the rooms of the Palace for a while. Later it was taken over by the local government and for over 70 years was used for local government offices. In 1969 a group, the friends of Iolani Palace was formed with the goal of restoring the Palace to its former glory The last rooms were restored only a few years ago so after 60 years the Place now looks like before the overthrow of the Queen.
If you are interested in Royal Palaces it is the only one in the USA and the only on that ever existed in the USA – something to do with tea.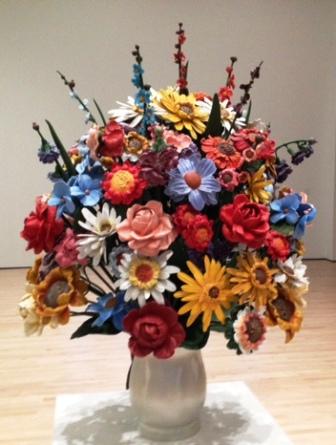 Large Vase of Flowers
It is not often we publish a nice bowel of flowers in our Newsletter - inspiration for next Mothers Day?
The exhibit is on display in the newly remodeled SFMOMA Museum in San Francisco. A sculpture by the artist Jeff Coons made in 1991. The description of it reads "Polychromed wood" ie: painted wood - a challenge?
Enjoy your woodwork
Frank (Contact at: Frankramsay8@aol.com)
---
The meeting was called to order by President Frank Ramsay at 7:05 PM.
New Members and Guests:
Scott Medberg identified himself as a guest who has not done woodworking for a while.
Announcements:
Per Madsen described the upcoming schedule.
May 19th we will have a speaker from the SF Cable Car Wood Shop.
June 16th Mark Tinsley will talk about building a copy of a Stradivarius violin.
July, August and September are still open for suggestions.
There will be no regular meeting in October, which is reserved for our biennial Woodworking Show October 21-23, so all members are urged to get to work on projects.
November the show judges will comment on their reviews of the work.
December we will have our Annual Potluck with Frank Ramsay presenting a history of the club.
John Blackmore reported on the first meeting of the Show committee tonight. The fees for the show will be $25 for one large piece, and $5 for each additional piece up to a maximum of five per entrant. Small pieces will be $5 each. There is no charge for student entries or for 2 x 4 pieces. The financial objective is to breakeven. Tonight there will also be a wood raffle of bocote and madrone for paid up members only.
Stan Booker announced the continuing raffle of a piece of 8/4 cherry about 9 feet long. There will also be a raffle of door prizes at the end of the meeting including lady pushsticks fabricated by Frank Taylor.
Frank announced a Rebuilding Together project that will take place 4/23 and 4/30. He will share details with any members wishing to take part.
Frank Taylor announced that he has some pieces of acacia to give away in his truck.
---
Kan Napior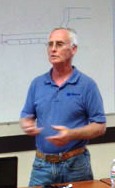 Per then introduced our speaker, Kan Napior, whose talk will deal with Finishing.
Per mentioned that he has invited a salesman from General Finishes to speak to us and that he will try to schedule it soon.
Ken's finishing techniques have evolved over time but he tends to stick with those that he feels most comfortable with. He likened it to fishing where a fisherman will continue to fish with tackle and in places that he has been previously successful.
He first described the process for a Queen Anne table made of cherry. He first applied a sealer of Zinnser Shellac of an approximate 2 pound cut thinned 50:50 with mineral spirits. He referred to an article in Fine Woodworking #27, page 48. John Blackmore suggests using a 1-1/2 inch wide scraper to remove excess glue. Sand to 320 grit before finishing. Machine rough sanding can be done with a belt sander. For finer sanding use an oscillating pad sander, a random orbit sander or a detail sander. Sanding is the most critical part of finishing and you need to go through all the grits from rough to fine in order to remove the progressively finer scratches. If you skip grits you run the risk of leaving some scratches in your work. Pay special attention to end grain to get it smooth. Use your hands to feel for places that are rough. Wipe the surface with mineral spirits or water to look for blemishes in the wood, especially glue. Use a light at a low angle to inspect the surface. In addition to using shellac as a sealer , you can also consider varnish thinned with mineral spirits 50:50, 60:40, or 70:30. After each coat sand to 320 grit. The best way to get rid of remaining dust is to use an air compressor to blow it off followed by a tack cloth. Tack cloths should be used and thrown away as they lose their tackiness over time.
Coloring the wood can be done with either dyes or pigments oil or water based. If you can get a good dye recipe, use it. The final color is determined by four factors: color of the stain, nature of the wood, how long stain is left on, extent of wiping to remove it. If you mix a custom color, keep notes on the recipe so you can make a batch in the future. It is best to make enough at the outset to finish the entire project. Oil based stains dry to the touch in 2-4 hours and can be re-coated in 12 hours. The topcoat can be applied in 24 hours. The stain should be wiped on and off with a cloth and sanded lightly between coats. Transtint liquid dyes are dissolved in alcohol and should be sanded to 600 grit after coating being careful not to sand through the dye layer. If the wood is porous or has an open grain, grain fillers can be used Unfortunately they are often done poorly. They are time consuming and messy to use. You should test the filler material first on a sample board. The filler can also be stained or dyed first and then applied with a stiff brush. After scraping and wiping off the excess allow it to dry for 4 days and sand to 400 grit and stain again.
Ken does not recommend shellac as a topcoat as it is delicate. He thinks that lacquers are too much trouble to use. He likes to use wipe on varnish, but not polyurethane. He like Prelude brand as well as General Finishes Arm-R-Seal. These can be re-coated in 8-24 hours. Ken likes to sand between coats starting at 400, then 600, to 800 grit. The surface should be blown of and wiped with a tack cloth at each stage. For outdoor use Ken likes General Finishes Exterior 450. It dries slowly. It should be thinned with mineral spirits and 2-3 coats are necessary.
For a less built up finish, you can consider linseed oil, tung oil, or Watco Danish oil (dries faster). These are easy to apply with a rag and can be easily repaired. They rub to a nice luster.
To get a really smooth surface you should consider rubbing the piece with rubbing oil (also mineral oil) mixed with either pumice or rottenstone, Then apply wax, such as Old English furniture polish with 0000 steel wool. There are also self-prepared waxes based on beeswax as described in Woodsmith magazine number 173, page 46.
The easiest finish to use is salad bowl finish, which is mineral oil. Ken suggests using a leaf blower to clean the dust from the nooks and crannies in your shop prior to commencing a finishing activity in order to eliminate dust sources.
(Note: See end of Newsletter for copies of some of Ken's slides.)
---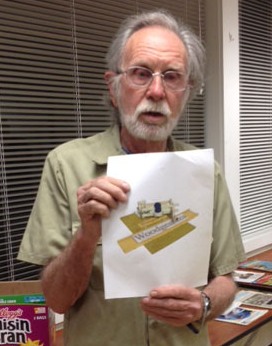 After the break, Frank Taylor showed a pantograph duplicator that he copied from a Youtube video by Matthias Wandel (woodgears.ca). You attach a router motor to the cutting end and trace the pattern you want with the other, It makes a 1/2 size copy.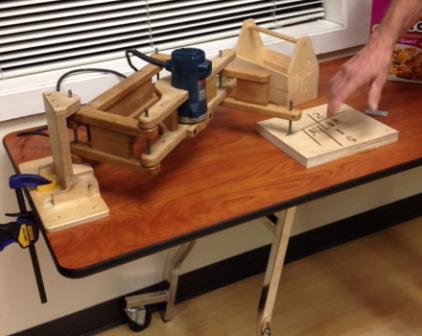 The wood raffle for members was won by Dan Goodman (madrone) and Neil Diedrickson (bocote). Following this, the door prizes were raffled and the meeting adjourned at 9 PM.
Stephen RosenblumSecretary steve@rosenblums.us
---
Some of Ken Napior's slides: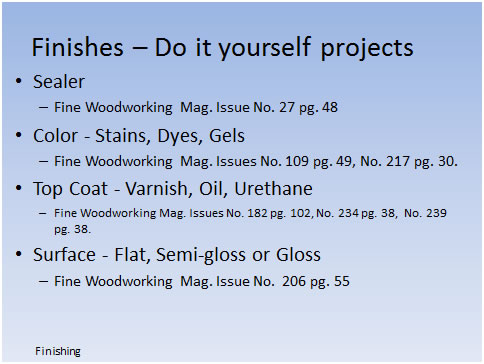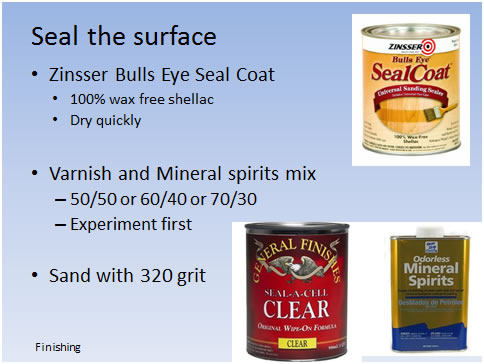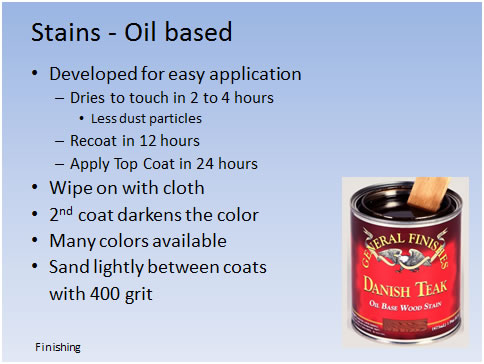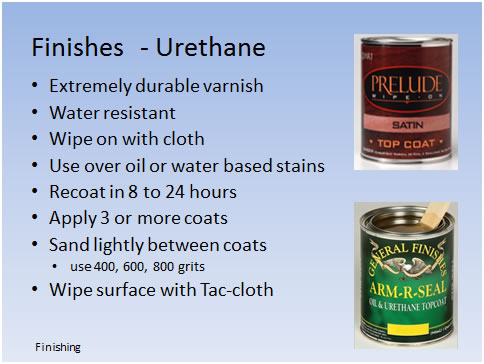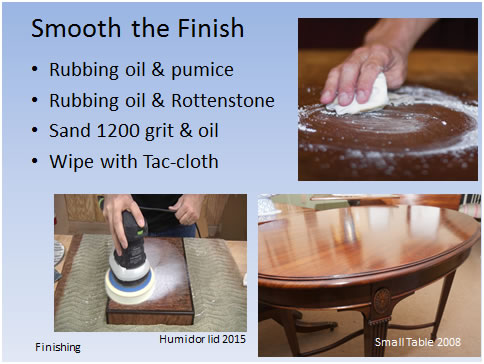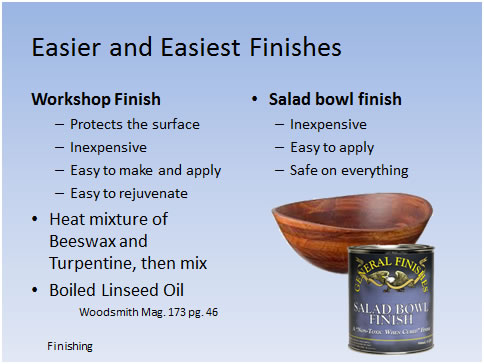 ---