Presidents Message
BAWA members just accomplished another great volunteering effort. Rebuilding Together Peninsula organized 81 sites on this past Saturday April 24 in San Mateo County and BAWA was totally responsible for one of them; quite a big responsibility for a little hobby club of woodworkers. The beauty is that somehow many of us in BAWA also possess skills in construction. The Rebuilding Together recipient family needed help and was very grateful for our members' efforts to transform their mobile home into a more watertight and functional unit. As VP I was so proud to see Katy, our Kitchen Team Leader, smiling with enthusiasm every time I passed her at work in the kitchen or as she negotiated to use the table saw. Speaking of tools; luckily Dan arranged for Frank Taylor to bring a pickup load of portable and semi-portable items like table saw, miter saw, drill press and a Skilsaw for us all to use. Speaking of Dan, the Construction Captain; he did a tremendous amount of work leading up to National Rebuilding Day. About 6 people worked at the site on demolition and prep work the Saturday before the big day (the one day event that RT touts). Then, as mentioned at the last meeting, 4 of us met at Per's shop (now former shop) in late March to make the drawers, doors and drawer fronts for the kitchen. Per provided a lot of help setting up various tools just right (using calipers and getting it super exact) for our use. During the time at Per's shop we made some big cabinetry (7 sheets of3/4 inch plywood) for another RT project which I learned yesterday were painted white and installed during their Rebuilding Day. At the Daly City job site this past weekend there was also a porch and stairs team (which included some team members from California Water Service Company where I worked before retirement) that cut and installed several pickup loads of redwood and Trex. Bruce Woods ended up working by himself replacing water-damaged ceiling tiles with mastic. Frank Taylor pretty much tackled making a bulletproof redwood front hand railing that does not budge when I grabbed it going up. Pete (Cal Water) and I installed a custom-ordered new back door, which is a huge improvement over the old one. John Blackmore and helpers made a freestanding maple cabinet that will serve as the family's pantry in the kitchen as previously food supplies sat on the kitchen table. A last minute recruit, Frank McDaniel, whom I met on Thursday at the my barber shop, did a great job installing the vent hood in the kitchen while Harold wrestled with plumbing and then installed the new gas cook top with electrical connections. The only member complaints were about the mice feces, the odor of the feces, and all the mold (imagine having to live in that day in and day out) and, well, age; the ability to keep a sixty-something body going after 8 hours for folks mostly accustomed to doing office work and evening woodworking. GREAT JOB FOLKS, BAWA CAN BE VERY PROUD OF OUR EFFORTS. We left that place with all issues (ok, one unfinished electrical issue) resolved and a house much safer and cleaner than we found it.
No one seems to recall exactly how BAWA got started in participating in what has pretty much become our annual volunteer effort, although we know Bill Henzel was there coordinating the activities for at least a decade. For about 15 years we worked with San Francisco Chapter of Rebuilding Together (originally called Christmas in April). After the SF Chapter pushed us for a large cash contribution I contacted the Peninsula Chapter where we have made a significant impact per the staff comments to me. After Saturday's long day of hard work one gets a satisfied feeling of having provided much-needed help to a family in need. We were able to share our skills and work together to upgrade a home and will be able to continue having fun the rest of the year at our meetings sharing our woodworking knowledge, skills, and observations. Now, on to that gate at the Pomeroy Center which needs a redo....

Jay Perrine
Vice President
perrinedazign@gmail.com
---
At 7:00 P.M. the meeting was called to order by Jay Perrine, BAWA's vice president.
Announcements
Jay Perrine reviewed the plans for the Rebuilding Together Peninsula project to be held on April 24, 2010. BAWA has undertaken the renovation of a trailer home in Daly City. This last week Jay and Per Madsen made a complete set of new kitchen cabinet doors and drawers for the home. Euro style hinges will be installed for face frame application. John Blackmore will bring the EcoDrill made by Blum to drill the 35mm hinge cup holes. The Rebuilding project is massive, including 81 separate projects and 3000 volunteers. Other contributions at this site include a new deck, new front stairs, new cook top and kitchen exhaust hood, new window screens and much more.
Jamie Buxton reviewed the rules for the 2 x 4 contest to be held during the June BAWA meeting. The rules are simple: make something from a standard 8 foot 2 x 4. Jamie passed out a sheet listing several product ideas: a box, a puzzle, cutting boards, kid's toys, even portable seating that can be used at BAWA meetings.
Ed Marinaro is championing the idea of a holding a woodworking show featuring the furniture and products produced by Bay Area woodworkers. He has developed a questionnaire that has been sent to all BAWA members to sample their ideas and attitudes towards holding the show. Please take the time to fill it out and return it to him. The show could be juried/non-juried or have categories for either. He is currently researching potential venues for housing the show. Other woodworking clubs have expressed an interest in participating.
Per Madsen previewed the May BAWA meeting, a listing of which can be found on the web site. He reminded everyone that a Board meeting precedes next month's regular membership meeting. It will be open to all BAWA members. Yeung Chan will be the featured speaker at this meeting.
Stan Booker is back and so are the door prizes. Tonight's treasures included a 2 x 4 from Home Depot, and push sticks. The raffle brings two Zebrawood boards of 10 feet in length.
The silent auction was well stocked with bench dog stops, sanding paper, plywood, casters and a chipping blade.
Show and Tell
Neal White brought in the SawStop braking cassette that had fired to capture the saw blade after he had inadvertently activated the Stop. Neal also showed us the finger he had saved.
Guests
Marcus Miller, Chris Kimble, Paul Bischoff. Marcus and Paul have joined as new members-Welcome!!

The lucky door prize recipients tonight were: Ed Marinaro, Mark Rand and Jay Perrine.
---
John P. McCormack, Furniture Designer and Maker
After completing his undergraduate degree in Biology at SF State, John became interested in woodworking and began to take classes in woodworking from John Kassay at SF State. His interest broadened and John Kassay encouraged his pupil to attend the North Bennett Street School in Boston. He attended the school and graduated two years later. Later he was accepted into the Furniture Design Program at the Rhode Island School of Design (RISD) and graduated with his MFA in 1996.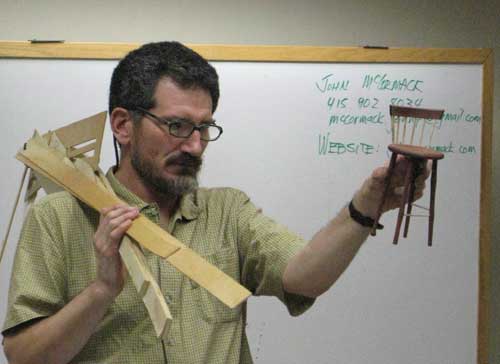 Today, John sets up shop in San Francisco where he designs and builds exquisite commissioned work, teaches furniture design, conducts classes in chair and furniture building and gives private woodworking lessons. His cross cut sled was recently featured in a cover article for Fine Woodworking magazine.>
When we arrived for the meeting tonight, we were greeting by John who was busy hanging full-scale chair drawings all over the walls of the meeting room. In front of the drawings were the finished chairs. After considerable gawking, the members conceded to start the meeting.
At the North Bennett School, John learned to make full scale drawing of the chairs he would later craft from wood. The drawings were simply the first step, next came the patterns, then the woodcutting. The drawings were arranged on the wall in order of complexity. First came the Queen Ann side chair with parallel back legs, then the Georgian side chair with a curved crest rail and back legs and posts not set parallel to each other. This variation introduced compound angles to the chair. A beautiful cherry side chair stood in front of this full-scale drawing. Next in complexity was the armed chair. By beginning with full-scale drawing, John is able to define all the complex joinery before he begins to build. Yeung Chan asked John if he ever found himself making mid course corrections during the build. John replied that he rarely found this re-engineering to be necessary.
And sometimes, John creates art in chair form. The cherry pencil chair was his RISD project. One leg is a long pencil, complete with an eraser at the foot. One front leg is a traditional banana leg while the other has a carved claw foot. Carpenters' framing squares are used to form the splat of the back. The chair has no bottom stretchers between the legs and only tenon joinery is used.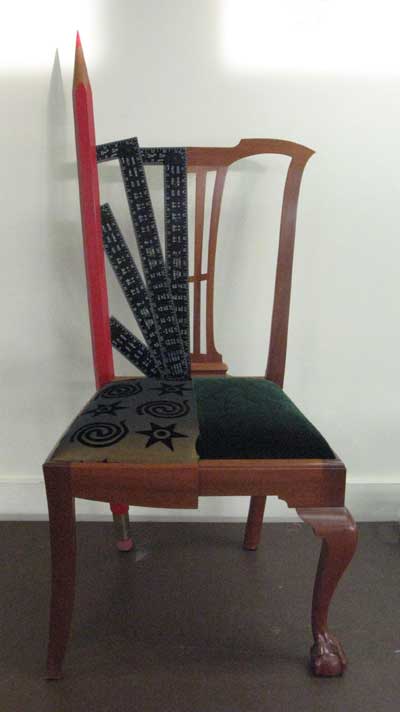 Windsor chairs are another specialty of John's. Traditionally, Windsor chairs are made of several types of wood, each specific to the part of the chair. For instance, the seat may be made of a softer wood that is easier to carve, the spindles made of hickory or ash that bend well, the legs of oak. Because of the variety of woods used, these chairs are usually painted. John showed us a Windsor stool of his design that he paints with a base coat of yellow then overcoats with blue. He will rub out areas of the blue coat to give the stool a worn look.
Board chairs, or Brettstuhls, represent a traditional Alpine design with the seat made of a flat slab of wood. John explained how he routs the bottom of the seat to accept two cleats into sliding dovetails. The legs are inserted into the cleats below the seat. He uses two routers with identical collars, one with a straight bit, the other router with a dovetail bit.

John is teaching several courses this spring and summer. This spring, he is teaching at the Spaulding Wood and Boat Center in Sausalito. This summer he is teaching a Board Stool course at the North Bennett School in Boston. This class will be held July 12 through July 16.
Also in July, John will be holding open shop classes for up to 10 students in his SF shop. For information on his classes and instruction, people are referred to his website: johnpmccormack.com
After listening to John talk about his chairs, several of us felt inspired to tackle the task of designing and building one for ourselves. It certainly looks do-able and the full-scale drawing serves to demystify the process. Yet, some private instruction might still be advised. Who among the BAWA'ers is prepared to accept the chair challenge?

John Blackmore
---
2x4 Contest
Jamie Buxton is organizing a contest for the enjoyment of the membership. The only rule is: make something from a 2x4. Possible ideas include a box(which could also be used for the Box Contest), shop furniture or jigs and fixtures, cutting boards, puzzles, toys, models, decorative items, etc.

Entries will be judged at the June 17th meeting and awards distributed. We eagerly await the products of our members' fertile imaginations.
---
GOT SOMETHING TO SELL?
....TO TRADE?
....NEED SOMETHING?
Members ONLY-Do you have something to sell or trade? Let me know by the last weekend of the month and I'll put it into the next newsletter. Let me know if your item sells so I can delete the ad.

Steve Rosenblum
650-322-9560
212 Santa Rita Ave
Palo Alto 94301
steve@rosenblums.us
Note to prospective buyers: Please take note the date of the ad. Do not call the seller if you're reading an ad that is months out of date. Instead, look for more recent newsletters to see if the item is still offered
Shop Space Available in a furniture/cabinet-making co-op. There are table saws, planers, joiners, an edge bander and a spray booth with 24-hour access to all. Each tenant has his own space. The rent is $790 a month. We are located on Egbert Street off of old Bayshore. Please contact John Clark at 415-467-0638