---
President's Message
Fellow woodworkers,
As well as being the year of the rabbit it is also the year of our bianual annual show.. (October 21-23) Even though it is not until October it is never too soon to start thinking what work you plan to show this year or starting that special project that you can have finished in time for the show. Our shows always have a great variety of exhibits from elaborate pieces of furniture to simple beginner pieces with quite a few whimsical pieces in between.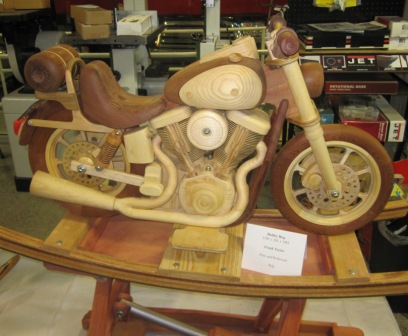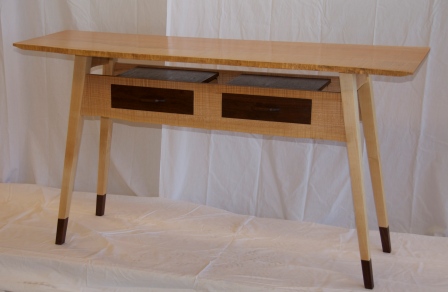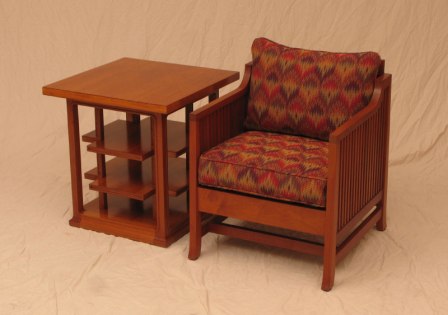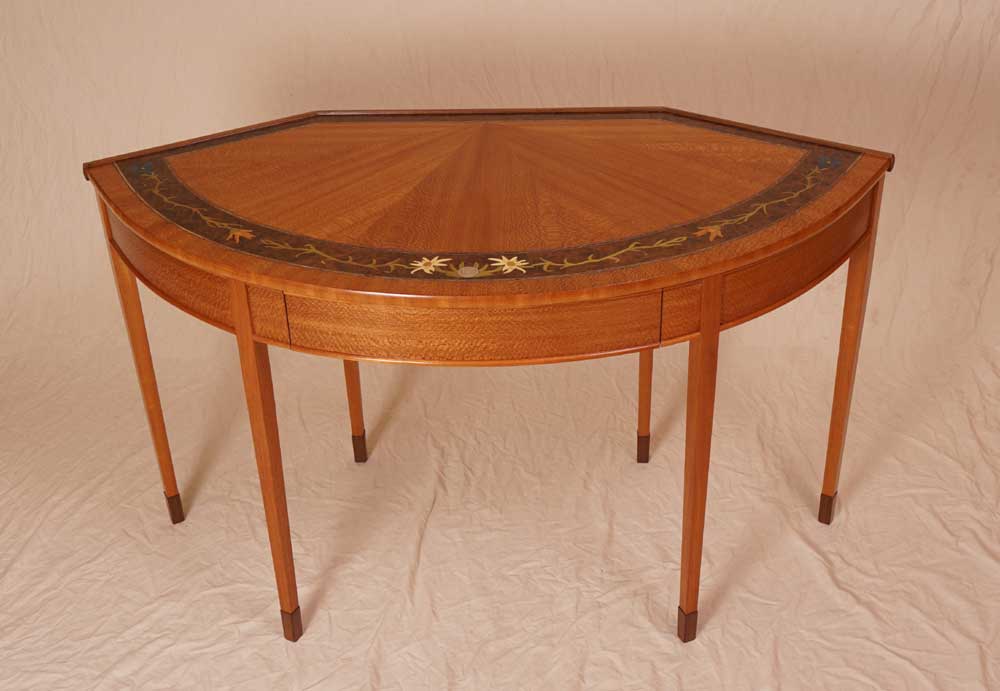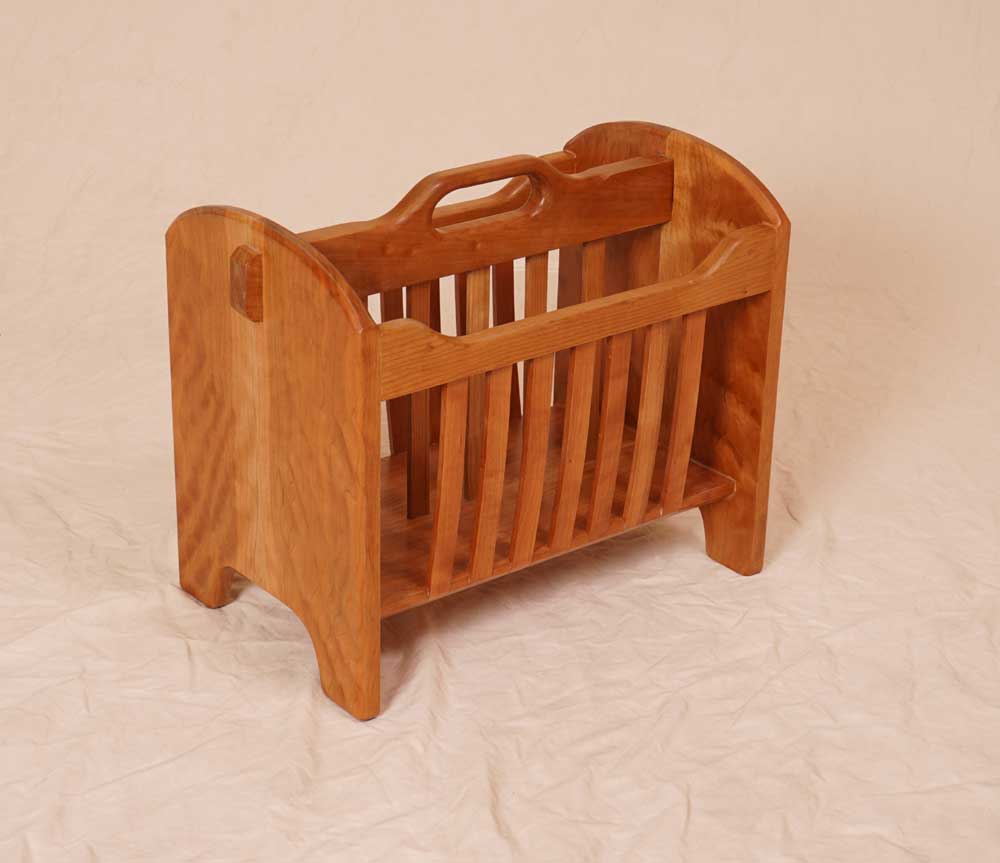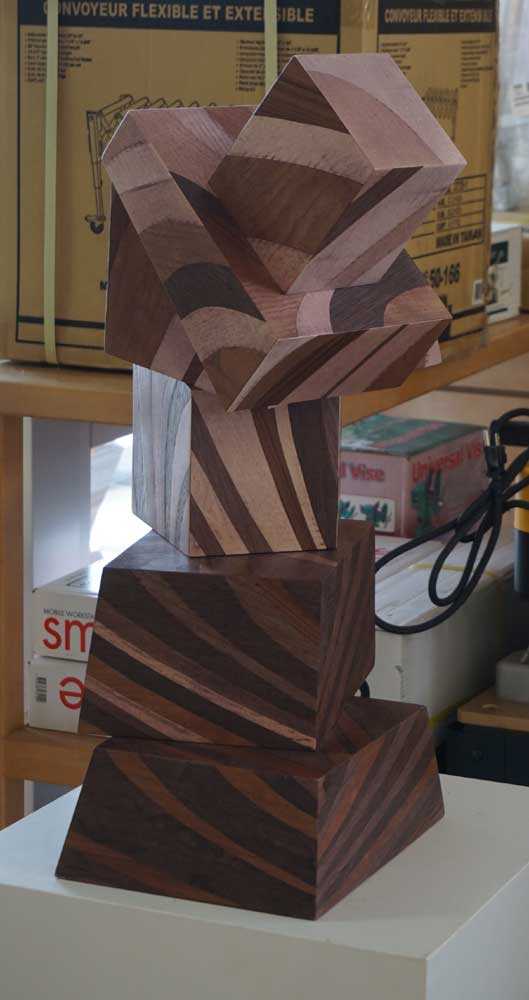 You can find details on these exibits plus remind yourself of the other work that was shown at previous shows by going to the Gallery page on our website here you will find pages devoted to the shows we have had since 2010.
Galleries: bayareawoodworkers.org/BAWA6Gallery.html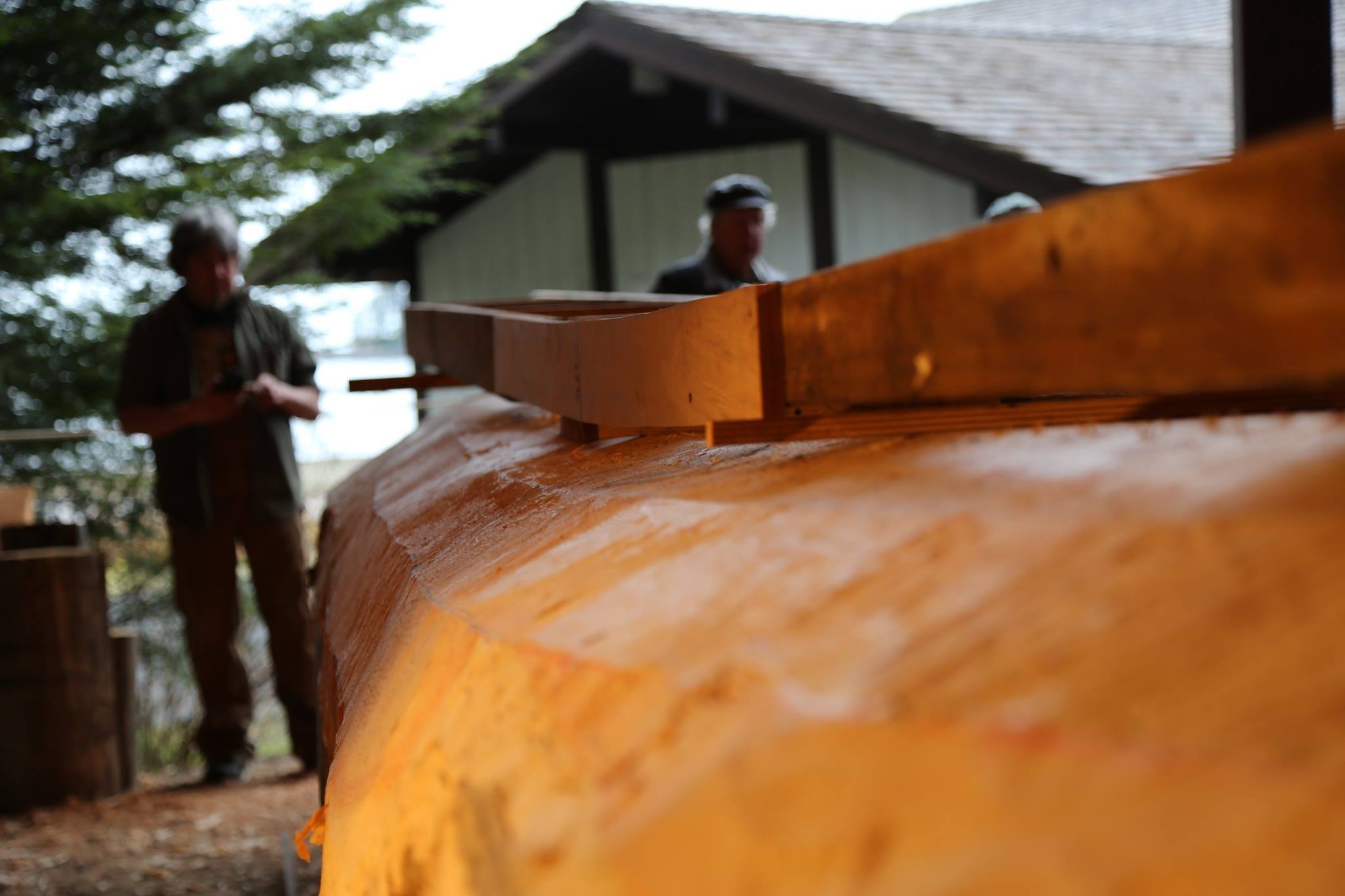 There is an interesting article on the National Parks Sitka National Historical Park were 5 carvers are converting a 5,000+ pound log are creating red cedar log into a seaworthy canoe – quite a task.
For more information: Sitka National Historical Park
Frank (Contact at: Frankramsay8@aol.com)
---
The meeting was called to order by President Frank Ramsay at 7:05 PM.
New Members and Guests:
Jim Sorenson identified himself as a guest. He started woodworking in 1980 by hand cutting dovetails. He now does carving, mostly chess sets and would like to learn how to turn so he could do the chess piece bases.
Announcements:
Per Madsen described the upcoming schedule:
March: Yeung Chan will do a Chinese furniture making demo.
April: Ken Napior will discuss finishing of fine furniture.
May: we will hear from the SF Cable Car Wood shop.
Our Biennial Woodworking show will take place October 21-23John has also agreed to be the Chair of the Woodworking Show and asks members to volunteer to help with the show activities such as publicity, setup, awards, refreshments, and photography. Claude Godcharles ha already volunteered to arrange for judging and signage of the exhibits.
Annual Holiday Potluck will take place in December.
Treasurer John Blackmore announced that we have only 31 paid members at this point that dues of $35 are due immediately for 2016.
John also brought in a compressor for silent auction.
Frank Ramsay talked briefly about the proposed project with Rebuilding Together at Abilities United in Palo Alto. Dan Goodman will be unable to lead it and the scope is unclear. Steve Rosenblum agreed to contact the requesters and clarify the situation. A project leader from BAWA is still being sought..
---
John McCormack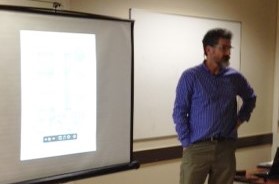 Per introduced our featured speaker, John McCormack who talked about his lifetime of woodworking projects and the woodworking educators who have influenced him.
John is a graduate of the Rhode Island School of Design. He pointed to John Kassay at SF State as a major influence on his life and work.
The first project he showed was a grandfather clock with a banjo clock movement. The next one was a modern looking wine bar that he built for a client's house on Palo Alto. It is peninsula shaped with butterfly keys in the top. For the same client he built a maple case with glued on chestnut legs. The top slab began as 2-1/8 inch thick boards with live edges. He then described a small cherry trestle table with curved edges and angled miters. The next project was a standing desk made of claro walnut with a lifting lid made in the Greene and Greene style. Next he described a bed with two nightstands made of bubinga finished with brushed on shellac. He cautioned that shellac should be brushed on once and not re-brushed as this will interfere with the leveling of the shellac.
He then went on to talk about his projects in boat building and boat repair. The first project he described was rebuilding an older boat that had serious rot problems in its hull. He used African mahogany, sapele, and white oak to replace some of the ribs under the engine and the hatch covers. At the Wooden Boat Building School in Maine he helped construct an Adirondack guideboat, which is a double ender like a canoe. The boat uses "grown" branches with the correct curvature as ribs. The wood used is called hackmatack or tamarack, which is a softwood.. At this same site he also took a class in lofting. The next project was for the Dolphin Club in San Francisco, which involved the restoration of an old rowboat made of gumwood and ocotillo. New parts of black oak were added as well as Doug fir thwarts. The boat has 4 oars and ketch rigged sails.
After describing a 5-axis CNC router in west Berkeley, he made an impassioned pleas for people to continue to do and value work with hand tools. He gave credit to the many good teachers that he had at the Rhode Island School of Design and the North Bennett Street School. He gave particular credit to Dr. John Kassay at SF State who wrote a seminal book with many hand drawn sketches of Shaker furniture. The wood shop there has been turned into a graduate design lab now.
---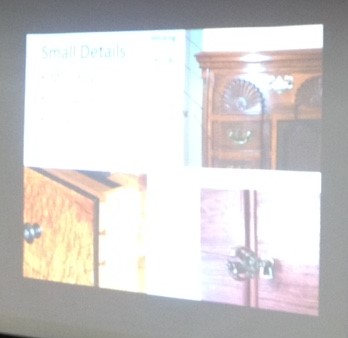 Ken Napior gave a tech talk dealing with the small details of building period furniture. The design process starts with a box of the correct size and involves selecting the design elements-style, legs (cabriole, ball and claw, Chippendale, knee block), brackets, moldings(see the book by E.J. Wayne entitled Furniture Moldings). Do you want cockbeading on the drawers? Will there be carvings, brass fittings, finials with flowers, marquetry, inlay veneer, columns, fingernail moldings, keyholes and locks? Keep proportions in mind and remember the golden rule ratio of 1.618:1.
Will the doors and drawers be mortise and tenon, miter, shiplap, half lap, cope and stick? Will there be a crown molding(sawn neck or full bonnet)?
---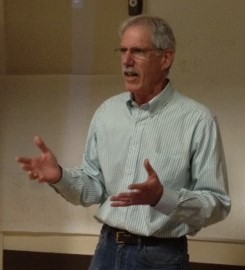 Jon Kaplan described his project to build a CNC router that cost $1000 in materials. He used MDF for structure and gas pipe for support ways. The sleds ride on the pipe via bearings. A small commercial router provides the cutting power.
Pictures of CNC machine from Jon's presentation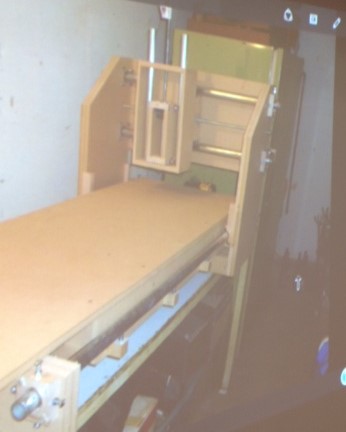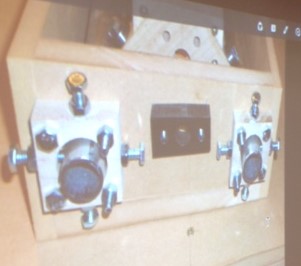 (For information on the software Jon usee with his CNC macjhine please see notes at the end of this newsletter.)
---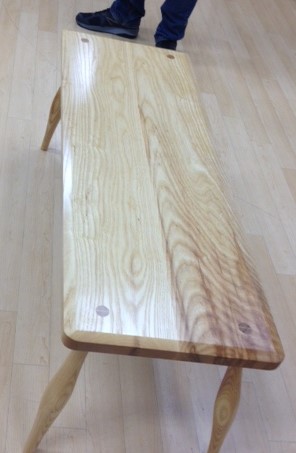 Chad Magiera showed a small coffee table he built with curved legs formed with spokeshaves. The top is two boards edge glued. The finish is 9 coats of teak oil followed by 2 coats of Renaissance Wax.
---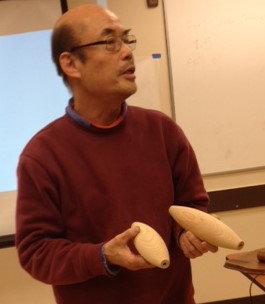 Yeung Chan then gave a quick preview of his talk next month where he will describe how to do turnings without a lathe.
The meeting adjourned at 9:30.
Stephen RosenblumSecretary steve@rosenblums.us
---
Notes from Jon Kaplan on softeware used on hias CNC machine described above.
Design Software (CAD - Computer Aided Design)
This is the software you use to create your design.
SketchUp
I did 95% of the machine design on SketchUp. Lots of woodworkers use it and it's free.
OnShape
I switched to OnShape at the end of the machine design and for the initial things I made with it. OnShape is browser-based, so you can use it on any machine that has an internet connection. It is a parametric modeler, meaning you can go back and make changes to your design and they'll ripple through all subsequent modeling operations. It's also free, but for a limited amount of data storage.
Fusion 360
When it was clear that the private storage on OnShape was too small, I moved to Fusion 360. It's also a parametric system and free (for hobbyists and small businesses). A major plus is that it includes the CAM software.
CAM software (Computer Aided Machining)
This is the software you use to define how you want to machine your part - specific cutter, feed speeds, tool paths, etc. It generates G-code, the instruction set that specifies exactly how the cutter will move.
I started with MeshCAM with a free 15 day trial, easily extended to an additional 15 days. This was easy to learn, but not all that capable. After 30 days it is $250 to purchase.
Fusion 360
This is part of the same software used for design. It's free and it's quite capable, but took a bit more effort to figure out.
Controller software
This program takes the G-code as input and sends the specific move commands to the motor controller board. It is also the software that allows you to manually drive the three axes to tell the system where to find your work piece or raise the router so you can change bits.
I purchased PlanetCNC software for this for 69 Euros (~$75).
The rest of the system includes all the electronics (motor controller board, motor drivers, power supply, step motors, limit switches) and, of course, the XYZ positioning structure that I built.