Fellow Members
We have just returned from a vacation in New Zealand.
We were in Christchurch about a week before the big earthquake and were planning to return there on the day after the quake and climb up the tower in the central cathedral - but circumstances forced a change of plan.
While in Christchurch I saw some interesting wooden rulers in the Art Center (another fine old building) that were inlaid with the different woods of New Zealand. I had planned to buy one on our return and talk about the different woods in this message but unfortunately it will have to wait until our next visit.
What we did see in the city center were many buildings weakened by the September earthquake shored up with steel girders and a creative uses of wooden batons. Every time you looked up you could see walls, chimneys and pillars had been stabilized by wooden batons that were held in place with the contractors ratchet straps. This temporary work was to hold things in place until they could be repaired. Unfortunately all of these fine buildings are now gone.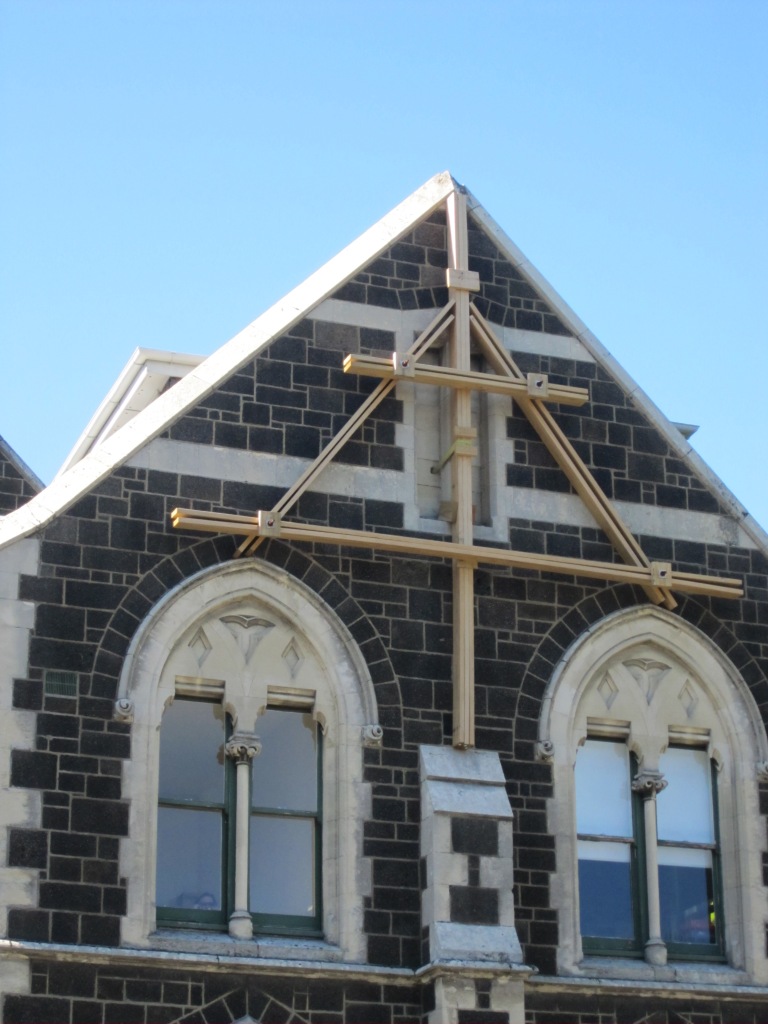 Away from Christchurch we saw some amazing Maori war canoes. The biggest one in the Auckland museum was 25m long. It could hold 100 warriors and was made from a single huge Totara tree trunk in the 1836. The trunk had been hollowed out to about a 2 in thick shell then strengthened simply by binding struts that looked like 2 x 4 batons all the way down the sides. One hundred Maori warriors paddling away must put quite a stress on the log.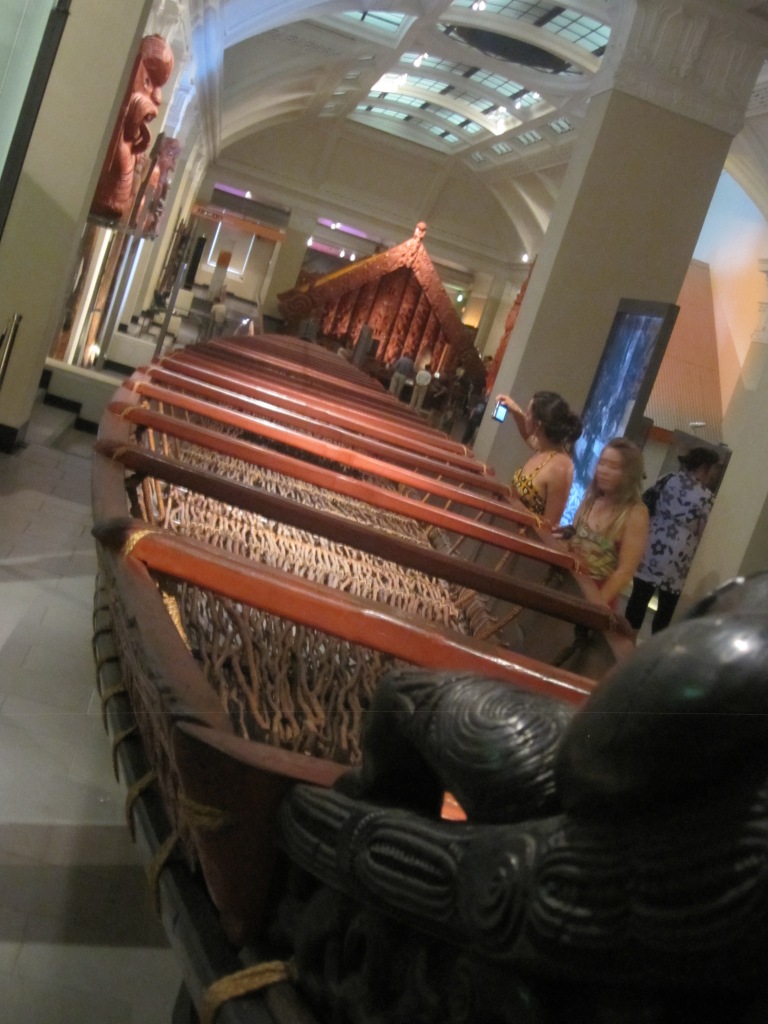 We saw several more similar canoes on the coast that are still sailed on New Zealand's national day.
They do not make logs like that anymore - at least not that you can buy.

Frank R Ramsay
President
frankramsay8@aol.com
---
The meeting was called to order by Vice President Jay Perrine at 7:05 PM. He began the meeting with announcements:
Announcements
1. The Spaulding Boat Works tour and barbecue for Saturday, February 19th still has openings and Per will be accepting signups.
2. The Peter Wronsky Memorial Lecture is scheduled for Saturday February 26th. Yeung Chan will speak about making hand tools, jigs and fixtures, and furniture making. The lecture will take all day and only has a charge of $15 to cover the cost of food. Jay is still accepting signups.
3. Jay announced the dates and projects for Rebuilding Together on April 30th with some demolition work scheduled for a few weekends before. We will be working at 2 places, a private day care, which needs a new deck, and a public facility that needs an outdoor platform. Jay will be captain at one site and Frank Taylor at the other.
(See late breaking news on this project at the end of this newsletter)
4. Harold announced that he has received another thank you letter from the Janet Pomeroy Center for the toy cars with some pictures of the kids racing them down a ramp.
5. Neal announced that the Plane-making Workshop is still being planned for the Woodcraft classroom with a date yet to be determined. Up to 8 people can attend.
6. The cedar planking raffle needs to sell 6 more tickets to raffle it off. This did not happen, possibly because Stan was not there to do his effective sales job.
7. Some hand tools were brought in for sale and Frank Taylor brought in some beautiful mahogany offcuts to give away.
8. Mark again made his plea for members to renew their membership as they are now overdue. Any members not re-joining soon will be dropped from the rolls. In addition, if you have a name tag in the box please take it and keep it. Next meeting will be the last for the box. It will be recycled.
Also Woodcraft at Dublin & San Carlos give the club a rebate on all purchases. Give receipts to Mark Rand.
9. Yeung announced that he has just replaced his table saw with a Felder and had a lot of 5/8 inch arbor blades to sell.
10. Arnie mentioned that there was an accident with a jointer at the Laney College shop in which an instructor cut off two fingers. He was talking to the class while demonstrating the use of the machine. No further details were available. Moral of the story-pay attention to the machine at all times.
One guest, Neal, announced his presence. He had heard about BAWA from our website. He is an experienced woodworker whose main interest is wooden boat building.
During the break members inhaled the cookies baked by BAWA' s Chief Baker, Fred Reicher. Matter of fact, the cookie inhalation started before the meeting even started. Fortunately, the Chief Baker brought 300 cookies. After the break, Frank Taylor continued the theme of children's play structures by showing a caboose he had built for his grandchildren. He provided a masterful slide show of the details of the construction including concrete wheels and couplers, a domed roof, a ladder to an upper level through a "Secret" trap door which included a "homework desk" by which Frank had hoped to encourage the use of the structure for the advancement of education. Alas this hope was not often fulfilled as the kids spent many hours playing in the structure and not thinking about school. Following this Arnie Champagne talked about the use of a set of machinist's parallels as shapers and scrapers in woodworking as well as to lay out tenons. This was a very useful tip.The meeting was adjourned at 9:45 PM with no door prizes. Stan, I hope you are having a good time in Africa. We missed you.
Members staggered off full of cookies and stomach aches.
---
Barbara Butler Artist-Builder
Extraordinary Treehouses & Playstructures for Kids
Per introduced our featured speaker, Barbara Butler who has been building custom children's play structures for 23 years.
Barbara's parents had wanted her to become a lawyer but after several false starts, she found herself designing and building children's play structures, particularly tree houses. These are not the crudely built platforms that you might see nestled in the crotch of a large tree, but architect inspired structures built mostly of redwood planking and anchored to the tree with a special device called a Garnier limb. www.garnierlimb.com
She has been contracted to build structures all over the U.S. as well as in Europe and Korea. In case you might be interested in buying one, be prepared to take out a bank loan. The price range is from $10,000 up to $700,000. Barbara is also willing to sell you plans and is a distributor for many of the components used in the structures such as slides, rope, and tung oil stain. After doing a site survey with the customer, she proposes a design with some sketches and a price in order to zero in on what the customer wants and what they are willing to pay. After that her team uses AutoCAD to make detailed drawings of the structure and the tree around which it will be built. She has an arborist to certify that the tree(s) are sound and uses the services of an engineering firm to verify that the structure is mechanically sound. Barbara also has certification as a play equipment expert so she can certify that her structures meet applicable standards for use by children. She typically tries to keep the maximum height of the platform under 7 feet if it is to be used by young children but will go as high as 14 feet for structures for older children. She said that children have used her structures as long as 13 years at one site.
Barbara showed pictures of many of her projects as well as two case studies, going through her entire process from design to fabrication to assembly onsite. To see the pictures, go to www.barbarabutler.com
Her first project was for Bobby McFerrin in 1987 the year before his big hit, "Don't Worry, Be Happy". In 1992 she built a play house for Kevin Kline and Phoebe Cates in their Hudson Valley, New York summer home. Among the projects she described were a fancy structure in the Los Altos Hills, a tree house with 3 access modes in Santa Barbara, and a castle with a 36 foot slide in Connecticut. She has done two installations in South Korea for the family of the chairman of Samsung. In that case, the parts were shipped in a container via ship. She had many stories to tell about the peculiarities of working with this Korean customer which were quite entertaining.
She also sells pre designed forts such as the Robin Hood Fort for $14k, or the Kings Fort for $20k. Her play house structures are intended for rough and tumble play, are not fussy, and are easy to maintain. She advises owners to inspect the structures yearly and will do that for them on request. Particularly, the decks may need to be modified to accommodate tree growth. They need to be re-stained every 2-5 years. Yearly she auctions off a play house at the Stanford Shopping Center to benefit Rebuilding Together, for which she has raised over $200,000 over the years. She employs most of her family in her business. Her brother James does all the drawings using AutoCAD. Her husband Jeff drives the truck with the pre-built structure to the job site and helps with the assembly. Her sister, Suzanne, does all the accounting and bookkeeping. Barbara is the chief designer and the manager of the site assembly crew. The first case study she described was a tree house in Hopland Ca, They first go to the site and put sticks up around the tree to approximate where the structure will go and do detailed drawings of the location of all the tree limbs in AutoCAD. She then uses a paint program to sketch in a conceptual idea of the structure for review by the client with pricing options. For this activity she gets a $2400 design retainer. After client approval, the parts are built in their shop, the structure is assembled, stained, and then disassembled, and trucked to the site where the crew spends several weeks re-assembling it.
The second case study was for a Long Island, NY tree house with a girder box floor and knee braces for support. A major project was done for the developer of the Town Square Mall on the Strip in Las Vegas. For $700,000 she constructed 4 stucco buildings and a tree house as a focal point for the mall. The tree used was trucked in from Texas. Other projects that were briefly described were a tree fort in Minnesota with a 160 foot long zip line, a rustic tree fort in Burlingame, CA, a Bluebird tree house with a stainless steel firepole, a Rough and Tumble Outpost constructed in the south of France, an aDOORable tree house in San Francisco, CA constructed of old doors from the site, and a tree house in Southampton, Long Island, NY which was cantilevered off the side of the tree 14 feet above ground. Take a look at her website and be prepared to be impressed with the craftsmanship and creative design. You can also buy plans and components so you can build one of these creations for a child in your life.

Steve Rosenblum
---
BAWA Special Events for February
Visit to the Spaulding Wooden Boat Center in Sausalito
A dozen people showed up Saturday Feb 19, for BAWA's visit to the Spaulding Wooden Boat Center in Sausalito. The rain probably discouraged some members to attend; but those of us that came had an interesting tour followed by a BBQ lunch.
Spaulding Wooden Boat Center (SWBC) is a nonprofit organization dedicated to preserving, sharing, and celebrating the area's rich history of traditional wooden boatbuilding. With its 20,000 sq. ft. working wooden boatbuilding facility, historically significant sailboats, and skilled craftspeople, SWBC offers a wealth of educational programs and community events designed to connect people of all ages to the Bay Area's maritime history, historic sailing vessels, and the art of wooden boatbuilding. Their mission statement is to:
· Educate the next generation in traditional wooden boat restoration and building skills;
· Preserve the Spaulding Boat Works as a working and living museum;
· Restore and return to active use historically-significant wooden vessels; and
· Create a community center for the public to experience traditional wooden boat culture;
One of their programs teaches young school children to build a small sailing boat, originally designed by Myron Spaulding (the founder) when he was a young student himself. Currently the chief instructor is BAWA member John McCormack, who also was our sponsor for the visit. Another program is the restoration of Freda, A 32-ft. gaff sloop built in 1885. It is the oldest active sailing yacht on the west coast.
For more information: spauldingcenter.org/

Per Madsen
---
Peter Wronsky Memorial Lecture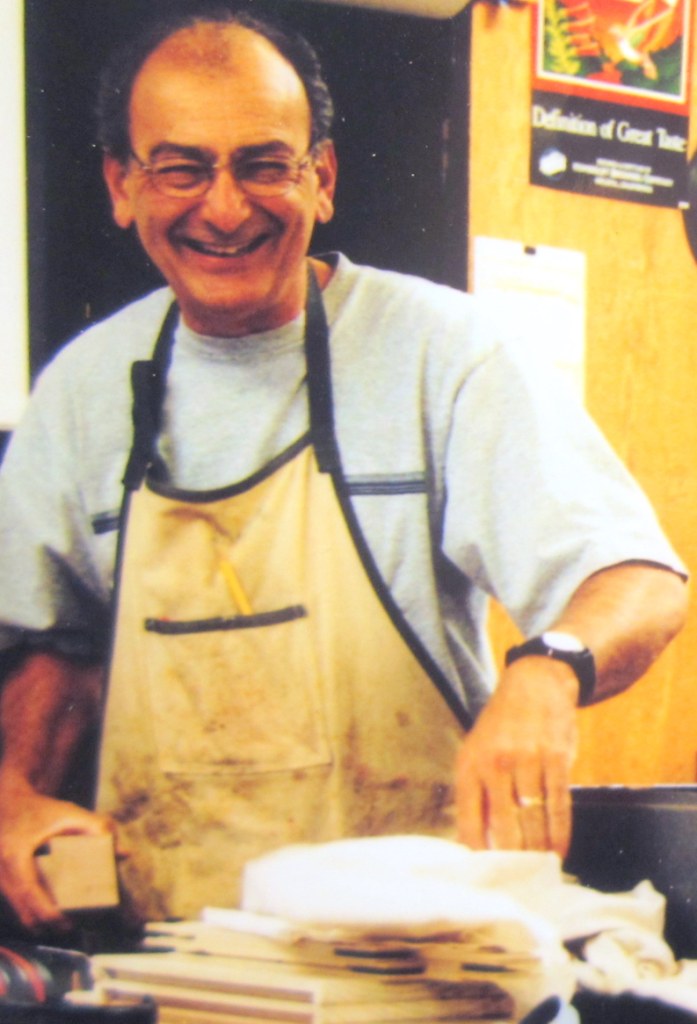 Peter at the Colledge of the Redwoods
Saturday morning at Woodcraft in San Carlos with Yeung Chan was a great day for 21 woodworkers who were treated to croissants and coffee as Jay explained that Peter passed away from Lymphoma about 6 years ago. He then introduced former regular BAWA member Paul Reif who gave a brief history of Peter Wronsky as woodworker and how he provided Paul with a complete inventory of his tools should his trip to Seattle to receive a bone marrow transplant not heal him, which it didn't. Paul was in charge of the sale of Peter's shop tools and he said the shop was empty at the end of the sale day and the committee was able to provide his widow Marilyn with a check for $10,000 - a great service by BAWA to a deceased member. Peter had also generously requested that all donations in his memory go to BAWA. The proceeds have been used to fund this event.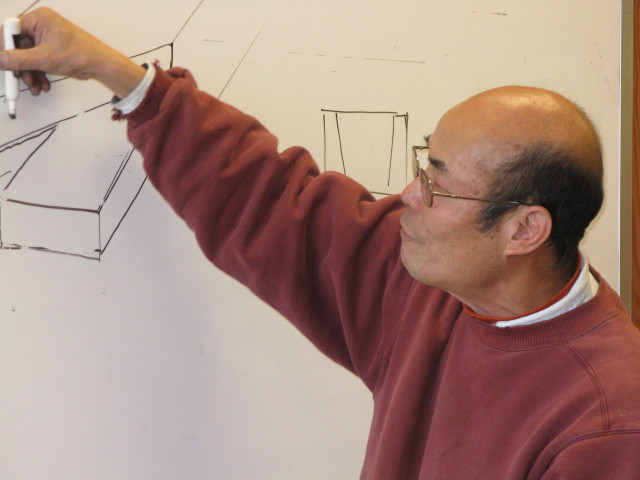 Yeung Chan proceeded to lecture on THREE topics: tool making, jigs and fixtures and joints made with machine tools. Yeung shared that he first made tools as a boy in China and once he found a piece of steel which had been a bandsaw blade he made a knife with it that he was hooked for life into making his own tools. Yeung had examples of tools made, examples of jigs and examples of machine-made joints (the focus of his book also).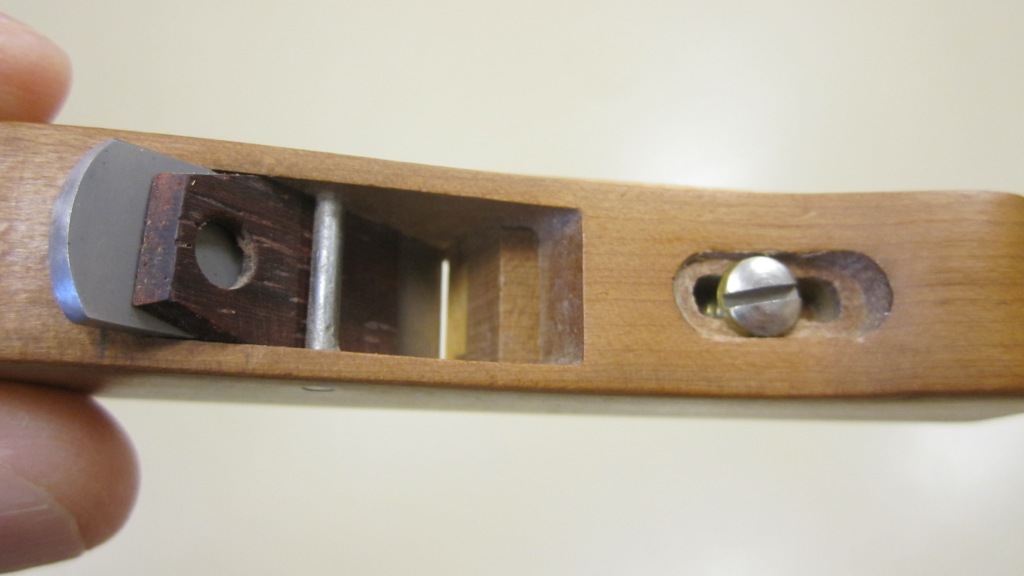 All present had a good time and hopefully will all utilize the notes taken about woodworking techniques shown to us by Yeung to advance our craft - and Yeung said that his philosophy is that the students should outperform the instructor otherwise the world suffers from craft not advancing.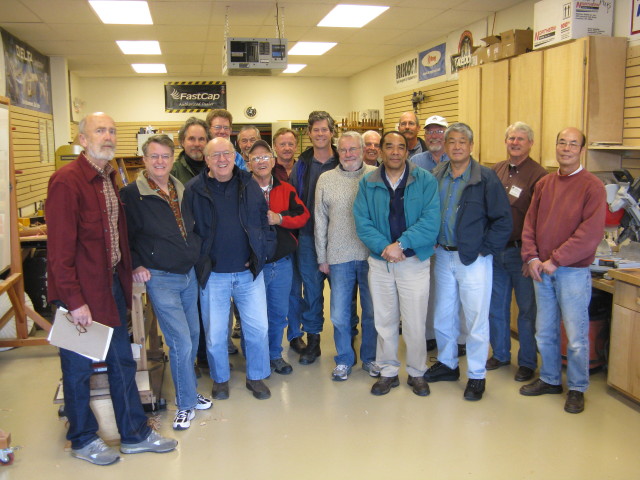 Thanks Yeung for an informative day to honor Peter Wronsky.

Jay Perrine
---
REBUILDING TOGETHER UPDATE
Late breaking news: the site where most BAWA members will be performing volunteer work in April is called Bayshore Childcare in Daly City. There will be a small deck to build for the children to use as a small 'stage' for their performances; replacing an exterior door that is warped from rain, some painting, repairs, patching. Frank Taylor will be the Construction Captain and if he has his way there will also be a small-size picnic table with built in benches and perhaps another whimsical item. DATES: a few people to cut the blacktop and pour some piers for the deck on Saturday April 23rd and all possible on APRIL 30th (last Saturday in April) at 8am.
Jay Perrine will be at a second site doing fence repair and demolition of an extensive rotting deck and a few of you might be assigned there. Stay tuned. More at March BAWA meeting. Jay Perrine, Rebuiding Together coordinator
---
The Classifieds section of the newsletter has been moved to our Market Place page