Presidents Message
We are a woodworkers association - but what is a woodworker?
Is a person who frames houses with 2 x 4 studs a woodworker? - They are skilled people but the only hand tool they use is a level and these have mostly been replaced by lasers on tripods by now.
Is a person who builds kitchen cabinets on CNC machines such as we saw at Laney College last year a woodworker? - They are also skilled but use no hand tools.
Two of the earliest civilizations the Egyptians and the Chinese had woodworkers - people whose skills put them very high in the social order of importance. By the middle ages woodworkers were in Guilds, or craft associations. They had very specialized tools that people outside of the apprenticed Guild members did not have access to. By the beginning of the twentieth century factories were mass producing high quality woodworking tools, planes, chisels, etc. Some of these tools were very specialized, such as molding planes or tools for barrel making, etc. As a craftsman you acquired your tools and used them all of your life. Tools were relatively expensive and you only had a limited set. When you built new projects then you would make any extra jigs and guides needed as required.
Today anyone can obtain a great range of woodworking tools at a relatively low cost. Have woodworkers just become another target market for vendors sell to?
In the last 50 years we have seen the corner grocery stores mostly disappear and be replaced with supermarkets that stock 50,000+ items. If you wanted to just look at all of the products in the condiments and salad dressing aisle it would take you several hours. And with this "new" kind of store are we eating better? - We may be eating cheaper but I am not sure of that.
In the last 10-15 years woodworking seems to have gone through the same type of transformation.
I read a few weeks ago that OSH carried over 50 types of hammer. I checked the Rockler website and they have available 80 types of clamps, 85 Marking and Measuring tools and 161 items in the Workbenches, Vises, Shop Stands category. Woodcraft has about 105 items in the Marking and Measurement category and probably close to 100 clamp offerings.
Does this vast range of products make for better woodworkers? - I do not think so.
But it does encourage more people to get involved and try woodworking which is a good thing. Hopefully some of those that try will realize they need more than the tools. They need the knowledge that comes from learning about woodworking through meeting and talking to fellow woodworkers.
BAWA provides that knowledge by our osmosis type of meeting environment.
I hope you will encourage friends and acquaintances that show any interest in woodworking to attend one of our meetings. They should also be told that a year's membership is cheaper than most new tools!

Frank R Ramsay
President
frankramsay8@aol.com
(As a short postscript: I was looking at the Rockler website while thinking of this letter and read that they are selling something called "Flexx-Ra Finger Protection Wrap". It allows you to bind up your fingers prior to starting your project to help protect them from the stresses of woodwork. Are we now moving into the area of professional sports like boxing and football etc? It is a long way away from woodworking.)
---
Frank Ramsay called the meeting to order and introduced the new projector. The club has gone to color in this new century. Now members can bring in photos of their projects on a memory stick, plug it directly into the projector and share their creations with the rest of us. The projector will even show video clips
We had a large membership turnout, all eager to hear Claude Godcharles describe his summer of content (pun intended) at the College of the Redwoods Fine Woodworking Program. Claude spent a total of seven weeks at the college in two sessions: the three week Tools and Techniques and four weeks at the Projects session.
Announcements
Mark Rand led the charge, supported by his friend Igor the Crusher. Mark reminded us that BAWA club dues for the year 2010 are past due, but still payable; $30 for the year, $35 for the family. He will be sending out invoices to last years' roster. Igor lunged to escape his chains, but for now is securely restrained.
Per Madsen reviewed the schedule of upcoming meeting that can be found on the web site. In March Mike Cooper will be giving a presentation on routers. Then John McCormack joins us for a presentation on how to make chairs in April. Yeung Chan will be our featured speaker in May. The full speaker schedule can be found on the web site.
Per Madsen reviewed the schedule of upcoming meeting that can be found on the web site. In March Mike Cooper will be giving a presentation on routers. Then John McCormack joins us for a presentation on how to make chairs in April. Yeung Chan will be our featured speaker in May. The full speaker schedule can be found on the web site.
Jay Perrine and Dan Goldman described the plans that are being made for the club to support Rebuilding Together, Peninsula. On April 24, BAWA members will work to refurbish a trailer in a park in Daly City. If we have enough participation, then we can take on a second project-another refurbishment of a home in San Mateo. A sign up sheet was circulated.
Per Madsen announced that he is moving out of his shop in Hunter's Point and will be selling a lot of FinBirch sheet goods at very attractive prices.
Stan Booker presented the raffle prize: a 10 foot board of jatoba, about 12 inches wide. There was a scramble to buy tickets. Stan ran out of small bill change.
Harold Patterson and Frank Ramsey described the club's earlier efforts to support the Janet Pomeroy Center near the SF Zoo. The two gates we had previously made did not survive the foggy weather near the ocean and need replacement. The members were asked to make design and material suggestions so that the club can replace the gates this spring. Ideas should be sent to Frank Ramsey.
Show and Tell
Jamie Buxton made a bubinga cabinet for a client and incorporated a pull design he prefers. A recess is made in the door then a spanning handle bridges the recess. The space under the handle is deep enough to allow a finger or fingers to be placed under the pull. He showed us three designs. The recess in the first was made with a gouge and clearly showed the carving marks. The recess in the second version was made using a router with a large bowl bit set on a rotating base. The router bit was set at a shallow depth, placed on the board, then rotated to create a recess. Progressively deeper cuts were made until the desired depth was achieved. In the third version, Jamie made an exposed recess along one edge of the board. Then he added a raised strip to the top of the board creating a brow above the recess.
Jamie uses Google SketchUp to create concept drawings for his clients. He presented two version of the cabinet he was to make. The final cabinet was entirely different as we saw in a photograph. The bubinga cabinet weighed in at around 250 pounds.
Neal White brought in two wooden Krenov style hand planes he has made that are representative of the planes the students in his class will make. Then, he held up his finger and extolled the virtues of the SawStop cabinet saw. Yes, he fired it off in January and did not even realize he had been at fault, thinking the machine had somehow malfunctioned. Then he saw the almost imperceptible drop of blood on his finger. It dawned on him. He had just saved himself $20,000. He said SawStop will replace the brake at no cost, but he will need to buy a new saw blade.
Ed Marinaro displayed a Krenov style cherry cabinet he had made after taking Arnie Champagne's class in cabinet design. The curved front door contains three glass panels separated by muntins. The back panel was press fit into place.
John Blackmore carried in a Krenov style saw horse he had made for use in his shop. Made of the famous Alaskan yellow cedar it was both strong and aromatic. Claude Godcharles found it to be a comfortable seat while waiting to start his presentation.
Yeung Chan amazed the audience with a Chinese style plant stand. The piece was created using traditional Chinese joinery as practiced only by Yeung. He proceeded to disassemble the plant stand, achievable because the joints are so good that no glue is required. Yeung explained the simplicity of the design: components are made in groups of four, all on the table saw. A frame and panel table top with three panels and four frame pieces came off first. Next followed the four legs with four upper and four lower stretchers, then the four pieces of the grid pattern. And then it easily went back together again.
Yeung also showed a small wooden vase he had made of bird's eye maple, containing a beautiful orchid. He was asked how the wood was protected from water. Easy, he explained. The flower is artificial.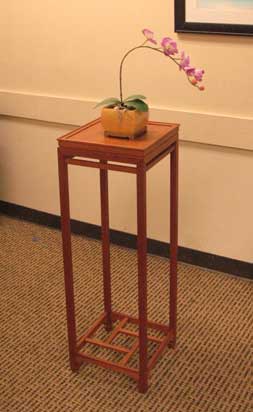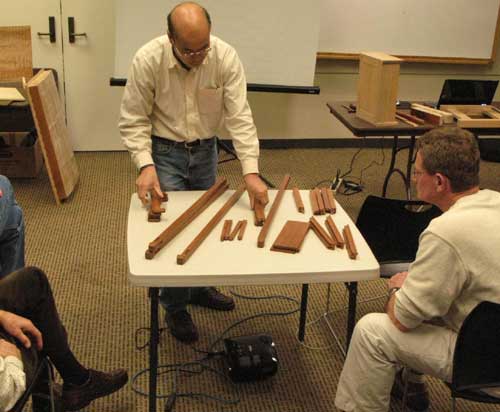 Guests
We welcomed Marcos Miller and Elaine Marlow as guests at the meeting.

The lucky door prize recipients tonight were: Ed Marinaro, Mark Rand and Jay Perrine.
---
Claude Godcharles
My Summer at the College of the Redwoods, Fine Furniture Program
Claude had the good fortune to be the first person to be able to use the new projector for his presentation. With his wife and children on vacation and being between jobs, Claude found himself in the enviable position of having time to fill doing exactly what he wanted to do. And he wanted to go to the College of the Redwoods in Fort Bragg, CA. He packed up his car and drove north to Willits, then took logging roads to Fort Bragg. The scenery was spectacular, the roads treacherously dangerous with careening logging trucks. But he made it. Claude introduced us to Fort Bragg with pictures of the wooden water towers, capped with cisterns to capture and retain the rainwater, since there are water restrictions in the area. We saw a photo of the old Georgia Pacific Guest House, now converted into a museum.
The Fine Woodworking Program was established in 1981 under the tutelage of James Krenov. James was active in the program until 2002 when failing eyesight restricted his involvement. He passed away in 2009 just shy of his 89th birthday. Today the program continues with a nine month certificate program and several summer courses in fine woodworking. Claude attended two summer courses: the three week Tools and Techniques, followed by the Project course.
The program is conducted in its own shop location containing 25 workbenches and ample instruction space. Lectures are given in the open area with students returning to their assigned benches to apply what they have learned. Students begin their education learning to hollow grind on a manual wheel and then hone plane blades and chisels on sharpening stones. Then students are given the challenge of making their own smoothing and jointing hand planes, in the Krenov style of course. With planes in hand, students are presented with a rough, sometimes twisted board and told to make it perfect with 6 true faces. This board then becomes a key element in the next task:- to make a sow's ear cabinet in the Krenov style. The cabinet, so named because the rough board looks no better than a sow's ear, is made with a frame and panel door and back. You are instructed to make the door first, then to fit the cabinet to the door. Measurements are based on 'story sticks," not precise blueprints or drawings. The program encourages "flexible accuracy." Claude demonstrated a sliding dovetail story stick composed of two sliding pieces that could be extended to the desired length. The sides of the cabinet are joined with dowels. This exercise is designed to teach students design, milling, joinery and planning.
Students can work in the shop until 10pm, but only if at least two people are present after 5pm. Neither can power tools be used after normal working hours. The program has 30" Yates and 36" Oliver band saws, an 18" jointer and a Agazanni veneer band saw. There is access to a wide belt sander at a separate location.
All work and no play? No way. The logo of the Fine Woodworking Program is an elephant head and two crossed chisels. The chisels are easy to understand, but where does the elephant come from? Since the inception of the program it has been customary for the students to gather behind the shop on Friday evenings to unwind with Carlsberg Elephant malt liquor. Now the libations include brews from the local boutique brewers.
Students also had the opportunity to visit the world headquarters of Hock Tools, makers of fine cutting blades and a local hand tool collector whose display of hand planes is reputed to number in excess of 2000.
For the second session, the Project Course, Claude had designed a kitchen hutch with sliding curved doors. He submitted the idea ahead of time, figuring he could surely whip out this piece in four weeks. He even had a PERT chart to prove it. Then he arrived and learned humility. No way could this hutch be made in four weeks. It would be a challenge just to make the doors. He revised his chart from three task blocks to five flows each with multiple tasks and set to work.
He made a cardboard mockup of the hutch, viewed it critically and changed some of the design dimensions. And with realistic expectations he set out to make the curved doors.
First he cut the veneer sheets from a block of figured maple he had bought at Woodcraft in San Carlos. He very quickly learned that after cutting a slice on the band saw, it was best to resurface the block on the jointer before cutting the next slice. That way you always have one smooth face on your veneer. After struggling to hand plane the rough side smooth, Claude retreated to the wide belt sander.
Next, he took his finished veneer strips and laid them out for pattern. He would have to join several of them to make the sheets he needed for the door fronts. He shot the edges on a shooting board, then lay the strips side-by-side, glued the edges and placed newspaper over the seams to absorb excess glue. A board was placed over the paper and weighed down with heavy weights. He had his veneer sheets and one task line was complete. Now came the difficult part.
Claude had to make a curved form on which to laminate the veneer to the substrate in a vacuum press, in his case Italian Bending Plywood, made of poplar. The curved form was to be constructed of precisely curved ribs, each separated by an open space of ¾". To get the precise curve, Claude made a giant trammel to that he could route the curved edge on a seven foot radius. The ribs were attached to a sheet of Finish Birch plywood, and the curved surface was covered with ply, smoothed with filler, sanded and covered with wrapping tape to prevent the work piece from sticking to the form.
The substrate and veneer were glued together with Unibond 800 urea glue and placed in the vacuum press. Mission accomplished. The course was complete and the students convened to conduct the time-honored tradition of burning the mock-ups.
Claude displayed the finished doors for us to see. Magnificent. Adventure complete for now. We are all looking forward to the next installment—will those doors fit and slide within the hutch case. The odds favor Claude; he is creative and diligent.
The final event was the door prizes conducted by our Rafflemeister Stan Booker. In addition, Mark Ferraro donated a few items for the Silent Auction. They went quickly and our treasury is $30 richer. Thank you, Mark.
With this the meeting ended with members vowing to sign up for the Woodworking course at the College of the Redwoods.
John Blackmore

John Blackmore
---
2x4 Contest
Jamie Buxton is organizing a contest for the enjoyment of the membership. The only rule is: make something from a 2x4. Possible ideas include a box(which could also be used for the Box Contest), shop furniture or jigs and fixtures, cutting boards, puzzles, toys, models, decorative items, etc.

Entries will be judged at the June 17th meeting and awards distributed. We eagerly await the products of our members' fertile imaginations.
---
GOT SOMETHING TO SELL?
....TO TRADE?
....NEED SOMETHING?
Members ONLY-Do you have something to sell or trade? Let me know by the last weekend of the month and I'll put it into the next newsletter. Let me know if your item sells so I can delete the ad.

Steve Rosenblum
650-322-9560
212 Santa Rita Ave
Palo Alto 94301
steve@rosenblums.us
Note to prospective buyers:
Please take note the date of the ad. Do not call the seller if you're reading an ad that is months out of date. Instead, look for more recent newsletters to see if the item is still offered.
--------------------------------------------------------------------------------
For Sale
Per Madsen is closing his wood products business. Everything must go -- including the 1820 sq.ft. shop. Email him for a list of stuff for sale. permads@comcast.net POSTED 2/21/10
--------------------------------------------------------------------------------
For Sale
Unisaw, $750, single phase, 50" table, 5hp. John Blackmore 650-400-9429 650-400-9429 . John Blackmore 650-400-9429 650-400-9429 . johnblackmore@comcast.net Posted 2/21/10
--------------------------------------------------------------------------------
For Sale
Delta 12-inch Disk Sander Model 31-120. Like new $140. Bob Nisbett rnisbett@hotmail.com or 925-820-8322 925-820-8322 . POSTED 12/26/09
For Sale
Jet 10" table saw, 36" capacity, Contractor style, 1.5hp, 120v. Asking $200. Ralph Northrup 650-888-8464 650-888-8464 ralphnorthrup@gmail.com POSTED 12/26/09