---
President's Message
Fellow Members,
A few things to talk about this month:
1) Cordwood construction of house sheds etc.
I came across a picture of an interesting building the other day that turned out to be of "cordwood construction" - not something I had heard of before so I checked it out on Wikipedia and other web sources.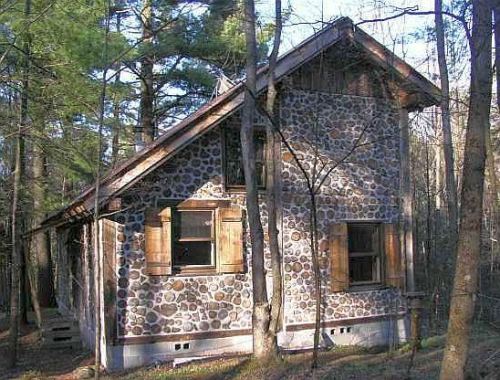 Cordwood Cabin Adirondacks of New York by Larry Schuth
To read more about it: woodconstruction.wordpress.com/2013
Turns out this way of construction goes back for over 1000 years and is basically making the walls of a building with logs and mortar rather than bricks and mortar.
The walls can be anything from 12in to 24in thick depending on the level of thermal insulation you want to achieve and require very little skill to make. Any rot-resistant wood is OK but the soft pine woods perform better than expensive hardwoods as they are less dense and shrink and expand less than the hardwoods. Fallen trees of almost any diameter can be used. Save your fine woodworking efforts for the interior furnishings.
Cordwood construction is mostly concentrated in Wisconsin and other states back east. There are comments on the web that say they are suitable for earthquake-prone areas but not sure if you would ever get permission to build one in the Bay Area. If anyone knows of cordwood houses in the Bay Area I would like to hear about it.
It is a very green way of building. There are plans readily available for houses and sheds and even workshops on how to build our own cordwood house.
If you look under Google images for Cordwood homes you will see hundreds of examples.
2) BAWA Vacuum bag event
A few Saturdays ago we had a well attended, interesting, meeting in Woodcraft on the use of vacuum bags for veneering and bending. Jamie Buxton, John Blackmore and I showed some of the ways you can use vacuum bags and talked of our experiences. Below are pictures courtesy of Harold Patterson.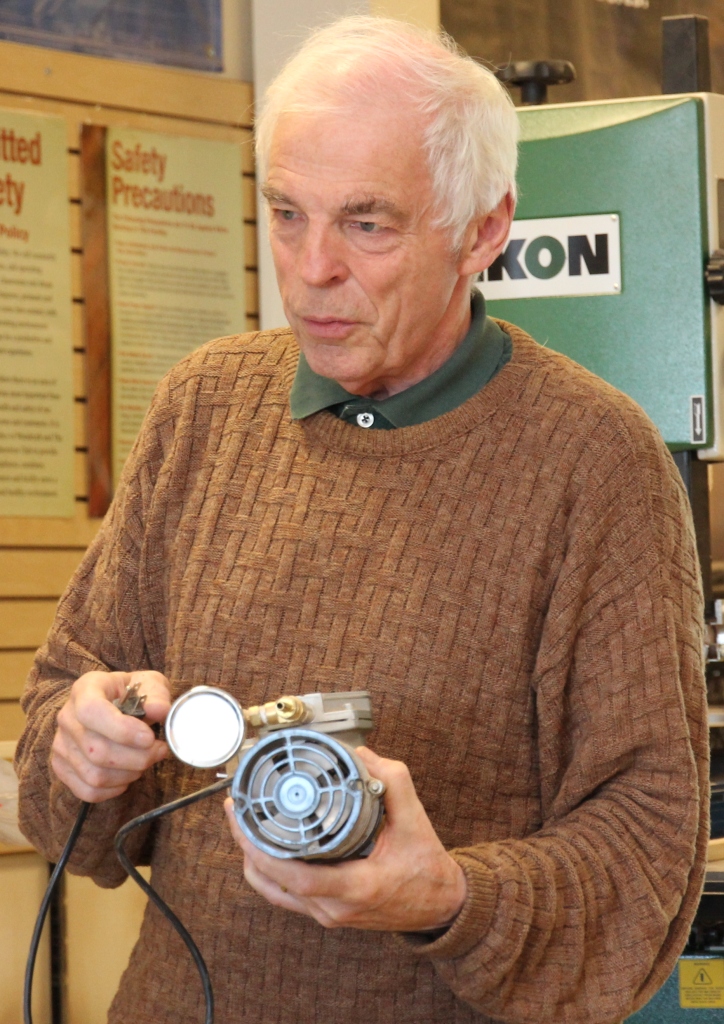 The pump can be very small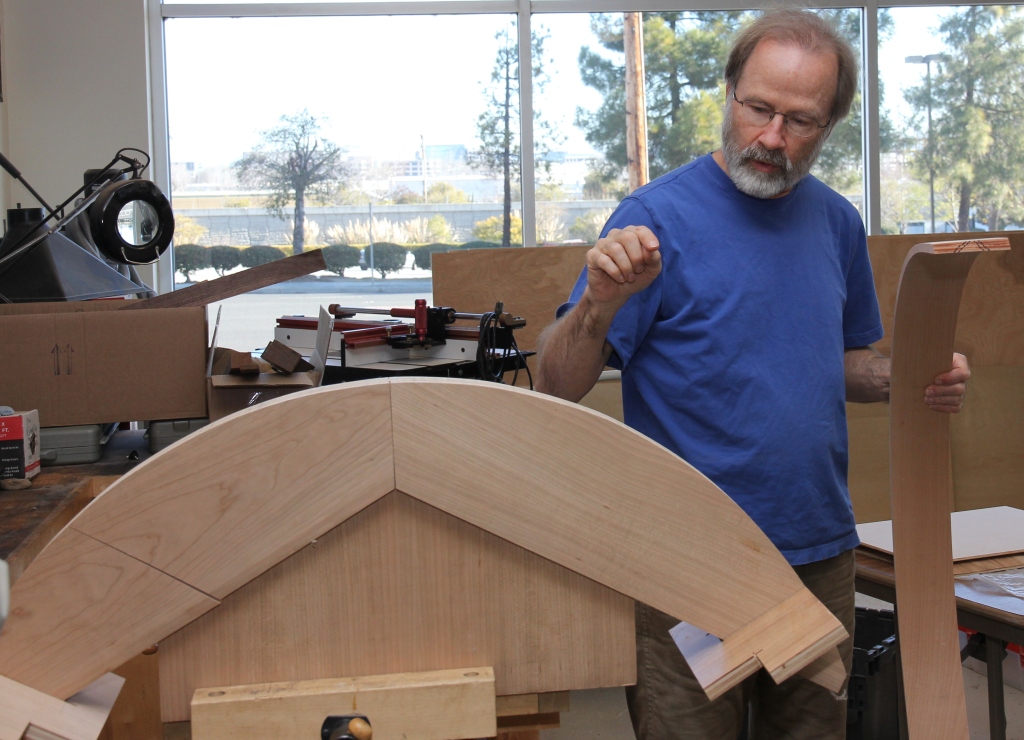 Jamie describing his bending form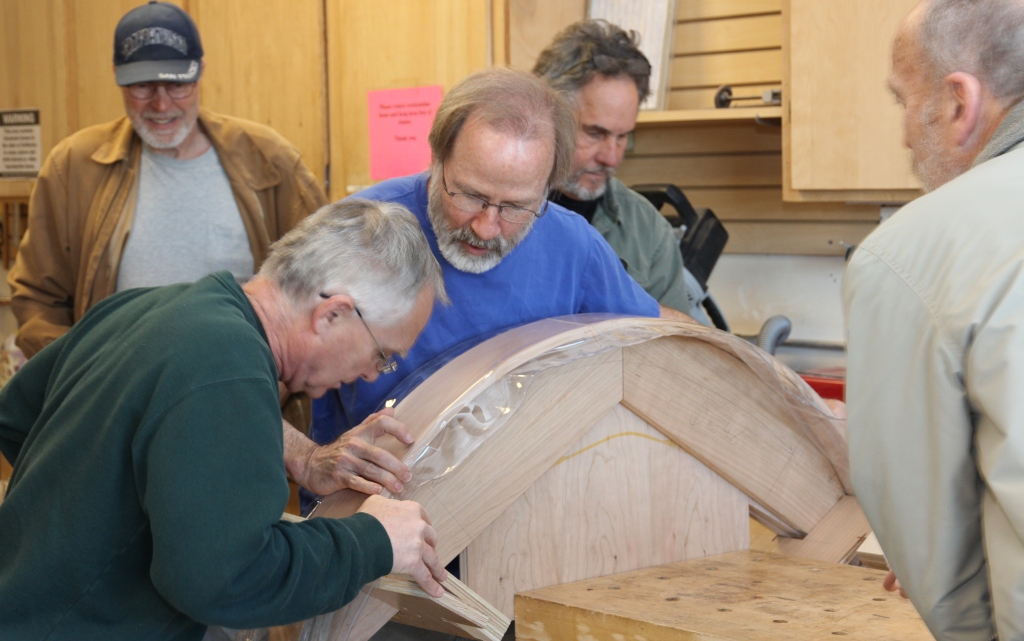 How many woodworkers are needed to clamp up a bending form?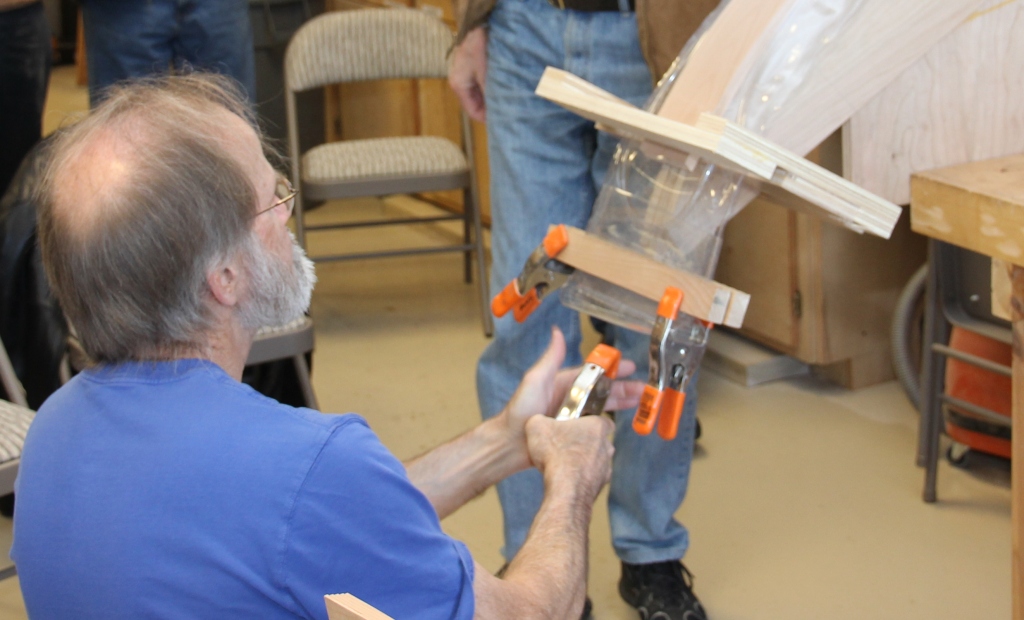 Simple way to seal the bag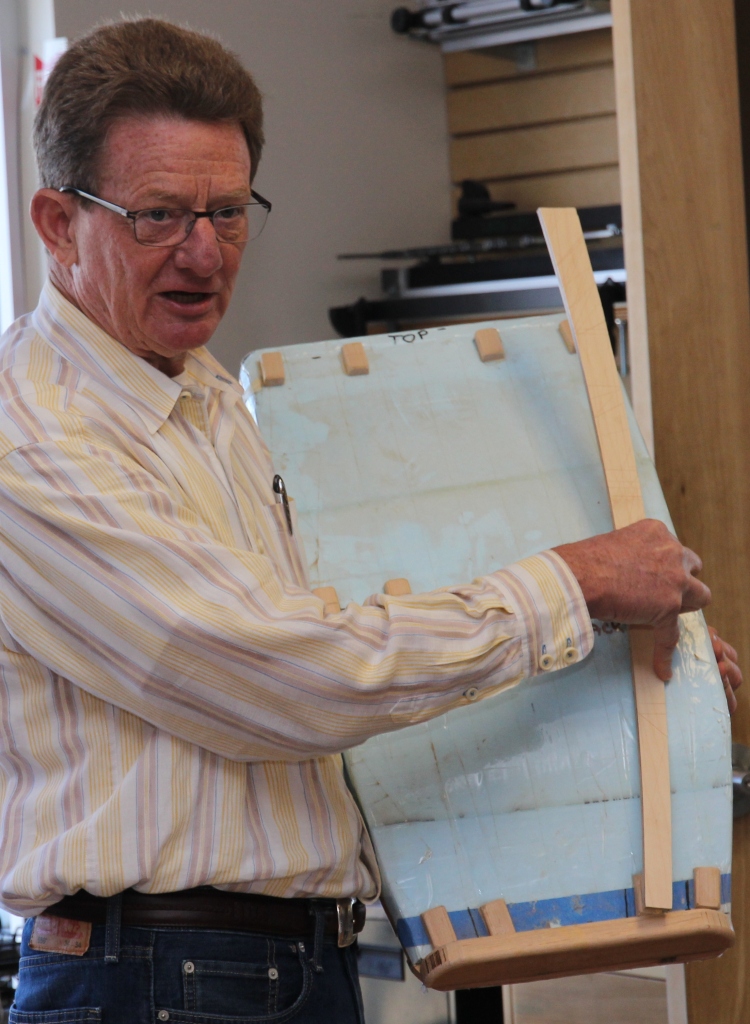 John describing his bending form for chair backs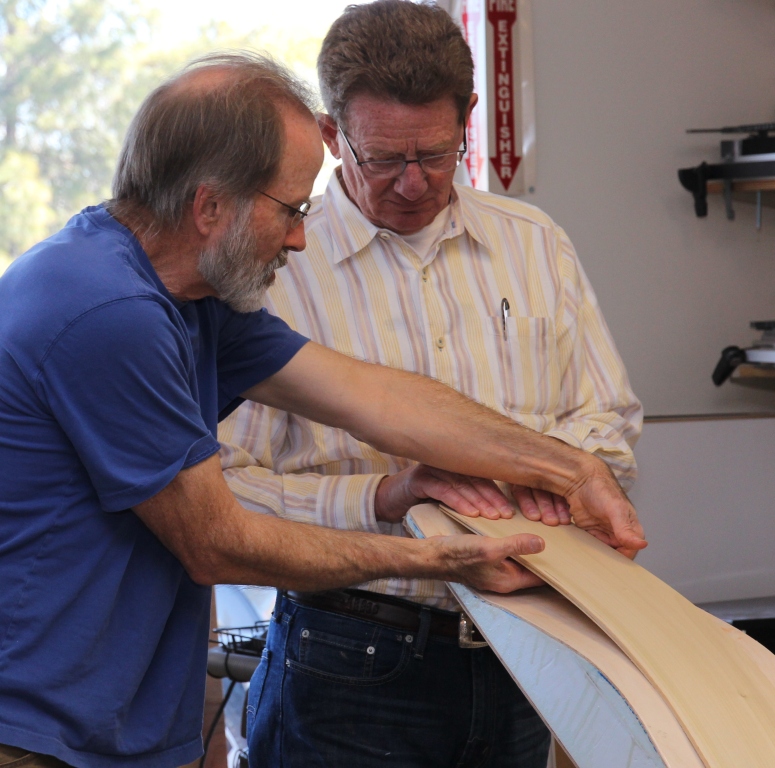 Will this really work?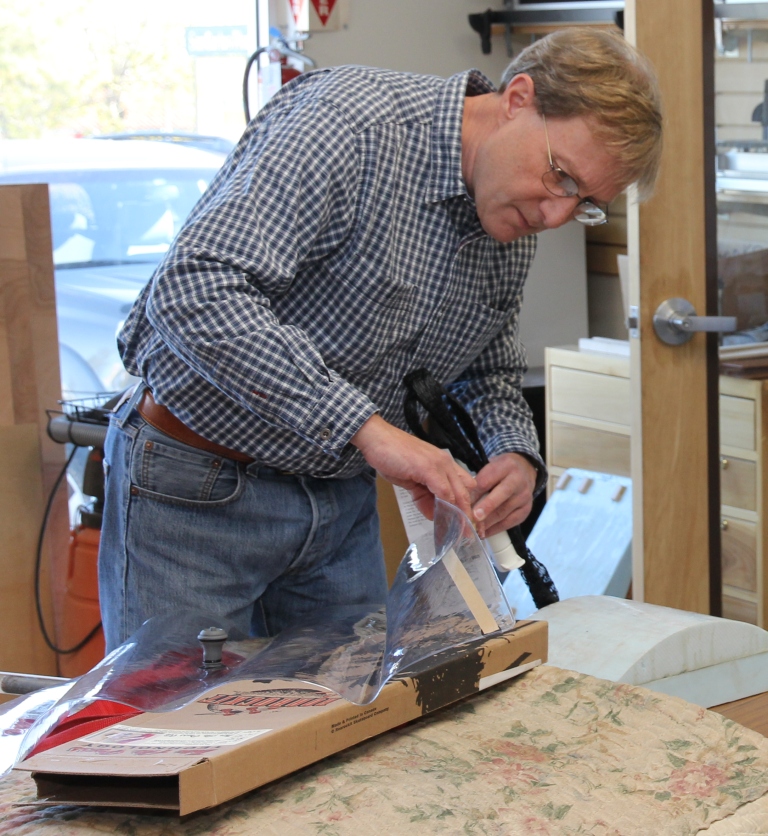 You can even get a simple bending form in a box to make your own skateboard. It comes complete with a hand operated wine pump
3) Boomerang
Karin Meyer of the Presidio Graduate School came to our last meeting as part of her research for her class project called Boomerang.
This is her message:
I am a student at Presidio Graduate School in my last semester of earning a Master of Public Administration in Sustainable Management. This semester entails enrollment in an Integrative Capstone course, which requires us to develop a business plan for a sustainable venture. Our team of mixed MBA and MPA students is very excited about creating our class project. Boomerang! aims to provide residential housing, vocational training, and professional and life skill development to 16 to 18 year-olds as a means of supporting the empowerment and productivity of young people who are often disenfranchised and underserved in society. We are planning to form partnerships with the Juvenile Justice and Family Services Departments of Santa Clara County for a pilot project.
The first set of vocational skills we have decided to offer is training in fine wood working skills, with the purpose of being able to add a furniture business to the school model. The enterprise leverages a 'business-within-a-business' to deliver results. While receiving academic instruction, Boomerang! participants take on various roles. A variety of skills will be acquired in the operation and management of a home furnishing business - designing, producing and selling a variety of products used in the home, from accessories and small décor to furniture and unique art.
To make this venture as viable as possible, an important part of our strategy is to reach out to professionals to get feedback on our proposal. We would love to hear any comments, suggestions, or questions you have. You can reach me at:
karin.meyer@presidioedu.orgor at 650-255-1972.
Problem
Of the 30,000 juvenile offenders in California, 12% earn a GED or diploma; 55% are arrested again by the age of 18; many do not have the job skills necessary to be productive. Current systems lack the capacity to serve these youth - particularly those 16-18 years of age.
Solution
Boomerang! provides California juvenile offenders a path to self-sufficiency by providing education, job-skills, rehabilitation services and positive role models through a full-time, residency based, blended school/work environment.
Motivation
By increasing the employability, self-esteem, and accountability of juvenile offenders, California can realize a decline in crime and youth incarceration costs while increasing its future tax revenue and quality of life for its citizens.
Enjoy your woodworking
Frank [Contact at: Frankramsay8@aol.com
---
The meeting was called to order by President Frank Ramsay at 7 PM. Guests introduced themselves:
New Members and Guests:
Mark Slapkis, a member of Diablo Valley Woodworkers and Ann
Ed Schoenstein, a model boat builder from the SF Model Yacht Club, whose family builds pipe organs
Announcements:
Per next discussed upcoming program items:
the Saturday shop visit to IDEO in Palo Alto hosted by Jon Kaplan;
the talk by Laura Mays at the March meeting;
the wooden plane building workshop led by Neal White at the Woodcraft store on March 23rd and 24th;
the talk by the chair of the furniture making department at CCA, Russell Baldon, at the April meeting;
the visit to Bob Nisbett's shop in Danville on April 20th;
the Rebuilding Together activity on April 27th led by Dan Goodman and Jay Perrine;
the talk at the May meeting by John Moldovan on chair making;
the talk at the June meeting by Joe Cox of Wild Horse Woodworks and member of staff at UCSC as well as the 2x4 contest.
Jay then described the Rebuilding Together activity in more detail. It will take place at a single family house in Daly City and will involve installation of a bath vanity, making and installing a kitchen door, replacing a back stair rail and steps as well as some bath plumbing issues which Jay will try to get handled by another group. Please sign up for this event with Jay or Dan.
Stan described the raffle prize, which consists of $100 worth of padauk and curly maple. We have collected almost the full amount so it should be raffled off tonight.
Frank mentioned a give-away of some Philippine Nara wood in exchange for building a simple side table. Details are on the website.
Frank announced a workshop sale for Don Gardeau who died 5 years ago. More details to follow on the website.
The club's P.O. box has not been used much and will be discontinued. All future snail mail should be sent to Marcus Miller.
---
Featured Speaker - Bernie Lubell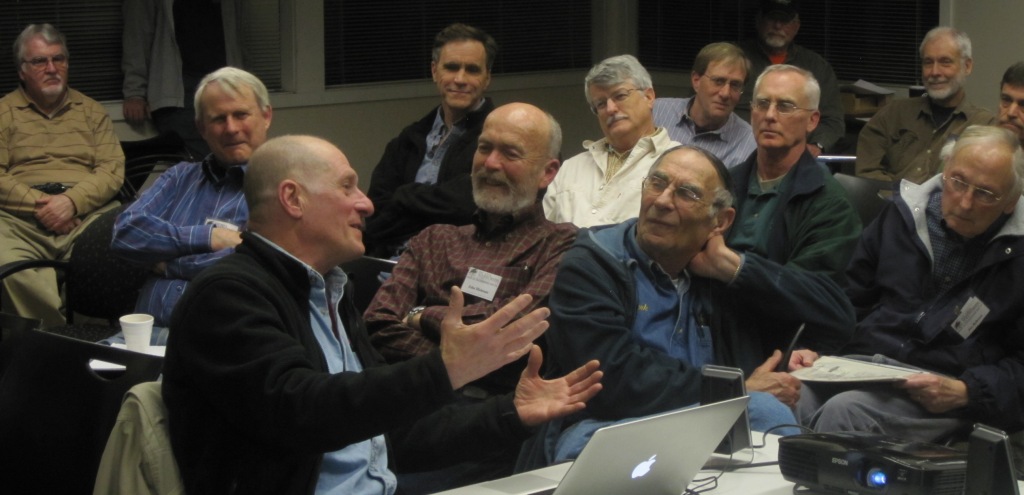 Per introduced our guest speaker, Bernie Lubell, who I would characterize as an artist and sculptor in wood. Bernie is quite out of the mainstream of our speakers, most of whom have talked about the skills they have developed and the energy they have put into making fine furniture that will last for many generations. Bernie characterizes his work, which is made mostly from pine wood, as a device to get people to interact with each other. He does not build his works so sturdily that they will not fail and hopes for serendipitous occurrences to enhance the allure. These ideas all became clear as Bernie showed photos and videos of his installations at galleries around the globe.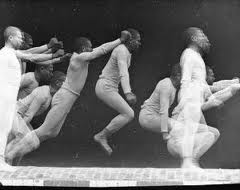 One of Etienne-Jules Marey images
The first work he described is called "Etiology of Innocence", which is a work that tries to deceive people. This work, as much of Bernie's other work has been inspired by the work of Etienne-Jules Marey, a 19th century French scientist, physiologist, and chronophotographer. He developed various methods for capturing motion using pneumatic sensors as well as photography. His photos particularly show that past and future do not exist, but only the present. He is the one who actually determined that all 4 of a horses' feet are off the ground at the same time during a gallop in spite of misinformation about Eadweard Muybridge having discovered this to settle a bet by Leland Stanford. It turns out that Stanford already knew the outcome from Marey's work before he made the bet. Marey installed sensors to record the motions of humans walking, of birds flying, and horses walking as well as a device he eventually sold to record the human pulse on a smoked glass. The jumping off point for Bernie's work was a simulation of the human heart that Marey made. Bernie made the auricles and ventricles of the heart out of latex, which he cast onto various shapes including balloons. The piece uses tambours and sticks beating against each other to mimic the sound of a heartbeat while the latex balloons inflate and deflate. According to Bernie, the piece has an ephemeral quality, that it will not last.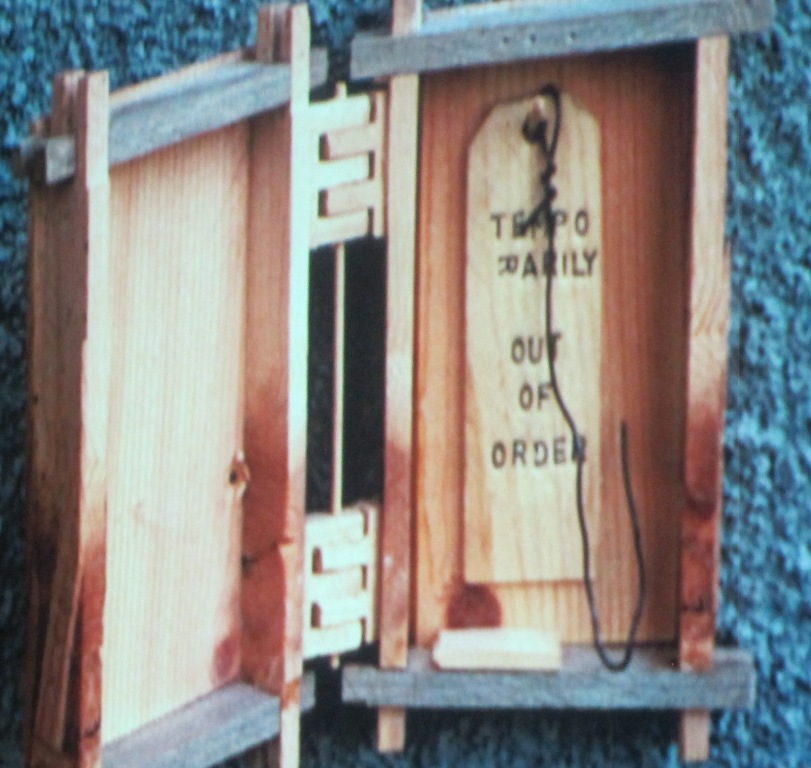 Things fail like parts of humans and that is part of his art. He has wooden "Out of Order" signs set up in boxes around his exhibits which he can put up when a piece fails.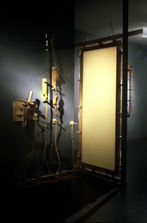 Making a Point of Inflection
The second piece he described was "Making a Point of Inflection" which is a piece about touch and kissing. He uses a latex sheet as a stand-in for human skin to act as a screen between people.
The third piece he showed is called "A Little Breathing Room", which he built in his living room and kitchen and exhibited at the SF Exploratorium. In this exhibit, a bicycle driven blower inflates and deflates a latex bag.
The fourth piece is called "Confluence of Compression" which was exhibited in Sligo, Ireland, which is about time. It is powered by the rocking of a rocking chair, which eventually breaks a small piece in the sculpture. The breakage process occurs over a long period of time and many rocks of the chair.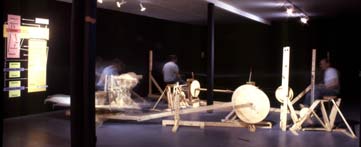 Sufficient Latitude
The fifth piece is called "Sufficient Latitude" and is about being lost on the ocean at night. Three people pedaling drive the large black rubber sheet producing large waves on it like the ocean. The sheet has many balls rolling around on its surface.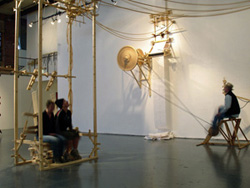 Conservation of Intimacy
The sixth piece is called "Conservation of Intimacy". Bernie's idea is that if conservation laws govern the physical universe there should be the same idea of conservation of intimacy. This piece was exhibited in Liverpool in 2009. Here, a couple sits on a bench connected to 2 tambours. A third person pedals a bicycle and pens write on paper making a record of the motions.
The seventh piece is called "And the Synapse Sweetly Singing", is a tin can model telephone of the brain. One of the people cranks himself into a coffin with a hand wheel and another person communicates with him from outside via a tin can telephone. This piece was exhibited in Rotterdam and Pasadena.
The eighth piece shown is called "Theory of Entanglement" and is a play on the idea of quantum entanglement. The design is based on a toy knitting machine. The device takes rope and knits it into a long tube. Bicycles and a moving sofa power it. It has been exhibited in Rotterdam and Liverpool.
The ninth piece shown is called "A Party of the First Part" and is based on a scene from the Marx Brothers movie "A Night at the Opera". It uses people driving a treadmill and bicycle to make a toothpick. The great outcome is that the bike and the treadmill cancel each other out as they worked to make that toothpick. Needless to say, even after two months, there was still no toothpick.
The tenth and final piece shown is called "Cheek to Cheek" It uses tambours under the seat of a stool to pump air into two other tambours, which are pressed onto the face of the person sitting in the stool. The motion of the person on the stool seat is communicated to her cheeks.
Many of these devices can be seen in action on Bernie's website: bernielubell.com
During the lively Q and A session several points came out. Bernie stores his work in a container in Richmond. For on-site assembly, he crates up the pieces himself and sends photos, videos and instructions to the museum staff. He wants the pieces to look like 19th century products. It takes anywhere from 3 months to 5 years to complete his projects. He mainly uses wax as a lubricant in his wooden machines. He does not design on paper and makes minimal use of drawings. He does not have much formal training. He liked to take things apart as a kid, but had trouble putting them back together. He liked to read Popular Science and Popular Mechanics and used to strip abandoned cars in Manhattan.
---
Claude showed drawings and photos of a device he added to his 1-1/2 hp single stage dust collector called a Thien baffle. It is essentially a piece of plywood and a narrow cone, which sits horizontally at the input to the dust collector. This changes the airflow in the unit so that the small dust particles settle immediately into the collector bag rather than remaining suspended in the filter area. He also replaced his factory filter bag with an after market high efficiency filter. His dust collector now works perfectly even when the collection bag is quite full. Full info will appear on the BAWA website soon.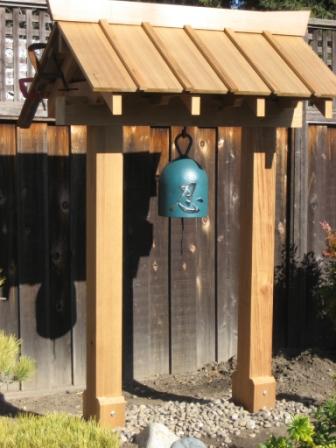 Door Prizes

The meeting ended with the raffling off of the wood and the handing out of door prizes by Stan.

Steve Rosenblum steve@rosenblums.us

test end2
---