---
Presidents Message
Fellow Members
One of BAWA's main goals is training and education in woodwork. Much of this is through the exchange of ideas we always have at our regular meetings but we also have our more focused training sessions.
This year we got off to a great start by having Paul Schurch, one of the country's premier woodworkers, talking about his work at a Friday evening meeting then providing a full day training session at Wodocraft the following day. The portfolio pictures on his website show an amazing set of detailed elaborate pieces of furniture, or maybe it's better to say: amazing pieces of art. Paul has the rare combination of skills of being both a true craftsman and a true artist. We saw many pictures of his work at the Friday presentation then during the Saturday training we were able to see how easy he makes this work look. On the Saturday we also had the opportunity to examine many of the sample pieces of his works. These are small sections made at the same time as the commissioned pieces to provide a reference library of the veneer pattern and finish - almost works of art in their own right. (See Steve Rosenblum's report below of the Friday meeting)
We are having more training in April.
A full day Hands-on Planing Workshop is being planned for April 7th so reserve the date and look out for more detailed information shortly.
By April the year will only be 1/3 of the way through so there is still time to fit in more training seminars/workshops. If you have any suggestions email them to Per Madsen at: permads@comcast.net
At the last meeting Eric McCrystal, of Woodcraft, announced the Facebook 4 x 8 plywood sheet challenge (See meeting notes below) Anyone who has not signed up should contact Eric at: woodcraft561@mac.com to see if there are still plywood sheets available.
As many of you know, and I suspect many of you do not know, BAWA has it's own Facebook page: Bay-Area-Woodworkers-Association
And why you ask? Well there is a major advantage:
You do not have to be an ardent Facebook user to link to the BAWA page. You do not need to post anything on Facebook or tell the world what you are having for breakfast. You simple create a Facebook account using your email address and a password. You do not have to input any details about yourself or a picture.
Once you have the account go to the Bay Area Woodworkers Association page and "Like" it. Just tick the box that says "Like".
As updates are posted to our Facebook page (eg: Meeting details, new Classifieds about tools for sale, free timber notifications, changes to schedules etc.) you will automatically get an email from Facebook saying there has been an update and you can go to Facebook and see what the update is about.
Enjoy your woodworking.

Frank R Ramsay C President
frankramsay8@aol.com

Check out our Facebook
---
Vice President Jay Perrine called the meeting to order at 7:15 due to the late arrival of the members and featured speaker as a result of a fatal accident on US 101 earlier in the evening. Stan spoke about the raffle of the black walnut boards, which is in its second month. He also mentioned that the door prizes would again include a 6 pack of beer for those planning celebrating after the meeting.
Guests:
New members and guests were then asked to introduce themselves. George Kane from Fremont has joined and has been a woodworker for years, doing mostly remodeling. Also present was Mark, who is a professional cabinetmaker.
Announcements:
Per then talked about the upcoming programs, especially the lecture and workshop on February 24th and 25th by Paul Schurch on marquetry and veneering. Details are on the website. Future events will take place on March 15th when Yeung Chan will talk about joint construction for chairs and a Handplaning Workshop to take place on April 7th in the Palo Alto High School Wood Shop. On April 19th the speaker will be Scott Wynn and in May Bill Henzel will talk about a remodeling project. In June John Economaki from Bridge City Tools will be the featured speaker. See the website for details.
Eric McCrystal spoke about the growing contact between Facebook and BAWA. They are asking BAWA members to build office and lounge furniture out of 2x4s and CDX plywood to be used in their new headquarters in Menlo Park. In return they will allow BAWA to hold some meetings in their new woodshop. Eric passed around a list for people to sign up, He will distribute the materials from the Woodcraft store in San Carlos to those interested in taking part. The pieces need to be done in May.
Jay and Dan Goodman talked about the upcoming Rebuilding Together project with the Peninsula chapter. It will take place at a private residence in Daly City and involves the construction of an outdoor staircase to the second story of a house to replace one that has rotted away and is unsafe. April 28th will be the main work day, but there will be two prep days, April 14th for demolition and April 21st for the concrete work and general construction.
---
Kevin Fryer
After the break Per introduce the featured speaker, harpsichord maker, Kevin Fryer, who was his work neighbor when Per had his shop in the Bayview district in San Francisco. Per was often there to help Kevin install the soundboards in harpsichords.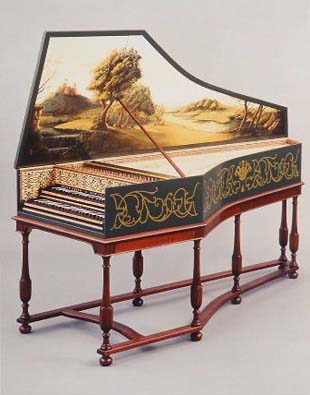 Kevin started his talk by giving a bit of his own personal history that led up to his becoming a professional harpsichord builder. He was at first a music student at the SF Conservatory of Music studying voice and conducting but decided he was not cut out for musical performance and, upon graduation, prophetically took a job with an antique dealer, helping to restore old furniture to make it ready for resale. The work involved mostly refinishing. This got him interested in woodworking and he decided to send away for kit to build a harpsichord. He then took harpsichord lessons and went on to become the harpsichord maintainer for the Philharmonia Baroque. In the 1980's he sold harpsichord kits, with his compensation being one kit for him for every one that he sold. In 1990 he decided to take the plunge and he began to build instruments from scratch in the shop in Bayview where he eventually met Per.
The harpsichord was the principal instrument of the classical orchestra from 1500 to 1800 with luminaries such as Bach, Handel, and Hayden composing for it. During the 17th century the fortepiano began its rise and was used in parallel to the harpsichord. The harpsichord is a plucked string instrument whereas the piano is struck percussion instrument whose strings are under very high tension requiring a massive steel frame. By the 18th century the harpsichord had disappeared. Many in France were chopped up and used for firewood in the 19th century. At the beginning of the 20th century interest in the harpsichord began to revive led by performances by Wanda Landowska among others. This led to requests to piano companies to make "plucking pianos" which were built on heavy frames like pianos rather than the lighter frames of traditional harpsichords. During the 1960's people started looking at museum harpsichords to try to understand how they had been built in the past. During the 1970's there was a lot of conflict between the traditionalists and the new school and in the 1980's the traditionalists won out. The historically recognized master builder of harpsichords was Johannes Rucker of Antwerp who is in the same sphere as Stradivarius was for violins. There were also south German and Italian schools of construction.
Harpsichord soundboards are made out of spruce that has been air dried for a minimum of 12 years. It is made up of thin boards that are glued together edgewise. Soundboard wood needs to be light and stiff. Kevin does not use Sitka spruce because the sound is "fizzy". The wood needs to be first growth, slow growing with narrow growth rings. The strings are iron or brass. He then showed some videos of construction techniques: bending a bentside, gluing in a soundboard with hide glue, and painting a completed case. The bentside is made of poplar, 14 mm thick, and is first wet with towels and then heated on a bending frame and bent to a pre-determined shape given by a full-scale drawing. The soundboard is clamped during gluing by 100 gobars that are flexible pieces of wood, which are sprung against the ceiling and press down on the soundboard. A team of 4 people slops on the hide glue and within 2 minutes needs to have all the clamps in place. The painting begins with a coat of gesso, followed by trompe l'oiel designs.
Quills made from bird feathers mounted in wooden holders with a dampening felt pluck harpsichord strings. The soundboard has variable thickness going from 4mm at the bridges to 2.9 mm at the treble end. Kevin is able to build 2 instruments every 2 1/2 years. At the end of his talk he offered to give away some Alaskan yellow cedar soundboard material to BAWA members of they arrange to come to his shop to pick it up. The pieces are 12 feet long and are 30 years out of the tree.
For examples of Kevin's work go to: kevinfryer.net
---
Tech Talk
Claude then gave talk about his experience at Paul Schurch's marquetry class, which he took for a week at Paul's shop in Santa Barbara. He described some of the tooling, which was used including a specially sharpened 40-mm chisel, which is used for knife cutting. In addition he described a self healing cutting mat, a scalpel, a veneer saw (which cannot be used out of the box, but needs to be properly sharpened), a straight edge for cutting against, gum tape, and blue tape. In the 6-student class there was time to do both individual and group projects. Paul is strong proponent of the packet method of marquetry where all the pieces are cut at the same time on a stack of all the veneers used in the picture. The scroll saw table is set vertically. For a given picture only one piece out of each stack is used so that one needs to keep all parts numbered and separated. Sand shading is also used, in which the part is dipped into a bowl containing hot sand to darken the wood and give it a 3 dimensional appearance. Paul favors urea formaldehyde glue but showed the class how to use all types in marquetry. The gum tape is used to hold the picture together on the show side and once it is permanently glued on the backing, the gum tape is removed with a belt sander.
---
Tom Gaston showed a new version of the tray he showed at the last meeting, which had mitered corners. Also shown was a turned birdsnest bowl from a fallen tree, which had an egg in it to commemorate the former residents.
The meeting ended with the usual raffling off of door prizes by Stan Booker.
Steve Rosenblum
steve@rosenblums.us
---
On Friday eveniing 24 March we had a very special evening with Paul Schurch
Yeung Chan and Claude Godcharles introduced the speaker. Yeung has known Paul for many years and was effusive in his praise of Paul as a woodworker and artist. Claude had visited Paul's shop in Santa Barbara and participated in a weeklong class on marquetry there. Claude reported in detail on his experience at our regular meeting on February 18th, which you can read about in the Last Meeting part of the website.
Paul talked a bit about his history and his early training in woodworking in Europe. Upon his return from Europe he set up a shop in the U.S. where his first project was a large table with a picture in it. Since he did not know how to do marquetry, he did it using inlay. This project took him so long to do that he found he was working for less than minimum wage. Since no books existed on how to do marquetry he decided to return to Europe to find out. He visited Germany, France and northern Italy. In Italy, he was able to track down the shop of Franco Ramonte near Bergamo where he was allowed a small space to work and learn the techniques of packet veneering for 2 weeks. Veneering and marquetry are on the decline in Europe now, but on the rise in the US. Veneer allows shapes and patterns that solid wood does not. Right now the best wood is cut into veneers. Paul has done over 340 projects over his lifetime the longest of which spanned 7 years mostly because the patron could not settle on what he actually wanted.
One of the surprises of his talk was that he spends less that 5% of the time of a project on veneering and marquetry. It goes relatively quickly compared to the furniture building. However he finds adding stone to a project makes the marquetry much more laborious as the stone pieces must be cut last and shaped very precisely since the stone does not have the "give" of wood.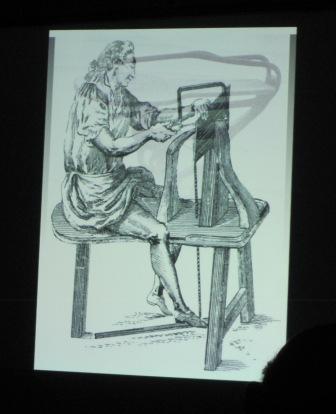 He showed several pictures of antique and modern scrollsaws used in marquetry. Hide glues are mostly used in Europe to permanently bond marquetry to the substrate and must be heated to 160F for use. Paul prefers to use urea formaldehyde powder glue dissolved in water. Aside from the scrollsaw, marquetry tools are relatively simple: chisels for cutting, veneer saws, scalpels, and wood or self-healing mats to cut on.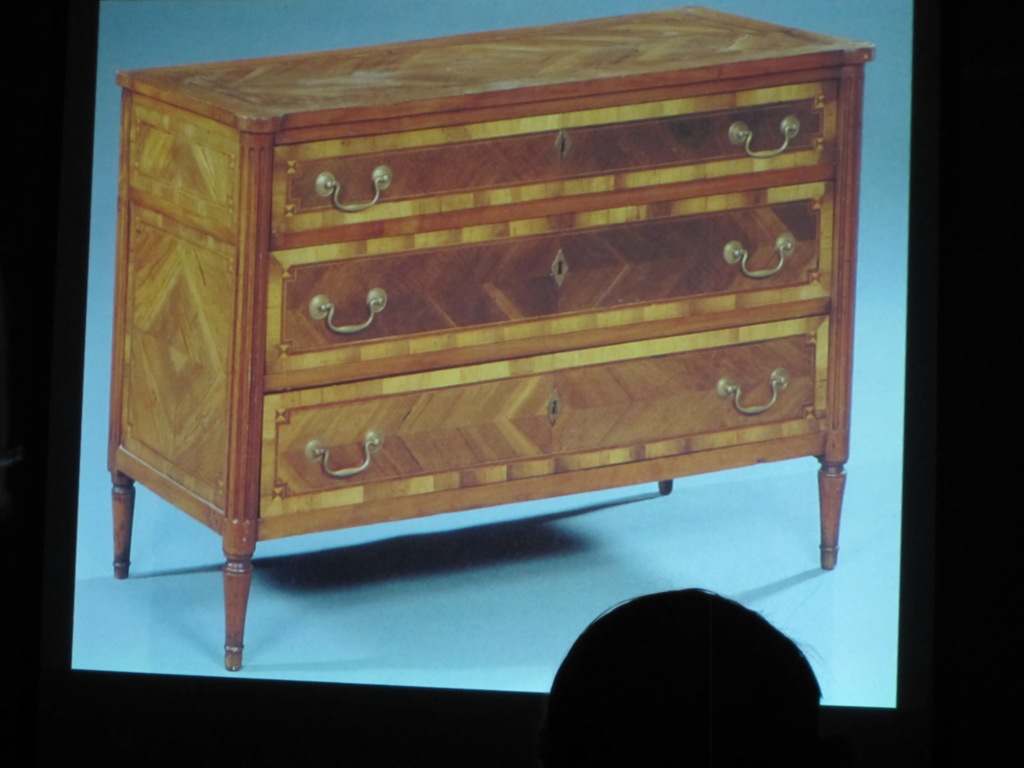 He then showed us many beautiful examples of the work he has done. The most impressive was a teak scroll cabinet for a temple, which had wood and ruby inlay in the door that was illuminated from within by LEDs. He pointed out that the stone needs to be inlaid .002 inches below the surface so that it does not "pop out" due to wood expansion and contraction. The most interesting use of veneer was in some women's clothing made by a fashion designer. The hardest problem there was selecting fasteners and attaching them to the wood. In many cases the veneer was attached to silk to support it. According to the model the clothing was comfortable to wear. The craziest project he showed was a wind activated "Funion" that he made for the Burning Man Festival in 2010. This object is initially collapsed and lays flat on the ground and is then pulled into the shape of an onion by internal ropes and then spins in response to the wind. At the end of the festival it was burned up.
As a coda to his presentation he showed a video of an old man and his wife in Sorrento, Italy. The man sits at his scroll saw and quietly and steadily cuts out marquetry designs. Meanwhile, the wife talks to Paul constantly. The shop is a virtual warehouse of furniture with marquetry.
As Yeung said at the beginning of the talk, those who did not attend really missed out on a great experience.
Steve Rosenblum
steve@rosenblums.us
---