---
President's Message
Fellow woodworkers,
Time to think big! The new construction term: Plyscrapers.
There have been wooden apartment blocks and motels around for as long as such structures have existed. Usually they were limited to 3 or 4 floors, but now they are talking about 34-storied wooden apartment buildings and more. But now, with the aid of plywood and composite beams, a whole new world of wooden buildings is starting to sprout: Plyscrapers ie: plywood skyscrapers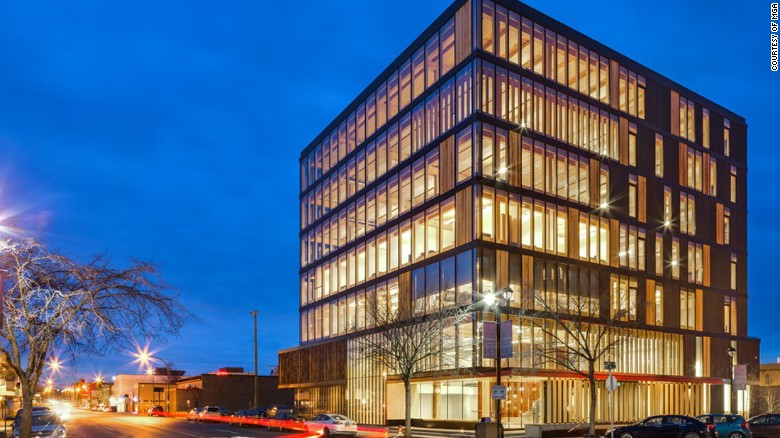 This 97-feet high building was recently completed in for the Wood Innovation and Design Center in Prince George, Northern British Columbia. There is also an 18-storied plyscraper being designed for Vancouver.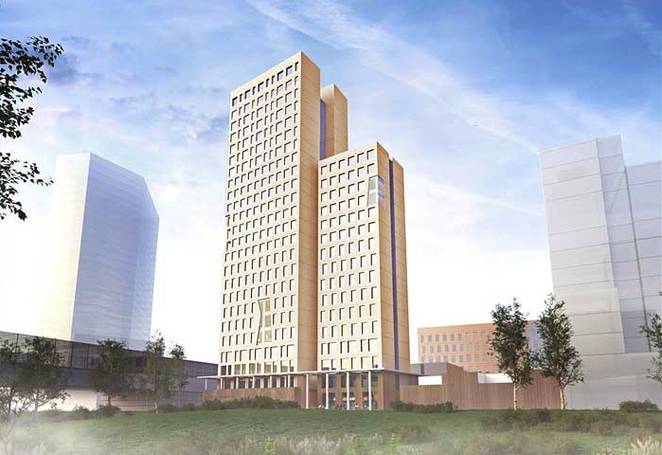 This is an artist's impression of the 24 stories building being designed for Vienna. The building will include restaurants, a hotel, and " shopping areas of fitness, beauty, wellness and business".
Another group of architects have designed a 34-storied, wood-framed residential tower for the center of Stockholm, as part of a design competition.
Recent research seems to say the composite wooden beam form of construction is good for 30 floors or more. For some reason they say "The biggest problem is convincing the fire departments that it is safe; I cannot think why.
Part of the appeal is that they are "green", built from sustainable forests, wood is lighter to transport than concrete and steel, resulting in big savings in their carbon footprint. Plus using wood for constructions means you do not need waste time and cost of adding finishes to the outside pillars of the building. These wooden buildings are apparently also earthquake safe – to what level I do not know.
I come from the land of 2-floor brick houses and it took me a while to realize that all the 2 or 3 floor houses that are built over here are constructed one floor at a time so that in the event of an earthquake they will sway in a safe manner
.
When I was living in England in the mid-eighties a company experimented by building a small plot of wooden houses that were factory-made in sections and put together on-site with internal bracing cables behind the outside cladding. The project was not a success; not because of construction or design, but because they were not constructed the same way as a conventional brick and mortar house. People liked them, but the building societies, the source of virtually all mortgages in England, would not touch them – they could not work out the risk of having a wooden house for security against their loans compared with traditionally constructed brick house that would be good for 100+ years. It has not changed much. When a Canadian architect suggested that a skyscraper could be made almost entirely from wood, the head of wood engineering at one of Britain's biggest builders scoffed. Then the Vancover building above opened.
Perhaps when we design the BAWA World Headquarters and build it on a cheap plot of land somewhere it can be a plyscraper and we and all get to work on it – I will check our insurance coverage first.
You can look on Google Images and find pages of plyscaper
Enjoy your woodwork
Frank (Contact at: Frankramsay8@aol.com)
---
President Frank Ramsay called the meeting to order at 7 PM.
New Members and Guests:
The following people introduced themselves as guests or new members: Jim Baker from Half Moon Bay, who does woodworking in his garage Milo Hanks from SF, who is a friend of Harry Filer and does his work at Tech Shop Dean McCully and his nephew, Nathan who are both woodworkers. Nathan is a high school senior who has learned woodworking at Piedmont Hills High School for the last 3 years and is an expert with the scroll saw.
Announcements:
Per Madsen announced:
There will be a Toy Workshop at Jamie's shop this coming Saturday, 21 June.
Harold Patterson provided further details later in the meeting and passed around a signup sheet.
The meeting on June 16 will feature Mark Tinsley who will describe the fabrication of a Stradivarius violin copy.
On July 22, Fred Goykhman will talk about laser engraving and cutting.
On August 18 there will be another Toy Workshop.
The talk for September is still open and Per would like to have a talk about marquetry.
There will be no meeting in October, as the Wood Show will take place from October 21-23 at Woodcraft in San Carlos.
The November meeting will be devoted to a show follow-up in which the judges will provide insight into their decisions on the works presented.
In December, the meeting will be our annual potluck hors d'ouevres party with a presentation by Frank Ramsay on the history of the club.
In January 2017 we have tentatively scheduled Ian Agrell to talk about carving.
Arnie Champagne announced that there would be a show of works from the College of the Redwoods in SF starting next Thursday at 6 PM.
John Blackmore announced that the second planning meeting for this year's woodworking show was held just before the general meeting. Members were asked to volunteer to help with the planning and continue to work on their projects for the show.
Stan Booker announced that the raffle of the 9-foot long cherry board is going well. Tickets are $1 each or 6 for $5. He also has some vises and books for sale.
Frank Ramsay announced that Kreg Tools is looking for someone to demonstrate their products in Santa Cruz. Payment will be in Kreg products.
---
Jane Koski and Peter Cunha San Francisco Cable Car Wood Shop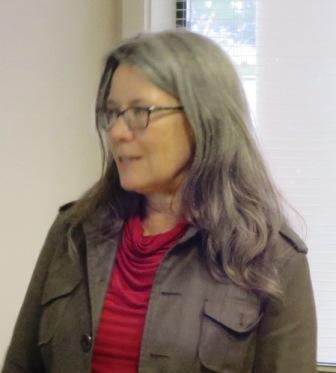 Jane Koski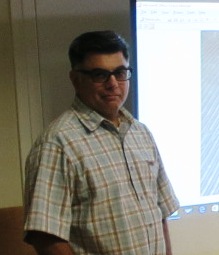 Peter Cunha
Per introduced the speakers for the meeting from the San Francisco Cable Car Wood Shop, Jane Koski and Peter Cunha.
They proceeded to give an enthusiastic talk on the joys and frustrations of maintaining and refurbishing 19th century wooden cars that have been declared historical moving landmarks, not the least of which is the tension between maintaining historical accuracy while meeting the conditions of life in the 21st century.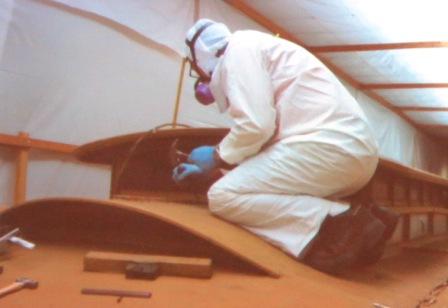 Removing the old toxic paint.
Among these issues are passenger safety and the inability to use hazardous chemicals such as lead. The cars were all originally painted with white lead paint and were expected to last 30 years. The shop is continually researching new finishes that will be as durable as white lead and environmentally sound. All the cars have been fabricated in San Francisco and the last new one, car #15 was built between 1887 and 1897. Drawings exist for the cars as built but they have been repaired throughout the intervening years, sometimes by people who were not trained craftsmen. So when they do a repair or rebuild they try to go back to as close to the original structure as possible. Peter pointed out that the cars must flex a lot in service so many of the joints are mortise and tenon with no glue. There are two main types of cars still in service: cars 1-28 on the Powell-Hyde line which are shorter than California Avenue cars. The operational fleet has 31 cars, 20 of which are on the Powell line and 12 on the California line. In 1945 there was an attempt by the city government to eliminate the cable cars, which was thwarted by a citizen uprising.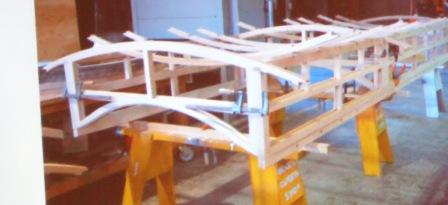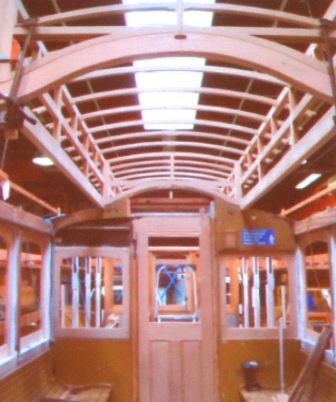 In January 2009 they began a complete rebuild of car #18. It had a rotten roof, rotten timbers, rotten window frames, and rotten wood bumpers. The replacement material was mostly white oak, which has much better rot resistance than red oak. Marine grade plywood is used in a few strategic places such as flooring for the rear porch of the Powell cars. The joinery is mortise and tenon, half lap, and brass screws where necessary. They have custom brass castings made for the tops and bottoms of the grab bars. The final painting was done at the cable car barn at Washington and Hyde using Acrolastic paint over canvas.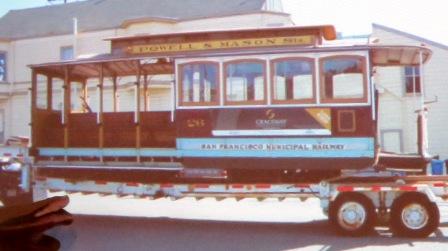 The cars are transported onto a custom trailer that allows them to be picked up from the tracks.
They would like to train apprentices, but their limited manpower at the present prevents them for doing that.
---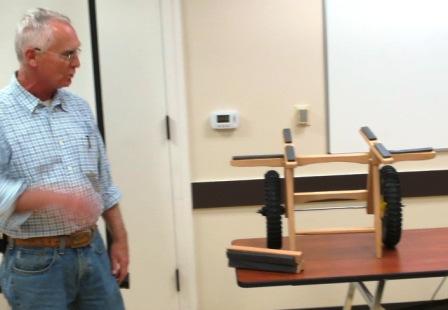 After the break Ken Napior showed a prototype of a collapsible kickstand for his canoe that he made from scrap. It is used to transport the canoe from the car to the water's edge.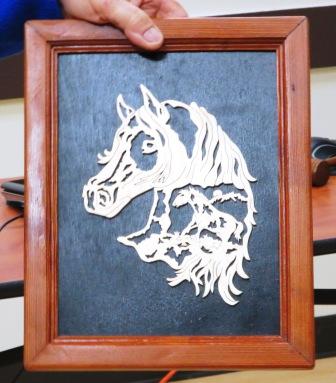 Arnie Champagne talked about the importance of developing scroll saw skills in order to do marquetry. He showed an intricate cutout of a horse that he had made. He feels that it is important to saw a line and then, reverse direction and re-saw the same line, a skill that requires a great deal of practice to develop.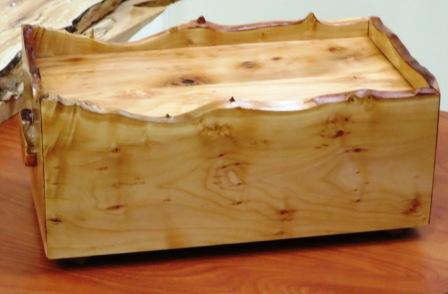 John Blackmore showed some willow boards that he cut from a tree from his back yard. He has made several keepsake boxes preserving the live edge. He showed one that he had made recently.
The meeting needed at 9 PM with the door prize drawing by Stan Booker.
Stephen RosenblumSecretary steve@rosenblums.us
---