In all of my years of living in the UK I never visited Glasgow. It was known for mass drunkenness and street fighting, not a place to visit. Then in the 1990, to my total amazement, it won the award of the European Capitol of Culture and I started to hear about its fine art galleries and architecture. More recently as I learned more about woodworking I read about the famous Glasgow architect and furniture designer Charles Rennie Mackintosh.
We decided to visit the city and see the Mackintosh Library at the Glasgow School of Art, one of his most famous works, described as one of the finest examples of Art Nouveau in the world.
Unfortunately about a year ago the building was seriously damaged by fire but we decide to go and visit the city anyway and see the rest of what it had to offer.
Note: There is a major restoration underway. One of the leaders of the appeal for money for the restoration is Brad Pitt (who as far as I know) is neither Scottish nor a woodworker.
Mackintosh's influence on buildings is everywhere. His furniture is in several galleries around the city including The Lighthouse, formerly part of the Glasgow Herald newspaper, where there is a whole floor dedicated to his work.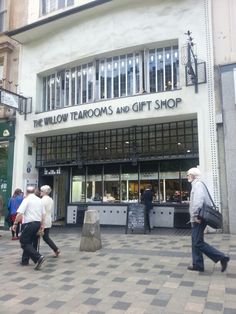 We also visited the Willow Tearooms and had tea with scones, cream and jam on the narrow mezzanine floor. Mackintosh had been given the commission to design this whole building - from outside appearance, to interior design to tables, chairs and light fixtures - in 1903. It was full Art Nouveau at its very best.

Over time the tearooms went out of fashion and the Willow Tearooms ceased to exist. In the 1980s the current owner tried to recreate the glory of original rooms. Unfortunately there is not money or demand to restore it to its full initial state but sitting at a table on the mezzanine does give a feeling of what it used to be like.

Sitting there also reminds you that overall people were smaller hundred years ago.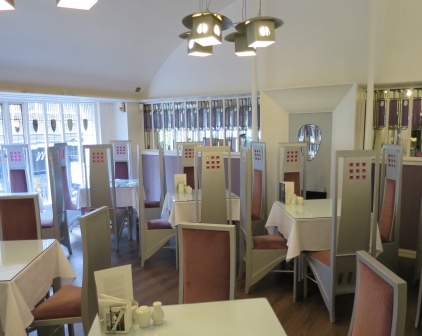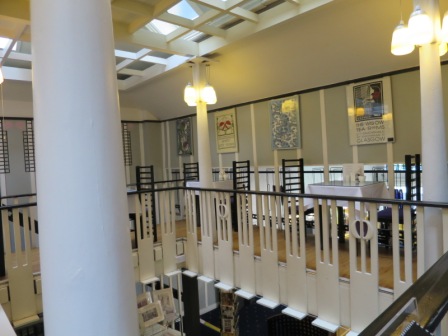 Unfortunately, due to the financial realities the front part of the ground floor is now a jewelers but the back half of the shop has a small collection of Mackintosh's work along with a collection of books and information about him. The tearooms are on the mezzanine and some of his other rooms on the higher floors have also been recreated and used for special events.
The tables and chairs in the tea room are replicas of the originals.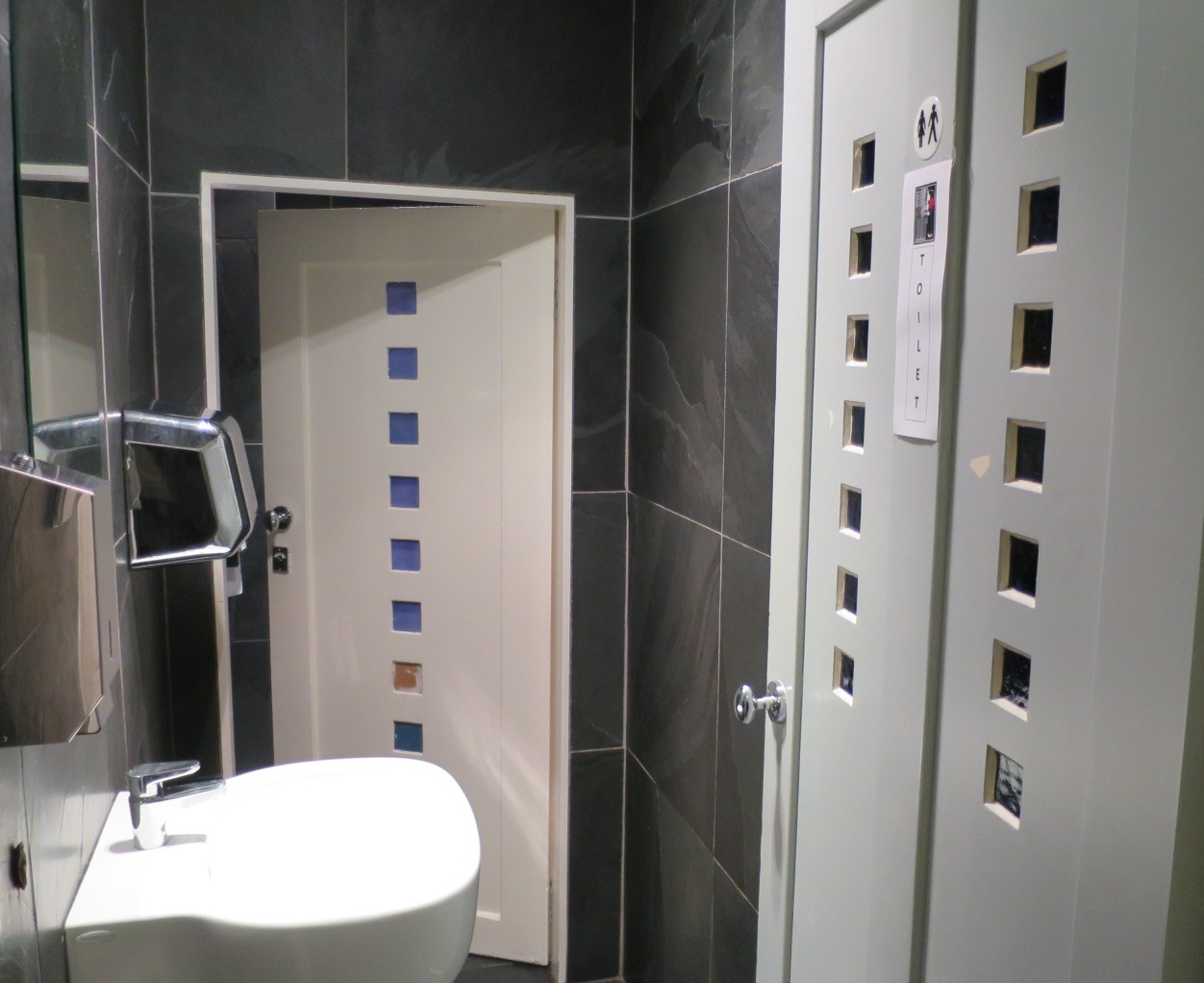 Even the doors to the bathrooms have Mackintosh design elements.
Some chairs from the collection at the Willow Tearooms.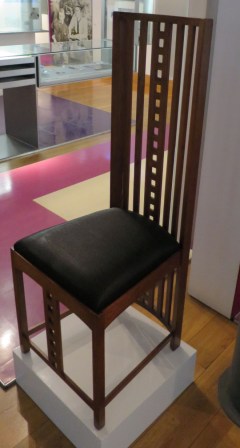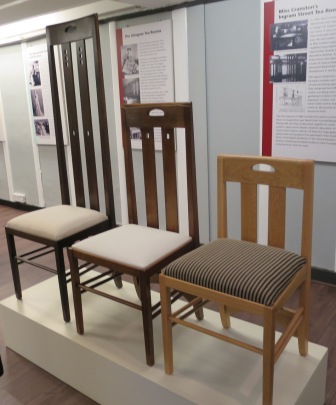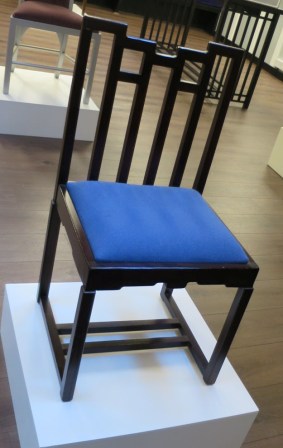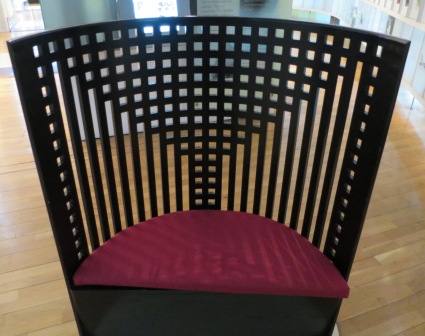 I had seen many "influenced by Mackintosh" chairs and tables over here so I was surprised by the delicacy of his actual real work. It is very difficult to see the fine curves and styling of apiece from photographs.
Mackintosh's design influences on furniture can still be seen on many of today's contemporary work.
Enjoy your woodworking.
Frank (Contact at: Frankramsay8@aol.com)
---
President Frank Ramsay called the meeting to order at 7:10 PM.
New Members and Guests:
Frank then asked guests and new members. Joe Dai from Saratoga identified himself as a visitor who has developed an interest in fine woodworking after engaging in several home renovation projects.
Announcements:
Per Madsen:Upcoming schedule
July 16-Ron Ashby from shellac.net will talk about finishing and will answer questions about finishing problems.
August 20-meeting will take place in Oakland at the factory of woodenwindows.com. They manufacture custom wooden windows.
Sept. 17-Dean Santner from Alameda Point Studios will talk about the woodworking shop program there.
Oct 15-2x4 contest and speaker TBA.
Nov. 19-Board Meeting and annual elections
Dec. 10-Annual Holiday party and hors d'oeuvres pot luck.
June 28 there will be a special workshop presentation at the Schoenstein Organ Company. They will be shipping a newly completed wooden pipe organ to St. Louis and we will get to see the finished organ and hear it played.
Mark Rand: Mark reminded members that the snacks and drinks provided at the meeting were supported by voluntary contributions from the consumers of said treats.
Stan Booker: Stan announced the ongoing raffle of a board of figured maple and one of red oak. Tickets are $1 each or 6 for $5. Tickets will be sold until $100 is collected and the winning ticket will be drawn.
Frank Taylor-Frank announced a giveaway of 22" drawer slides at the meeting.
Frank Ramsay-Frank announced an event sponsored by the Santa Clara Valley Carvers on May 31 in San Jose. There will turning and carving demos.
Claude Godcharles-Woodcraft now has an Epilog laser for customer use.
Ray Burger-Ray announced that the Hiller Aviation Museum will have a special exhibit on the Wright Brothers flyer, which was built of wood and canvas and used a traction motor.
---
Jennifer Alger, of Far West Forest Products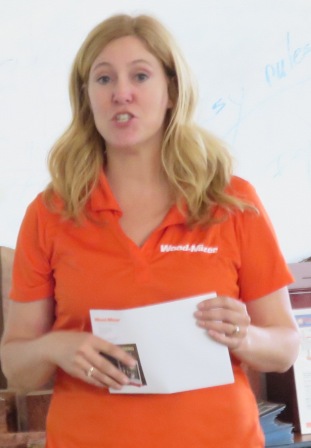 Per then introduced the featured speaker, Jennifer Alger, of Far West Forest Products.
Their store is in Sheridan, California about 50 miles north of Sacramento.
They specialize in portable sawmill equipment( Wood Mizer, Timberg) and service sawing of urban and reclaimed wood collected from within 500 miles of Sacramento.
They work with many public and service organizations such as Caltrans, the National Park Service, water districts, and Calfire to saw up and remove fallen and dangerous trees.
They will also provide referrals for people needing such service. It has been a family business and her father, Jim, who came with her to the meeting, has been involved in logging for 50 years. They can trace their logging heritage back through 8 generations of loggers that came to the US from Wales and moved from the east coast to the west coast over time. They are able to supply old growth redwood in slabs up to 67" wide. This material came from a 3400 year old tree that fell in a storm in Yosemite. They also sell wood sawn from reclaimed furniture including woods such as olive, oak, sycamore, cottonwood, claro walnut, coast redwood, camphor, and curly redwood. They air dry all their woods for 1 year per inch of thickness and do not kiln dry. Their business is becoming more attractive over time as LEED certification now requires that 20% of the lumber used in a project needs to come from within a 500 mile radius of the project site.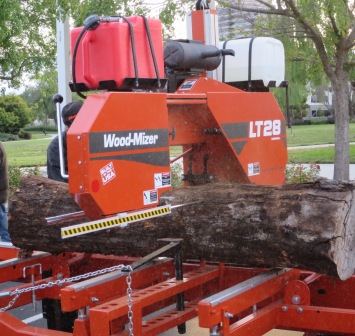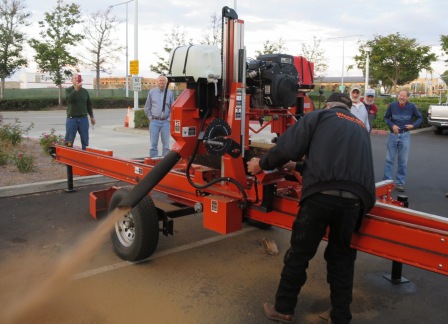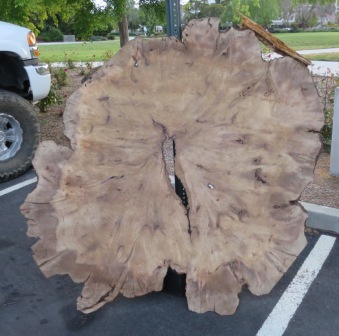 Even wide thin slices
The meeting then moved outside to the parking lot where Jim had set up a Wood Mizer sawmill and demonstrated the sawing of a Bastogne log into 5/4 slabs. Bastogne is a sterile hybrid of black walnut and English walnut and this tree came from John Sutter's historic Fruitvale Ranch. The tree was almost dead when he cut it down so there was already an ant infestation in it. We were all very impressed with the relatively quiet operation of the 19 hp driven band saw and the speed with which it reduced the log to slabs of dimensioned lumber. This curved material would be used for making rustic signs and would sell in their shop for $50-60.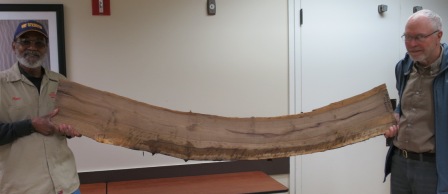 Far West Forest Products generously agreed to donate one slab to the club.
---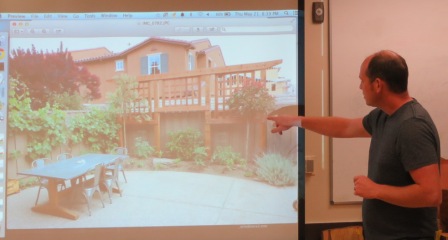 Andy Zito-Andy showed slides of a redwood trellis that he designed and built in his back yard. It consists of 6x6 redwood posts set into gravel.
They shoulder joints between boards are held together with 7" long by 3/8" dia. lag bolts. The trellis is designed to harmonize with a concrete table top set on a cedar base that Andy also built and designed.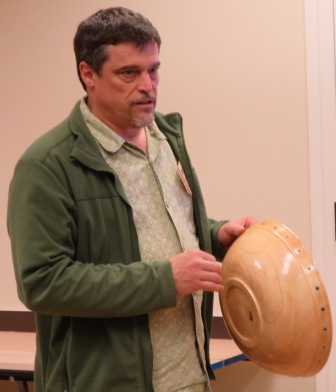 Claude Godcharles-Claude showed a large ash salad bowl with inlaid brass and epoxy decorations. It was finished with 4 coats of Waterlox.
The meeting closed with a drawing for the door prizes by Stan Booker
Steve RosenblumSecretary steve@rosenblums.us
---