---
President's Message
Fellow woodworkers
Seven or eight years ago when I first became active in BAWA I thought woodworkers were a dying breed. People only bought furniture that had been mass-produced in China or somewhere exotic and the only "furniture" that was made locally by necessity was kitchen and closet cabinets which were produced on CNC machines.
But as the years have passed by I am finding more and more local woodworkers, some as individuals and some working as groups or cooperatives, who make a living by designing and making custom furniture. Many of them can trace their start back to training they received at the College of the Redwoods or from the furniture program at the California College of the Arts in San Francisco. Some had their initial training in other parts of the country and others are simply self-taught.
We have a number of professional woodworkers in our own organization.
Some are working totally in reclaimed woods and make "affordable" pieces while others concentrate on the higher custom end of the scale where prices are into many thousands of dollars per piece.
I do not know if the Bay Area is unique in this growth or if it is a national trend but hopefully it is the start of a new trend of furniture builders.
Is there a "Northern California style" that has involved out of all of this? A lot of the local show work is dominated by Krenov-style-cabinets but has another, more generic, style evolved that we could call the Northern California style? If you have any ideas please let me know.
Meanwhile the cost of custom-made can still be a challenge. I think in most cases a customer needs to want a custom made piece to justify the cost to themselves.
Recently I received a request to design and make a baluster post for the stair rail as part of a major renovation project. After doing some research I found a picture in an old Victorian era catalog of an appropriate design that would match with the other fittings in the room. Lots of curves with a long tapered fluted center piece. I made an estimate what it would cost me to make including a jig to cut the flutes on the tapered turning – quite a lot of hours work involved. I then did my usual sanity check to see what I could buy a similar post for on the web – less than $25. Hard to compete unless customers really wants the custom made solution.
The use, or misuse, of reclaimed wood:
Our Newletter Editor Steven Rosenblum>> I just spent almost $900 on cherry lumber for a desk that I am building. I don't know how many labor hours I would have to put into it yet, but a similar size desk from IKEA costs $279, assembly required. People need to be educated that particle board is not a suitable material for furniture that is expected to last a lifetime or even to become an heirloom. When the cost of a real hardwood bed frame is $5000 and it is beautiful and functional and will last for 40 years, the cost is only 34 cents/day. An IKEA bed frame costing $200 would cost the same 34 cents per day in 1.6 years, so if it survived less than 1.6 years it would not be competitive on a daily investment basis. This sort of comparison makes real wood furniture a hard sell to modern society where people are used to throwing away the old and buying the new.
One of the great things about designers working on new or old buildings in a city today is that they like to incorporate reclaimed wood in various forms (heavy beams to barn sidings) into their projects to help relate them to the history of the area. The result is something that makes the project harmonizes with the neighborhood. However, one company in San Francisco seems to have set out to clash with the neighborhood. (It is a major international advertising company)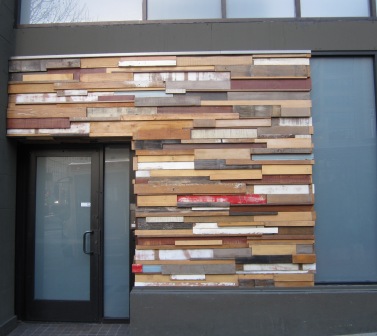 Some wood would be better if it was left to rot and never reclaimed.
Enjoy your woodworking
Frank [Contact at: frankramsay8@aol.com
---
Frank convened the meeting with only a single blow of the gavel tonight.
The crowd was small because our scheduled guest speakers had to cancel at the last minute due to health issues. Nevertheless we were prepared to proceed. Yeung Chan, recently returned from China, had graciously prepared a slide show of his travels. His talk comes later.
First came the guest: Karen joined us for the first time and brought in a walnut board of which she has several in case anyone is interested.
Announcements:
John Blackmore headlined the announcements with a brief description of the agenda for the July 18 meeting featuring our Annual Jigs and Fixtures event.
Prior to the presentation of the members' jigs and fixtures John Blackmore will present a PowerPoint presentation of Jigs and Fixtures he has gleaned from the pages of the last ten years of Fine Woodworking magazine. The emphasis of his presentation will be on jigs and fixtures from a method of work or tool involved. For example, jigs and fixtures for machines: the bandsaw, the tablesaw, the planer, the hand held router, the router table and the drill press.
Also on the agenda are jigs and fixtures for hand tools such as planes, laminating and bending and bench jigs.
BAWA members—bring in your jigs and fixtures to share. It is a great resource to share.
Per Madsen briefly outlined the schedule for upcoming meetings:
July Jigs and Fixtures
Aug. Heather Trosdahl, furniture maker
Sept. Lou Kern, functional art
Oct. John Shelly, Forest Product Lab, UC Berkeley
2 x 4 contest
The BAWA Wood Show is now a semi-annual event, scheduled for 2014
Nov. Annual Meeting and Election of Officers. Submit your names now.
Dec. Pot Luck dinner and hors d'oeuvres
The silent auction tonight has two items: a router table donated by Jon Seybold and a book of machining.
Harold Patterson came across the New Hampshire Woodworkers Guild that publishes a monthly journal on the web. It is free.
Frank Ramsay announced that there are no door prizes or raffle since Stan Booker is traveling. He received an email from a party in San Jose needing help to repair an academic chair. If you would like to lend a hand, see Frank.
---
Paul Larson made a garden sign for his home in Sea Ranch in the shape of a Ram's Head, enlarged from one on his belt buckle. It is made of three laminations of oak. The finish is water based spar varnish.
Tom Gaston has been busy on his lathe. From one stump he created three pieces: a bowl, a cup and a lidded jar. His breadboard is composed of several types of wood joined in narrow strips with a handle he turned to round on his lathe. The safety trick with this large flapping propeller on the lathe is to place a piece of tape on the edge of the broad board so that if you get too close, it will slap you, reminding you to back off. Just a slap on the wrist, better than a break in the arm.
Frank Ramsay made an elegant walnut box to house three bottles of rare, highly sought after Scarecrow wines submitted for auction at the Napa Valley Wine Auction held every year at Meadow Wood Resort. He described the challenges: overcoming wood movement after band sawing the thick slab to obtain 4 flat, straight sides, veneering the top and bottom book matched pieces, inlaying the Scarecrow logo on the top of the box in mother of pearl and obtaining a smooth, high luster, gloss finish. Last year this item auctioned off for over $200,000. Beautiful job Frank, bravo zulu (an old nautical term).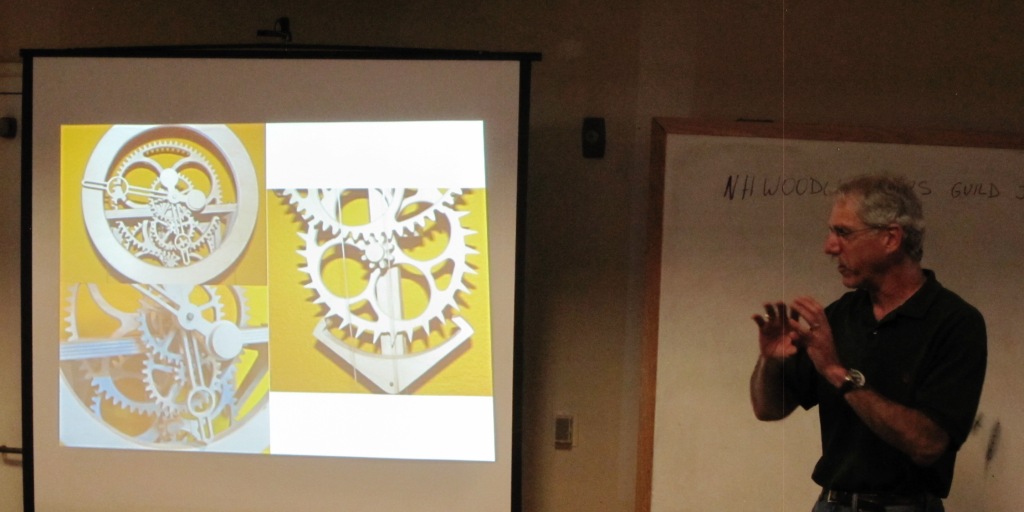 Jon Kaplan became inspired by some of the designs of Clayton Boyer, including his wooden geared clock. As a relatively new woodworker with few tools of his own, he undertook the task at the Tech Shop in Menlo Park. He cut out all he gears on a band saw, then proceed to file and sand away, for ever it seemed.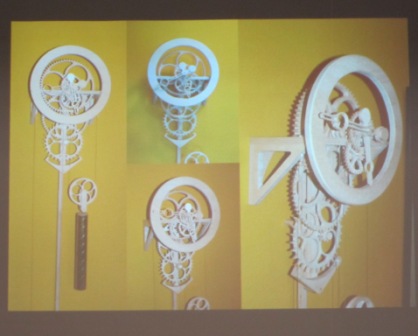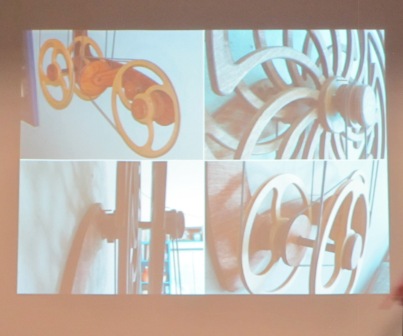 The picture of his clock is beautiful, it runs, but does require periodic manual adjustment. Committed to woodworking, he went out to buy his own tools. His next piece was a kinetic sculpture of a rotating, intertwined spokes. It is spring-loaded and will run for 10 hours on a single wind. John had submitted an oak toolbox at the BAWA Wood Show and has just completed a chest of similar design with dovetailed drawers.
Yeung Chan began his presentation by passing around two marking knives he made, one of basswood, the other of North Carolina cherry. As we have learned from Yeung in previous presentations, he makes his own blades, preferably from high-speed steel.
In December, Yeung traveled to southern China, Guangzhou for a furniture show. While there he met with a group of woodworkers and taught them his sharpening techniques. The group is large with 165 members, but only 10 are active. They have no shop and meet instead in a Tea House. Occasionally they have access to a shop and later sent Yeung some photos of themselves at work, obviously staged Yeung pointed out because woodworkers could not simultaneously be doing these tasks at the same bench. Nevertheless the photos do show their enthusiasm for woodworking. Yeung recommended that they set up a cooperative venture. There are no woodworking schools in China to compare to College of the Redwoods, for instance. Instead, woodworkers focus on copying the designs of the past, principally the Ming Dynasty period.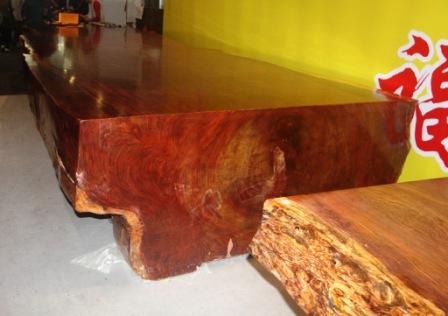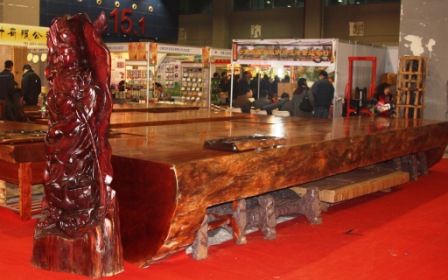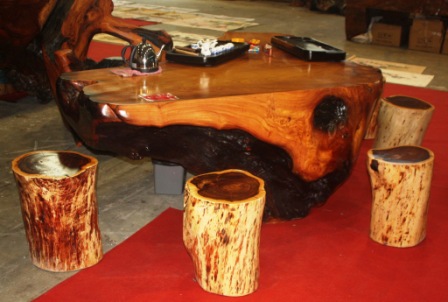 The furniture show Yeung attended featured some massive slabs and logs, probably from South East Asia since China has few forests. The largest piece measured approximately 20 feet long, 6 feet wide and 3 feet thick. It was polished to a high gloss finish. Several other pieces were just as long and wide, but only 1 foot thick. Evidently such pieces are purchased by furniture manufacturing companies as a raw material and by wealthy individuals for use as tables. In the photographs it appeared that the great weight of slabs was indenting the floor. Chairs were carved from massive stump sections to accompany the tables.
We saw photographs of woodworking machinery that is being produced in China, Harvey being a popular brand. Yeung was favorably impressed with the quality of the machinery and said that these companies are making private label equipment for Taiwanese and American brands. Some American exhibitors were at the show, including: Bridge City Toolworks, Lee Valley and Lie Nielsen. Prices for American tools are 10% higher in China than here.
Yeung and Arnold Champagne recently attended the College of the Redwoods exhibition at the Dogpatch Café and Gallery in San Francisco. The hit of the show was a maple writing desk with a tambour roll top, leather pad writing surface and radiating rays of curly maple veneers. The more he looked at this piece, the more he discovered to like about it.
It was a great ad hoc meeting everyone and special thanks to Yeung.
John Blackmore, Secretary
JohnBlackmore@comcast.net
---