---
President's Message
Fellow Members
For some reason one evening when I was randomly looking through Youtube I found a set of 8 videos that show the making of National Guitar metal resonance guitars. The bodies are made of brass or steel but the interesting woodworking section was in Part #4 where they showed the shaping of the mahogany neck.
They start with a 24in long block of dried mahogany and using a jointer and Sawstop they cut it to a block 4in by 2.82in.Each block is then marked with a jig and rough cut into 2 neck blanks on a bandsaw. After that simple joinery they go on a CNC machine where virtually all the shaping, cutting and drilling are performed.
The machine has 7 stations, or stages, that the blanks are fastened to for the real work to be done. Slots, groves, peg holes, recesses, curved back and all (the back curving part is particular interesting)
The only part of the shaping not done on the CNC machine is the end of the neck where it has to join the body of the guitar at 2.5 degree pitch. This is shaped on a simple belt sander.
In the video they show the CNC machine working on 7 necks at once, 1 at each stage. It is an interesting video of the making of a very complex looking piece of wood. I have no idea how many hours, or days? it would have taken a craftsman to make a guitar neck 25 years ago but this video is fascinating. Of course if you had such a machine you would need to spend many days building the metal jigging to hold the blanks in the correct position on the CNC table and many weeks, or even months, to choreograph the cutters to perform all the neck shaping.
You can check out the video at:youtube.com/watch?feature=endscreen&v=U9UfTNVaKOY&NR=1
While talking of high-tech I visited the Computer History Museum in Mountain View a few days ago. They had a special exhibition of how Google make their street view maps. One of the special cars was there with its very expensive array of 15 lenses supported by an array of computers and satellite GPS links. But with all that high tech investment I thought they should have given a little bit more attention to the quality of the woodwork they had build to hold the control screen: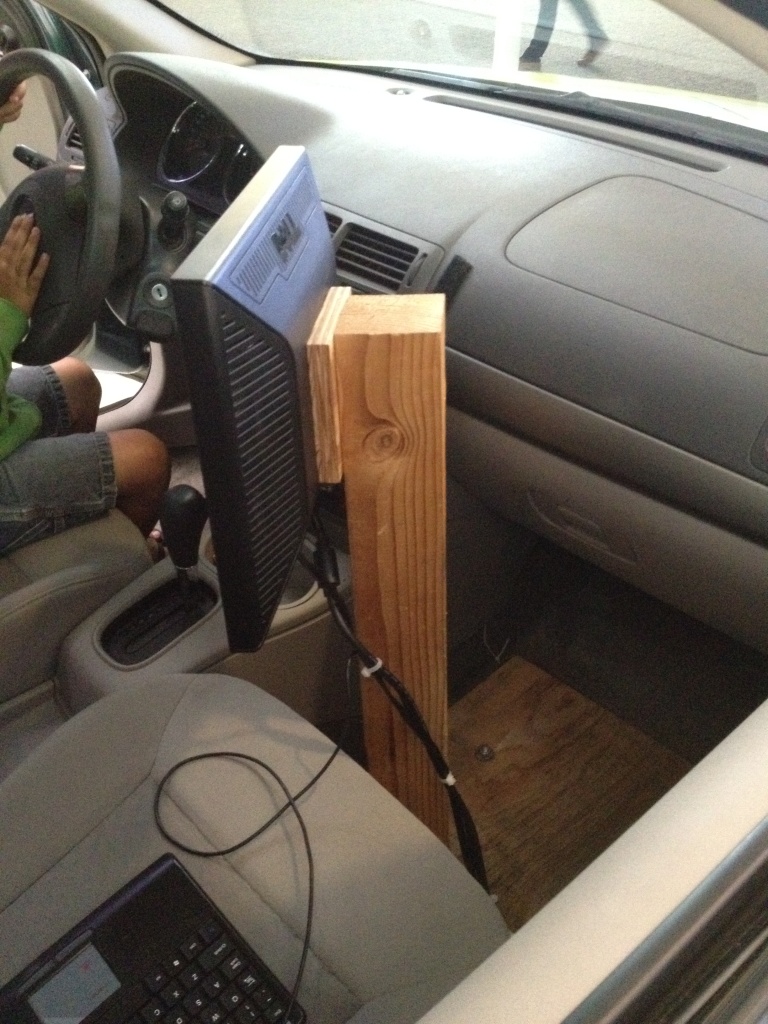 It was not even varnished!
Enjoy your woodworking.
Frank
Frankramsay8@aol.com
---
The house was full and boisterous. Coffee flowed and cookies crumbled. Frank Ramsay called the meeting to order so that we could listen to our guest speaker, John Economaki from Bridge City Tool Works.
New Members and Guests:
But first the Guests and New Members:
Joining BAWA as guests tonight were Tom Heller and Dan Tomey. Paul Larsen attended as a new BAWA member.
Announcements:
Claude Godcharles who was recently drafted to become the chairman of the Annual Wood Show committee brought us up to date on the musings from the first committee meeting that was held at Baja Fresh just prior to tonight's meeting. The Show will add a Youth Section to encourage entrants from the woodworking programs at local high schools. Volunteers are needed to help with preparations for the show. Members are encouraged to sign up with Claude. The Show will include categories for boxes, 2 x 4s, etc. Judging will be structured to provide entrants with feedback on their work.
Per Madsen announced the speakers for the upcoming meetings. In July, Jamie Buxton, John McCormak and Frank Ramsay will talk about joints and joint making. And, to the disappointment of everyone, but there will be no discussion of joint rolling.
In August Ted Fay will return to talk about finishing techniques. This meeting will be held at the Facebook woodshop in Palo Alto. Frank Ramsay has retrieved the BAWA sign and will hang it out prominently in front of the shop so that everyone can find the meeting location.
In September, John Blackmore will talk about his sojourn to the College of the Redwoods, projects class, where he plans to make a dining room chair. The prototype was available for trial sitting tonight.
In October there will be no meeting, instead BAWA will present the Third Annual Woodworking Show on October 19.
---
Announcements drew to a close, the crowd was clearly restless and Per segued to an introduction of our featured speaker.
John Economaki, Bridge City Tool Works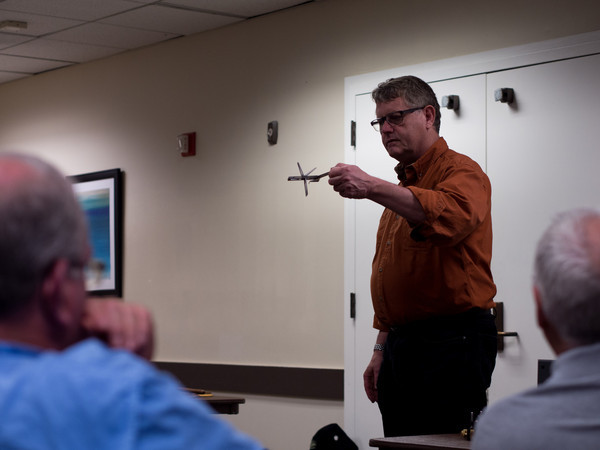 John Economaki established Bridge City Tool Works in 1983. After graduating from Iowa State University, John moved to Portland, Oregon where he taught woodworking in a local high school. During one summer when he attended Anderson Ranch and took a class with Sam Maloof, John realized he really did not know much about woodworking and if he wanted to become accomplished, he must become a furniture maker. So in 1977 he took the plunge. He built furniture until 1983 when a hyper allergic reaction to wood dust forced him to make another career change. He had always made his own tools and had been disappointed that available layout tools were shoddy and cheap. He made his first tool, a try square in brass and rosewood; expensive and finely crafted. He attended his first woodworking show at the Cow Palace in South San Francisco, showing his try square and a scratch awl. He took orders for $5,000 worth of merchandise. Then he wrote orders for another $7,500 in Los Angeles and Bridge City Tools was on the map. He chose the name to honor the city of Portland with all of its unique bridges.
The business model is unique and well suited to our economic times. Bridge City makes heirloom quality tools to order. All the tools are made in the United States. In 1992, Fine Woodworking magazine had a subscription base of 300,000 readers. Bridge City Tools distributed its catalog to 1.6 million people. Today, the circulation base of FWW has decreased to less than half of that at the peak. The decline is reflective of fundamental market changes.
Two principal factors account for the change: an aging population and the increase of internet connectivity. Today, the average person spends over $1,000 per year on staying connected on the internet. People are time and money constrained. The prevalence of hobby activity has declined markedly.
Woodworking is changing too. Why spend $2,000 on a table saw to make your own furniture when you can go to IKEA and buy the whole living room and dining room for the same amount. True, the quality is not high, but the furniture is attractive and will last long enough.
So how is this changing the opportunity for woodworkers? Shops are downsizing; the sales volume of major woodworking equipment continues to decline. Bridge City Tool Works is addressing the challenge.
With the proper tools it is possible to do high level work in small spaces, without the need for a dust collection system. Now, it is possible to do fine woodworking in a multi-purpose room in the house. You can return the garage to your car. Bridge City Tool Works is designing and making tools that allow you to make fine furniture is 120 square feet of space. John says: "Good work knows no scale."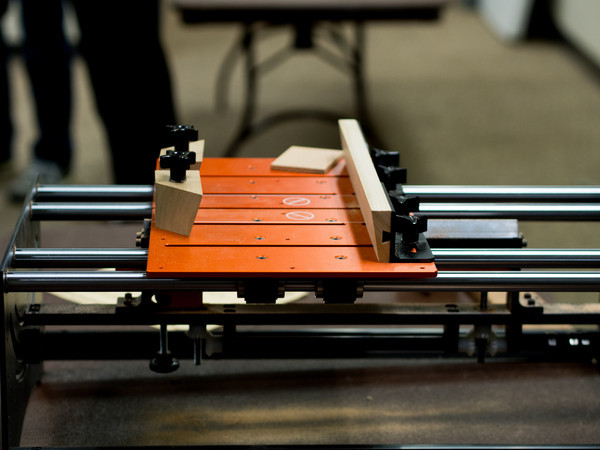 The core of the shop is the JMPv2 JointMakerPro saw
This compact table like saw uses a Japanese saw with 320 teeth firmly clasped in long jaws below a sliding linear sled. The saw can be adjusted in height and pitch in order to control the cut. The work piece is held in 10 degree angled trap jaws perpendicular to the blade and then slid forward over the cutting blade. The saw kerf is .020 inches. This saw is safer than a SawStop. The JointMaker is but the first of many tools that constitute the essential toolbox complement of BCTW tools.
The BCTW Essential Tools are made in stainless steel, for quality and durability. It changes the esthetic of tools. John began by showing us the Try square, the marking gauge and a mini brace that accommodates hex bits.
The AMPv2, AngleMasterPro is used to precisely set angles on flat or curved surfaces. With a digital caliper mounted on the jaws, it is possible to achieve accuracy to within .001 inches.
Many of the tools are quite affordable: the KM-1 Kerf Maker and the TM-1 Tenon Maker are excellent layout tools offering accuracy and exemplary design.
The CT-16 Palm Brace is an elegant drilling tool. The CS-12v2 Combination Square in stainless steel belongs in your shop and a fine arts museum. Then there are the HG-1 Honing Guide, the DSS-6 Double Saddle Square, and the CT-15 Multi-Square.
As these tools were passed around among the members, it was all too apparent: These are "world class" tools, all built to order in the USA. The policy is to accept a down payment of 50% of the purchase price with each order. Once sufficient orders are accepted, then production is scheduled. BCT has contract manufacturing, while maintaining in-house a prototype production shop.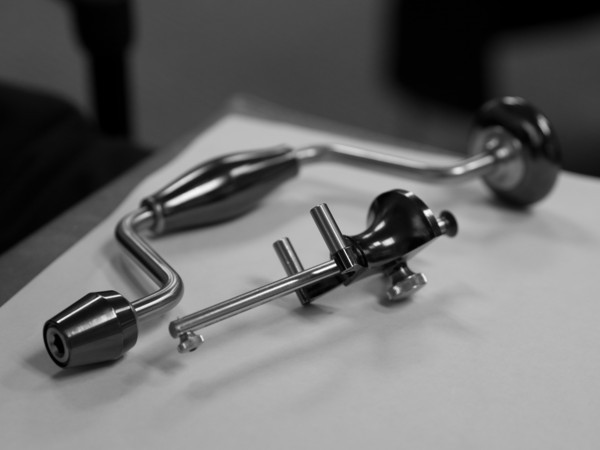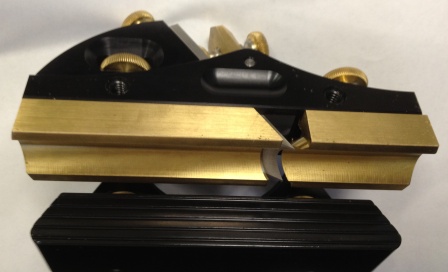 More tools, some rather expensive, followed:
The CS-2 CenterScribe, the DJ-1 DrillingJig are designed around two jaws that close on a fixed object to accurately determine its center. We examined several hand planes: the HP-8 block Plane, the CT-17 Dual Angle Block Plane and the CT-18 Dual Low angle Smoothing plane. The blade lock mechanism is unique.
The HP-7 and CT-14 Fox-Tail Shoulder planes both incorporate the same comfortable handle and are made in stainless steel. Stainless steel construction requires considerably more precision machining than brass. For instance, it takes 1 hour to machine the brass body of the CT-14, but 22 1/2 hours in stainless.
Bridge City Tool Works has accepted the challenge of making large projects from small workshops. In the coming months look for John to show us how to make a complete kitchen, complete with all cabinets, using the core essential BCTW tool package. We thank John for talking to us about the BCTW business model and for showing us these magnificent tools.
For more details visit their website at: bridgecitytools.com
---
BAWA members have been busy with their woodworking.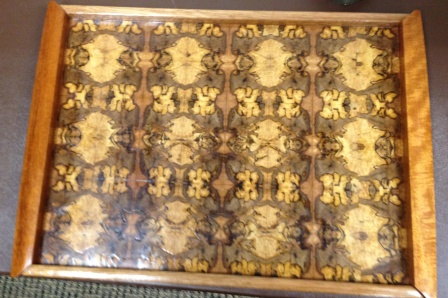 Tom Gaston made a marquetry tray using veneer cut from a pyracantha he sacrificed from his backyard. He also turned a small bowl from one segment of the plant.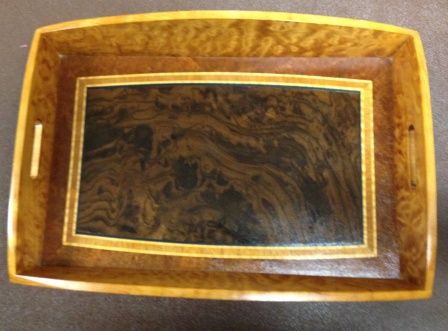 Marcus Miller showed a veneered tray with angled corners making it a challenge to create the finger joints.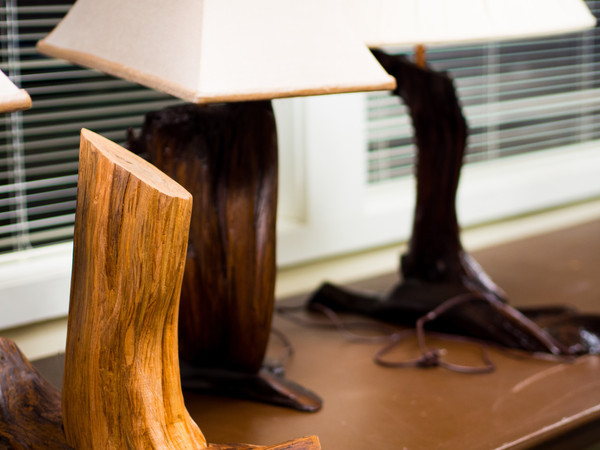 Harry Filer made some redwood burl lamps from a stump he salvage from under his cabin that was build in 1909. He had to remove the stump to put in a proper foundation under the cabin walls.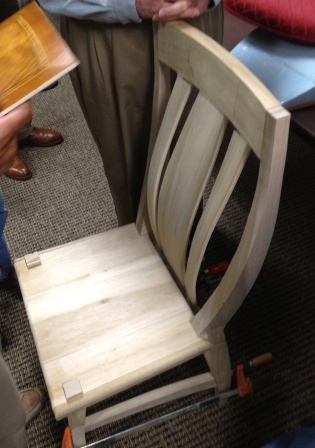 John Blackmore showed the prototype of his dining room chair, made of poplar with a featured lumbar support back panel. It was deemed to be very comfortable.
Claude Godcharles made an urn for cremains or an "Ash Box" from black palm for a client. He had not yet made the cuts to create the top, so the suggestion was made to make a hole instead, so then it could be called an "Ash-hole Box." Such clever people we are in BAWA.
With Stan Booker away, there was no raffle, no door prize. Several members threatened to boycott the next meeting unless he returns.
John Blackmore JohnBlackmore@comcast.net

Pictures by Stephen Kwo and Frank Ramsay
---