Presidents Message
Fellow Members
Are we able to process all of the information at our finger tips? Do we even know what information is available to us?
In an idle moment I went to the BBC Home page and read a story that Google was going to digitize 250,000 18th and 19th century books from the British Library and make them available on Google Books So, I decided to go explore and see what is already available.
I started with simple searches such as 19th Century Furniture or 17th Century Furniture and found long lists of on-line books available on all aspects of furniture making. Some of the books are limited access due to copyright restrictions, etc. but most cases the full books are available totally free. All photocopies of the original old type set pages.
For example you can read a 200 page book:
"First Lessons in Wood-working" written by an Alfred G. Compton in 1888 in which you can read that the list of "Tools For Each Class" included: Three glue-pots, Twenty pounds of glue, Can of sperm-oil - 1 gallon, and Can of white shellac varnish - 1 gallon......"
You find this book at: First Lessons in Wood-working
(Note: When you go to the link you have then scroll to page viii near the beginning of the book. )
You can go even further back to "The Philosophical Transactions of the Royal Society of London 1665 to 1800" where on page 608 you can find a paper from 1701 titled:
"An Account of the strange Effects of the Indian Varnish..."
Where a Signior Ignatio writes about the "extraordinary effects" it had on him and his maid servant.
"Great swellings of their heads and eyes, and in their arms, and indeed almost their whole body, with an intolerable itching, inflammation, and pimples"..." so new and extraordinary phenomenon in nature..."
Well worth a read: The Philosophical Transactions of the Royal Society of London
(Note: When you go to the link you have then scroll to page 608)
These were the days when varnish was such a mystery they published articles about it in the Philosophical Transactions of the Royal Society!
(Note: My resident chemist says that in those days Indian varnish originally came from China via India to Europe and it contained urushiol which is similar to the poison in poison ivy.)
Digging further, you can find articles on how to make red lacquer from wood oil and swine blood and so much more.
You can also find many books on tools and furniture making etc. But when it comes to varnish and lacquer we should be grateful that today we have products from companies like Mowhawk and Watco.
On a totally different topic I saw a picture that could be a piece of 60's slotted plywood furniture.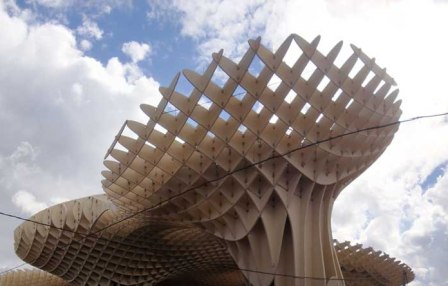 It is the new Metropol Parasol which is part of the redevelopment of the Plaza de la Encarnacíon in Seville. New architecture taking its form from furniture design?
For the full picture go to: Plaza de la Encarnacíon
While on the subject of furniture I received an e-mail from the California College of the Arts Furniture Program in San Francisco. They have some interesting work in the student gallerias: cca.edu/academics/furniture
Enjoy your woodworking.
Frank
Correction:
Last month I published a picture of a Show and Tell home designed cyclone dust collector but unfortunately forgot to include the member's name. So here it is Ray McKinnon and his dust collector again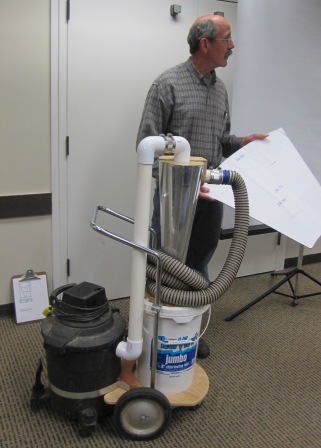 Frank R Ramsay
President
frankramsay8@aol.com
---
Bruce Woods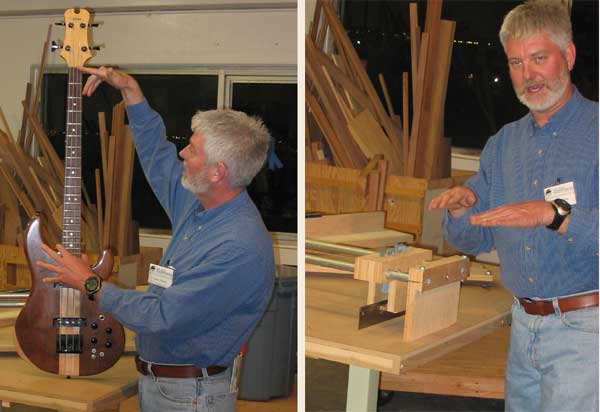 We are sorry to announce that our former member Bruce Woods passed away on Monday, June 27. He was only 54 and had been battling cancer for three years. We remember Bruce for his great great personality and great woodwork.
The mortuary has a guest book and obituary on-line.
It will be available until 8/2/2011.
---
New Members:
Tom Snyder joins us from Bakersfield where he has been a cabinet and furniture maker for 35 years. He is moving to the Bay Area and has joined BAWA to meet comrades in arms.
Mike Halfpap lives in Fremont where he pursues his woodworking hobby in a 2-car garage shop.
Paul Kavanaugh hails from Ireland and is currently working on a crib for an expected first child.
George Monley of Mill Valley.
Announcements:
Harold Patterson has returned from his brief visit to the hospital and is fine. One might suspect he was just challenging us to come up with on short notice substitute speakers for tonight's meeting. Well, Harold, just to reassure you-our members came through in the clutch. John Blackmore will be talking about the Leigh Dovetail Jig and Frank Taylor will reveal his secrets to making router jigs for the motorcycle and steam locomotive. We are all glad to hear you are fully recovered and rescheduled for the August meeting.
Ed Marinaro is on his crusade again; that is the 2nd Annual BAWA Woodworking Show. Plans are underway and committees have been formed. The show will be held October 21-23, 2011 at the Woodcraft Store in San Carlos. Once again, entries will be open to all BAWA members. Notices of the show and calls for exhibitors will be sent to all BAWA members, local woodworking clubs, schools and woodworking venues. The preliminary call for exhibitors will go out July 30, and a final call by Sept. 15. The event will be judged by a panel of 3 expert woodworkers and by ballots from all attendees. The show will not be juried.
Jamie Buxton described in great detail and at considerable length the rules for the 2 x 4 contest to be held in July. The detail is 2" x 4" and the length is 8 feet. You can make anything your imagination can conjure.
Frank Ramsay has developed a new BAWA postcard to promote the club.
Per Madsen described the topics for upcoming BAWA meetings. In July, our own Mike Bray will split a log, make boards, then tailor them into a kitchen cabinet. In September, John Levine will talk about complex wood joinery.
Stan Booker is back and so is the raffle along with the door prizes. Those cherry boards in the raffle are looking for home in a good wood shop.
Jay Perrine was presented with a plaque by Rebuilding Together Peninsula to thank us for the contribution made by everyone from BAWA during the Rebuilding day in April
Yeung Chan is going viral. He has a new YOUTUBE video showing him making a mortise and tenon joint using his power tool techniques. Quite an experience this first time film production effort. The final film was edited down to just a few minutes from nearly an hour of filming. A link to the video can be found on the BAWA website. Yeung would appreciate any feedback from viewers on his new video.
---
The Leigh Dovetail Jig
The Foster City Senior Center was howling with router noise tonight. John Blackmore brought in his 24" D4 Leigh Dovetail jig set up on a BenchMate, two DeWalt routers, and a Fein shop vacuum. Tonight was the night to make some saw dust and a lot of noise. Would our hosts object?
The Leigh Dovetail Jig can be intimidating, but is actually quite easy to use. The key to a successful experience is preparation. Follow the instructions in the Leigh product manual and practice with a trial run before you mill the final wood components.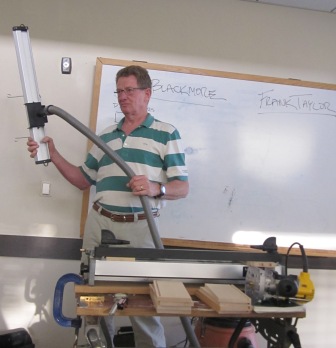 John sets up two routers with identical collets: one with a dovetail bit, the other with a straight bit for cutting the tails and pins, respectively. He positions pin or tailboards at either side of the jig for routing. Once routed, the boards are flipped to the opposite side of the jig to cut the opposing end. Tailboards are marked with a square showing an inside arrow to designate the outfacing board surface in the jig. Pin boards are marked with a square and an outside arrow to show the outfacing board surface in the jig. John always places the drawer bottom dado towards the outside edge of the jig-either left or right, corresponding to the side the board is placed on the jig.
John prepared an outline of the process to follow:
1. Wood Preparation
a. Dimension the wood-uniform thickness
b. Cut dados for drawer bottom
i. Front & Back--stopped dado
ii. Sides-- through dado
c. Layout
i. Pins on the front and back boards
ii. Tails on the side boards
II. Jig Preparation
a. Layout: Pins Board/Pins Layout with the finger assembly set at ½ in.
b. First Cut: Rotate the finger assembly to Tails Layout, set at =1 in. and prepare to cut the Tail Boards using the router with the dovetail bit
i. Insert Tails Board
ii. Set Dovetail Bit to scribed line
iii. Cut the tails
c. Remove the Tails Board
i. Rotate the top spacer boards
d. Second Cut: Insert the Pins Board and prepare to cut the Pin Boards using the router with the straight bit
i. Rotate Finger Assembly to Pins Mode
1. Set the finger assembly at +2 above the ½ in. line
2. Cut the Pins
3. Try joining pins board to tails board
4. If too tight, lower setting to +1, cut again
5. Continue as required to achieve fit.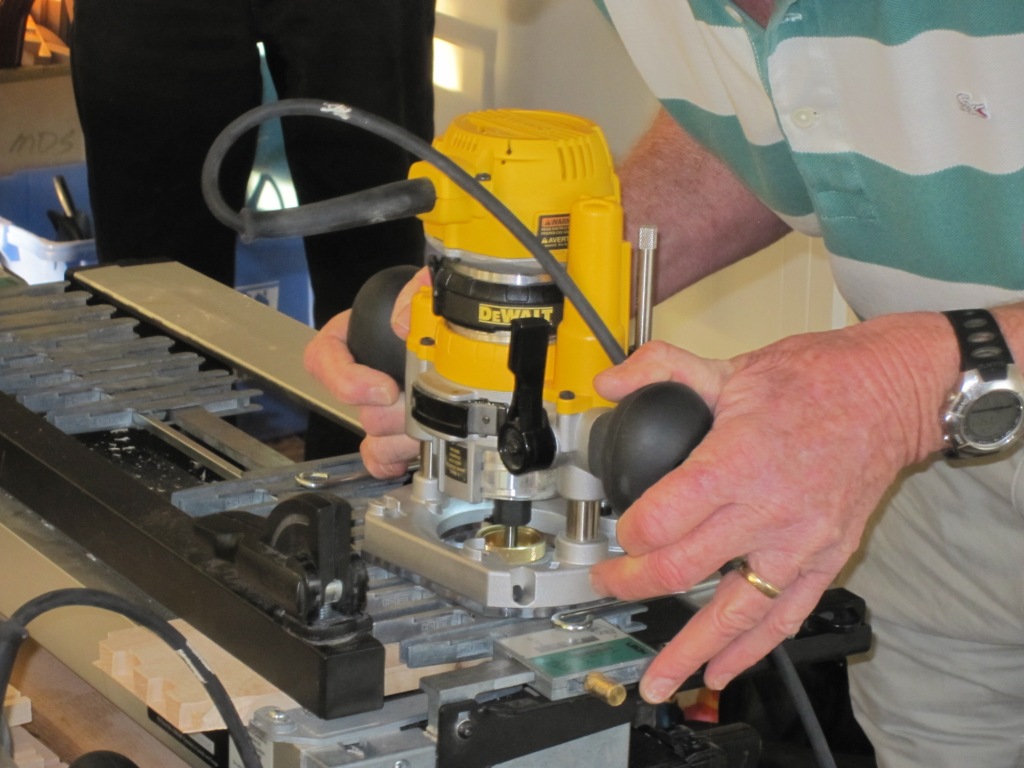 You are done. Wasn't that easy?
The demonstration was successful with tight joints, a fact attested to by Stan Booker who tried his hand at cutting pins. While purist woodworkers might prefer to cut their dovetails by hand, the consensus was that this jig is well suited for larger production jobs, such as kitchen cabinets and large chest of drawers. Yeung Chan brought in an identical Leigh jig and offered it for sale along with a full set of bits at a bargain price. Gone in a flash.
---
Everything About Routers in 90 Seconds
After John's lengthy presentation the floor was turned over to Frank Taylor for his advertised and brief Everything About Routers in 90 Seconds talk.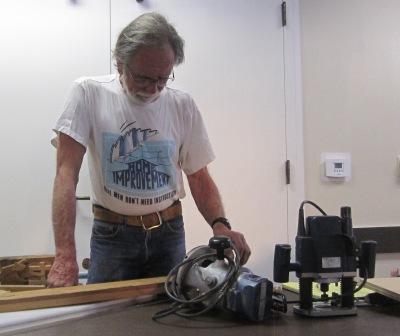 We could tell Frank was going to be true to his word. He started his router talk with a discussion of ammonium chloride drawing on wood that he had seen presented at the Makers' Fair in San Mateo. Using a solution of 21% ammonium chloride and water, one can draw on wood, then heat the area with a heat gun to cause chemical burning in the wood. The design possibilities are endless. Perhaps routers would be too. (Comment: Please be careful ammonium chloride and water gives off dangerous fumes)
Frank has an armamentarium of routers, from a small Bosch laminate trimmer (1HP), several medium Bosch (2HP) routers, the big 3 1/2HP Makita and the Bosch 1312 EVS plunge router. When making dados, he frequently uses the guide bar assembly and for pattern work with templates, he will use router collets.
Frank does a lot of cabinet work and he emphasized what many of us have discovered-- ¾ plywood is not ¾ in. thick. It is 1/32" thinner, so you have to use an undersized bit to cut dados. He marks his bits with the accurate size. He cuts all of his dados to be exactly ¼ thick. He made a jig from ¼ thick plastic sheet to set the bit depth accurately.
He made an edge guide jig for routing straight edges on boards.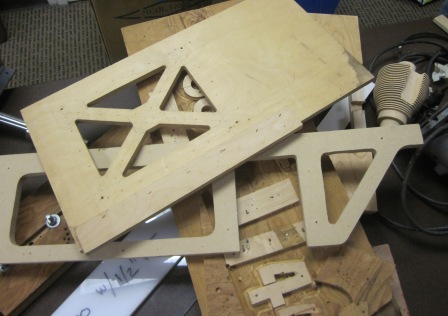 Piles and piles of jigs
Even more impressive was the circle-cutting jig he made. Using this jig, Frank has cut a record setting 19-foot arc in his shop that measures 21 feet square. Must have moveable walls. Where did all the tools go?
Harkening back to the 1st Annual BAWA Woodworking Show held last December, many will remember the wooden motorcycle displayed by Frank. Well, we learned some of the secrets to making it and some of Frank' other intricate pieces, like the steam locomotive.
Frank is a consummate jig maker, and wheels are a specialty. He showed us the jig patterns for the motorcycle and locomotive wheels. When making a spoke wheel jig, he cuts out much of the inside with a saw, then he cleans up the edges with a router. He will harden the edges of the jig with wax or varnish. When using intricate jigs, he cautioned us to be aware of the bearings on the bit. They do wear out and they freeze up, can damage your jig. Freud bits are the worst.
Frank has made Thomas Train Set track for his locomotive, including switches and parallel track. The parallel curves are the trickiest.
He has made propellers for toy airplanes, even a copper gasket for his truck sandwiched between two ¼ boards. It worked just fine. He no longer has the truck. Routing copper and aluminum with carbide bits is easily done.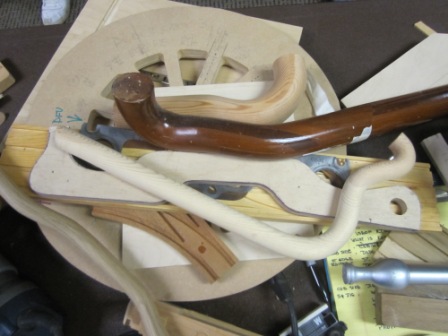 You are done. Wasn't that easy?
Remember the exhaust pipes on the motorcycle? Frank made those using a jig on shaper table; also the cylinder heads. Frank professes not to be a furniture maker, but who wants to do that when you can make all these beautiful and intricate pieces. He is an artist. But, lest we forget the title of his talk-it took Frank at least 30 minutes to make a 90 second presentation. Well worth the extra 28 minutes.
Now, lets see Harold top this one.

John Blackmore
johnblackmore@comcast.net