Presidents Message
Fellow Members :
I was at EarthSource Forest Products in Oakland last week (the old PALS) buying the usual mahogany and beech when I saw some samples of Plyboo. Not something I had seen before. It is 3/4in thick looking a lot like the old fashioned Blockboard but made from bamboo. The samples look solid, strong, and it is available with different veneered surfaces that are also made from bamboo.
I have been aware for some time of bamboo household items such as trays and small cupboards etc but until I checked the web I was not aware that bamboo, a member of the grass family of plants, was now such a major, sustainable, building material.
Bamboo plants can grow at 2 ft. / day and is harvested at between 2-7 years depending on species compared to sustainable mahogany that I think takes about 20 years to grow to a harvestable size.
In some parts of the world there are complete houses made of bamboo. Plyboo was originally used mainly for floors but bamboo based composite "woods" are being used for interior furniture and construction. This is not the traditional rattan and wicker styled bamboo furniture. It is standard rectangular looking furniture made with panels that just happen to be composite bamboo. Table, chairs, desks etc.
It appears that if you are building a "green sustainable" building today you need to incorporate bamboo inside somewhere.
I have never worked with bamboo but am thinking that next time I make a basic cabinet I should consider it even though I am not sure what kind of joints I would use.
When will we have our first member Show-and-Tell of a bamboo project? I do not remember seeing one in the past.
The only problem is we are woodworkers and bamboo is a grass! Does anyone want to be a grassworker?

Frank R Ramsay
President
frankramsay8@aol.com
---
BAWA President Frank Ramsay called the meeting order at 7 PM. Jamie Buxton gave short introduction of the 2x4 contest and pointed out the entries on the back table. Members voted on the winners in several different categories at the end of the meeting.
2 X 4 CONTEST
Next, the entries in the 2x4 contest were introduced by their fabricators. The members voted on the category winners at the end of the meeting, but the results will be included here for clarity.
Claude Godcharles- an 8 foot long, 2x4 box with piano hinge and latch to hold his 2 Pinnacle straightedges-winner for most original and most useful
Ed Marinaro-a chair with laminated bent legs and a woven seat-winner for most intricate
Mike Cooper- a plant stand- winner in open category
Frank Ramsay-an end table with curved legs and inset top
Arnie Champagne-a model for the kiosk at the Colma Train Station-winner for most puzzling
Frank Taylor-a propeller driven fighter plane and a Star Wars X-wing fighter-winner in most wacky
Jamie Buxton- a three legged stool with inset seat-winner of most beautiful category
John Wilson-cherry drawer for cabinet in his garage-winner in open category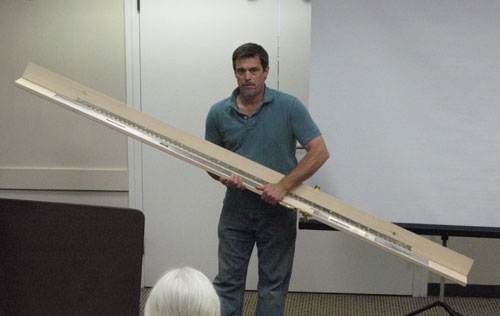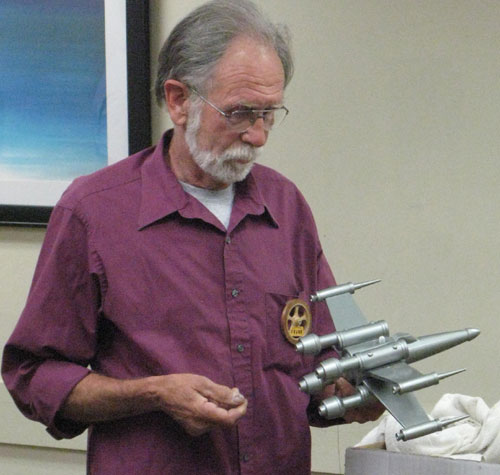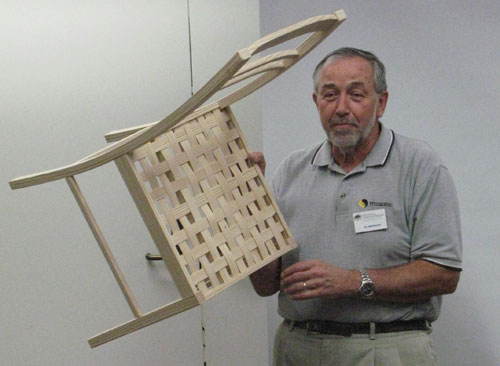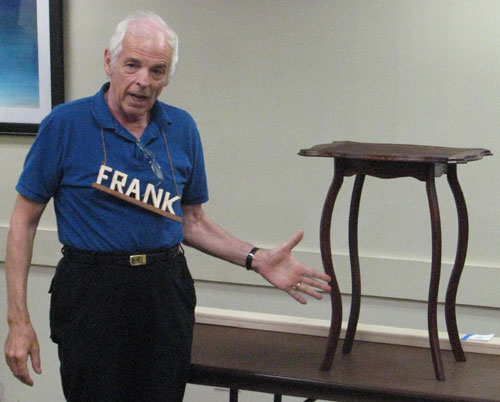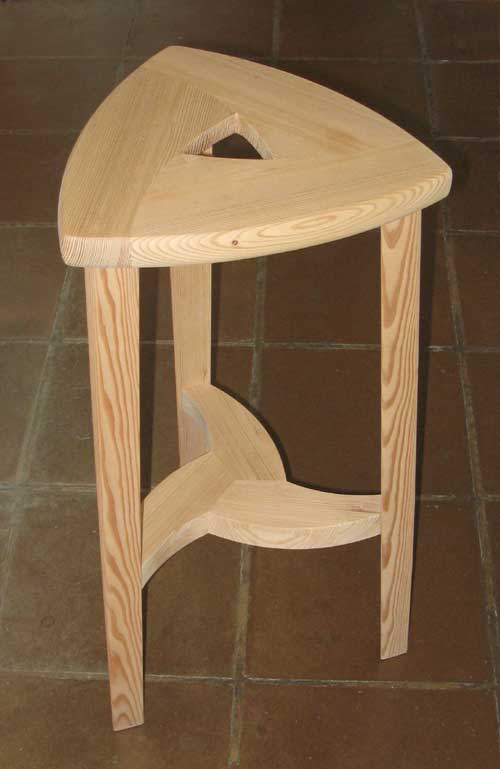 Announcements
Don Naples announced he would be giving a sharpening class at the Japan Woodworker on Saturday, 6/19, from 9-1 at a cost of $10.
Tony Fanning has been contacted by Gene Doucette, who is donating a set of jigs, fixtures, and plans for building several different sizes of hobbyhorses. Harold will be asked if he would like to use them at the toy workshop. Gene also has wood to give away, which will be announced in the classified ads in this issue.
Claude announced that Woodcraft is selling ambrosia maple and cherry.
Stan has pieces of black walnut to give away.
Per then gave a summary of the upcoming programs at our meetings for the rest of the year. This information is also available elsewhere in this newsletter.
The meeting was concluded with a tech talk by Max Hunter, President of Western Dovetail, which is a manufacturer of custom dovetailed drawers located at the former Mare Island Naval Base in a 24,000 square foot building. Max showed a cinema verite tour of the facility where he ran by the many machines so quickly there was barely enough time to describe the details. The shop can take custom designs of drawers in numbers from one up to many and build them with the customer's own wood or any wood specified, including FSC certified. The factory can take in raw boards and rip and plane them to exact dimensions. After sanding and cutting to length, the joinery is machined into the ends and the drawer is clamped and glued. The single clamping and gluing machine at the end of the line can handle 200 drawers a day, which is the maximum output of the factory. The lead time for a small job is one week. Max then showed a huge set of nested boxes, which form a 10-foot tall tower on radio command. When nobody at the meeting could guess how the raising mechanism worked, Max opened the box to show a belt drive. Max said that they have been switching to a UV cured water based finish to answer concerns about formaldehyde outgassing. Further information can be gotten from their website, www.drawer.com.
The meeting ended with Stan drawing some door prize numbers and many members remained until well after 9PM to discuss the stimulating presentations.
Steve Rosenblum
---
Don Naples
Steam Bending
Per Madsen introduced the first speaker, Don Naples, who gave a talk on steam bending of wood.
Don started out by pointing out that the structure of wood is like a bunch of parallel straws, tracheids, bound together by glue, lignin. To bend wood you need to loosen the adhesive bond of the lignin to the tracheids, which is done both by the heat and moisture of the steam. Green wood is the easiest to bend, air-dried the next easiest and kiln dried the hardest. I n the case of kiln dried wood it is helpful to soak the wood in water for three days before steaming so that some moisture is re-introduced into the wood beforehand. As an alternative to steam bending one can use commercial plywood called wiggle board (Italian bending poplar) that comes in thin sheets, which can be easily bent and then laminated together and veneered to create larger structures.
He then described the steps necessary to make a steam box, which can be made of exterior plywood or PVC pipe large enough to hold the wood to be bent. It should be air tight except for a single steam vent. The steam source he showed was a modified gasoline container heated by a propane burner (160,000) Btu and connected to the steam box by a radiator hose. The steam box is arranged so that the condensate is channeled back into the steam generator to be reheated and re-used. This is necessary, as the steam generator cannot be re-filled during the steaming process, as this would interrupt the flow of steam. Don pointed out that when wood is bent, the outside of the bend is stretched and the inside is compressed. The compressive stress on the inside causes the wood to crack. Cutting kerfs on the inside of the curve can alleviate this. More kerfs are better, since with too few kerfs, the outside of the curve takes on a faceted appearance.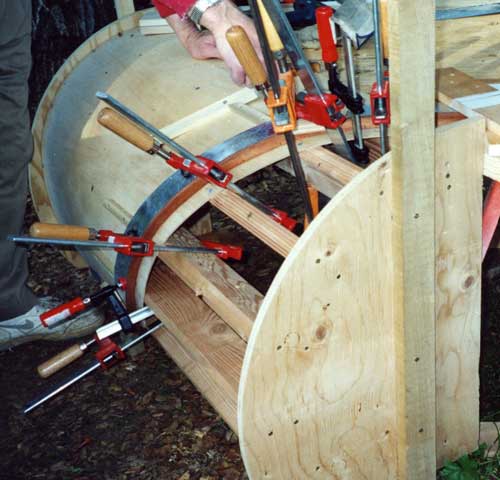 Following this, he described the steps involved in steam bending. The first is to make a form strong enough to withstand the stress of the bending process and design the curvature to be about 10% sharper than desired as there will be some springback after the bent workpiece is removed from the drying jig. For timing purposes, the steam penetrates the wood at a rate of 1 inch of thickness per hour. For multiple pieces it is useful to have a drying jig as well as a bending jig as it takes only ½ hour before the piece can be removed from the bending jig, but it still needs to dry slowly for 1-2 weeks in a tent with a small fan to avoid splitting and checking. For clamping the wood during bending and drying, Don suggested cauls made of sheet metal banding attached to wood blocks which are fastened to the workpiece using wedges. In addition, regular clamps are used along the length of the bend to clamp the workpiece tightly to the bending jig.
Don them described the construction of the frame and panel walled staircase in his home 12 years ago using steam bending to make mahogany rails, stiles, and panels for a curved staircase and banister. The rails were not a simple curve but had a helical shape. The panels were also bent and not rectangular. All the shaping of the moldings was done while the rails and stiles and panels were flat and they were bent afterwards. The finish was a shellac sealer followed by spar varnish. Don said that the staircase still looks very good and has not visibly distorted in the intervening years. He would not hazard a guess on the number of man-hours involved in this impressive project but he said it was very enjoyable.
---
Recently, Donna and I were in the area of Northern Vancouver Island floating around in a 10-passenger boat through the various straits, arms, and sounds located between Vancouver Island and the mainland. This is also the Inside Passage to Alaska. On land, we saw many old houses and new house constructed using Cedar. Cedar is plentiful since there are vast forests of that and other woods.
We stayed in a motel after the boat where both the interior and exterior was built entirely of cedar. It is a beautiful very light colored wood and this construction used wood which had knots which added to the beauty. It is also used as siding. There is also much influence of the First Nation (Indian) people there. They used Cedar to make bent boxes, masks, dishes etc.. Cedar is very pliable in sheets and can also be stripped right off a tree and the tree will grow new bark to cover the area. Here is how it is stripped:
Locate an ideal tree for peeling. You should look for a tree which is still living and does not have many branches or knots at the lower levels, allowing you to peel a smooth piece of bark.
Find a stick that is approximately two inches wide, and carve one end of the stick back with the knife until it is wedge shaped.
Mark off the area you will be peeling using an axe. Cut into the tree deep enough to cut through the bark to the core of the tree around the entire perimeter of the bark you will be peeling.
Pry the bark away from the tree gently by sliding the wedge-shaped end of the stick around the perimeter and under the cut portion of bark.
Peel the bark off of the tree after loosening it. Peel down carefully, and stop to loosen the bark with the wedge again if you encounter stiff resistance.
Peel the outer bark away from the inner bark by hand. The outer bark will peel away easily when pulled on, leaving you with just the strong inner bark.
Now -- All you have to do is drive there, find a Cedar tree, peel it, and hope you don't get arrested on the way home!
Don't forget your passport and Canadian money for the bail.
Mark Rand
---
GOT SOMETHING TO SELL?
....TO TRADE?
....NEED SOMETHING?
Members ONLY-Do you have something to sell or trade? Let me know by the last weekend of the month and I'll put it into the next newsletter. Let me know if your item sells so I can delete the ad.

Steve Rosenblum
650-322-9560
212 Santa Rita Ave
Palo Alto 94301
steve@rosenblums.us
Note to prospective buyers:
Please take note the date of the ad. Do not call the seller if you're reading an ad that is months out of date. Instead, look for more recent newsletters to see if the item is still offered
Wood to give away. Gene Doucette has various species of 5/4 hardwood to give away in widths up to 8" and lengths up to 4". Contact him at mckeebg@prodigy.net or 650-851-1142 650-851-1142
---
For Sale
* Jet Horizontal/Vertical Sander (EHVS-80CS). List - $1050.00, Selling Price $850.00. Less than 10 hours of use.
* Jet 14" Bandsaw 1 Hp (JWBS-14CS). List – $600.00, Selling Price $350.00. Slightly used Less than 5 hours.
* Jet 10" Contractor Saw (JWTS-10LFR). Newer Model List for $750.00. Slightly used Less than 5 hours. Selling Price $375.00
* Jet Drill Press (JDP-17MF). List – $520.00, Selling Price $300.00. Slightly used Less than 5 hours.
* Jet Dust Collector (DC-650). List - $300.00, Selling Price $200.00. Never Used, Like new.
* Delta Jointer (Model JD-160). List $200.00, Selling Price $150.00. Never Used, Like new.
Contact Paul at 415-218-4505 415-218-4505 or Rich at 650-346-4183 650-346-4183
---
Shop Space Available in a furniture/cabinet-making co-op. There are table saws, planers, joiners, an edge bander and a spray booth with 24-hour access to all. Each tenant has his own space. The rent is $790 a month. We are located on Egbert Street off of old Bayshore. Please contact John Clark at 415-467-0638 415-467-0638 .