---
President's Message
Fellow woodworkers,
As we start the New Year 2017 we can look back at our activities in 2016
Through out the year we had many presentations from professional woodworkers/artists plus a visit from the San Francisco Cable Car Workshop along with many presentations, Tech Talks and Show and Tell from our own BAWA members.
Xander Bremer, an artist who was in residence at Pier 9 with Autodesk where he had been trying to apply modern CNC machinery to wooden furniture fabrication. He talked about the approach and problems to making a wooden stool using a CNC machine.
John McCormack talked about his lifetime of woodworking projects and the woodworking educators who have influenced him.
Yeung Chan showed how he made a roller stool to massage the sole of the foot using traditional Chinese joinery.
Kan Napior talked about the process he used for finishing a Cherry Queen Anne table.
We had Jane Koski and Peter Cunha from the San Francisco Cable Car Wood Shop explain with many slides how they go about restoring old street cars.
Mark Tindley, a professional cabinetmaker, took us through all the detailed work involved in copying a Stradivarius violin. The evening ended with Mark giving us a mini concert.
Fred Goykhman showed some of his artwork created by laser burning and talked about the trchniques of using lasers to engrave designs onto wood.
Harold Patterson talked about our Toy Workshops and use of handplanes in hybrid mode with machines.
We had a very busy evening with Arnie Champagne & Bruce Powell discussing marquetry design and demonstrating techniques.
In October we had the BAWA Biennial Fine Woodworking Show at Woodcraft in San Carlos. On show was a great selection of work by our members along with work from a few guests.
In November our show judges gave a very beneficial critique of the exhibits.
In December we made the decision to move our meetings from the 3rd Thursday of the month to the 3rd Sunday starting at 6:00pm. The traffic in the Bay area was making it increasingly difficult for members to get to Foster City on midweek evenings so after surveying the members and friends of BAWA we decided to move our meetings to 6:00pm on the 3rd Sunday of the month starting in January. I look forward to seeing you all there.
2017 Membership fees are now due
Please can you bring Cash or Check to the next meeting for our Membership Chair, Bruce Powell to collect.
Or you can also post your checks to our Treasurer John Blackmore at:
BAWA
c/o Mr. J. Blackmore,
620 East View Way,
Woodside,
CA 94062
Individual membership fee: $35.00 per year, Family fee: $40 per year.
Happy New Year to you all and may you have a great year with your woodworking.
Frank (Contact at: Frankramsay8@aol.com)
---
The meeting started with our annual holiday pot luck feast.
Once everyone finished their first course, Frank Ramsay reported the results of the survey regarding meeting time.
The majority of responders preferred Sunday, with 40% preferring a start time of 6 PM.
Survey summary results: Survey Results
It was unanimously agreed to move the meeting to the third Sunday of each month at 6:00 PM starting with the January, 2017 meeting.
The preferred topics for technical training were shop jigs and fixtures, sharpening, and marquetry.
Announcements:
Frank again pointed out that Per Madsen is stepping down as program director and we need a volunteer to take over. As a stopgap, Frank suggested that a group of 3 people meet with him in the next few weeks to agree on tasks for promoting upcoming speakers. Suggested topics from members were Matthew Werner to talk on marquetry, re-schedule Dean Santner's cancelled talk, and arrange a talk by Jay van Arsdale.
Harold Patterson reported on the toy workshop. This year we held one workshop in collaboration with the San Carlos Woodcraft store and another at Jamie Buxton's shop. About 30 Frank Taylor designed trucks were built along with some treasure boxes, ping-pong ball toys and pegboards. Harold will deliver them to the Janet Pomeroy Center, Holy Homes Catholic Charity, and the Ellen Crittenden Center for Low Income Mothers.
---
Featured Speaker: Frank Ramsay
A brief review on the history of BAWA

Early BAWA carved sign donated for use at shows by
Mike Bray
This is a brief bit of BAWA history as gleaned from our newsletter archives.
Note: You can read much more on what happened in this bygone age by reading our Archived Newsletters at: bayareawoodworkers.org/BAWA6Newsletters
July 1982: We think the club began at the beginning of 1982, the first Newsletter we have is dated July 1982 and marked as Issue No 6 Volume 1. Their last meeting had been at the premises of Carter/Rose Co., which sounds like an attorney's office, where they voted Ron Hazelron and Lisa Coolidge as Chair and Co-Chair. The executive committee had met earlier to learn about "Robert's Rules of Order"which are the legal rules related to the running of associations in California and had set the annual dues at $30.
September 1982: The Newsletter had swelled to 8 pages, including advertising and it was resolved to try and make it self-funded by December. This meeting was held at Philo Bemis' shop at 305 Vermont Street, San Francisco. By now the monthly dues had been adjusted down to $20/year. They also started talking about a BAWA Wood Show in September the following year.
November 1982: The meeting was hosted by David Dempsey, a turner, based at 64 Golden Gate, San Francisco. They started discussing the need for BAWA insurance (which we now have)
January 1990: This meeting was held at Don Braden's workshop in Oakland - with "a free drawing of a good quality woodworking tool". There were 17 advertisers included several we know to day: Van Arsdale Harris Lumber, Woodsmith Store, Whole Earth Access, MacMurray Pacific, Quality Saw Works, PALS, Western Plastics, Woodline, MacBeath Hardwood, Aura Hardwood Lumber, White Brothers Hardwood Lumber & Plywood, Mendocino Woodworks, KLOR Machinery, Sator Saw Works, U.S. Cellulose, Ken Larimaer Custom Cabinet Doors and Parkmead Products.
February 1990: The club met at Castro Valley High School. Ken Napior and Stan Booker were among the membership,
April 1990: the meeting was held at Bruce Bauer Lumber. Arnie Champagne was Outreach Committee chair and was trying to organize a Toy Workshop. BAWA had a booth at the Woodworkers Show where they handed out over 700 fliers and had over 300 people signed up to receive the newsletter.
July 1990: They met at Western Hardware and Tool in San Francisco and decided to start looking for a permanent place to have their Thursday meetings. "The San Mateo area seemed to be the demographic center of the membership"
August 1990: The club started holding its first meetings at a "permanent" site, the Mainliner Club of United Airlines at 42nd and Pacific in San Mateo.
April 1999: By this time the BAWA board and committee chairpersons total 13 + 2 vacancies. Arnie Champagne, Jay Perrine and Bill Henzel were involved. Linda Salter was organizing an inter club picnic with San Jose and Diablo woodworking clubs in the summer. Peter Pierabon of CCAC gave the invited talk at the meeting.
April 2000: Linda Slater had found a picnic area in Huddart Park for August 19th. Stan Booker announced the door prizes.
August 2001: This was the first on-line Newsletter, even though most members were still receiving the printed version by mail. By this time they were meeting at the Foster City Library across the way from where we meet today.
January 2010: Our first web based Newsletter.
After the break for some eating of goodies, we had show and tell.
---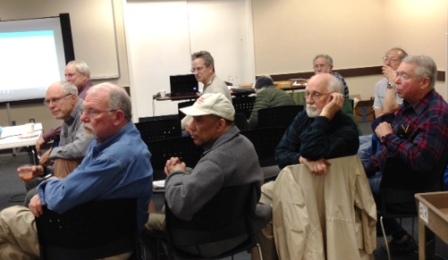 Members neck straining to see some of the Show and Tell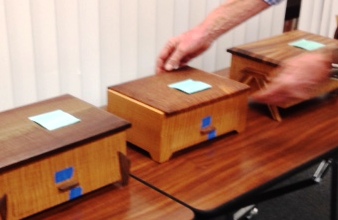 John Blackmore showed jewelry boxes that he made from a 2x6-maple board that had warped after he re-sawed it. The boxes used locking miter joints, with lids of koa, redwood, and claro walnut. John will be putting on a box building workshop in February so people need to start thinking about what they want to build.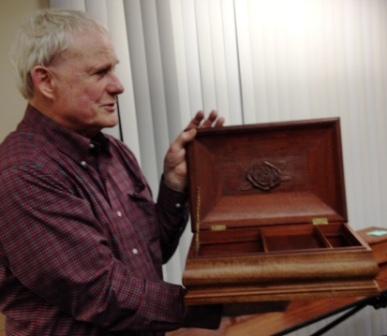 Bruce Powell showed a double bevel marquetry dog picture and a box with a rose carving on the inside of the lid. The edge was formed with a bullnose bit in the router and finished with a card scraper.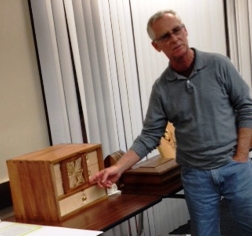 Ken Napior showed a sewing notion box that he made for his wife. He used a disc sander to fit the parts of the decorative kumiko pattern on the sliding door.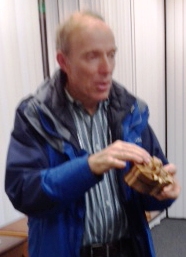 Bill Henzel showed a box with a bandsawn wooden bow using ribbons made from veneer laminate cut with a scroll saw.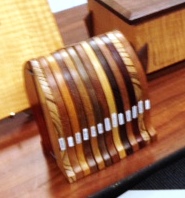 Harry Filer showed a salesman's sample of various African hardwoods his sister-in-law recently brought him as a gift from Kenya.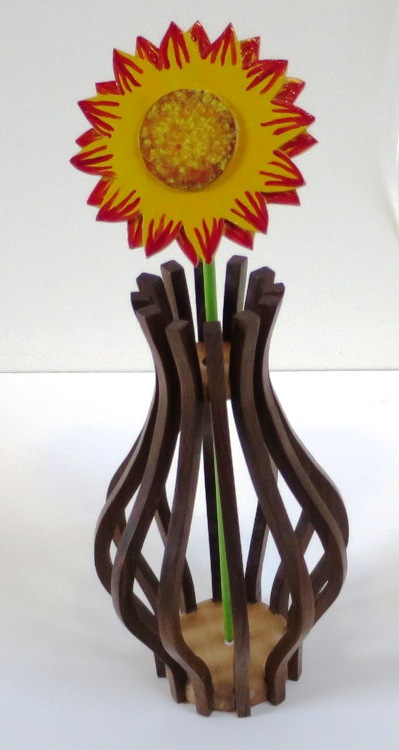 Frank Ramsay showed a flower vase with a flower that had to fit inside a 20-inch cube.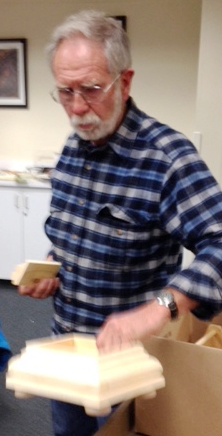 Frank Taylor showed an example of a jewelry box that the club could consider selling to raise funds to support our activities.
After further eating the meeting adjourned at 9:30.
Stephen RosenblumSecretary steve@rosenblums.us
---
<