---
BAWA Board Meeting held December 11, 2015
Frank called the Board Meeting to order shortly after 5pm. The threat of heavy rain had deterred some members from attending. Members in attendance included: Frank Ramsay, Jay Perrine, John Blackmore, Fred Reicher, Mark Rand and Per Madsen.
Frank announced a realignment of club officers:
John Blackmore will take over Membership and Newsletter Editor
Steve Rosenblum will become the Secretary
Mark Rand will assume Refreshments and stay as honorary board member
Bruce Powell will be in charge of the Marketplace Section of the Newsletter
Ken Napior is in charge of Tech Talks
John Blackmore will head up Technical Seminars.
Frank has requested that the Treasurer, Marcus Miller, prepare and submit an end of year written statement of financial condition for the club including an income statement, balance sheet and budget for the next year.
Per Madsen has requested input from the membership and board for program ideas. The 2 x 4 contest and box contest will be held simultaneously in October next year.
John Blackmore will present the board with a list of ideas for technical seminars that might be held throughout the year. See end of Newsletter
Frank Ramsay is working at updating the information on the web site. He will review the marketplace information with the members during the meeting this evening.
Harold Patterson joined us at the end of the meeting and requested that the Board approve spending club money for a branding tool to put the club logo on all toys produced by the Toy Workshops. The request for unanimously approved.
The meeting was adjourned and we proceeded to the scheduled Club meeting.
---
President's Message
Fellow woodworkers,
The end of 2 x 4 contests!
A 2 x 4 is a standard size for lumber that has been around for many years. We all know what it is a use it in regular conversation.
But I read in the latest issue of Woodworker West that a Northern California court has ruled that Lowes have been ordered to pay $1.6M for "inaccurate and misleading advertising of dimensions of building materials". Surprisingly the 2 x 4 that Lowes were selling were only 1 1/2in x 3 1/2in. Apparently this is wrong as defined by our National Institute of Standards and Technology. So Lowes has to pay the fine and now has to label it's 2 x 4s with the actual dimensions of 1 1/4in. x 3 1/2in. Cleraly no construction workers at our National Institute of Standards and Technology.
It is obvious that this will also lead to the end of the 3 x 4 ... And plywood sheets?
I recently bought 2 pieces of 12in x 12in plywood from Woodcraft. They were only 11 3/4in. x 11 3/4in. which was OK because I would not buy a cut sheet of playwood without first measuring it. I am sure that Woodcraft, or their supplier buys large 8 x 4 sheets of plywood and cuts them to Make their 2 x 4 and 4 x 4 sheets etc. So unless they start using zero kerf saws they may not be in compliance with our National Institute of Standards and Technology. According to Wikipedia in 1910 a typical finished 1in. board was 13/16, this was reduced by 4% in 1928 and another 4% in 1956. However the Committee on Grade Simplification and Standardization agreed to a 1in. nominal board being 3/4in. and it has been that way ever since – at least until now.
The list of changes could be endless.
The good news is we are all knowledgable enough not to expect our 2 x 4s to be 2 x 4 so we can carry on our work as usual. It is the start of a New Year so get busy and start on your new projects.
Note: In the notes below Per said we are having a "2 x 4 contest" in October - it may be changed to a 1 1/2in. x 3 1/2in. contest.
---
As it is New Year it also means it is time to renew your BAWA Membership.
Fees are:
Individual membership fee: $35.00 per year
Family membership fee: $40.00 per year
You can email ou checks to our Treasurer Marcus at:
BAWA
c/o Mr. M. Miller,
1075 Space Park Way #5,
Mountain View,
CA 94043
Or bring them to our next meeting on 15th January.
I wish you all a very Happy New Year with lots of time spent enjoying your woodworking.
Frank (Contact at: Frankramsay8@aol.com)
---
This potluck meeting is always special. Hordes of delightful foods appearing, enticing us to over indulge, all suffused with the holiday spirit of camaraderie and joy.
Frank had no choice but to call the meeting to order several minutes after 7 pm. The crowd simply could not be cajoled to leave the sumptuous platters of food. As the convened crowd settled down, Frank reviewed the changes made to the elected officers of the club.
Fred Reicher had indicated at the election in November that he would like to relinquish his chairmanship of the Membership Committee if and when a new chair could be found. John Blackmore had suggested to Frank at the Board meeting held on December 12 that he would like to assume these new responsibilities. The Board reviewed this opportunity and has approved the following realignment of responsibilities
Secretary—Steve Rosenblum
Membership—John Blackmore
Newsletter Editor—John Blackmore
All other elected positions are unchanged.
Announcements:
Per Madsen presented the program schedule for the early New Year.
In January, Jim Ritchie who heads up Applied Arts/Woodworking and Construction Technology at Gunderson High School will talk about the state of industrial arts and vocational education in California.
The February and March topics are open and suggestions are welcome.
John Lavine will speak in April.
In May we will hear a presentation from Far West Forest Products.
In October the featured events will be the box and 2 x 4 contests, held concurrently.
Ken Napior will lead the Tech Talk segments at each meeting. Please submit your ideas to him.
Frank Ramsay discussed how BAWA is to emphasize the Technical Seminar Series during the upcoming year. John Blackmore is in charge and he will be preparing a list of ideas for consideration before the New Year. Suggestions are welcome and can be emailed to John at johnblackmore@comcast.net.
Harold Patterson and Frank Taylor described the accomplishments of the Toy Workshop efforts for the year. Toys are donated to three charitable organizations and included the well-known crickets, periscopes and the new 10-wheeler trucks. Twenty-five trucks were produced.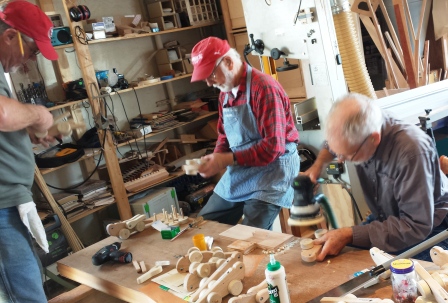 Cricket production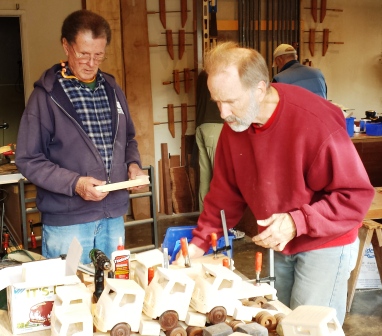 Keeping track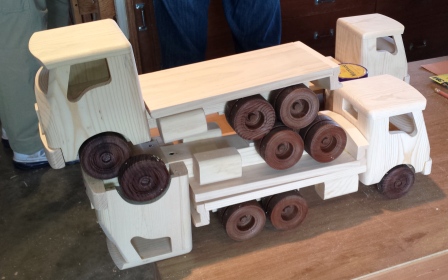 Trucks waiting to leave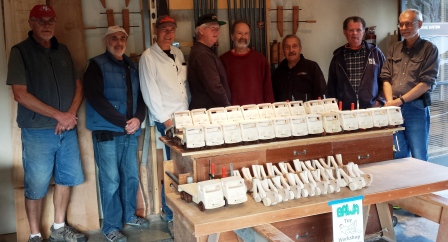 Partial crew
In the New Year, Toy Workshop plans to produce even more toys than last year. To accomplish this goal, we need volunteers to turn wheels ahead of the scheduled workshops. Please contact Harold. He and Frank Taylor can show you how to produce a wheel in less than 3 minutes. Drawings will be produced for toy parts so that production can be farmed out to individual shops. Each truck has approximately 32 parts.
Frank Ramsay spent some time reviewing the information in the Marketplace Section of the BAWA Newsletter. He asked the members present to update and help make this information current and accurate. This information will be incorporated into the website after the New Year.
---

Prototype rack
Frank Ramsay has made a Navy Coin Rack for a client. Made of mahogany and rosewood, it has a longitudinal cut made at an angle so that the commemorative navy coins can be displayed at an easy to view angle.
Fred Reicher was kind enough to bring his Navy Coin to the meeting so that Frank could see how it displayed ith the angles of the rack.

Finished rack
Arnold Champagne had been scheduled to talk about making his Tea Boxes at this meeting but was unable to appear because he is recuperating from a minor dermatology procedure. Get Well Arnie. See you after the New Year.
We wish a Happy New Year to all BAWA members and friends.
John BlackmoreSecretary johnblackmore@comcast.net
---
BAWA Technical Seminars/Tech Talks
Ideas to Consider:
1. Making dovetails with jigs
2. Hand cutting dovetails
3. Making joints: lap, finger, tenon, etc.
4. Tool sharpening: machine, water stone, diamond stones, wet/dry paper
5. Introduction to the horizontal mortise machine
6. SketchUp class
7. Hand plane setup, sharpening and use, card scrapers
8. Plane making class
9. Make a marking knife
10. Veneering
11. Marquetry
12. Finishing: shellac, varnish, oils, urethane
13. Wooden box hinges
14. Box making class
15. Tuning up the power tools in your shop: table saw, band saw, jointer etc.
16. Steam bending
17. Laminates and curves
18. Shop sawn veneers
19. Making & fitting drawers
20. Essential jigs and fixtures for the shop
21. From board to box
22. Project design
23. Working with hide glue
24. Chair making
---