Fellow Members
It has been a busy year for BAWA.
We had meetings dedicated to many topics from the methodologies involved in vacuum drying, steam bending and sharpening to how-to sessions on chair-making, dowel-based construction and router work. We also had talks on marketing our work, the history of the steel square and setting up shop in a garage along with a report on what it is like to attend a summer class at the College of the Redwoods. Along the way we had our annual box, 2x4 and Christmas ornament contests. After the monthly meetings I always go home impressed with what BAWA members know and can do.
This year many members were involved in our different charitable activates. We had a series of Toy Workshops where they made airplanes, trucks and crickets-all on wheels! In April members worked on 2 major Rebuilding Together projects on the Peninsula and later in the year they made 2 new sets of gates for the Janet Pomeroy Center.
At our monthly meetings we had a steady flow of Show and Tell presentations and we finished off the year with our very successful, first ever, BAWA Annual Show complete with a Friday evening reception.
I would like to thank you all for being so active in the association. It is your contributions to the meetings and outside activities that make BAWA a success.
So now we roll into 2011. I hope you find this year's meetings instructional and enjoyable as last years. You all have many projects and ideas that you plan to work on this year. We look forward to hearing about them at our meetings and hope we all learn just a bit more about this complex topic of woodwork.
I wish you good luck for the year and enjoy your woodworking.

Frank R Ramsay
President
frankramsay8@aol.com
PS: In the December issue of Fine Woodworking (#216) they had a full article on workshop first aid. I think it should be mandatory reading for all woodworkers.
I had an incident with a chisel a few days ago. You know the way it happens, just finishing a joint before going home and using the chisel for the last trim in a way that I know very well I shouldn't-then opps you have a deep gash in your hand. Fortunately a year or so ago I had stocked up with a box of sterile pads and some tape in addition to the little things in the first aid box. After applying several pads and taping the hand very tight I was able to go home and on to the emergency room where they kindly put six stitches in my hand and said I was very lucky not to have caused more serious damage.
I am sure you all have a basic understanding of first aid and keep suitable supplies on hand in your workshop-but if you don't, I recommend reading the article and purchasing some basic supplies for your shop. It should not happen-but it can at any time.
---
T'was the night before the First Annual BAWA Woodworking Show and all was hectic apace.
All the show set uppers had arrived early, eager to partake of the potluck desserts and hors d'oeuvres since they had missed their dinner. The chocolate macaroons went first; then the sushi disappeared. Frank Ramsay appeared and asked for restraint. "Leave some for the membership", he pleaded. Suitably chastised, the show set up crowd dispersed, then congregated near the back of the room, eager to plan another assault on the growing collection of tasty trays of food appearing as more members arrived.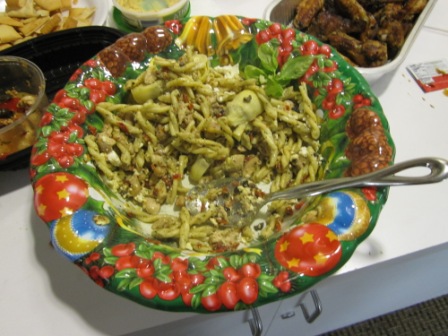 But Frank was ahead of the curve, anticipated the new attack and called the meeting to order. The announcements came first.
Announcements
Remember to come to the First Annual BAWA Woodworking Show and reception tomorrow night at the Woodcraft store in San Carlos, Frank reminded everyone.
Mark Rand issued a summons for Igor the Dues Collector to begin the annual ritual of enforcing dues collection. BAWA dues for 2011 are due: $30 per individual and $35 per family.
Harold Patterson talked about the last Toy Workshop. The group met once again at Jamie's shop and produced 28 crickets, 26 sports cars, 5 trucks and 10 biplanes. It all would not have been possible without the truly round wheels produced by Frank Taylor and Claude Godcharles. The old "out of round" problem had been widely discussed, but unaddressed, since no solution had been found. Thanks for solving the dilemma Frank and Claude.
Stan Booker hawked the raffle prize: 10 pieces of aromatic red cedar. He also has some maple bench tops for sale: 29" x 52" and 26" x 64".
Per Madsen described some of the upcoming meeting programs and scheduled weekend visits. Saturday visits are scheduled to a harpsichord builder, a Chinese junk boat builder and the Spaulding Boat Works
Woodcraft at Dublin and San Carlos give the club a rebate on all purchases. Give receipts to Mark Rand.
Christmas Ornament Contest
Lest we forget the almost discontinued Christmas Ornament Contest, let us recount the excitement. Scrooge McJudge, aka Mark Rand, arrived bedecked in straggled locks and a festering, disheveled beard. The votes for the Ornament Contest had been counted, the competition was fierce, the candidates almost too numerous to mention, but all eagerly awaiting the final decision.
Bob Hulgan had created a Christmas tree with turned wooden bulbs, all brightly painted. He made the bulbs from closet rod he turned on his lathe. His costs to produce the ornament: one new lathe chuck $290, one new face mask $20, for a total of $310.
Frank Ramsay made an ornament of a wooden cage holding a bird, perhaps a Christmas lark, or even a dove with a tail. His out of pocket cost was $3 for the bird.
Claude Godcharles had turned some ornaments using a reverse turning technique, whereby he would cut the block in quarters, reverse the pieces then tape the reversed structure together with double stick tape, then turn it. Once turned, the pieces would be disassembled and restored to their original position, taped together again and turned once more. The result is an ornament with an intricately cut outside and center. In an effort to influence the always-impartial judge, Scrooge McJudge, Claude offered free persimmons to everyone.
Stan Booker countered with an offer of free limes. Unfortunately, Stan had not entered an ornament in the contest. We think he is preparing for next year.
And the winner of the Santa's Choice Award for the best ornament was Claude Godcharles. Scrooge McJudge then retired to the nearest homeless encampment until next year.
Frank called for a break to let the membership indulge in gourmand festivities. The BAWA show set up committee members were restrained in a holding pen until all the other members could fill their plates and appetites. Even so, the remaining cornucopia was impressive.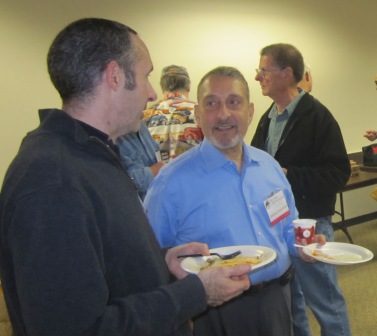 After the break Frank called for a Show & Tell and what better way to start than for him to describe one of his mistakes. Frank had been making his Chinese screen and had glued some of the frame incorrectly. How to undo the glue joint? Being the resourceful person that he is, Frank went to Target and bought a clothes steamer. He directed the flow of steam at the joint and it came undone. Mission accomplished. Cost: $90. Mark Jones brought in several variations of a LED flashlight with rare earth magnets made by Striker. The smaller version with one LED sells for $7, the larger with 8 LED's sells for $20. The Flexit, a panel of mounted LED's, sells for $30. All are powered with AAA batteries. Harold Patterson described the many uses he has found for his Wixey Angle Gauge: an electronic measuring device for attaching to saw blades, table beds of saws and other devices to determine reference angles. Privately, he was heard to claim the gauge can be used to divine the presence of water and gold. We think he is the local distributor for the device.
Bob Hulgan, in a talkative mood tonight, claims to have found a genuine Eagle framing square in his unused collection of tools. He got it from his stepfather, whom he hated. The feeling, he claimed was mutual. Bob also told us how he took 10 old bowling pins and made wooden mallets that he then gave to unsuspecting friends.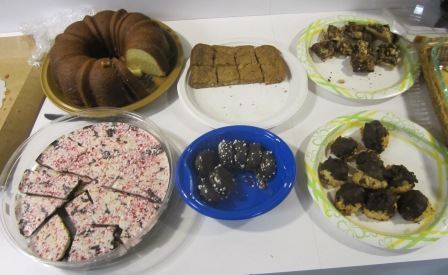 Frank sensed that the membership was preparing to assault the food tables once again and wisely adjourned the meeting. Seasons greeting were exchanged, plates refilled, and stomachs engorged. Everyone promised to meet at the reception for the First Annual BAWA Woodworking Show the next night at the Woodcraft Store in San Carlos.
John Blackmore
---
Special Report on our December Show
Let's Have a BAWA Woodworking Show
It's never been done. We don't have enough time. Only a select few will participate. It will be too expensive. We don't have the money. We can't charge, we're a non-profit.
When Ed Marinaro suggested in August that BAWA put on a woodworking show for its members, he probably did not realize what was in store. It would only be fair to say that his suggestion was met with more than some skepticism and only mild encouragement. Being a new BAWA member, however, Ed was not to be deterred. Perseverance and good, old-fashioned charm won him an audience. Was anyone willing to help? Yes, a few were willing to talk. Let's meet for lunch at the Crystal Springs golf course. Ed was there, Mark, too. But John, he forgot. Not an auspicious start. False start, let's try again. How about meeting at Starbucks, near the Woodcraft. Ok, we are agreed 9:30am, Tuesday.
Steve, Frank, John, Per. Oh look, the group is getting bigger. Can it be done before Christmas? Juried or non-juried? Open to other clubs? How many woodworkers would be likely to show their work? The consensus was maybe six or seven, and probably only the pros. Still, let's talk this through. Who can do publicity, ah Frank; and registration, set-up and tear down-John and Per, refreshments and opening reception-Fred, Steve was appointed the generalist, the gopher and finances - Mark of course. That left Ed to run the whole show, to make sure all the bases were covered. We had our marching orders.
We established a show budget, refreshments, wine and champagne, exhibit platforms, white sheets for platform covers, signs for the individual exhibits. Can we charge the exhibitors? How much? We sat outside Starbucks on Industrial Blvd, trying to discuss the issues in between the roar of passing trucks. What did you say? I'll say it for the fourth time.
After the third Starbucks meeting we all had our assignments and we were off to the races. Show registration began. We had seven members who said they would exhibit their work. Would others sign up? Announcements were made at the monthly meeting, emails sent and telephone calls made to all BAWA members. The message - The first Annual BAWA Woodworking show is intended to represent and benefit the entire club. It is not an exclusive venue for only the best. Let the community appreciate the diversity of club and its membership. The goal is to grow as a woodworker and the club supports that effort. The registration forms came in, just a few at first, then a deluge. To our complete amazement we had 28 members sign up to display their work, a total of over 60 pieces. Would it all fit into the display area so generously donated by Eric at the newly relocated Woodcraft store. Eric gave us the entire front of the store next to the windows.
Show Time. Thursday afternoon, the exhibit platforms were constructed. Exhibitors started to drop off their woodworking pieces, more came. Amazing, did you see that table, the craddle. Who brought the motorcycle? This show was shaping up to be much more than we had dared to expect. Then everyone went to Foster City to enjoy the annual BAWA Christmas potluck festivities.
Friday morning the set-up team went to work. Platforms were placed and draped. Care was taken to place the woodworking pieces for best viewing, then in some cases moved to new locations. Finally, by noon we were done. It was time to rest before the show reception that was scheduled to begin at 6pm. Fred laid out a feast of nuts, crackers and cheese; libations included beer, water, wine and champagne. The people who arrived early were lucky, they had room to move, to admire and inspect the woodworking. Soon it became a throng, a milling crowd eager to touch, photograph and appreciate the variety and diversity of the exhibited woodwork.
The new BAWA members stole the show. Two beautiful rocking chairs (Paul Bischoff and Don Calvello), a cradle and pair of side tables by Bruce Powell, a walnut coffee table by John Seybold, a three legged stool complete with tractor seat by Paul Sedan, a Windsor stool from John McCormack and of course the most talked about labor chair by Richard Shirasawa. Tracy Hartzler showed photos of his custom, hanging desk made of cocobolo and ebony. Ed Marinaro's long, hall table was easily the most finely crafted and beautiful piece in the show. Even Arnie Champagne was heard to offer praise.
If the new members stole the show, then Frank Taylor rode off with it on his Hobby Hog, a mini wooden motorcycle, elegant to the smallest detail. Some were heard to claim they could hear the roar of its engine. Frank Ramsey's Japanese screen was stunning in its superb craftsmanship and design. His Chinese cupboard was another favorite. Jerry Robinson displayed a dictionary stand that made us all want to go out and buy the biggest Webster we could find. Maury Ostroff brought tranquility to the show with his Zen container garden. Per Madsen showed his superb craftsmanship in a drop leaf table. Robert Hulgan's youth Morris chair made us all wish to be small again. Fred Reicher's wall cabinet elegantly displayed his wife's fine ceramic work. Karl Felperin displayed a beautiful grouping of Greene and Greene style furniture. Claude Godcharles wooden hand planes inspired us to leave the big machines and tune up those hand skills. Mike Cooper showed a small Key table of figured maple and cherry. John Blackmore's backgammon board of redwood burl showed this wood to its finest. His mahogany bedside table exhibited some intricate dovetail drawer work. Stan Booker and Bill Henzel showed photos of some of their projects on poster exhibits. John Hickman's collapsible cradle was an engineering feat. The flickering candles in the tray on John Wilson's table lent just the right touch to the festivities of the evening. Yeung Chan's miniatures in the BAWA cabinet were exquisite and the Toys for Tots on the bottom shelf showed off our members' large hearts.
All were slow to leave, pausing to look just one more time at their favorite piece. How in the world was Paul Bischoff able to curve the door on his Third Trimester wall cabinet? All were asking-Can we do this again? The answer is clear. The first Annual BAWA Woodworking show was a success. Our thanks go to everyone who helped to make this show possible, including all those BAWA members who worked as shift sitters on Saturday and Sunday.
See you at the show next year!
John Blackmore
---
No This and That this month
---
Members ONLY- Classified ads must be from members or ex-members or their estates who are closing down their workshops. In addition a non-member may attend a regular meeting as a guest and announce personal items for sale that are directly related to member's woodworking. The details of the announcement may be covered in the meeting minutes in the monthly newsletter, subject to editorial review.
Do you have something to sell or trade? Let me know by the last weekend of the month and I'll put it into the next newsletter. Let me know if your item sells so I can delete the ad.

Steve Rosenblum
650-322-9560
212 Santa Rita Ave
Palo Alto 94301
steve@rosenblums.us