---
President's Message
Fellow woodworkers,
I hope you all enjoyed the holiday season and are looking forward to the challenges of 2016.
Last year we had some interesting speakers:
External speakers incuded:
Jim Ritchie, Gunderson High School on his philosophy for teaching woodwork.
John Lavine on his new career as head of a wood shop program within an Industrial Arts Department at a local high school.
Jennifer Alger of Far West Forest Products on reclaimed and sustainable lumber and her father, who has been logging for over 50 years, demonstrated slicing up a tree trunk with a Wood Mizer in the car park.
Alan Olson of the Educational Tall Ship organization in Sausalito on the sailing ship Matthew Turner they are building. This was followed a few weeks later by a very detailed tour of their ship yard.
Ron Ashby on all you could ever need to know about shellac.
Scott Wynn on handplanes showing an example of how to tune up an old plane he had purchased at a local flea market.
Paul Discoe, founder and principal of Joinery Structures, on the design and building of several Japanese style structures. The philosophies of which are discussed in his book "Zen Architecture".
BAWA Member speakers included:
Master furniture maker, Yeung Chan, on construction and design of traditional Chinese furniture.
Neal White and Harold Patterson on the pros and cons of hide glue.
John Blackmore on the design and building of a new suite of furniture for his office.
Bruce Powell on using an old bending form to make bent laminated trays.
Ken Napior on building reproduction furniture.
In December Arnie Champagne on all the many things that need to be taken into consideration when designing a box.
Our outside adventures included:
An evening visit to Wooden Windows in Oakland to watch how they produce complex style wooden windows and doors using large CNC machines.
Many of our members worked building a deck and fence for a private residence as part of our Rebuilding Together contributions last April.
We also had several Toy Workshop sessions at Jamie's workshop making crickets and trucks for underprivileged children in the Bay area.
John Blackmore ran an educational seminar in his workshop on jigs and hand-cut dovetails.
We also had time to fit in our 2 x 4 challenge and had many interesting Show and Tells.
Including a bed head, a pair of very tall Adirondack chairs, a machine to relieve back pain and put chiropractors out of business, an Indian day bed, marquetry work, picture framing, boundary fence building and much more.
We had a great 2015 so now we get to look forward to the challenges and new horizons of 2016.
Happy New Year to you all.
Frank (Contact at: Frankramsay8@aol.com)
---
The meeting was called to order by President Frank Ramsay at 7:10. The excitement was palpable, as the array of goodies on the table brought by the members had already been partially demolished during the social half-hour preceding the meeting. Beatrice Medder was introduced as a guest. She has been building furniture.
New Members and Guests:
Announcements:
Per talked about the upcoming schedule.
At the January meeting Xander Bremer, the resident at the Pier 9 Autodesk shop, will talk about building furniture with modern tools.
In February, the speaker will be Bob Schick who will talk about CNC equipment.
In March we will have a speaker from the SF MTA who will talk about the wooden cable car repair shop activities.
Per is open to suggestions about future speakers.
A plea was again made for all members to pay their 2016 dues, which are payable now. Pay by check made out to BAWA or cash to John Blackmore.
Stan Booker announced that the wood raffle is within $12 of collecting the required $100 and could be raffled off tonight. Stan also brought back issues of woodworking magazines to give away as well as some books he wants to sell.
Claude Godcharles brought a boatload of persimmons to give away.
Harold Patterson reported that the Toy workshop has about 30 crickets ready to be finished in his shop.
---
Arnie Champagne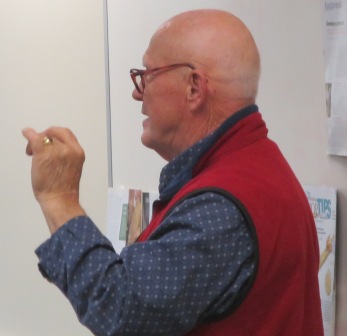 Per then introduced the evening's speaker, esteemed BAWA member, Arnie Champagne, who talked about his approach to designing and constructing wood projects.
Arnie joined the US Navy at the age of 17 and trained as a hard hat diver. His first wood project was to build wooden cofferdams on the side of ships. He then went to machinist school and built a shotgun as his first project. In the Navy he did diving work in Vietnam and Desert Storm. He retired from the Navy an age 49 and studied woodworking with James Krenov.
He believes that the first step in a project should be to build a full-scale mockup, even before doing any detailed drawings. He typically spends 3 weeks on the preliminary stages-mockup, literature searches, and wood type. Then he brainstorms about how the project will be used, the hardware used, joinery, etc. For dovetails, for example one needs to consider the symmetry. For drawer bottoms whether they will be solid wood or ply, their span and size, and expected weight of contents. Also you need to consider the amount and direction of wood movement in your design.
Arnie suggests that you lay up and press your own plywood as he does using 1/16" thick aircraft plywood. He advises using a #92 shoulder plane to sneak up on the fit of joints and to have a wood moisture meter to check on all wood before beginning to work on it.>

He uses a Zona dovetail saw for hand cutting his dovetails. He eschews the use of fancier saws for this purpose.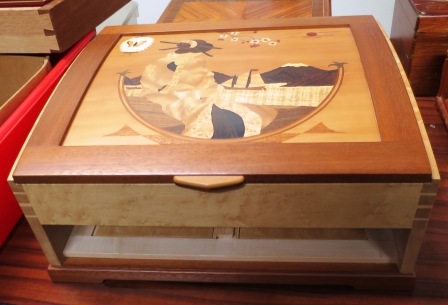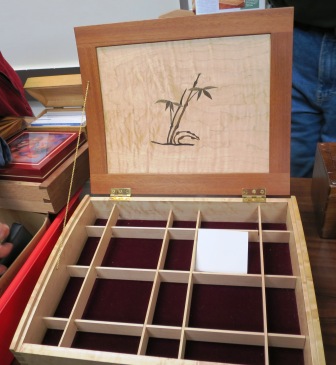 He brought in a tea box that he has built as an example of the process he uses. After deciding on a design that he likes, he decides on the wood type (light or dark, bold figure or plain, oily or not, and whether it will change color with age or not. Then he determines what tools he has and what tools he may need. Arnie recommends that you have at least 2 good marking gauges for precision layouts, a miniature square, small chisels, and scrapers. All edge tools must be kept sharp. He does most of his cutting on the bandsaw. He recommends that your chop saw have a 60-tooth blade and that you use a shooting board and handplane to get square edges. He also suggests final sanding to 400 grit to prevent the occurrence of blotching. When choosing glue or finishes, consider how long they will last. For example, lacquer only lasts 25 years.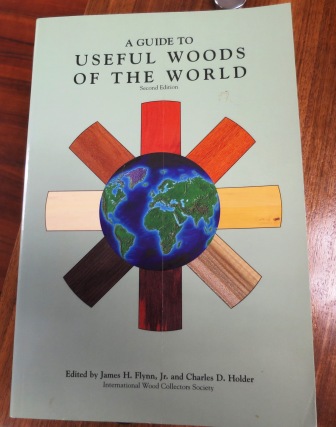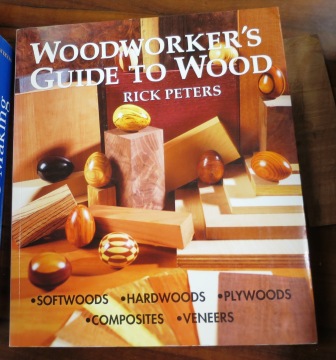 Two books Arnie references for his design work
After you are happy with your design and mockups, make full-scale drawings and templates and story sticks. Arnie urged us to pursue perfection as hard as he does.
---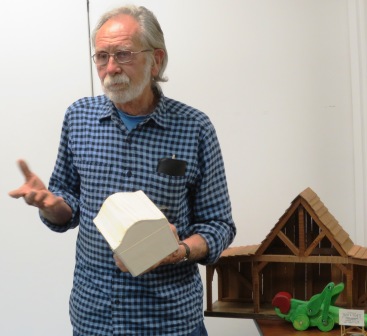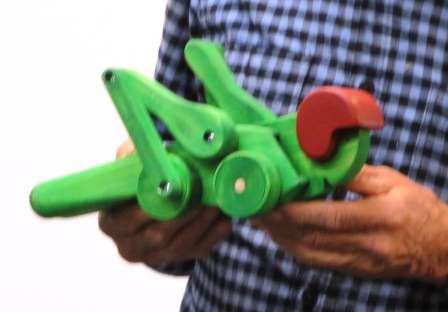 After the break at 8:40 PM Frank Taylor showed a manger scene he had built at the request of a relative. He also showed a cricket that he built with 2 jet engines attached to its back. He also built 25 pine boxes for his daughter to give away as containers for her Christmas cookies.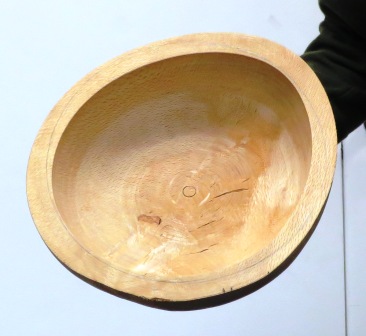 Claude Godcharles showed a live oak blank that he has partly turned which distorted a lot after drying and became a sculpture rather than a bowl.
The meeting ended with awarding of door prizes.
Stephen RosenblumSecretary steve@rosenblums.us
---