---
---
President's Message
Fellow woodworkers,
I heard a lot of talk about Etsy, the on-line market place for artists and crafts people.
It is "a marketplace where people around the world connect, both online and offline, to make, sell and buy unique goods"
Lots of people use Etsy. There are about 850,00 active shops and probably about 300,000 active sellers. (sellers can have more than one "shop") There are probably over 25M members (ie: potential buyers). Etsy sales were over $1.3B last year and their top sellers in the handmade category were selling over 50,000 items each... that is a lot of handmade anything from and artist or craftsperson!
Seems a great concept: after all the world is going to on-line buying.
It is definitely an Ok way to buy if you want a known product - a large flat screen Samsung TV or a GE refrigerator - because you know what these items are, they are built to a specification and you know what quality to expect before you buy so there is very little risk involved. But to buy a handmade piece of furniture when you cannot touch it, examine it to see the quality of the finish or how well it is constructed, is difficult. It is hard to tell quality by looking at a Photoshopped picture.
Etsy's numbers are amazing.
If you search for wood tables you find 41,335 items, wood chairs 9,765 items, wood turned bowls 4,000 items. There is also a large selection of wooden bow ties available.
Note: I accidently typed in "wood turned bowels" and was surprised to get only 1 bowl for sale ($10) but realized the typo and that at least 1 turner has a spelling problem.
Which leads to the fact that these types of open market places are run with no human intervention, unlike Amazon.com which I am sure has a large team of people looking after what they sell; anyone can list almost anything on Etsy and use whatever descriptors they want. (Handmade being one of the most popular ones).
There were even handmade, hand-crafted wooden motorcycle models for under $20
The reason I did this analysis of the site is to help decide if I want to list any of my work there. I have my work on my website but that is mainly used for reference. But with the number of people on Etsy it may be very hard to be seen, especially as the pricing in general on the site is very low.
---
Etsy is a big operation but I am sure you are all having trouble keeping pace with the smaller apps that seem to be breeding at a great rate. (Apple claims over 1M apps for its iPhone)
BAWA, as an officially listed organization, gets its fair share of emails explaining how if we take advantage of someone's new app we will get so much more business. Mostly they are along the lines of how they can improve our website to increase our sales.
The latest offer of an app I received was in a new area: how this new company, ParkMe.com, can help us with parking at our events for a share of the parking revenue!
"For every parking transaction that is referred from your site we will share 30% of our revenue. We can even set up a coupon code specific to your event…"
Apps developers must be scraping the bottom of the barrel by now to find what they can do to make their millions..
---
Incidentally I must give a great thank you to George Boswell. He was the member who obtained our website name: bayareawoodworkers.org.
If you go into Google and search for any of the phrases below you find our search positions are very good:
Bay area woodworkers – #1
San Francisco woodworkers - #3 & #4
San Mateo woodworkers - #7
Santa Clara woodworkers – #8
Peninsula woodworkers - #5
Maybe we will need the help of a parking app?
Enjoy your woodworking.
Frank (Contact at: Frankramsay8@aol.com)
---
President Frank Ramsay called the meeting to order at 7PM.
New Members and Guests:
Guests were announced as follows:
Steve Darragh, who has done some home remodeling and cabinetry
Jeff Dye, who was a member in 2003 and is re-joining for 2015
Mike Roth, who is a past member
Julian Khan, a visitor who asks for help with using a wood lathe.
Announcements:
Frank announced some changes to the BAWA board line-up
John Blackmore will replace Fred Reicher as Membership Chair and Steve Rosenblum as Newsletter Editor;
Steve Rosenblum will replace John Blackmore as Secretary;
Claude Godcharles will join the Board as Member at Large.
Frank will propose changes to our by-laws to create this new Board position.
Per Madsen described the upcoming programs.
Yeung Chan will speak in February
There will be a talk on finishing in March
John Lavine will talk in April
May, a talk by Wood Mizer.
The 2x4 contest will be in October.
Per asked for suggestions for shop visits.
Stan Booker showed the 2" thick, 9-foot long piece of Maple to be raffled off. Tickets are on sale and the winner will be drawn when $100 has been collected. Stan reminded us of the door prizes to be given away at the end of the meeting and showed some broken African masks that he is giving away as scrap since they are not saleable.
Frank mentioned on the Alameda Point Woodworkers Association website one of their woodworkers is pictured holding a piece of wood on a table saw in a very dangerous way. He has written them a note but has gotten no response.
---
Jim Ritchie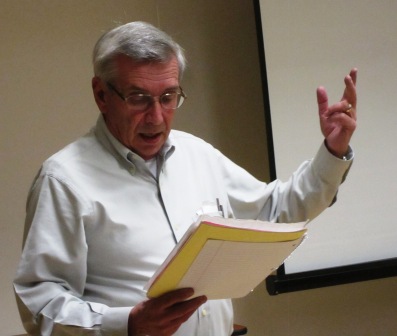 Per introduced Jim Ritchie, a shop teacher at Gunderson High School in San Jose. Jim has been teaching since 1972, starting at junior high school and moving on to senior high school. He graduated from SF State and is a member of many professional organizations. In the 1970's every high school had shops…wood, auto, metal, plastics, electronics, drafting. Now they are disappearing as students and parents demand a more academic curriculum. There is still student interest in classes such as Botball, which is a NASA competition to control a robot using the C language. Another is called STRUT, Students Recycling Used Technology, where students collect used computers and repair them to distribute for use in schools. There is a yearly competition at which students provide Powerpoint presentations on their accomplishments. Among the classes that Jim has taught himself are wood shop, metal casting, construction, and algebra. Because of his rigorous emphasis on safety there have been only a few minor student injuries on his watch.
His teaching philosophy is to ask the students what they want to build and give them full responsibility for the project execution. Jim firmly believes that not every student w ill benefit from a college education and that those students are now being shortchanged by a lack of shop type programs in the schools and a lack of facilities to train teachers for this part of the teaching profession. He recounted some of the student successes that have been motivated by his classes: a master model maker at SRI who got his job 7 days after high school graduation, a student who has worked as an auto mechanic for Toyota in San Jose, then Ford in Sacramento, then became a service writer for BMW and now is a service writer for Tesla. Another first worked in construction, then went to CCOC and learned plumbing and now runs his own business. Another works in a cabinet shop, one in pool maintenance, another is a military helicopter pilot, several have joined the police force, one is on the Broadway stage, one is a DPM, one is an airline cabin attendant and several are teachers.
He then described 18 student projects he supervised:
a rocking horse ordered by a fellow teacher and built by a special ed student
a school secretary wanted a butterfly decoration for her wall at school. The students drew up the design according to the client's desires, bought copper tubing and stained glass to build the project and had to make a project report at the end.
a water sculpture for the school lobby was requested by the administration. It was designed and built by the students. It was made of brass and copper and attached to a concrete wall.
a school display cabinet of objects for sale for the lobby. It was designed by the students and built from reclaimed doug fir from demolished gym bleachers.
an oak framed corkboard
prop coffin requested by the drama department, which was designed by the students and constructed from Home Depot materials.
a wooden sign saying "Administration" for the school hall made from a 2x12 piece of clear redwood as well as one saying "Health Office" The lettering was done using a CarveRight machine.
a tree sculpture with the leaves cut out of brass shimstock. Dragonflies were attached to the tree using piano wire.
a painted "ASB Office" sign
an electric go kart using 12 V batteries for energy. The kart has Phil Wood bearings and wheels. Many generations of students have tinkered with it.
a powderpuff football plaque which was made using a laser engraver
a "Tarzan" award for swimming
a desk for the broadcast room made from high pressure Formica laminate. A grizzly bear cutout on the front was done using a jigsaw.
a laser engraved water polo plaque with the school logo on the front with the student names and replicas of the student signatures on the back
a kayak built according to a set of plans. It has a canvas covered wooden frame with Styrofoam used as ballast. It was tested in the school pool and found to float level and was eventually made leak tight with some judicious patching.
rebuilding of a BSA motorcycle which started out as a "parts collection". The student had to construct an oil tank, which was missing from the collection.
Some of the examples of the student work he brought to the meeting: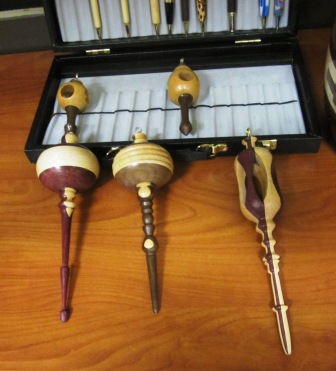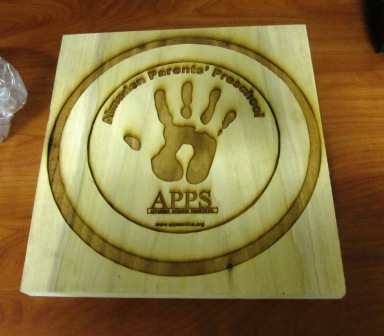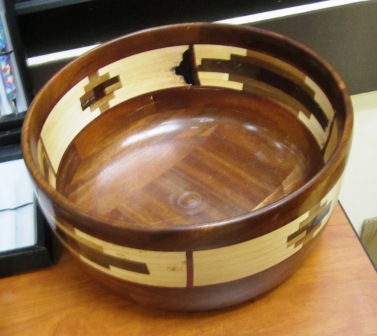 We were all impressed with the range of crafts involved and the efforts that Jim has made to keep handwork alive in our schools.
---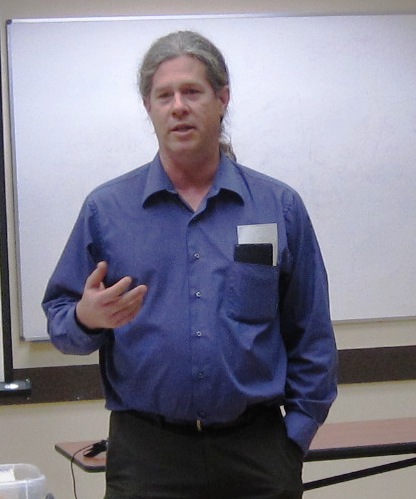 Marcus Miller provided a demonstration of the methods one uses in working with stained glass. This is a craft that can provide added beauty to our woodworking projects.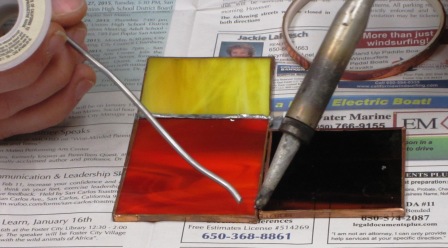 There are two basic techniques, the Tiffany method which uses adhesive backed copper foil, which Marcus uses, and the older lead cane technique. One needs to use a glasscutter to scratch and break the glass. The piece is then wrapped along the edge with a suitable thickness of the adhesive backed copper foil. A 40-watt or larger soldering iron is used to solder the pieces together along the copper common edges.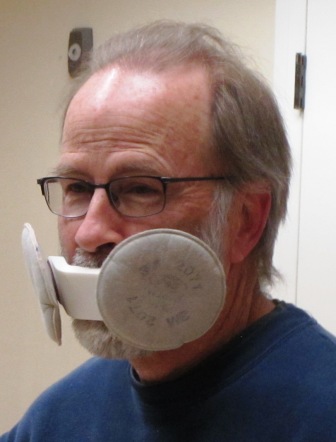 Jamie Buxton described a dust mask he designed based on a Scuba mouthpiece.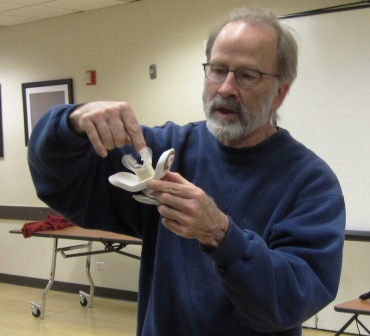 He laid out the design in Sketchup and sent the design off to a company that was able to print it on a 3D printer out of mylar. It is designed to use standard particulate filters and requires the user to remember to breathe in through the mouth and out through the nose.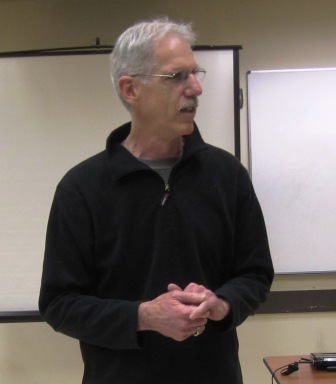 Jon Kaplan showed a bocote wooden plane he made using a Hock iron and chip breaker.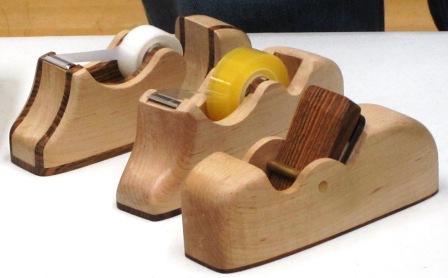 On a whim he made a tape dispenser based on the same design.
Ken Napior gave a talk about reproducing antiques at the Sonoma County Woodworkers.
The meeting ended at 9:20 with the handing out of door prizes by Stan Booker.
Steve RosenblumSecretary steve@rosenblums.us
---