Fellow Members
Recently I had the opportunity to read through a very large stack of old Fine Woodworking magazines. There were many issues from early 1980s.
How times have changed.
There were articles on how to make your own table saw, planer, bandsaw, sander, shaper, dust collecting system and virtually every kind of power tool you could think of. You just needed some pieces of 2x4, a sheet of thick plywood plus an assortment of pulleys, arbors, belts, screw threads and a suitable electric motor. Occasionally you also needed a soldering iron. For the dust collecting system you were given very useful instructions on how to convert a small transformer to an electromagnetic controlled gate. It appears in that era woodworkers also had to be mechanical/electrical engineers. This do-it-all yourself situation was driven by cost. Most of the machine tools were still made in America and they were not at a price level that the average amateur or enthusiast could afford for his garage workshop. There was one article talking about some machine tools starting to be made in Taiwan but they were finished in America. I do not think the buyer was made aware that the machine was largely made overseas.
Today we live in a world where it is much easier to have the power tools we want.
I was thinking of the enormous changes that have taken place since these early Fine Woodworking days when I received the latest Rockler catalog. On the front cover is an illustration of a woodworker with his laptop computer driving his own CNC (Computer Numerical Controlled) machine. All you need is a laptop, a small router, the CNC machine and some software and you can accurately shape you own pieces of wood without ever having to hold a cutting tool in your hand. The capabilities of this machine are very limited - the modern equivalent of building your machine tool 30 years ago with a piece of 2x4 and assortment of mechanical bits. But if history is anything to do with it we may all have full-functional CNC machines in our shop in the next decade or so.
Progress?
Except for the crafts woodworkers all the professional joiner shops used CNC machi ne these days. I was talking to a master carpenter who does elaborate fitted woodwork interiors for houses. All by CNC machines. He mentioned that when he started in the trade many years ago nearly all of the carpenters was missing a finger tip or more. Today his hands never go near the cutting tool.
Progress?
Today we have the debate about what is craft and what is art. I think we generally accept that using table saws and jointers, etc., in fine woodworking makes the process faster but does not detract from the craftsperson's skill.
In the future we may be asking ourselves; Is using a computer to accurately control the positioning of our cutting tools still a craft?
Enjoy your woodworking no matter how you achieve the end result.

Frank R Ramsay
President

frankramsay8@aol.com
---
Minutes from BAWA Board Meeting held 20 Janaury 2011
Our regular meeting was preceeded by a Board Meeting that started at 4.30pm
Meeting called to order by Frank Ramsay at 5 PM in the Spray Room of the Foster City Rec Center. Present were Per Madsen, Fred Reicher, and Steve Rosenblum
1. Budget: A budget was worked out and approved and will be presented at the Feb meeting. It is predicated to break even with a membership of about 90 which is somewhat larger than last year's 81.
2. Program and Events: Jay Perrine arrived at this point. The program was discussed in detail as well as the honoraria for speakers. It appears in the newsletter and covers all the known meeting events and site visits. As Yeung Chan's Wronsky Memorial Lecture is coming up on February 26, a lot of time was spent discussing logistics of this event which will now have to take place in the Woodcraft shop area and thus will be limited to 50 people. Tickets will cost $15 per person and will include coffee, pastries, and a lunch. Per, Jay, and Steve will handle the administration of the event. Frank will print tickets and deliver them to Jay who will be responsible for collecting money and distributing tickets. We will rent chairs for the event and Frank will confer with Eric about what kind of food will be allowed on-site as it will take place in the shop area.
3. BAWA show: John Blackmore arrived at this point. The Second Annual BAWA show will take place in October. The exact date will be worked out with Woodcraft ASAP by Frank.
4. Newsletter hardcopy: It was decided to discontinue U.S. mail distribution of the newsletter following the April number. Those members who do not have web access will receive a post card detailing the content of the next meeting and the date. Paper copies of the newsletter will be available to those members at the next meeting.
5. Classified ad policy: The new classified ad policy was proposed and discussed. The intent was to make it possible for members to find out about local items for sale by private parties that are of interest to our wood working members. The policy is as follows: "The BAWA classified ads are intended to advertise items of woodworking interest to our members that are for sale in the greater Bay Area. Members are entitled to advertise any items at no cost. Non-members, who are private parties, may advertise items for $10 per month. The newsletter editor will have the discretion to decide the suitability of any submissions."
6. Meeting location: The option of moving our meetings to the Woodcraft store in San Carlos is no longer on the table as the meeting space is now filled with the fixtures from the Santa Rosa store which is closing.
7. New membership initiatives: It was suggested that we publicize the giving of BAWA memberships as gifts to loved ones. It would be very nice if a member were to come up with a design for a nice wooden box to put the gift notification into.
Meeting was adjourned at 6:30
Steve Rosenblum
---
It was a madhouse. Frank ran out after the Board meeting to get coffee, the Mist Room was packed. Where did everyone come from? Who is setting up for the featured speaker, Scott Wynn. The projection screen would not stay up and it was almost 7pm.
And then, Frank arrived, just one minute late, coffee in hand, daring to take a hot sip, not spilling a drop. Per got the screen to work and the projector set up. Frank crunched the gavel to the block and the meeting was underway.
Guests and New Members
They would not stop introducing themselves. We had nine guests and/or new members. Membership applications could not be found, then Mark arrived and all was well
We welcomed new members Chris Edwards, Tom Gaston, Nicholas Lewin-Koh, Tex Long, Jerry Lewis, and David Millard. Guests introduced themselves as Randal Schwartz, Shilesh, David Trent, and Ray McKinnon.
The best newcomer crowd ever recorded. Most people us from the Woodshow and the website.
Announcements
Frank Ramsay made two announcements pertaining to the BAWA newsletter
1. Beginning in April the newsletter will only be available on-line at the BAWA website. Postcards will be mailed to those members who had previously chosen to receive the newsletter by mail. The postcards will announce the next BAWA meeting. Hard copies of the newsletter will be available for pickup at the regular meeting.
2. There will be a new section in the newsletter called "Marketplace". Want Ads and Resources will appear in this section. The policy for placing classified ads in the newsletter is: free for members, $10 per month for non-members who are placing ads for merchandise or services of direct interest to the BAWA membership. Steve Rosenblum is coordinating.
An ex-woodworker who has given up the avocation has donated his extensive collection of woodworking magazines and publications to the club. BAWA members could select what they wanted and were asked to make a small donation to the club.
Per Madsen talked about three exciting events coming up. The visit to the Spaulding Boat Show in Sausalito is scheduled for Saturday, February 26. It includes a BBQ lunch.
Barbara Butler will be our guest speaker at the next regular BAWA meeting on Feb 18. She will talk about Extraordinary Tree Houses and Play Structures for Kids.
Then on Saturday, Feb 26, BAWA is sponsoring Yeung Chan who is giving a special all day presentation to honor Peter Wronsky, who left us a few years ago. It will be held at Woodcraft in San Carlos. Yeung will talk and demonstrate tool making, jigs and fixtures and Chinese joinery. Underwritten by the club, the cost to attend will only be $15 per person.
Harold Patterson passed around photographs of all the toys made by participants in the Toy Workshops; a prolific bunch. The Toy Workshops will recommence in April.
Jay Perrine said that the estate of a recently deceased woodworker has several large, 3 phase machines for sale. If you like Oliver, Northfield and Powermatic, you can get the telephone number from Jay.
The Santa Rosa Woodcraft store is closing and much of the inventory and fixtures are on sale, up to 50% off.
Stan Booker is still selling tickets for the aromatic red cedar. He is off to East Africa in February, so someone else will have to run the raffle.
Mark Rand said that Igor, the terrible aka the dues enforcer, has left the wilderness and is prepared to help Mark collect BAWA dues--$30 per person, $35 per family.
Neil White announced that there will be a hand tool woodworking event at the Crucible on Feb25-26. Lie Nielsen will exhibit.
---
Scott Wynn
Author of Woodworkers Guide to Hand Planes
Scott is a third generation woodworker, having learned the basics from his father and grandfather. In the late 1960s and early 1970s, Scott found the Whole Earth Catalog and its section on hand tools. He was mesmerized by the Japanese hand tools, then discovered the Chinese and European tools. He began an extensive exploration and study that culminated in his book.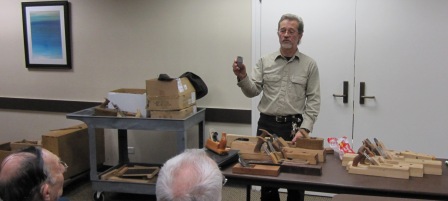 The book describes planes from Japan, China and Europe along with Stanley planes, of course. Common to all planes are six parts or tactics they share:
· Blade angle
· Mouth clearance
· Chip breaker
· Bevel angle
· Shape of the blade edge
· Length and width of the sole
Blade Angle
Block planes have the blade with the angle facing upwards, so called bevel up planes. Bench planes on the other hand are bevel down planes. The blade angle typically is lower for the preliminary cutting tools, then higher for the finishing planes. Chinese planes, often made of hard woods, start at 55 degrees and rise to 65 degrees. European planes start at 43 degrees and increase to 55 degrees. Japanese planes, usually used in soft woods, begin at 35 and end at 40 degrees.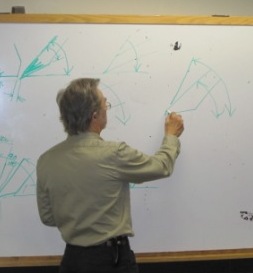 Mouth Opening
A good rule of thumb is to set the cut depth at slightly less than the mouth opening. Some wooden planes have an adjustment plate in the sole just ahead of the blade. This plate can be moved with an adjustment screw on top of the plane body. Bailey style planes are adjusted by moving the frog.
Chip Breaker
Stanley plane chip breakers usually have a hump or belly at the end over the blade angle. Lie Nielsen planes use a thick, straight chip breaker with excellent clearance. The goal is to set the chip breaker close to the edge of the blade, approximately the thickness of the cut you want to make. On wooden planes the mouth opening will gradually widen with use and wear, but can be closed by adjusting the sole plate.
Bevel Angle
The bevel angle should be as thin as possible, but the practical limit is around 22 degrees. Back beveling the blade will produce a blunter cutting edge.
Shape of the Blade Edge
Scrub planes have blades that are rounded as much as 18 inch towards the sides with a wide open throat. Jack plane blades have a 1/16" curve, and jointers 1/32". Smoothing planes have a blade curve no thicker than the desired shaving.
Length
Jointer planes are long to ride over the low spots, smoother planes are short so that the plane can follow the low spots.
Scott finished with some critical advice on setting up your plane. He said that the sole of the plane needs to be as flat and the thickness of the shaving you want. Three points on the sole are critical: in front of the throat, the tail and the tip at the front of the plane. Never use sand paper on wood plane soles. The grit will become imbedded in the sole and scratch your work.
After his presentation we paused for a break and everyone gathered around the table where Scott had assembled a vast array of planes he has collected and made. His book has plans for making a full set of wooden planes and shooting boards. Many people took advantage of the opportunity to buy his book.
---
As we resumed the meeting after the break, we began with:
Show and Tell
Claude Godcharles passed around a new book by Schwartz and Moskowitz titled The Joiner and Cabinet Maker, the story of a 14 year old boy apprenticed to a cabinet shop in the 1830s. A vivid tale describing what it was like to work wood with only hand tools.
Claude then showed us his version of Krenov saw horses, made of hard maple. With limited shop space, he made the saw horses to be knocked down for storage. Wedge tenons hold the lower rail in place. The top rail is notched for a bridle joint.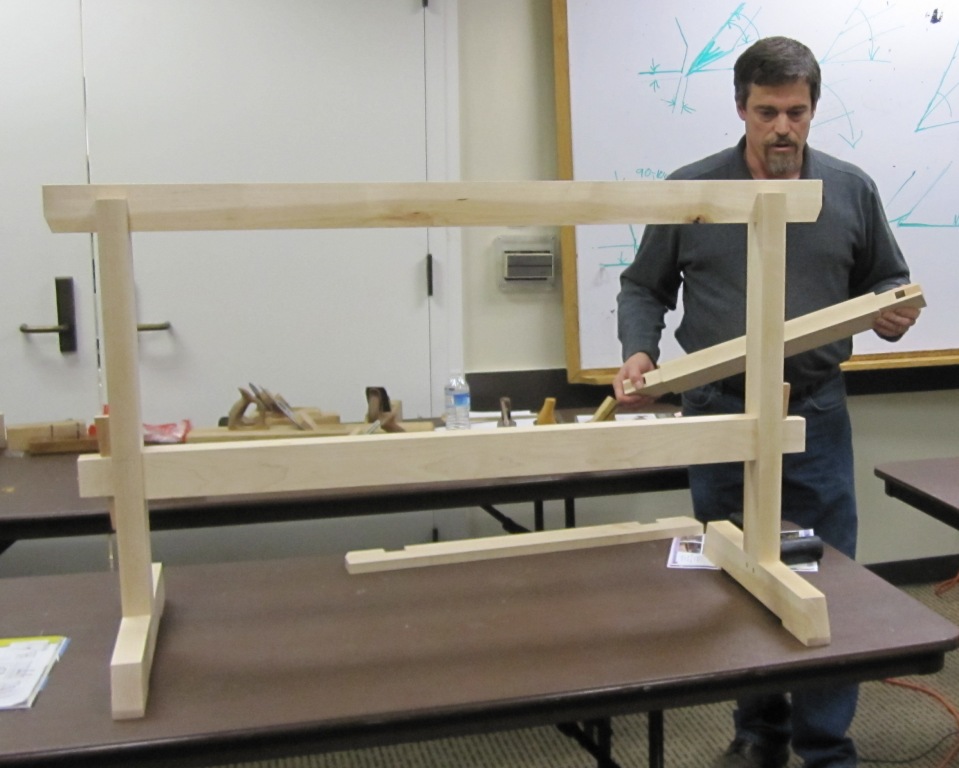 John Seybold brought in his new Lie Nielsen #51, an updated version of the old Stanley that is used with a shooting board to produce perfectly square edges and miters. John made the shooting board with a guide strip to fit the plane sole exactly. He used the set up to made super precise strips for his veneer work.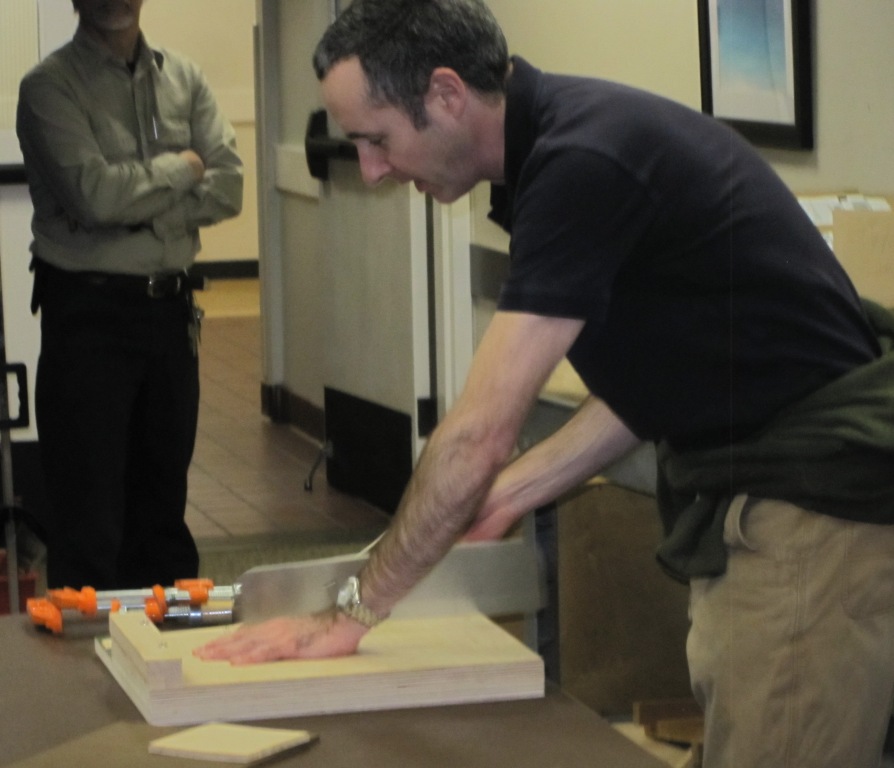 Stan Booker bought a small flexible blade Japanese saw at Hida Tool in Berkeley. He uses it to make small airplane parts.
Jay Perrine was the high bidder for the vacuum pump in the Silent Auction. Good find, Jay.
The door prizes seem to have all been won by the new members and guests. Fred Reicher was left out in the cold.
John Blackmore
---
The Classifieds section of the newsletter has been moved to our Market Place page