---
President's Message
Fellow woodworkers,
We are woodworkers and many of us make furniture. Does it matter what materials and methods are used to make a piece of furniture - is it all woodworking?
Most of the pieces that BAWA members make are influenced by the skills and design techniques taught in the woodworking colleges around the country such as The College of the Redwoods or the North Bennet Street School. Our designs are still influenced by the masters of bygone ages: Mackintosh, Stickley, Chippendale, Chinese Ming period, Kittenger, etc.
I recently went to the Renegade Craft Fair Holliday Market at the Concourse Exhibition Center in San Francisco. They had a very good attendance, all the aisles were crowded. There were about 300 artists exhibiting and as expected the majority of vendors were in the "craft" field but a few were woodworkers. The woodworkers' work was interesting but I cannot decide if their work is the direction of woodworking today or they were just the ones whose work fit a "craft" fair. Below are the ones I found most interesting.
Against the Grain
An interesting furniture company run by a former Port of Los Angles longshoreman. They make all of their furniture from "dunnage".
I may be the only BAWA member who did not know what the word "dunnage" means. Against the Grain says that dunnage is the "hardwood 4x4's used to keep steel and other stock from rolling around in the hulls of gigantic cargo ships. These are loaded and unloaded all over the world, so what comes to the States is an eclectic mix of truly exotic woods". The shipping industry throws this wood out as scrap once it has been used.
Against The Grain's concept is use this scrap dunnage for their products: "To date they have saved exotic woods from all over the world including Padauk, Philippine Mahogany, Jotoba, Balau, Mertas, Fishtail Oak and many others".
Their work is not what I call fine furniture but the heavier industrial look i.e., a wooden top on a basic steel frame for a dinning table. This has been a design style used by restaurants for a long time but recently I see it appearing in high-end home furnishings.
(Note: Rockler has also started selling steel frame kits for furniture. Buy a $130 kit, add a wooden top and you have a table.)
For more information on Against the Grain: againstthegrainwoods.com
Chili Pepper Woodworks
They make furniture and "home décor items", etc., using recycled planks from old wine casks. The planks keep the curvature and markings they had when they were a cask. According to the website:
"each piece is crafted out of an oak wine barrel that has been used in the aging and flavor of wine. During this process, the oak takes on the character and life of the wine. We recycle each piece into unique home decor items with a goal to highlight the story each barrel has."
For more information on Chili Pepper Woodworks: vendio.com/stores/ChiliPepperWoodWorks
Jacob May
This is a local woodworker, who makes good looking end-grain butcher blocks and other items.
For more information on Jacob May: jacob-may.com
Asa Hillis
Asa makes quality furniture along with pens, guitars and she also has a steel/glass art piece titled "Twin Meditation". On her web she has a set of sketches that show how she goes involving a design (see the Drawings page on her web)
For more information on Asa Hillis: asahillis.com
There are some interesting things about these companies.
With the exception of Asa Hillis none of them appear to use joints, at least in the traditional fine woodworking sense and none of them use complex finishes. They all present a good marketing story: "recycled", "character and life of the wine", "mission is to breathe new life into…",
Is this just because we are old – is there a future in fine woodworking?
Enjoy your woodworking whatever kind it is.
Frank (Contact at: Frankramsay8@aol.com)
---
The meeting was called to order by President Frank Ramsay at 7 PM. Guests introduced themselves:
New Members and Guests:
Bob Bertolina introduced himself as a new member. He joins us from Calaveras County where he has made wooden toys for children. He is interested in our Toy Workshop.
Announcements:
Per Madsen introduced the announcements by circulating a sign up sheet for the Facebook shop visit scheduled for Saturday, February 15. You must sign up to clear Facebook security for the visit.
On February 20 the monthly meeting will feature John Burt, a woodworker and blacksmith.
Saturday, March 8, BAWA will visit the Schoenstein & Co. Pipe Organ Builders in Benicia, CA.
The March 20 monthly meeting will feature Scott Wynn who will talk about handsaws.
The weekend of March 28-29 will feature a skills workshop to make a coffin style hand plane with Scott Wynn. The workshop will consist of three sessions: an introduction on Friday evening, then all day sessions on Saturday and Sunday. Participants will be asked to bring their own plane iron and breaker. Other materials required will be discussed at the Friday session. The cost is estimated to be $275 plus materials, decreasing to $220 if six people sign up. Participation is limited to a maximum of six people, so sign up early. To sign up, contact John Blackmore at 650-400-9429 or johnblackmore@comcast.net. Checks will be due before the seminar.
On Saturday, April 17 BAWA will visit Felperin Designs in Newark.
Rebuilding Together will be held on Saturday, April 26. Dan Goodman will be presenting details at the next club meeting.
Harold Patterson announced that he will conduct a Toy Workshop in May at Bill Henzel's shop in San Jose.
Arnold Champagne has located a source for wooden rocking chair treads at a cost of $2 each, far less than the cost of the wood. The treads are made of poplar, probably requiring paint.
Frank Taylor passed out brochures for Industrial Abrasives Co in Reading PA, a good sandpaper source.
Stan Booker promised to award the wide cherry plank to a lucky winner tonight.
Frank Ramsay reminded all of us to begin to prepare for the biennial BAWA Wood Show that will be held in October. It is creeping up on us.
---
KARL FELPERIN Furniture Maker and Designer"A CNC Machined Mackintosh Chair Kit"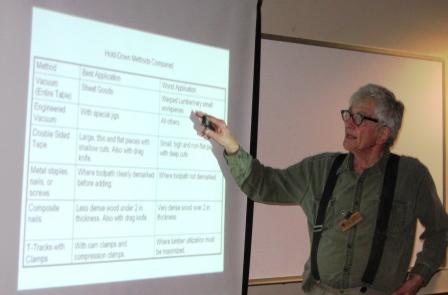 BAWA first visited the shop of Karl Felperin in April of 2008. The shop was new as Karl was just beginning a business of making high quality, expensive solid wood furniture, principally dining room tables and chairs. Now, six years later he is carving a new niche in the business: kits for high end furniture that amateur woodworkers can assemble and complete on their own, saving hundreds of dollars per piece of furniture.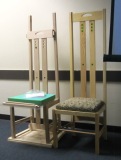 Karl's first kit is his interpretation of Charles Rennie Mackintosh's high back chair. Mackintosh was a Scottish architect who in the late 19th century and early twentieth was prominent in the Glasgow School and designed furniture for the Argyle Street tearooms in Glasgow. His high back chairs offered privacy, albeit with some lack of comfort, probably desirable in a tearoom. Karl, while visiting Glasgow to see relatives, encountered the chair, was impressed and decided to make it his introductory piece in his kit line.
The finished chair sells for $900, the kit for $300.
In order to achieve the economies necessary to offer this savings, Karl invested in a ShopBot CNC router, capable of handling a 4 x 8 sheet of wood. He said the purchase was probably not cost justified, but he likes it, a more important consideration. He did not buy the vacuum and automatic tool change features. He likes the CNC because it offers to simplify small production quantities, minimizes set up times and reduces the need for jigs and fixtures. Because Karl came to this endeavor from a background in furniture design, he was already familiar with CAD, computer assisted design programming. He has computer files for all his current designs. He finds that quality and reproducibility justify the cost. He processes hardwood boards, not sheet goods and finds that the challenge is to fit the piece to the board, maximizing use of the wood.
The ShopBot is built like a small airplane. It weights 1200 pounds and operates on three axes: X, Y and Z. The machine converts design to tool paths. Holding the board in place is the biggest problem. He uses jigs, but mostly double sided sticky tape. When necessary he will use metal staples, nails or screws to hold the board to a MDF substrate, but then the tool path becomes critical to avoid damage to the cutting bits. He has found that if he uses composite nails, made of nylon (15 GA, 2" length) he can avoid tool damage. He does not have to remove the composite nails, just sands them flush to the surface of the wood.
He uses solid carbide up-cut spiral end mills for all the cutting operations on the ShopBot. He buys them from Grizzle for $20 each, batches them for re-sharpening that costs only $3 each. Much of the wear occurs at the tip of the end mill bit.
He also uses the ShopBot to cut cardboard for all of his shipping cartons. A drag knife is attached to the cutting head and scores the cardboard.
Karl has a Multi-Router for machining wood to make all the mortise and tenons in the kit. It is accurate and fast.
The chair kit consists of the wooden parts, an instruction sheet, and the shipping box. The chair back is pre-assembled. The legs must be attached and glued in place by the recipient. The chair is made of alder or oak and is sanded to an eighty-grit finish. But who is the customer?
Karl has exhibited at street fairs in Burbank, Dublin and Palo Alto. He likens the attendees in Palo Alto to readers of the New Yorker magazine who are familiar with Charles Rennie Mackintosh, Burbank attendees to those who think Mackintosh worked for Greene & Greene and Dublin street strollers being those who think he invented the computer. Regardless of their knowledge, the customer wants a fine piece of furniture that they have helped to make.
We enjoyed Karl's fine presentation, sat in his assembled chair and carefully examined the unassembled chair kit.
For more information on Karl and his work: felperin.com/aboutkarl.html
Karl got to choose the winning ticket for the cherry plank and John Wilson jumped for joy.
---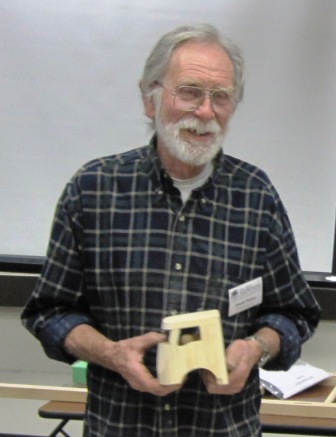 Frank Taylor showed off some toy wooden trucks that will be made in the next Toy Workshop. The chassis and bed are made of pine and parts will be pre-made on a pin router for the workshop. Volunteers are needed, so please contact Harold Patterson. Frank has jigs to make the wheels.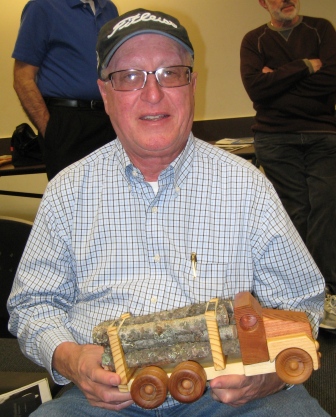 Bob Bertolina, the new member tonight, showed us the toy logging truck he has been making.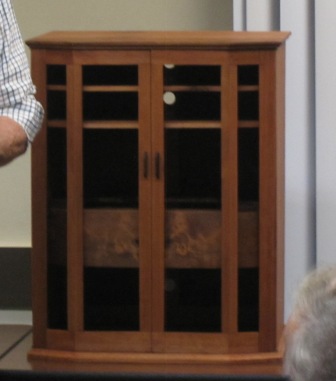 John Blackmore brought in the Krenov style stereo cabinet he made for his shop from left over redwood used in his deck and storage shed project. It has an angled front and will have glass panes in both doors.
Frank Taylor bought the finish sander in the silent auction for $5.
Another fine BAWA meeting came to a close.
John Blackmore johnblackmore@comcast.net
---