---
Presidents Message
Fellow Members
We are now well into the New Year so I hope you are keeping up with your resolutions and your woodworking projects planned for 2012 are underway.
On the topics of wood
The most interesting piece of woodwork I have seen recently was a large table in a mountain top hotel lounge. The rectangular top was veneered with slices of Douglas Fir about 1/4 in. thick. The woodworker had used thin cross sections of a tree that must have been 3 or 4 ft in diameter, squared them off and epoxied them to the wooden base to form the table top. The table was finished with a neat edging also made of Fir. It needed 2 of these cross sections to cover the width of the table. The many cracks and splits in the wood were filled with epoxy.
It was obviously old growth timber and certainly obtain in an environmentally acceptable manner such as an old tree that died but it is a very effective way to use a short piece of tree trunk if you happen to have one available.
I also read in the paper today about six people in Cuba who were sentenced to 8-10 years in prison for cutting down nine African mahogany trees in their National Botanical gardens. The trees were only 30-40 years old. According to the article the wood was "worth $122." and is now being used to construct a new fence around the Gardens. Good to hear that they take their trees seriously but only $122 for nine trees I would have paid twice that!
On the topic of communications
The BAWA board has been discussing how we can keep you informed on what is happening related to BAWA and our interests in woodwork and related things. Over the years we have moved away from a once a monthly Newsletter delivered through the mail to on-line newsletter where we publish the reports on our monthly meetings plus our Calendar of future events and much more. The problem is that things do not always happen in nice monthly buckets. We hear of new events you may like to know about, or someone lets us know of free wood or wants to place an item for sale in our classified section. We did not know about the marquetry seminar with Paul Schurch occurring on February 24th and 25th until after the last meeting. Please look for the detailed announcement soon.
Steve Rosenblum, our Newsletter Editor is going to send out an e-mail shortly as follows:
"From time to time the club gets requests to publicize projects and opportunities to members. Because members do not check the website regularly, the Board proposes that we set up a mailing list of members who wish to be notified of these things on a weekly basis. Initially all members e-mail addresses will be on the list. Members will be allowed to opt-out if they do not wish to be notified on a weekly basis. All members will continue to receive e-mails monthly when the newsletter is available on the website."
BAWA 2012 Show Heads Up:
This year's show will be on the weekend of 20-21 October. Keep the dates free and start work on the project you plan to show.
BAWA Board Meeting
Before our regular January meeting we had a board meeting with Frank Ramsay, Per Madsen, Jay Perrine, Mark Rand, Marcus Miller, John Blackmore, Steve Rosenblum in attendance.
The following items were discussed:
For the 2012 Budget, the following assumptions were made:
1. Room rental in Foster City is $75 per meeting (12/yr) and $30 per hour for Board Meetings (2/Yr).
2. There will be 5 Honoraria paid at $100 each and 1 at $300.
3. Training classes will break even
4. The Annual Wood Show showed a deficit of $250 last year. We will attempt to break even here as well.
5. Other items in the budget will be similar to the preceding year.
The Board will set up a full time committee to coordinate the Annual Wood Show.
The planned monthly meeting schedule was reviewed and approved.
(Thanks to our Secretary John Blackmore for these board meeting notes)
Enjoy your woodworking.

Frank R Ramsay
President
frankramsay8@aol.com
---
Frank Ramsey called the meeting to order at 7:00 pm just like he is supposed to do.
Guests:
Blake, Dan, Harry and our two guest speakers, Bill Holloway and Mauro Hernandez, all joined us for the first time tonight.
Announcements:
Per Madsen reviewed the upcoming monthly meeting schedule that includes Kevin Fryer, a harpsichord builder, in February, BAWA's own Claude Godcharles talking about marquetry in March, Scott Wynn in April, BAWA's Bill Henzel in May and John Economaki from Bridge City Tool Works in June.
John Blackmore announced that BAWA is elevating the status of the committee that plans the Annual Wood Show to full time status. Members are encouraged to volunteer for this committee. The need is large, there is lots of work to be done and it is a great way to get involved in club activities. The committee will form in February.
Marcus Miller issued a call once again for annual dues. Only about half of the membership has paid. Step up, join in and climb aboard.
Stan Booker has a table full of door prizes for the lucky winners tonight and is starting a new raffle-this time for three beautiful walnut boards. The outer board in the sealed pack displayed beautiful grain and, as noted by Frank Taylor, has a "wall-knot." Stan assured us that the center, concealed board is "wall-knot" free.
Jay Perrine said he had received an email request from someone who wants a 30 inch sign made. Any takers? Please contact Jay.
---
Bill Holloway and Mauro HernandezofMasterWorks, the creators of the original WoodBicycle
MasterWorks is a company owned by Bill Holloway who is the principal designer. Mauro is the shop manager, master woodworker, designer and marketing/sales guru.
The company's emphasis is to use salvaged urban trees in all of its work.
Mauro introduced the company with a video showing us how the WoodBicycle was conceived, designed and built. Both Bill and Mauro could be seen riding their bicycles, along city streets and bushwhacking on single-track trails. Both gentlemen were clearly having a blast.
Mauro had started working in landscaping and joined Bill for a one-week work stint in woodworking, his first exposure, that has turned into an eight year career with MasterWorks. He loves woodworking and has discovered that wood has life in it.
Bill had been a floor coverer in his early work life, but inherited an appreciation for woodworking from his father. His first project was a spice rack he made for his wife, 15 years ago. His passion was awakened and today his goal is to put waste wood to work. MasterWork has a stockpile of 5000 board feet of salvaged urban lumber with another 40 logs awaiting the saw. The logs are cut on two milling saws that are owned by a friend. The company occupies 5000 square feet of space in San Jose. Species in the inventory include avocado, black walnut, sequoia, redwood and Monterey pine.
MasterWorks does not sell lumber at this point, although it may choose to do so in the future. Right now the sawing output is just sufficient to meet the needs of the company. The WoodBicycle, for instance, is made with a Hydrotech mahogany core and finished veneered exterior of urban wood. One of their latest projects was to design and build all of the tables in the Surf Spot, a restaurant in Pacifica. They always attempt to raise public awareness of the opportunity to use salvaged urban wood.
The WoodBicycle has been featured in Fine Woodworking and the Woodworking Journal. The simple bicycle takes about 80 hours to build and costs $6000. The more elaborate bicycle, similar to ones ridden by Bill and Mauro take 120 hours to build and costs lots more. Bill and Mauro take great pride in the handwork put into each bicycle. To date they have made 9 bikes and are currently working on a Pedi-cab. The bikes have special wide tires, coaster brakes and can be ordered with gears. The bikes are finished with Rosewood oil, or Penafin Verde that is easy to repair.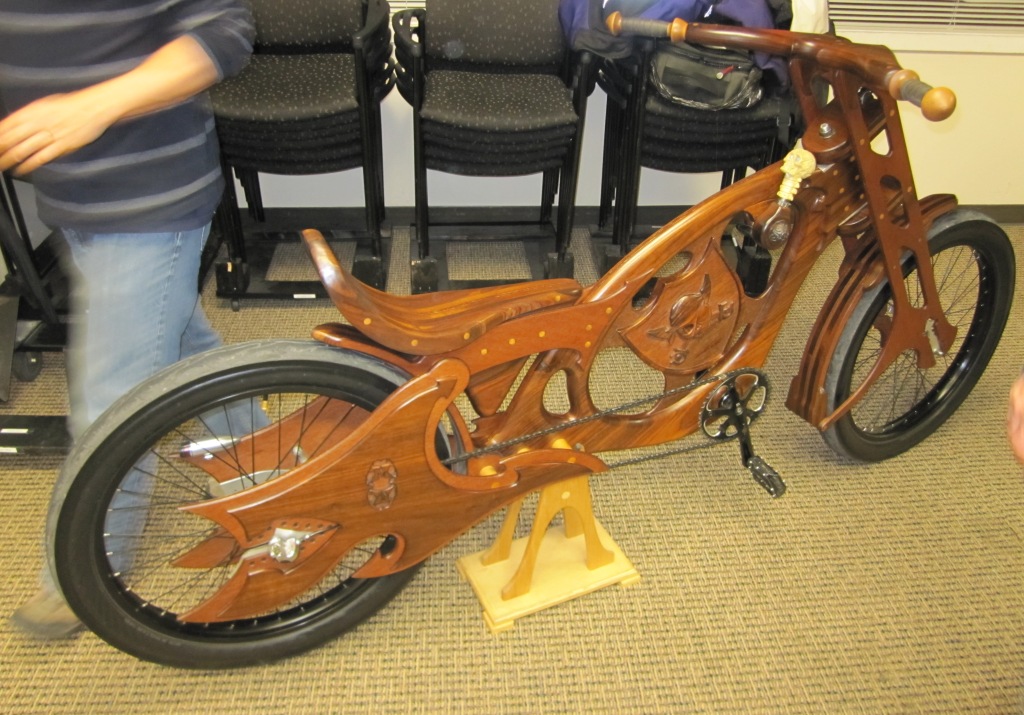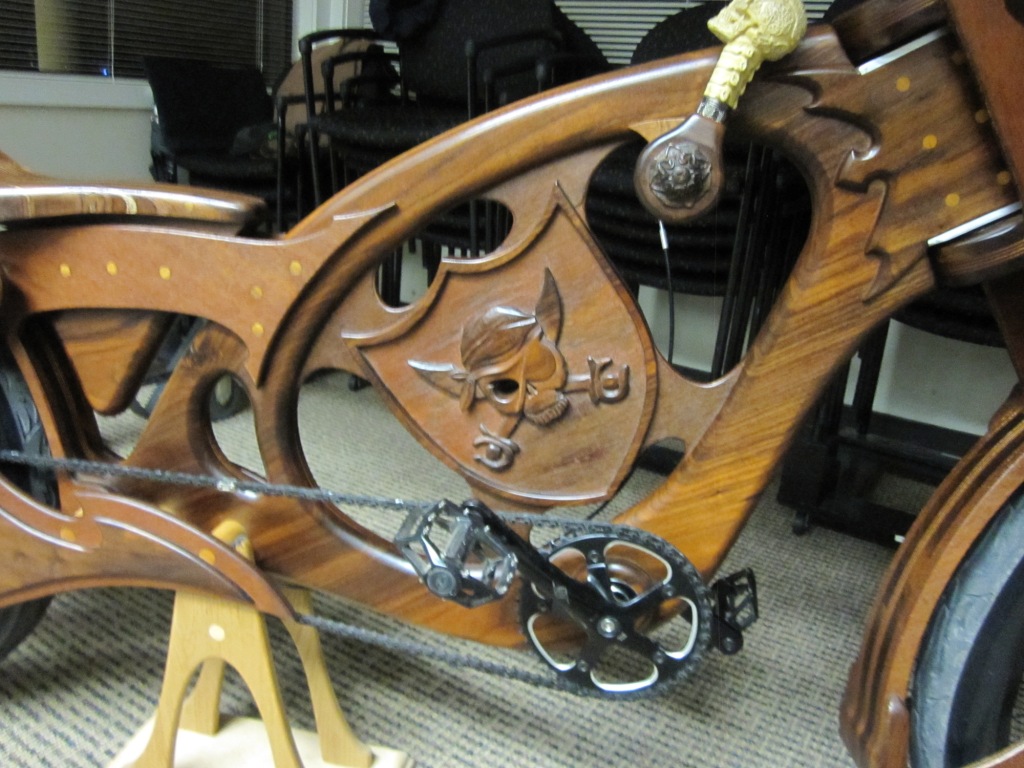 We were shown a slide presentation with photographs of several of their other projects, all based on the use of salvaged urban wood. Bill had designed a built a large red cedar arbor to cover a patio BBQ area for a friend. The hand carved posts gave the project a distinct Polynesian character.
Bill taught Mauro how to carve when making a mahogany staircase for a client in Saratoga. The flutes in the posts were hand carved with inset clusters of grapes. Mauro has since become the principal carver in the company. Carving is certainly one of the areas of expertise offered.
Bill made a mahogany table for his mom with cabriolet legs. It is elegant to say the least. Another project was a large carved back splash for a walnut cabinet.
As Bill and Mauro were finishing their presentation, the sergeant-at-arms had to hurriedly lock the doors of the meeting room so that the BAWA members who were mounting the bicycles could not ride off to yonder places with them.
This presentation was fascinating. And we were all impressed that such elegant, well designed work could be accomplished with salvaged urban wood. Let us know when you start to sell raw lumber.
For more information on these wooden bicycles: masterworkswoodanddesign.com/
---
Eric McCrystal from Woodcraft in San Carlos gave a short presentation about his recent work with Facebook to outfit their new 3000 square foot woodshop for the new campus in Menlo Park. Facebook is presenting BAWA with an opportunity. Facebook needs new furniture for its many public meeting rooms throughout the campus. Consistent with the company's "minimalist" philosophy, they want someone to design and build coffee tables, end tables, card tables, and chairs from a single sheet of unfinished CDX plywood. Facebook is proposing a "design and build" competition for these items and has asked BAWA to submit its creations. The winner may be asked to build more pieces for several other meeting areas as well.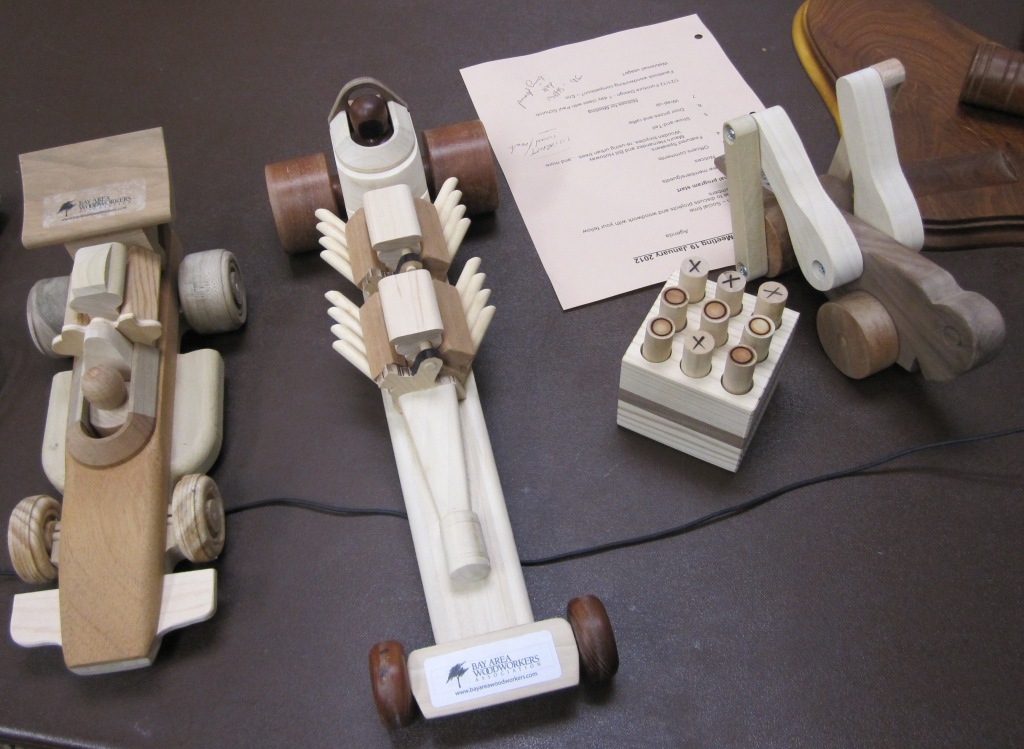 Toys from the Toy Workshop
Harold Patterson reviewed the accomplishments of the Toy Workshop program for the last year. Sixty-plus toys were contributed, 20 racecars, 39 crickets, and 8 tick-tack-toe sets built by John Wilson.
Bob Hulgan showed us two early 20th Century western style handsaws (Diston & Stilleto) that have a unique feature-a tab or spur on the top-front of the blade. He challenged us to identify its use. Then he presented a magazine article on the controversy. Frank Taylor and several other members said it was for marking the beginning of the cut. The jury is still out, however.
Tom Gaston showed us a tray he has made for use with his patio-serving cart. He made it with a figured wood left over from someone's flooring project. The consensus was the wood was probably sapele, or African mahogany.
Dan Goodman will be in charge of the Rebuilding Together Peninsula project this year. Ours will be to refurbish an outdoor deck in Daly City. Volunteers will be needed and signup start next month. Reserve time in April.

That's it. So long, folks.

John Blackmore
JohnBlackmore@comcast.net
And after the meeting in the car park: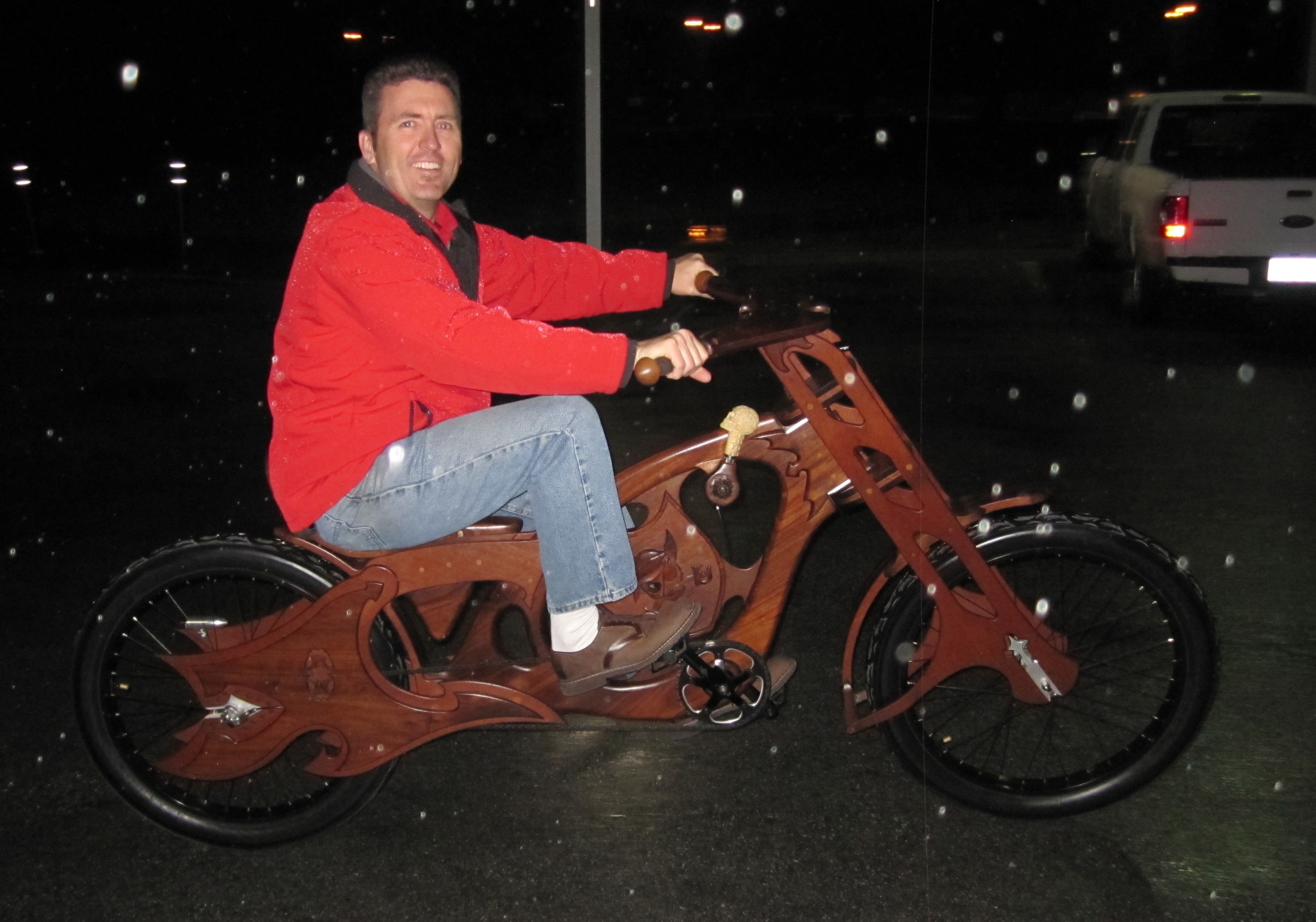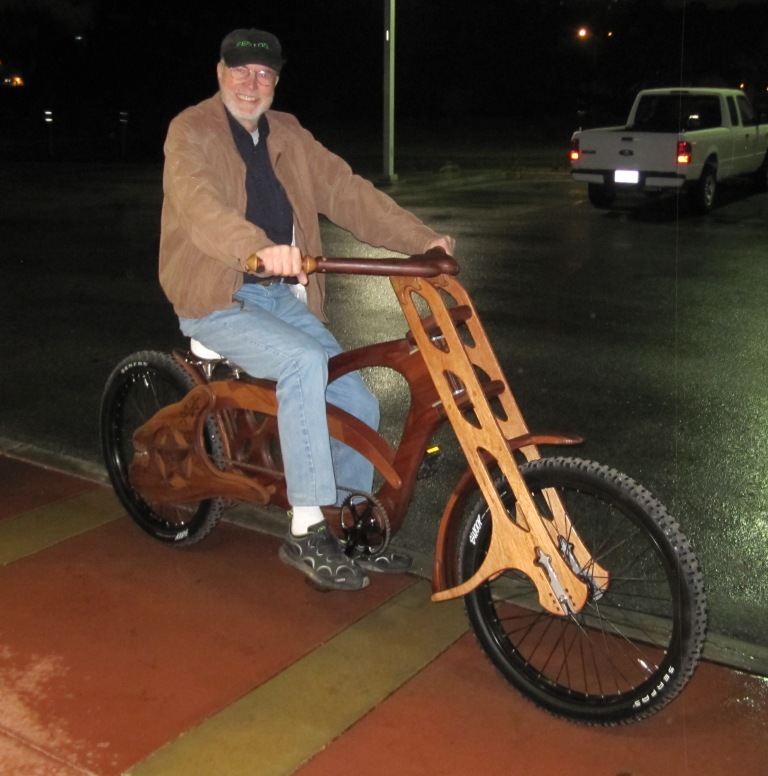 ---
---