---
President's Message
Fellow woodworkers,
On a personal note I wonder if my work being spied on by the Chinese? … and should I be flattered or otherwise?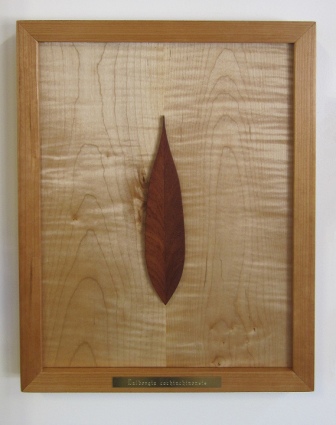 I made a Thai Rosewood table a few years ago and had some small scrap pieces left from where I had used a bandsaw to rough cut the shape of the leg. I liked the grain on them; two side by side looked like a leaf, so I kept them for a long time wondering what to do with them. I eventual put my artistic hat on, mounted them on a piece of Hard Maple to look like the botany prints of the late 19th century. I then decide to name the piece by the Latin name for Thai Rosewood as botanical drawings were always called by their Latin name. Hence the name Dalbergia cochinchinensis.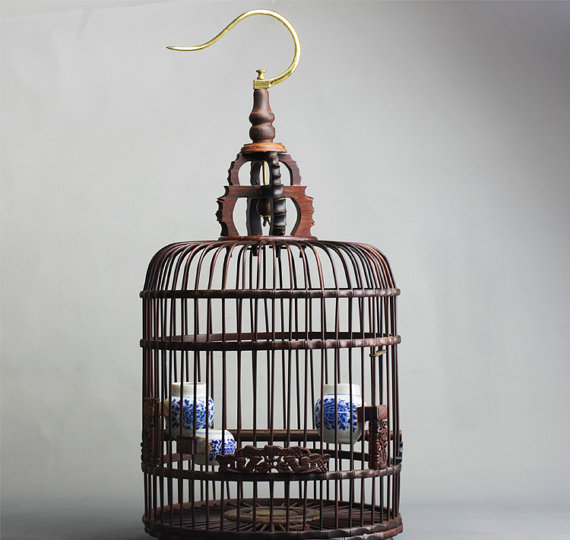 A few weeks ago I was looking through Google Images of Rosewood bird cages and came across this picture. The wood was called Dalbergia cochinchinensis. I had never seen any Chinese rosewood items called by the Latin name before – so did I start the trend?
---
2014 has been a busy year for BAWA, with many interesting presentations and activities.
We had a very diverse mix of furniture makers telling us about their work and design styles. Karl Felperin told us about his Mackintosh style chair design that he has adapted to manufacture on an NC routing machine. Chris Weiss talked about his experience as an apprentice in Japanese style carpentry and the building of large Japanese style structures. BAWA member Ken Napior gave a presentation on the reproduction furniture pieces he has made over the last 30 or so years. Ken has since given a series of technical talks at our monthly meetings on the different aspect of making reproduction furniture. We also had Roger Heitzman from Scotts Valley talking about the custom Art-nonveau style furniture he has designed and made.
We have had some very interesting Saturday workshop visits. In February we were invited to visit Facebook in Menlo Park where they have a large, well equipped workshop in the middle of their campus that any employee can use after taking a short safety course. The employees are working on many interesting projects with the support of a number of instructors from Woodcraft. The Beginner Level Best of Class at our show came from the Facebook workshop.
There was a visit to Schoenstein & Co, Pipe Organ Builders in Benicia and there was also a visit to Felperin Design associates to look at their NC router machine.
In the technical presentations we had John Burt, master woodworker and blacksmith talking about different types of steel used in tool making. We have also had techical presentations on handsaws from Scott Wynn and wood finishing from Ted Fay.
We had several workshop training sessions. Scott Wynn ran a plane-making class. We had a design workshop run by Chris Weiss and Scott Wynn. Then in September we were back in Chris Weiss's workshop for a class on how to sharpen and tune Japanese woodworking tools.
Charitable activities this year included a large Rebuilding Together project in April when many BAWA members worked on a major upgrade to a local daycare center. They built many things including a patio, stairs and play structures etc.
Toy Workshop group, coordinated by Harold Patterson, had many workshop sessions at both Jamie and Bill Henzel's workshops making truck, crickets and many other toys to distribute to deserving causes in the Bay Area.
To top it all we had our 4th Biennial Woodworking Show at Woodcraft in San Carlos in October where we had over 50 exhibits from our members plus some local school woodshops. The show was followed by a review of the entries by the judges John Lavine & Andreas Strieve at our November meeting.
So now we relax, enjoy our holiday party on December 11th while starting to focus on all our goals and activities for next year.
Happy Holidays

Frank (Contact at: Frankramsay8@aol.com)
---
Jay Perrine called the meeting to order at 7 pm. Jay was standing in for Frank Ramsay who is visiting his new grandchild in England.
New Members and Guests:
Tonight we welcomed two new guests, Randall Schwartz and Mike Tracy. Glen Krug, a BAWA veteran, rejoined us tonight after a hiatus.
Election of Officers
Jay convened the BAWA annual election of officers. The nominated slate is:
President Frank Ramsay
Vice President Jay Perrine
Secretary John Blackmore
Treasurer Marcus Miller
Newsletter Steve Rosenblum
Programs Per Madsen
Membership Fred Reicher
The nominations were seconded and the officers elected by acclimation. Fred Reicher would like to retire from his position but will serve until a replacement is found. We need a Refreshments volunteer. Anyone interested?
Financial Report
The Treasurer, Marcus Miller, reported the club has approximately $6000 in cash in its bank accounts and that the budget has been breakeven. Dues are $35 per member and membership stands at approximately 70.
---
Announcements:
Stan Booker, our raffle master, has an 8/4 maple plank 12" wide and 10' long. Tickets are being sold so everyone reach for your wallets.
Neal White has been cleaning up his shop and is donating T-nuts for the taking.
Harold Patterson is holding a Toy Workshop at Jamie's shop this Saturday, 10 am to 3pm.
Per Madsen reminded us that the December meeting is to be held on Thursday, December 11 in the Foster City Recreation Center. It is the annual Hors D'oeuvre / Dessert Pot Luck party. Bring it on guys. Arnold Champagne will be our featured speaker, perhaps sharing his secrets on making tea boxes.
In January, Jim Ritchey from Gunderson High School will be our featured speaker.
No topics have been announced for February, March or April.
In May, Far West Wood Products will visit BAWA and tell us about their operations.
---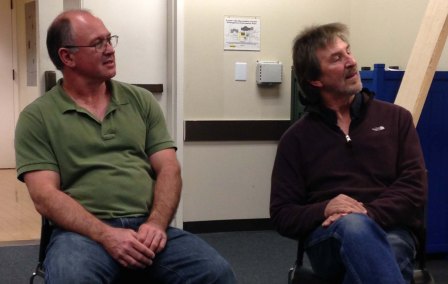 Tonight we are honored to have as our guest speakers the two judges from the Biennial Wood Show that was just held at Woodcraft. The two judges are John Lavine from Westmoor High School and Andreas Strieve who owns Gallery M in Half Moon Bay.
Claude Godcharles, the Wood Show Chairman, talked briefly about the great success of the show this year. We had over 48 pieces exhibited and more than 150 attendees who visited the show and filled out ballots for the People's Choice award.
Jamie Buxton and Harold Patterson photographed each entered piece as it was delivered to the show. The displayed works were judged on Friday afternoon of the show and the comments and suggestions from the judges were recorded. At the meeting tonight, Claude Godcharles presented photographs of each entered work. As each photograph was shown, the judges reviewed their recorded comments and made suggestions to each participant. Many of woodworkers from the show were present and had the opportunity to engage in a dialogue with the judges.
The process was constructive and informative. The judges reported that their overall impression is that the quality of the submitted work has shown considerable improvement over the last Wood Show. Finishing techniques garnered many compliments.
See the winning entries at: BAWA6NewsletterNovember2014
Our special thanks go out to the judges for their kind commitment to the Wood Show. We appreciate their careful consideration of all entries and the unselfish donation of their time.
John BlackmoreSecretary johnblackmore@comcast.net
---