---
President's Message
Fellow woodworkers
We have had a great year.
We decided to let our annual BAWA Woodworking Show rest for a year and come back in 2014 with a biannual show to give you all plenty of time to create some new master pieces for display next October.
But even though we did not have a show this year we had a lot of activity.
Guest speakers at our regular meetings included:
Local artist Bernie Lubell talking about his large "interactive wood machines" (man driven wooden sculptures) that have been shown around the world;
Chair-maker John Moldovan talking about design criteria for chair making and showing examples of his work;
Also from the academic side we had presentations from:
Laura Mays, College of the Redwoods;
Russel Baldon, California College of the Arts;
Dr. John Shelly,University California, Berkeley;
We also had our own member-driven sessions covering Jigs and Fixtures, the Box Contest and the ever-popular 2x4 contest.
In addition to our regular meetings we had many interesting visits:
The workshop of Loy Martin a studio furniture maker based in Palo Alto;
Jon Kaplan hosted the IDEO Labs in Palo Alto;
Bob Nisbett's home/workshop in Danville where he showed us many of the beautiful chairs he has designed and made over the years. (We also had tea and coffee accompanied by homemade scones covered in homemade jam);
Big Creek Lumber Company in Davenport, were told how they sustainably manage their forests and then we got to see the big noisy mill in action;
More recently, Lou Kern's shop in Oakland for a demonstration on how he made "simple" jigs for shaping his elaborate Victorian staircases;
Other activities included:
A vacuum bag event at Woodcraft, San Carlos, where several of our members discussed and demonstrated many practical ways of using vacuum bags for veneering and bending;
In addition Jay Perrine and Dan Goodman coordinated our members involvement in this year's Rebuilding Together project;
Plus Harold Patterson and Frank Taylor led the team at Jamie Buxton's workshop making kaleidoscopes and other toys at our Toy Workshop sessions;
2013 was a full and interesting program for which we have to thank Per Madsen for being the main driver behind putting together our annual program. (It is not too late to contact him with any suggestions you have for next years program)
After all this stimulation and knowledge absorption I think we will enjoy our December meeting with our Hors D'oeuvre / Dessert Potluck while we are "entertained" by the members Show and Tell contributions.
If, like me, you sometimes have trouble remembering what we did or who we had as guest speaker at our meetings, do like I do. Go to our Historical Calendar under the Schedule tab.
It is all there back to 2010 and, if you want to go further back go to our Past Newsletters where if you go to the archives at the bottom of the page you can access our Newsletters back to 2001. (I am too young to know if we had Newsletters before then!)
I hope that you and your families enjoy the holiday season and wish you all the best for the New Year ahead.
Frank [Contact at: frankramsay8@aol.com
---
Board meeting notes
Below are the minutes from our Board meeting held November 21, 2013:
The following board members attended the Board meeting: Frank Ramsay, Jay Perrine, Per Madsen, Fred Reicher, Mark Rand, John Blackmore, Marcus Miller and Frank Taylor. Non-voting club members present were Neal White and Stan Booker.
Frank opened the Board meeting by asking for a report from the club treasurer, Marcus Miller. Marcus said that in 2013 club membership declined to 77 from 86 the previous year. The club has $6,800 in its savings and checking accounts. Cash flow was positive for the year with an addition of $600 to savings.
After a discussion of last year's expenses the following budget for 2014 was proposed:
Revenue
Dues $2 800
Silent Auction $200
Expenses
Honoraria @$150 $1,500
Room rental $900
Insurance $600
Web Site $112
Raffle $160
Contingency $200
Total Expenses $3,472
The Board approved the budget and voted to keep the club dues at $35 per individual membership for 2014. In addition the Board agreed that we would circulate a signup sheet at each meeting so that we can track attendees.
The Biennial Wood Show as discussed and Frank will ask Claude Godcharles, the show chairman to explore joint sponsorship of the show with the other bay area woodworking clubs. We will solicit participation from the bay area high schools with woodworking programs.
John Blackmore suggested we consider conducting quarterly technical seminars on woodworking subjects of interest to the membership in an attempt to add value to the membership experience. The Board endorsed the seminar idea and John will develop a set of topics to be presented to the club membership at the December meeting.
Frank Ramsay said that we need a volunteer to manage the refreshments process for the club meetings. In addition, we need to encourage the meeting attendees to contribute to the refreshments fund so that it can attain breakeven status.
The Board discussed the effectiveness of the various contest held by the club each year. The 2 x 4 contest is popular, but the box contest failed to attract contestants this year.
All current Board members agreed to stand for re-election.
Board meeting notes by John Blackmore
---
Annual Meeting held November 21, 2013
Frank Ramsay called the annual meeting to order at 7:00pm and called upon Marcus Miller, the club treasurer, to review the financial status of the club and to present the budget for 2014.
Marcus explained that the club's membership declined slightly in 2013 to 77 from 86 in 2012. Nevertheless, the club added $388 to its cash position that now totals $6,200 in the bank. In 2014, the club expects to receive $3,000 in revenues, principally from membership dues and to incur expenses of $3,472. The largest expenses are honoraria for guest speakers at $1,500, room rental at $900 and insurance at $600. The Wood Show to be held next October is expected to be a breakeven proposition. Technical seminars will be self-supporting and refreshments have been losing money. Members are encouraged to contribute to the refreshments fund when they partake of the spoils. Frank has asked that someone in the club consider volunteering to head the Refreshments Committee.
Election of Directors.
The club held its annual election of officers. All the 7 present officeholders were re-elected by acclimation.
For 2014 the BAWA Board members are:
President: Frank R. Ramsay
Vice-President: Jay Perrine
Secretary: John Blackmore
Treasurer: Marcus Miller
Newsletter Editor: Steve Rosenblum
Program Director: Per Madsen
Membership Director: Fred Reicher
You can find their contact information posted on the Contacts page of oue website so please fel free to conact them if you have any questions, suggestions or comments about our Association.
---
After the close of our Annual Meeting Frank Ramsay then called the regulrar meeting to order at 7:30pm
Two guests joined us at the meeting tonight. Bob, who lives in Foster City is a hobbyist and makes toys for children with another group of his friends. Scott Wynn, a guest speaker earlier this year, joined us with a set hand planes he has made.
Announcements:
Frank Ramsay introduced the Announcements for the evening with a short description of his experience of having participated in SF Open Studios. He said that all three of the woodworkers showing work in the show sold pieces displayed in the master exhibit.
Per Madsen previewed upcoming meetings. The December meeting will be held on the second Thursday, Dec. 12 and will feature the annual hors d'oeuvres and dessert potluck. In addition, members are encouraged to bring in a Show and Tell item. The January meeting will present Karl Felperin, a club member, who will talk about a NC machined Mackintosh chair kit he has developed. In February, we hope to feature a visit to the Facebook shop on a Saturday, details to follow later. The meeting speaker will be John Burt. In March, Scott Wynn will return, this time to talk about handsaws.
John Blackmore introduced the idea for quarterly hands-on technical woodworking seminars that will offer members the opportunity to learn new and to improve existing skills. More information will be presented later as this format is developed.
Harold Patterson described the efforts of the Toy Workshop crowd that churned out 30 periscopes at the last session. The next workshop is scheduled for Saturday, November 23 at Jamie Buxton's shop.
Stan Booker has a beautiful cherry board measuring 14" wide and 9 feet long for the raffle. He is selling many of his old woodworking magazines, journals and books for half price.
Neal White described some of the items in this evenings' Silent Auction: 7 hand screws for a veneer press, polishing and sanding discs and a carpenter's tool belt.
---
Juan Hoveyaka Juan Vergara, a maker of fine infill hand planes.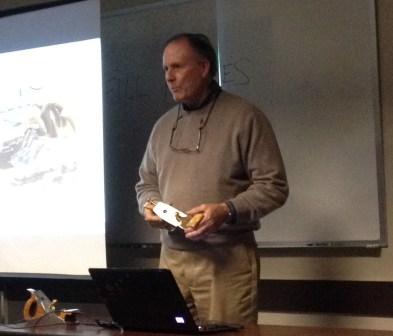 Jay Perrine introduced our guest speaker Juan Hovey, aka Juan Vergara, a maker of fine infill hand planes. Jay had been intrigued by Juan's elegant hand planes on exhibit at a woodworking show held recently at the Foundry in Oakland. Jay simply introduced himself and invited Juan to speak at our meeting. We are honored to have this opportunity to learn more about Juan's beautiful planes.
Juan Hovey, who uses his mother's maiden name as his professional name in woodworking, made his first plane only two years ago. When he retired from being a newspaper writer/editor he developed an interest in woodworking and with a generous gift of $10,000 from his daughter, set up a woodworking shop in an expansion of his garage. Then after just a few years of furniture making, his wife approached him one day as he worked in his shop and said "enough, no more furniture. The house is full."
This plea left Juan with a dilemma. He loved woodworking, but what could he make that was both small and had value? Seeing a photograph of an old Norris infill plane, he thought he saw an opportunity. Using his literary and research skills from the newspaper field, he did his research and made two infill planes. Myrtle was the infill wood; the planes were admittedly crude, but cut beautiful thin ribbon shavings. A new chapter had begun.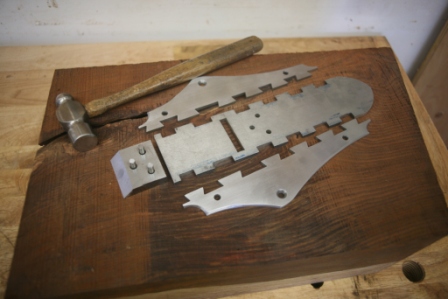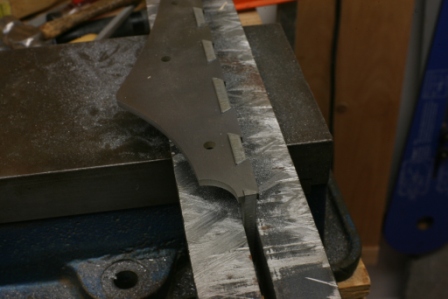 In October of this year, Juan was exhibiting his planes at a wood show in Pasadena and who should stop by, but Yeung Chan. Yeung admired his work and made what proved to be a pivotal suggestion: "Take a line in your plane you particularly like and design a plane around it." Having no design experience, Juan was somewhat flummoxed, but did as suggested. He chose the flowing line of his rear handle and made a new plane, the genesis of the planes he showed us tonight.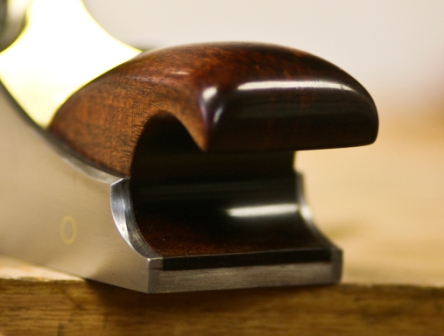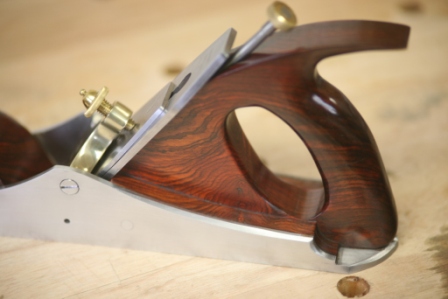 Juan uses black acacia, his favorite wood for color and texture. The plane body is made of 01 tool steel, the sole or base is 3/4" thick, the sides 3/16" thick. He contracts to have the steel parts cut by water jet. The sides are joined to the sole with dovetails and rivets, tails on the bottom and pins on the sides. The parts are loosely assembled then joined by peening with a ball peen hammer. The steel moves, filling the joints, then is filed smooth using an assortment of high quality files. The peening operation alone takes 2.5 hours. His front handle, or bun is uniquely his design. He uses Hock blades. His plane typically has a frog angle of 45 degrees and a blade bevel angle of 30 degrees.
His goal is to join the ranks of today's four best infill plane makers. He is 69 years old, is busy, completely absorbed in his craft and wishes he had more hours in the day. He likens himself to the Karate Kid who first had to learn how to best paint the fence. He will be the best that he can be; the journey is challenging and exciting.
Yeung Chan joined all of us to thank Juan for coming to BAWA and sharing his adventure and beautifully crafted planes.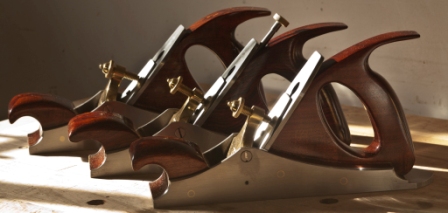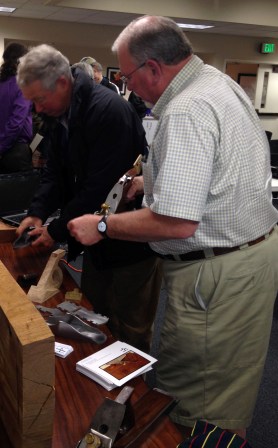 ---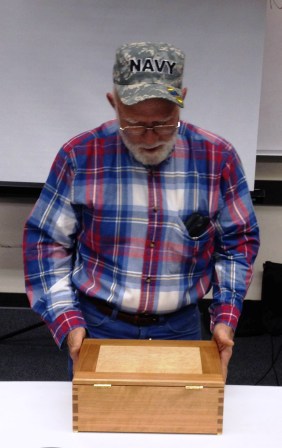 Arnie Champagne showed us a tea box he has made as a gift. It features a bird's eye maple veneer on the top, and holly dividers inside for the tea compartments. He cuts the dividers to a thickness of .127" and sands down to .125", the exact thickness of his saw blade, thus achieving perfect interlocking pieces. He is not happy with the brass hinges he has been able to find. He would prefer three holes in the hinge leaf for the lid because it is 3/8" thick and he cannot use the 3/4" screws provided. Lid attachment would be improved with 3 short screws instead of only two screws.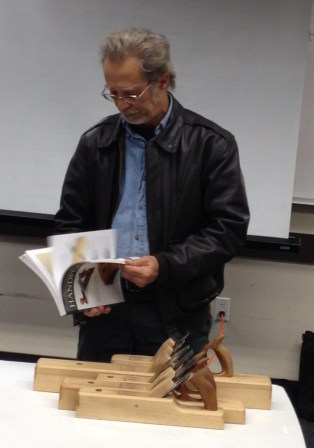 Scott Wynn, who wrote the book "Woodworker's Guide to Hand Planes", brought in a full set of hand planes he has made, including a Jack, Fore, Panel, Jointer and two Block Planes with coffin sides. He described the features that are unique to his designs of hand planes, such as the location and bedding of the striking pin. Scott said he would be interested in doing a technical seminar on hand plane design and construction.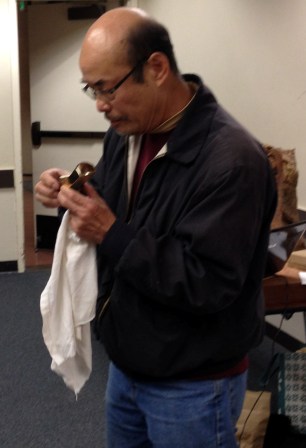 Yeung Chan presented an infill block plane he designed and made. Its unique feature is that the blade opening in the sole is located at the mid point along the base of the sole, not forward as is typical. This unique feature provides product differentiation along with better balance and cutting.
John Blackmore, Secretary
JohnBlackmore@compactness
---