---
---
President's Message
Fellow woodworkers,
Last month, the artist Bernie Lubell, who was our guest speaker a few years ago, sent me an email about the open house tour at Autodesk's artist-in-residence program (AIR) on Pier 9 in San Francisco.
It is an amazing place. One of the most advanced workshops I have ever seen. It is equipped with the most advanced 5-axis CNC machines, a water jet cutter with a table size of 12' 0" x 6' 5", 3D printers, metal working machines, woodworking machines… I estimate that the value of the equipment must be close to $1M. The artist are trained in the use of all this equipment then are free to do with them whatever they like, provided they publish their work on the Instructables. The attendees are artists in the broadest sense; not much of the work is done by using brushes and a pallet – unless the brush is being held by a robot.
See the Instructables: instructables.com
There are about 16 artists based there at any one time on 4-month residences for which they get a $2,000 per month stipend plus the cost of all their materials. (I would happily spend 4 months there for free)
One of the interesting things we saw was a lady moving her hand in front of a gigantic industrial robot, the type used to weld cars on a production line. And the robots arm followed sensors on her palm. She also had a safety device about the size of a small handbag tucked under her arm. If she released the pressure or pressed to hard the machine would instantly stop. It was a big machine; one small coding error and it could literally knock your head off. The aim of this workshop/laboratory is to explore the making of 3D objects and therefore the advancement of Autodesk's tools
You should check out their site: autodesk.com/artist-in-residence/home
Some pictures from the exibits: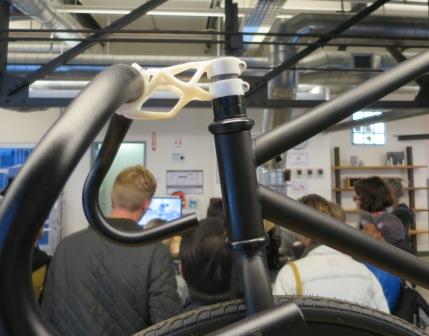 3D Printing: Bike handle bar attachment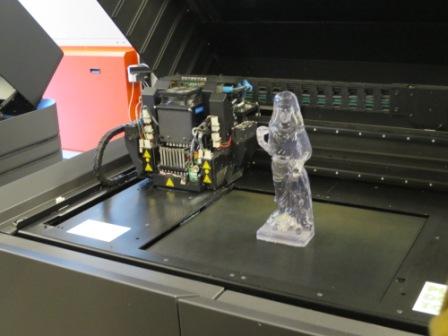 3D Prining: Statue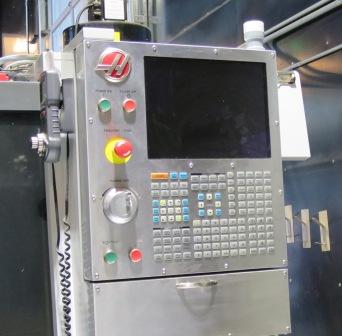 Typical machine control panel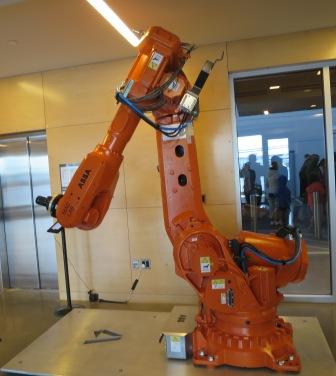 The big robot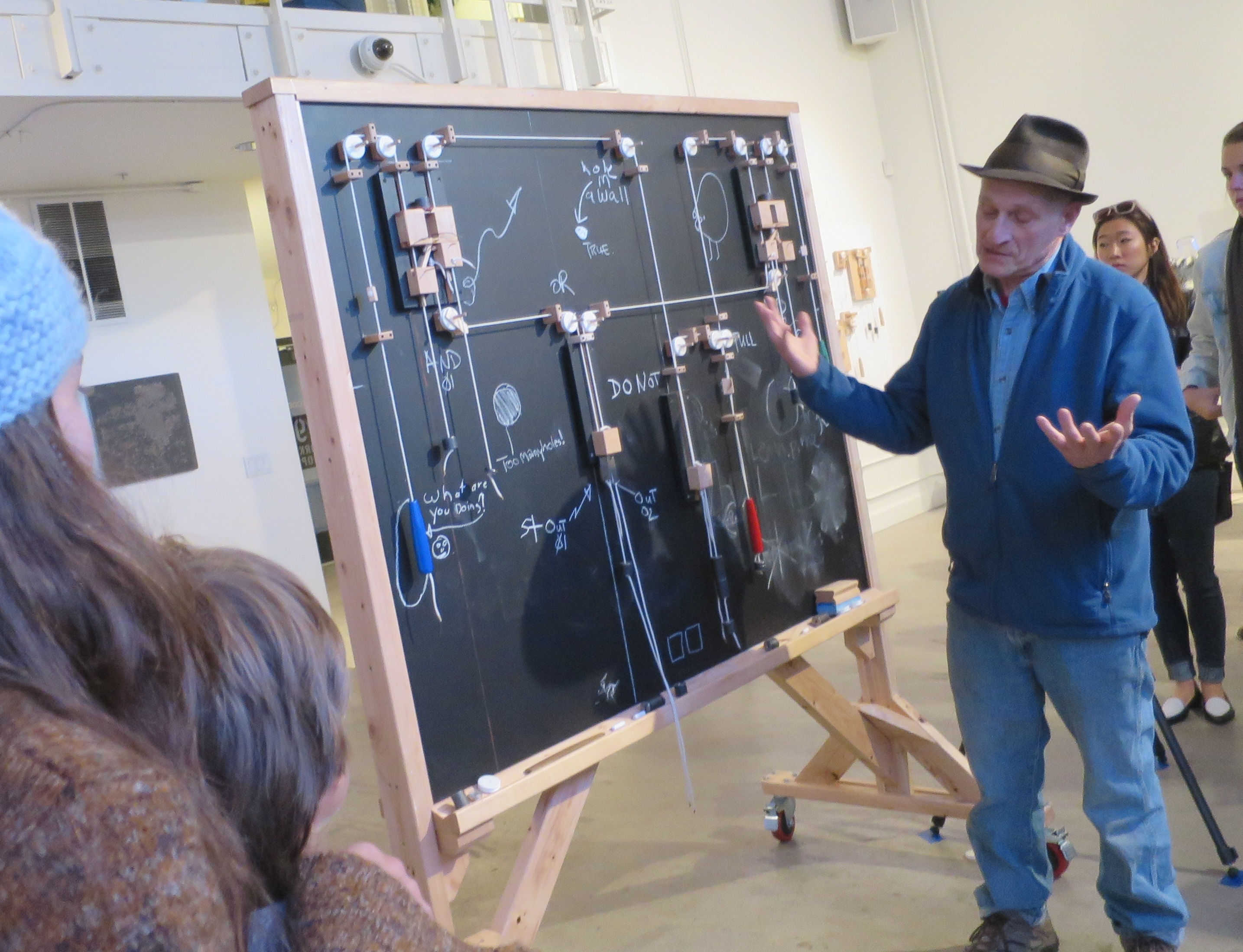 Bernie's wood and string basic computer (I do not think he used any of the advanced machines)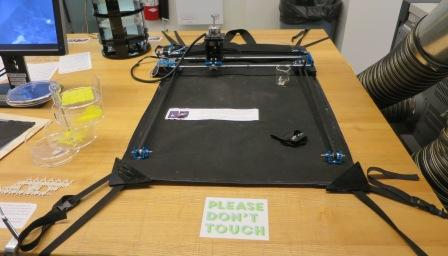 Small roll-up 3D printer: used for printing electronic circuist on fabric amonug other things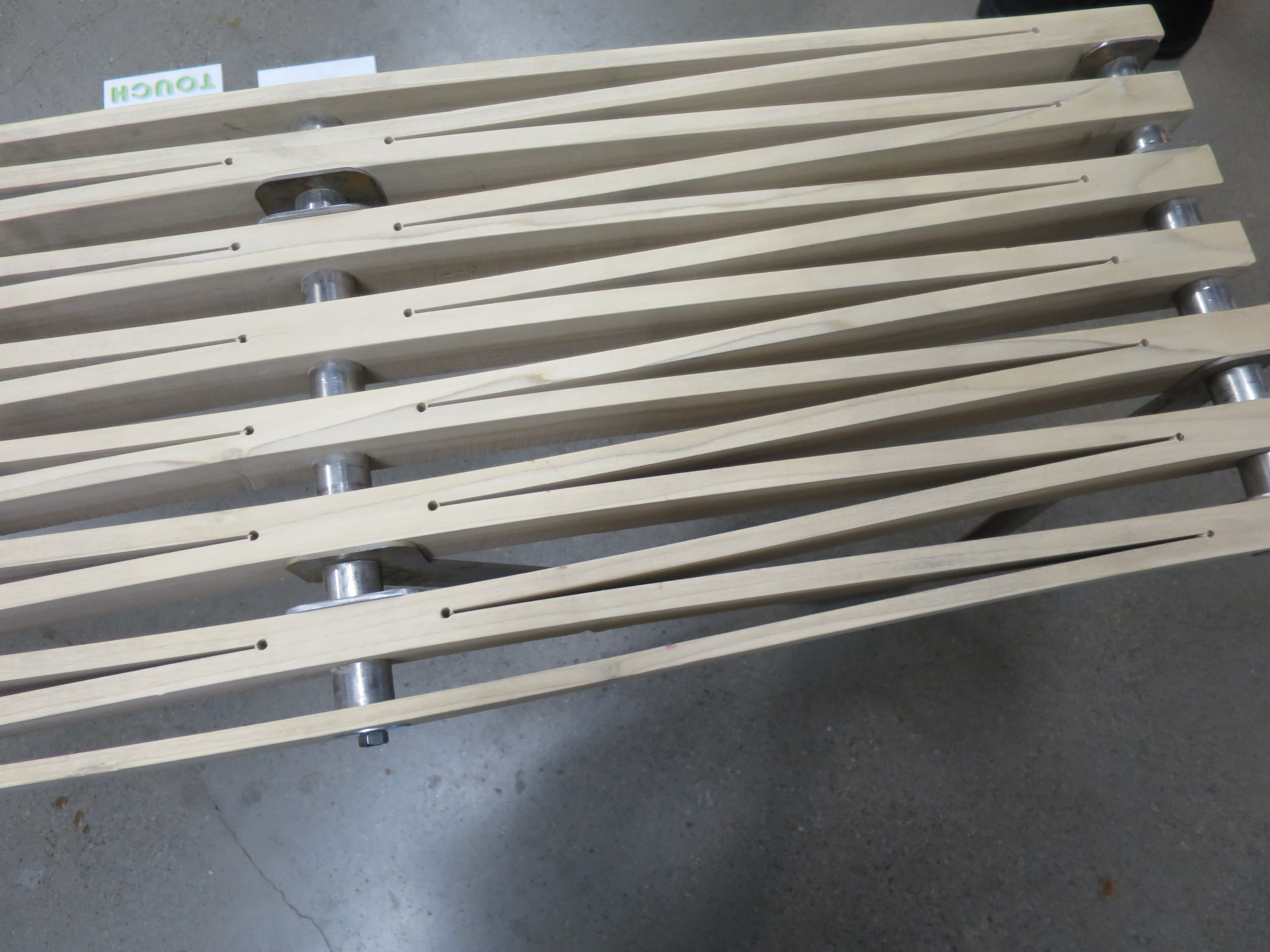 Water cut "slats" on wooden bench
Is this the future for craftspeople?
Enjoy your woodworking.
Frank (Contact at: Frankramsay8@aol.com)
---
BAWA Board Meeting Minutes, November 19, 2015, Foster City Rec Center
Present: Frank Ramsay, John Blackmore, Per Madsen, Mark Rand, Steve Rosenblum(late)
The Board agreed that in light of changes to the structure and functions of the Club's officers and chairmen that the Board offices be redefined.
The following offices will be as defined in bylaws:
President
Vice President
Secretary-the main function of this person is to record and publish the meeting minutes on the website.
Treasurer
Membership: to develop programs to attract and retain members-Mark Rand
Two new committee chairmen are to be defined:
Media: to communicate with members via e-mail and to maintain the classifieds on the website-Bruce Powell was proposed to add this to his present activities in this area.
Education: to develop programs for mentorship, training, and seminars in woodworking skills-John Blackmore.
The financial report for 2015 was reported and approved. For the fiscal year from April 1-Dec 31 we had income of $724.41 and expenditures of $1558.97 for a deficit of $834.56 The year ended with $3383.04 in the checking account and $2089.51 in the savings account. The 2016 budget was presented and approved based on a membership of 70 members. The details are described in the annual meeting minutes.
Steve Rosenblum, Secretary
---
President Frank Ramsay called the meeting to order at 7:10 PM.
The first order of business was the annual meeting to elect officers and receive a finance report.
The current slate of officers has agreed to stand for election and no other candidates were proposed. The current slate was re-elected by acclamation. They are as follows:
President-Frank Ramsay
Vice President: Jay Perrine
Secretary; Steve Rosenblum
Treasurer: John Blackmore
Programs: Per Madsen
The Board has proposed two new positions:
Media Director: Bruce Powell who will be responsible for web and e-mail communications with members as well as for maintaining the Classifieds online.
Training/Education: John Blackmore who will be responsible for educational workshops.
John Blackmore presented the financial report.
We now have 69 members. Our budget plans for 70 members next year. We have $3397 in our checking account and $2089.71 in our savings account. 2015 was a breakeven year for finances.
Our main budgeted expenses for 2016 are $750 for room rental, $1200 for honoraria, $464 for liability insurance, $200 for contingency, $14/month for checking account, $600 for the wood show, $30 for meeting refreshments, and $100 for technical seminars. Our main income is from dues, which are to be paid in December and January. The Board is considering levying a penalty for late dues payment to avoid the need for nagging. We are also switching to a calendar year budget rather than a fiscal year, as has been the case in the past, as this will make it align better with the receipt of our dues income in January.
The Woodworking Show is expected to take place this year again. The show is expected to break even so we are going to charge $20 to exhibit large items and $10 for small items. A show committee is now being formed.
---
New Members and Guests:
Guests were announced as follows:
Chad from SF introduced himself. He has done some steam bending and wants to learn more techniques for working with green wood.
Announcements:
Per then gave a schedule of upcoming events.
Dec. 10th will be our annual potluck with members asked to bring a dessert or hors d'ouevre to share, with guest speaker Arnie Champagne.
The calendar for 2016 is under construction with January and February open.
Frank announced that most of the old BAWA newsletters have now been scanned onto the website from July 1992 with a few gaps. If anyone has copies of old newsletters, please pass them on to Frank.
---
Scott Wynn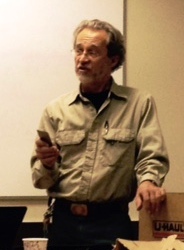 Per then introduced our speaker, Scott Wynn, whose topic will be handplanes.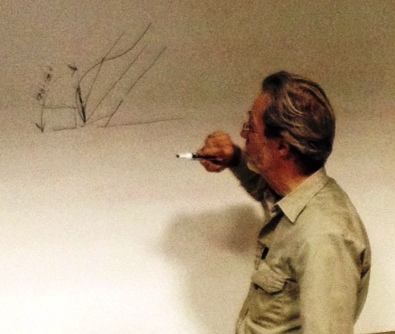 Scott is working on an updated version of his book on handplanes, which will be broken into three parts, the first part dealing with Bailey planes.
He began by showing a plane that he had recently bought at a flea market with a corrugated sole and laminated blade and lots of rust. The only markings indicated that it was a Montgomery Ward Lakeside plane. He began by tuning the chipbreaker to a 90-100 degree bevel, with a square edge, not curved as is often found on Stanley planes. He then worked to flatten the sole using sandpaper glued to a flat granite surface, Beginning with 800-100 grit, he tried to achieve flat and parallel areas at front and back of throat and in middle and tail of the plane. In order to reduce the amount of labor required in sanding he used a file to remove material between these areas so they were below the intended flatness plane. After flattening the sole he filed the throat to a 90-degree angle to the sole.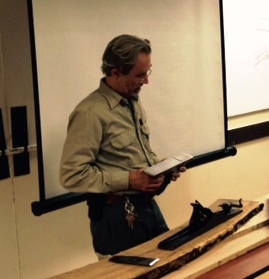 His next effort was to tune a Stanley 60 ½ plane that he bought a Tooland. The sole was fairly flat but rough and the blade bed area was small. The throat piece was rough on the edge and needed to be filed. I took him abut 15 minutes to flatten and smooth the sole. You would also need to square up the sides to the sole if you expected to use it on a shooting board. He replaced the blade with a Veritas PMV11 blade to test the plane. He next plans to tune up the stock blade to see how well it works.
He then described a box shaped plane that his Dad had bought at a church auction for $5 which could be worth $600 if it were in working shape. Scott plans to see if that can be done.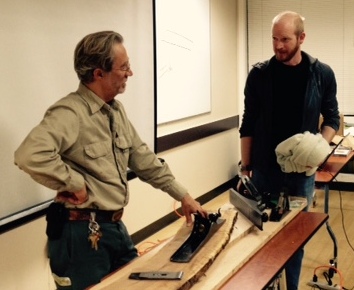 Scott then opened the meeting to requests and Chad brought up a bunch of his handplanes for evaluation.
Finally some real work
---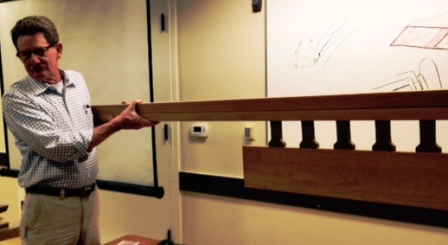 After a 5-minute break show and tell began with a presentation by John Blackmore of a king size bed he is constructing from mahogany and angelique using mortise and tenon and dowel joinery. He brought just the headboard for show.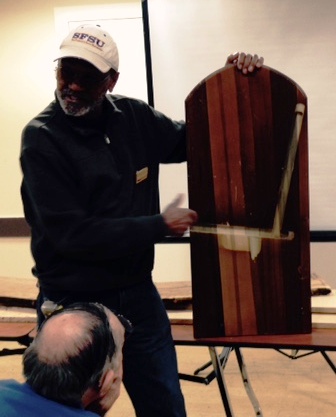 Stan showed a part of a church pew that he had salvaged which was originally 13 ½ feet long, asking if the wood could be identified. Guesses were gum, magnolia, or poplar.
Jay Perrine paid $2 for the Dust Hood Steve had donated to the Silent auction.
Stan Booker announced that the wood raffle now has $83 in the kitty with $100 needed before it can be raffled. He also has woodworking books for sale at the back of the room.
The meeting was then adjourned.
Steve RosenblumSecretary steve@rosenblums.us
---