---
Presidents Message
Fellow Members
I would like to thank last year's Board members for all their time and effort that they put into the job throughout the year. It takes a lot of emails and messages to coordinate our activities each year. Last year's Board members were: Jay Perrine, John Blackmore, Mark Rand, Steve Rosenblum, Per Madsen and Fred Reicher. At our November meeting we elected the Board members for the coming year and are fortunate to have the same team as last year except for Mark who is stepping down from his position as Treasurer.
Mark has been with BAWA since almost the beginning and has served many positions. He was Vice President in the early part of the century before moving on to be our Treasurer as well as a regular contributor to our Newsletter with his This-and-That section and much more.
I am pleased to say in recognition of his services Mark has now been given the position of Honorary Director; which means he will still be in a position not only help contribute to the running of the Association but also to bug us on things that need to be done.
We welcome to the Board our new director, Marcus Miller, who will be taking over from Mark as Treasurer.
Planning for next year is well underway:
Per Madsen is putting together a program of interesting meetings and is starting to think about any special trips or training programs we could run that would be of benefit to our members.
If you have any suggestions or requests for our activities next year then please drop an email to Per at: permads@comcast.net
A Board meeting is scheduled to take place immediately before to our meeting on January 19th. The Board meeting is from 5.00pm to 6.30pm so we can finish in time to enjoy the meeting.
The provisional agenda is:
2012 Budget
2012 Program
Increasing Membership
As members you are welcome to come to the meeting and hear the deliberations.
It is that time of year again: Membership dues are due.
At our last meeting in November we voted to increase are dues this year by $5 to $35 for member and $40 for family membership. The increases are the first for many years and are to help off-set our creeping increases in our costs.
For example: The majority of our meetings are now held in the Foster City Recreation Center where we have to pay for the rental of our meeting rooms. Plus we are bringing more guest speakers we are seeing an increase in our speaker fees.
Please send a check for your dues to our new Treasurer Marcus at:
Mr. M. Miller
1075 Space Park Way #5
Mountain View
CA 94043
Or bring your check or cash to our next meeting on December 8th.
Enjoy your woodworking.

Frank R Ramsay
President
frankramsay8@aol.com
---
Frank Ramsay called the meeting to order at 7:00pm. The first order of business was the election of club officers for the year 2012.
ELECTION OF OFFFICERS:
The following slate of officers was nominated and elected by acclimation:
President Frank Ramsay
Vice President Jay Perrine
Secretary John Blackmore
Treasurer Marcus Miller
Newsletter Editor Steve Rosenblum
Program Director Per Madsen
Membership Director Fred Reicher
TREASURER'S REPORT
Mark Rand announced that he is relinquishing the Treasurer's position at the conclusion of this calendar year. He reported a cash balance of $2800 in the club checking account and $1,900 in the club savings account. We incurred a deficit of $198 for the Second Annual Wood Show.
Mark was honored with club certificate and a turning block for his years of service to the club.
Frank Ramsay asked the membership to consider raising the club dues by $5.00 per year, to $35 for an individual and $40 for a family membership starting in 2012. The new directors were polled to ascertain their position on the issue. There was unanimous support for the fee increase.
New Members:
Raymond Burger, Jr. of Belmont visited us for this meeting. His focus is on finishing
Announcements:
Per Madsen described the up coming meetings:
December 8: The annual potluck dessert social and Christmas ornament contest. Dave Biggart of Mohawk will talk about the many Mohawk finishing products.
January 18: Bill Holloway and Mauro Hernandez from Master Works Wood and Design will be our speakers.
February 16: Kevin Fryer, a renowned harpsichord builder will present to us.
March15: Claude Godcharles will give a presentation on marquetry.
Stan Booker, Claude Godcharles and John Hickman volunteered to help Per on the Program Committee.
Harold Patterson announced that a Toy Workshop would be held on Saturday, November 19 at Bill Henzel's workshop. He needs volunteers to help complete all the toys that will be given away before Christmas.
Stan Booker described the maple boards in the current raffle and said he would be drawing tickets for 4 door prizes.
The Silent Auction items for the night included: books and magazines for free, a mini drill press and an Exacto knife set.
Bill Henzel has a Unisaw for sale. See the want ad section.
Gorilla Glue has donated samples to the club for trial use. They would like feedback.
---
John Seybold demonstrated a board with a raised guide strip he uses to plane thin strips of wood.
Frank Taylor unveiled a folding glue up table he designed and built; nothing short of amazing. It would be a shame to get any glue on it.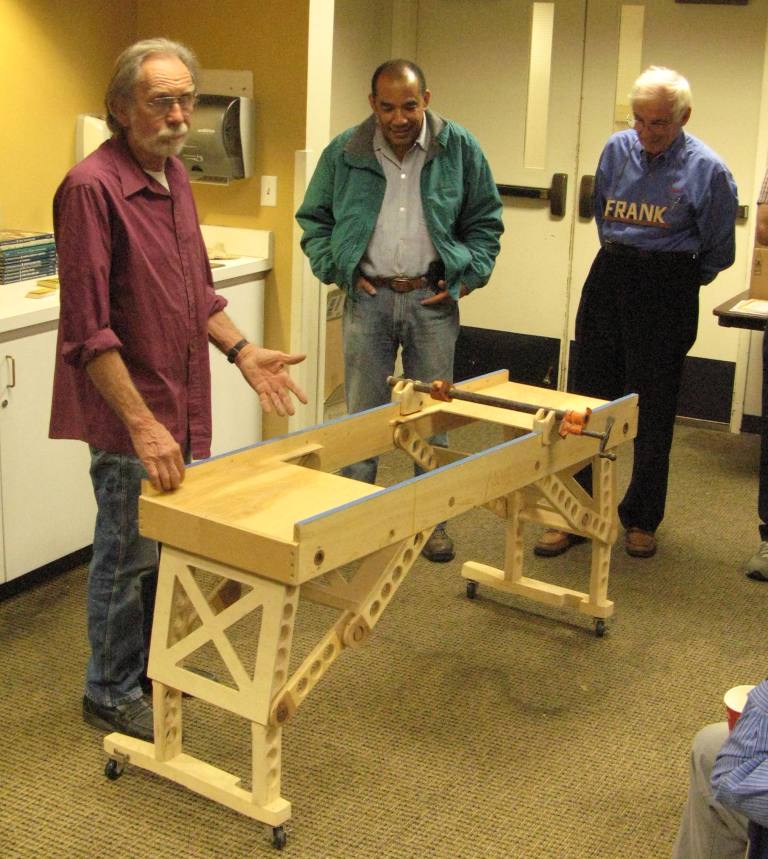 It started out as an erector set
Jamie Buxton explained the bending fixture he built to form the curved seat stretchers for his Mid Century Modern (Danish) dining room chair. The vacuum bag containing the glued wood is placed over the curved demi-lune fixture. Locking handles secure the part in place on the fixture. The chair is made of ash, the legs are turned, the stretchers are bent laminations, it has a scooped seat created with a carbide tipped grinder blade, then sanded to final shape. He made an optional fabric seat.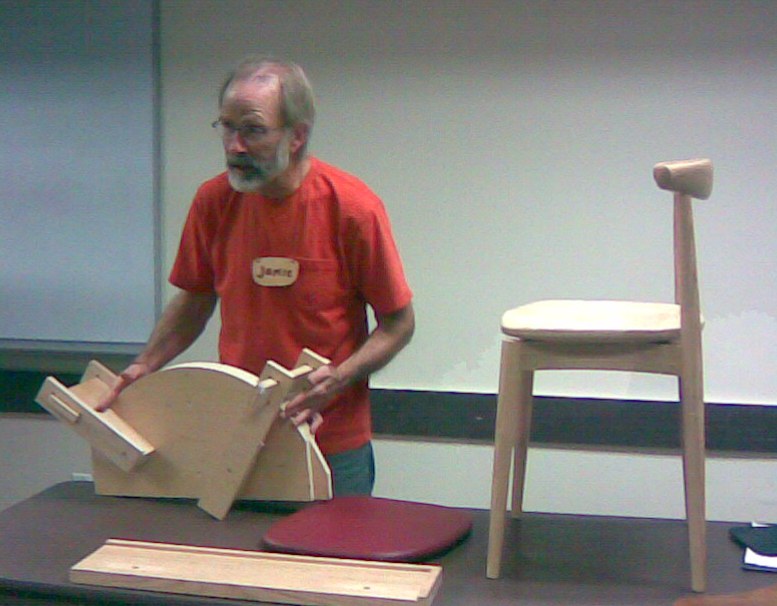 Jamie's Bending Fixture
Jay Perrine showed us edge-joining fixture with a mounted router.
Harold Patterson brought in his Shell Flying Fishing Box. It is made of myrtle and he used a router to cut out the rectangular inside and carved the shell shape on the outside. It has Soss hinges.
Stan Booker brought back some wood worked items from his trip to Africa: a pencil log that when opened has some interesting items inside, and some Mkomo animal carvings.
---
This year the format for the box contest was changed to allow each person to describe the box and tell us how it was made.
Best of Show Box: Tom Romer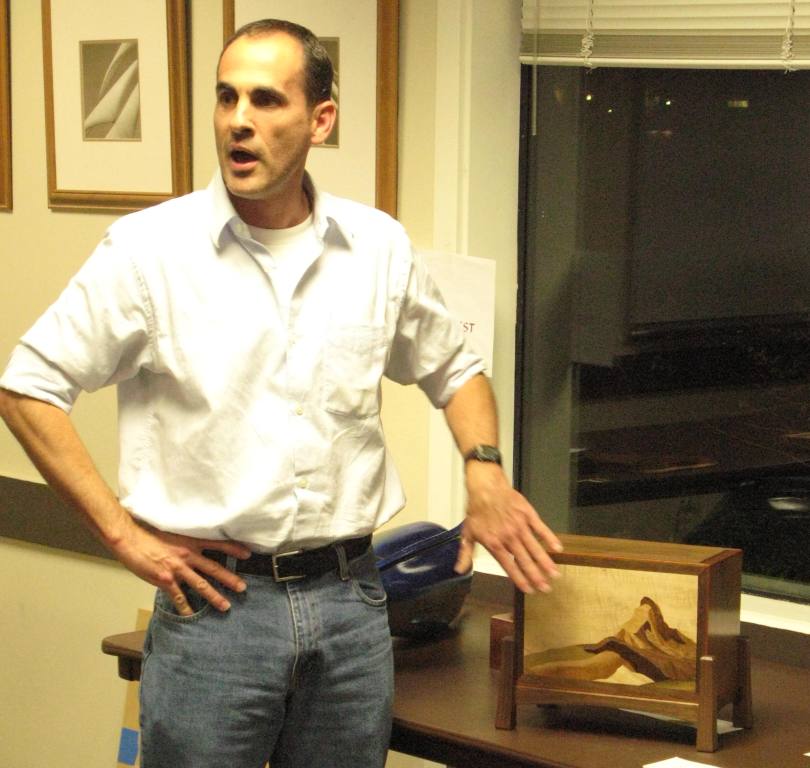 Memory Box
Tom made a memory box to commemorate his father's life. His Dad had served in the Marine Corp and while on duty in Europe, had climbed the Matterhorn. The front of the box has an image of the Matterhorn created in marquetry. The back of the box has the Marine Corp emblem. The box has a trick top secured with a magnet.
Most Original Box: Marcus Miller
Marcus's box is made of salvaged walnut and is designed to integrate curved plane surfaces.
Most Intricate Box: Frank Taylor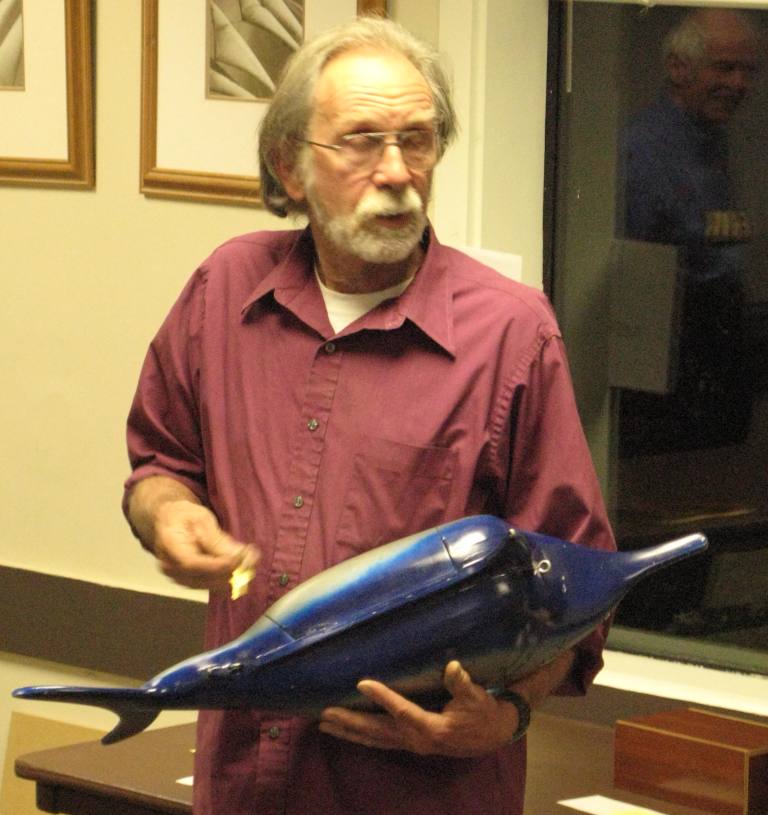 Large Blue Tuna
Frank made a box in the shape of a large blue tuna as a prop for the new Ernest Hemmingway movie. It is signed by the cast and has a lacquer finish.
Most Useful Box: Per Madsen
Per made his box using rabbet and groove joinery and completed it with a French polish finish.
Most Beautiful Box: John Seybold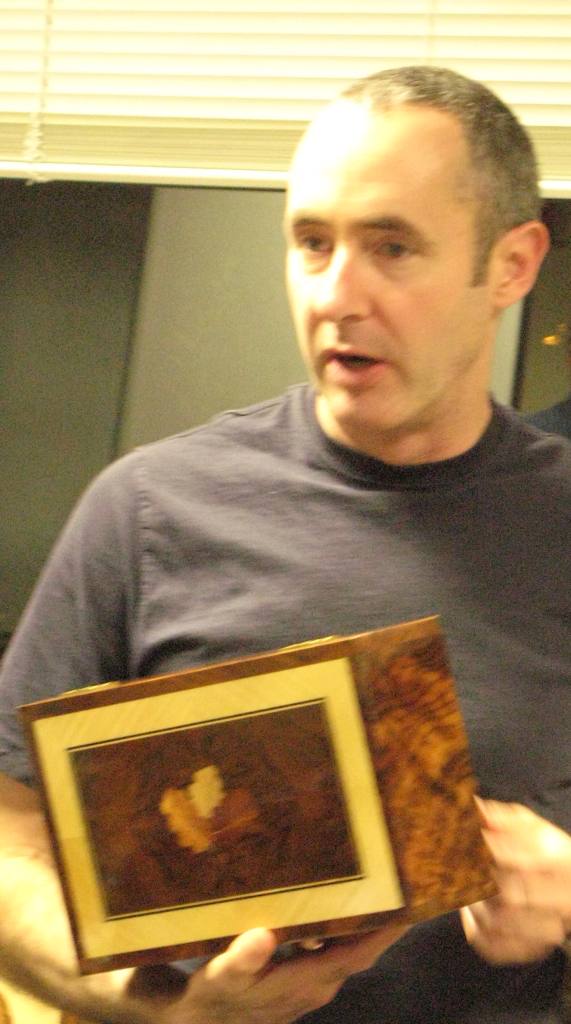 Nakashima style end grain box
John's box is made using the Nakashima method of showing exposed end grain on all sides of the corners. The joinery is reverse miter lock joints. It is made of resawn walnut with a marquetry top in a floral design. He used a cyanoacrylate glue to seal the wood before applying shellac as the finish coat.
Most Wacky Box: Harold Patterson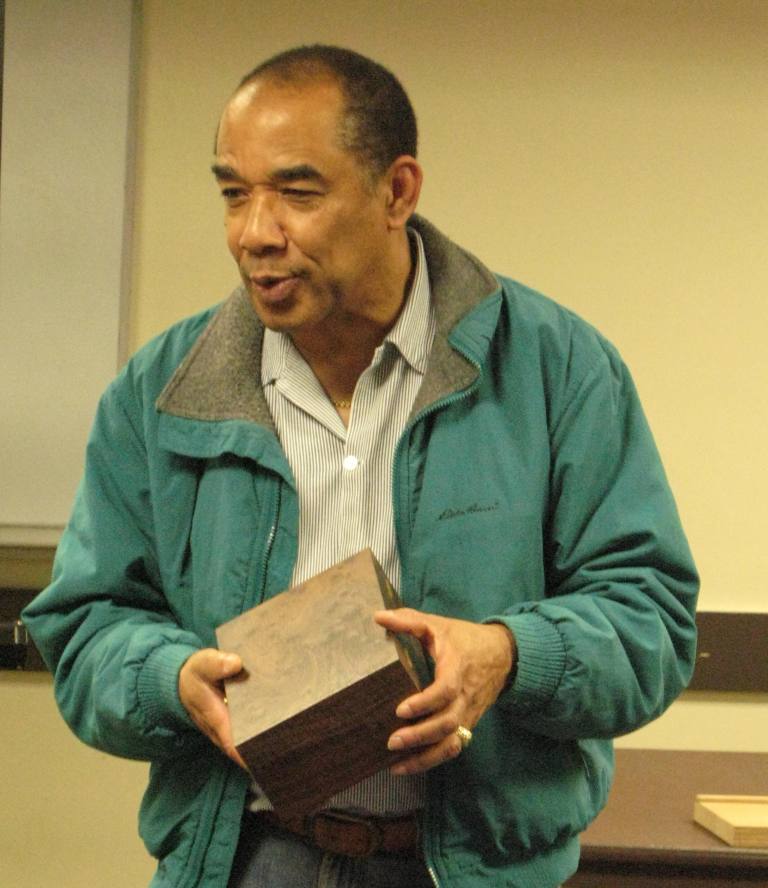 Harold made a gentleman's box to store all those pocket items at the end of the day when you empty your pockets. It is made with lock miter joints, the sides are solid wood, the top and bottom are veneered.

Most Unusual Box John Blackmore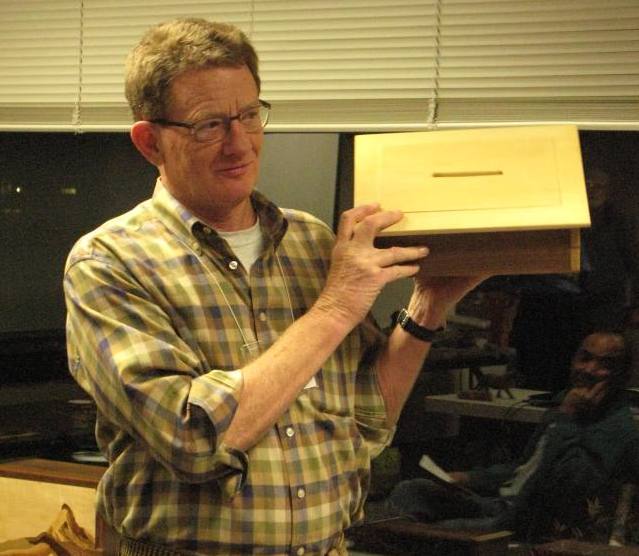 Prototype draw disguised as a box
John made a ballot box for the wood show from the prototype drawer of his award-winning table.
---
Steve Rosenblum has designed a desk that will be his most ambitious project to date. He showed us some of his Sketch-Up drawings and asked for help with figuring out the joinery he should use. Jamie Buxton volunteered to assist.
Tom Gaston has made some prototype of serving trays that he will use with his new Teak Serving Cart that he showed at the Wood Show. He used Doug Fir and red cedar, showing finger joints at the corners.
Claude Godcharles took a class in marquetry from Paul Sturch in Santa Barbara. He made two practice panels before going to the class. At the class he completed two tabletops with an elaborate design and a panel with bees on blades of grass. Claude volunteered to make us all experts in marquetry at the March 2012 club meeting.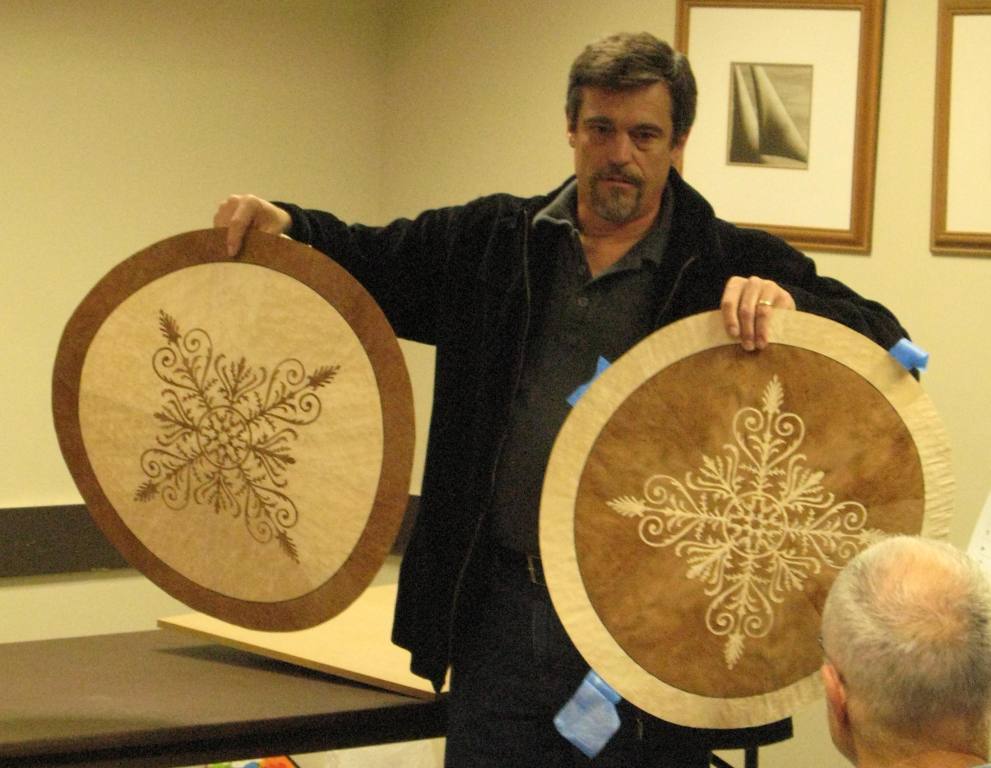 Positive and Negative table top veneers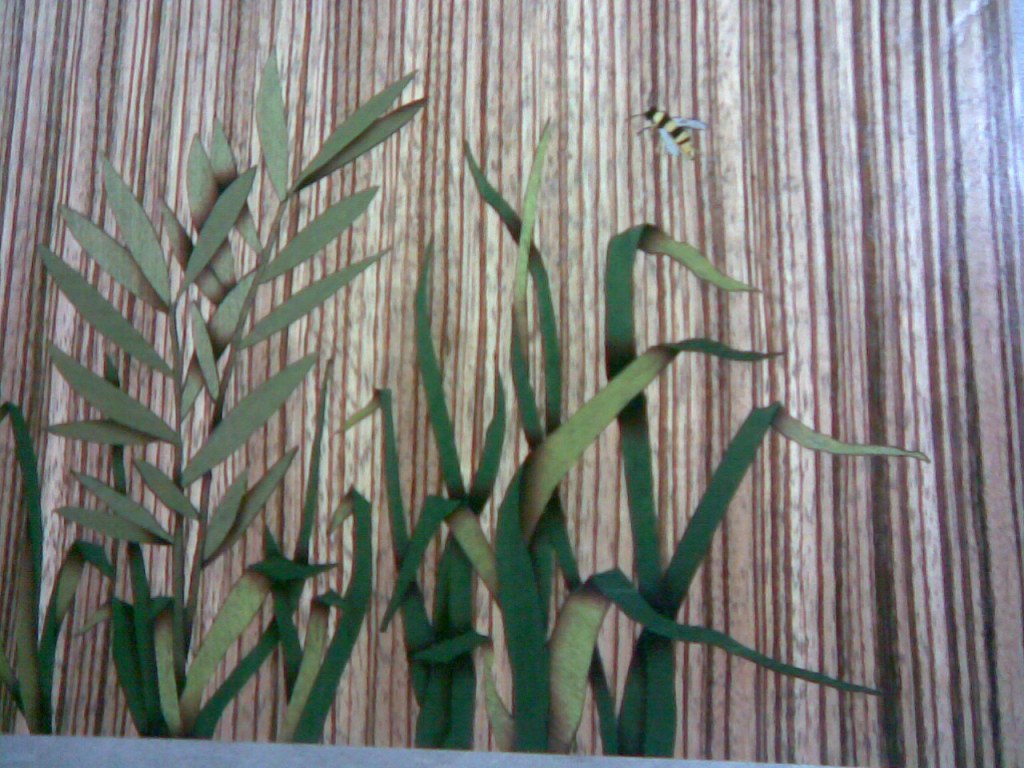 Grass and Bee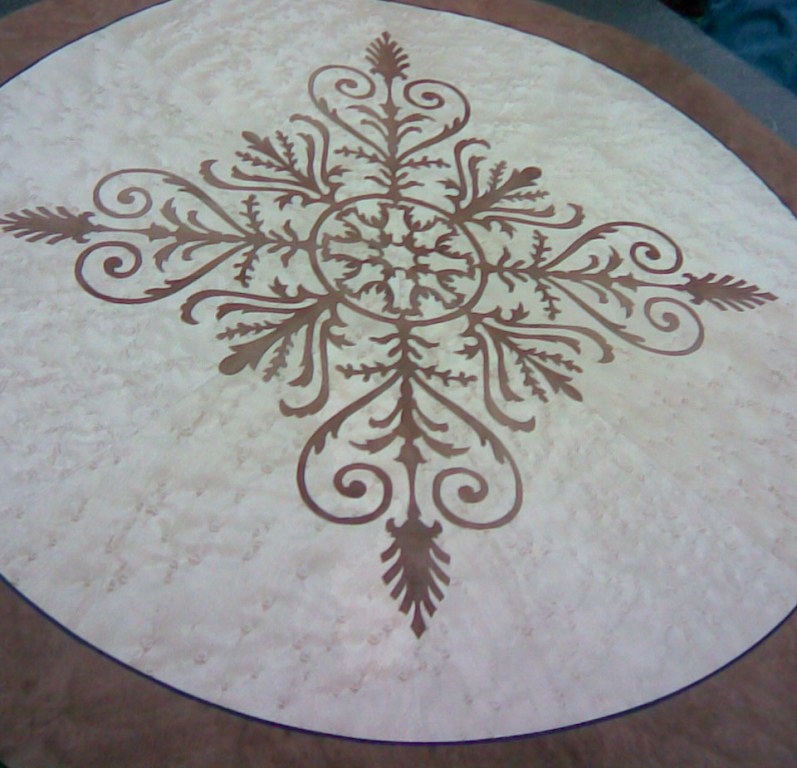 Elaborate design
The meeting adjourned.
---
---