---
President's Message
Fellow woodworkers,
I am remaking my workshop and at last I have a real woodworker's bench, or at least a bench top.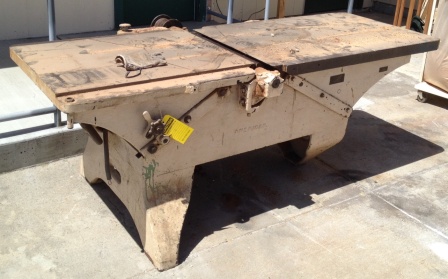 My old "bench"
For years I have had to make do with a sheet of plywood on top of an ancient 24in jointer while working around an ancient planer that took up about a 5 ft square in the middle of the floor and a smaller ancient planer that took up a potentially useful corner of my limited workshop space. These machines were probably from the 20s or even older. Removing them was a non trivial task but I ended up with the opportunity to make a real woodworkers bench.
I had ready many articles in Fine Woodworking and heard BAWA members talking about their benches. Thick Hard Maple seemed to be the material of choice. So I all had to do was buy some 8/4 wood from MacBeath, cut it batons and epoxy the pieces together. I decide to make the bench 6ft long, 30in wide and 3in thick - which means I needed 20 batons about 3.25in to give plenty extra for taking down to the final thickness. Cutting them was the usual problem you get when cutting hard maple – it twists and warps in all directions. Sometimes the twists were powerful enough to bring the saw blade to a complete standstill and I had to resort to wedges and a hammer to get the blade out of the wood. But after some work with the planer I got them all the same thickness, epoxied them in sets of 4 then planed them down some more until all the sets of 4 were the same thickness (which by this time was 2.75in). These sets were heavy to lift up and down to the planer. I then epoxied the sets of batons together to make my final bench top. It was starting to feel heavy so I sat down one night with a spreadsheet and calculated that the top weight was over 150lbs (44lbs / cu ft) which explains why I was not able to turn it over. Fortunately I had clamped it up for the final epoxy on top of the workbench base so did not have to move it. Base is Douglas Fir, with 4in x 4in legs, so should be solid enough. If you look closely at the edge of the bench you will see a little red smug – just some of the blood I gave manipulating this thing while I was making it.
I also have a bonus secondary, or utility, bench at 4ft by 30in at 2.25in thick. As I could not buy just 6ft or 12ft lengths of the Hard Maple, I had enough short pieces left over to make a utility bench.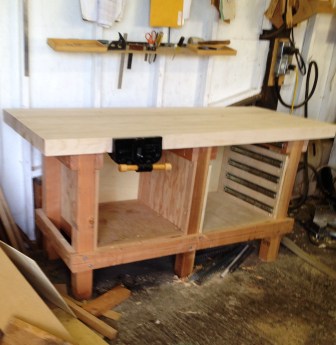 My new bench - or at least the top part of it
So now I have a real hard maple bench, I feel like a proper woodworker and hope it means I can build better furniture – but I am not sure the bench automatically bestows that skill on its owner.
The rebuilding of the workshop is not yet complete and there are challenges at every stage. I bought a secondhand JDS Air Tech 2000 Air Filtration System. In good condition except for the on/off pull switch that was broken. For less than $4 I was able to buy a new switch but to get deep inside the unit to replace the switch I had to remove the cable push on terminals from the little black plastic control module next to the switch. When I came to replacing the switch a day later I realized I did not know the order that the 5 cable terminals connected to the controller and the diagram and writing on the controller were very unclear. I did not think it was going to be a problem until after I had spent several days scouring the web for an electrical wiring diagram for the JDS2000. I found the User's Manual and dozens of pictures but no diagram. After some thinking I deduced that the control module was the black box that gave the system its 2-speed capability. But search was complicated by the problem I did not know what this 5 terminal black box was called. Found dozens of diagrams of machines with similar functionality but none I could use on my controller with any degree of certainty so I went back to my early electrical engineer knowledge and realized the controller had to use a "thyristor" Back to the web and I was eventually able to find an image of the thyristor based 2-speed controller with the same unclear diagram on it. I then found a company that used to stock the controller but it is now obsolete. So after about a week I gave up and emailed JDS asking them to point me to a diagram. Back came the reply – "look on the back of the access panel you removed"..... It is a great physical and mental exercise improving you workshop.
Is your work gluten free?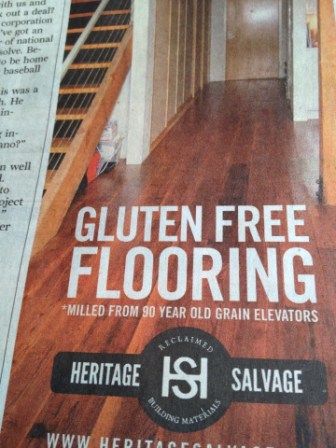 I recently saw a newspaper for Gluten Free Flooring from Heritage Salvage. As most of you know "gluten free" is the new food fad and businesses that latch on to the latest fads can benefit from increased in sales so maybe as woodworkers we can follow the trend.
After some basic research I think we can all say our works are gluten-free, they contain no artificial sweeteners, they are probably cholesterol-free as well, and some, but not all, may be sugar - free. But I am not sure if you can honestly say that they do not contain nuts.
Enjoy your woodworking
Frank (Contact at: Frankramsay8@aol.com)
---
The gavel descended at 7:00 pm as BAWA's president, Frank Ramsay, presented the postcards and posters for the upcoming Wood Show. The entry form will be ready later this month and members are encouraged to submit their entries as soon as possible. Early submissions will facilitate planning for the Show
New Members and Guests:
We were joined by two guests this evening: Joe Cavelero who is taking a class with Mike Brey and Shura who hails from Russia and since her arrival one year ago has discovered she has woodworking in her soul.
Announcements:
Per Madsen reviewed the upcoming programs for the remaining meetings of the year. In September, Chris Weiss will talk about Japanese hand woodworking tools, specifically the related setup and sharpening techniques. In October we have the Wood Show and no regular monthly meeting. In November, the Wood Show judges, John Lavine and Andreas Strieves will provide detailed comments on the show entries. The annual potluck dinner will be held in early December complemented with a presentation by Arnie Champagne.
Stan Booker said the quarter sawn oak plank has sold the required number of tickets and will go to a lucky raffle winner tonight. Skipping ahead, the winner was Neal White.
Frank Taylor passed around a printed flyer showing "what not to do" techniques on the table saw.
John Blackmore found a sawyer in Santa Cruz who is offering air-dried madrone for sale. His name is Rick Podratz and his telephone number s 831-724-5886. He will be leaving the area after August 8. Nice wood with lots of color and pattern.
Earl Belland is closing his shop and is selling his tools and remaining wood. He can be contacted at 650-573-8759, email ebelland@pacbell.net
---
Roger Heitzman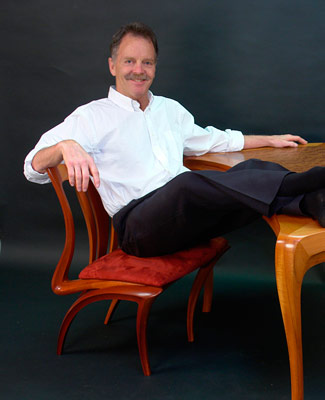 Roger hails from Santa Cruz and is a member of the Bolinas Woodworkers' Guild and he also belongs to the Santa Cruz Woodworkers association, an informal gathering of approximately 10 professional woodworkers who live in that area.
Roger discovered his passion for woodworking while attending an exhibit of fine furniture at the San Diego County Fair soon after he graduated from high school. His father had a metal shop and Roger became skilled with his hands from an early age. His early dream had been to become an architect, but when he discovered woodworking, he decided to go to Humbolt State University and graduated in 1977. In those days you could pursue your career on the cheap, he related. The pressing issue was to pay the rent or buy a router bit. Rental rates were low.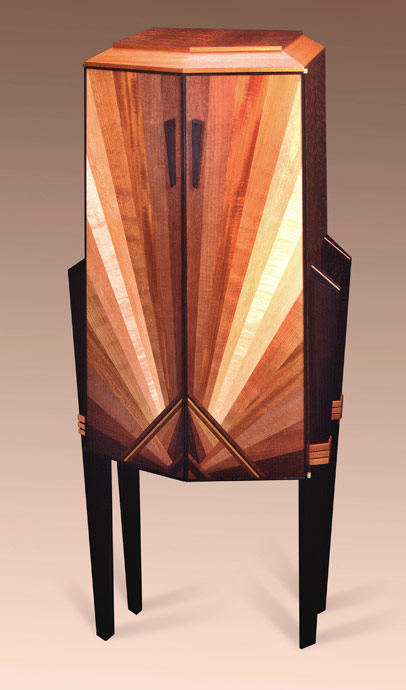 Today, Roger is a designer and artisan of art deco, art nouveau and Detroit automobile inspired furniture and cabinetry. His shapes are curved, flowing, and carved. The recession had its impact on his commission work. The phone stopped ringing in 2008 and Roger turned from furniture to fine home finish woodwork. Recently he completed his most challenging commission to date: an Art Nouveau inspired desk and chair, with nary a straight line in sight. Before delving into the design and construction of this piece, Roger presented us a photographic exhibit of his earlier work, laying the foundation for this latest piece.
He recently delivered a desk commission to a client made of mahogany and California walnut, with a flat writing topped by a 1/16" veneer and a curved and carved front with legs flowing into the top. Next we saw an Art Deco bedroom set of tiger maple consisting of headboard, and side tables. Then we saw a sculpture that reminded many of us a Studebaker automobile radiator emblem.
A walnut dining room set had Maloof style chairs. An arched bubinga desk was reminiscent of the stone arches in Arches National Park. The curved legs were tapered at the top.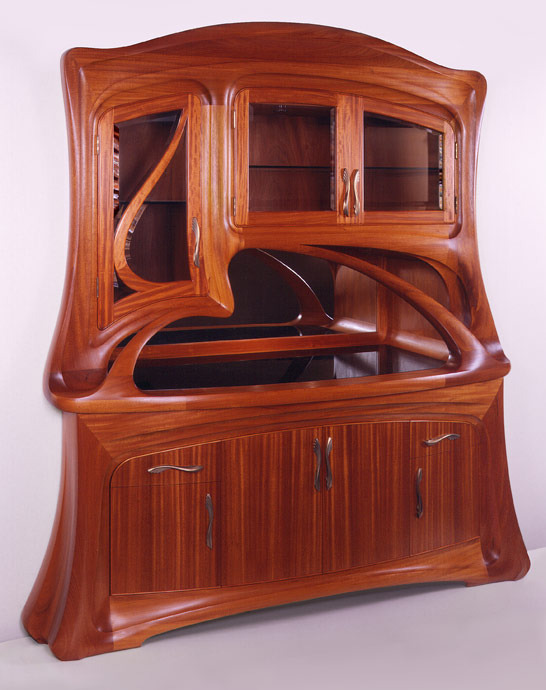 A china cabinet was made entirely from two large slabs of mahogany, measuring 28 inches wide and 3 inches thick. The curved front was carved using a carving machine that Roger designed and built. He sold this commission in 2000 for $25,000. The pulls were molded and cast in bronze to Roger's design and specification.
He designed and made an elaborate bar cabinet and integrated hardware, featuring bottle and glass racks that open automatically when the lid is raised. And this beautiful piece was made for a couple that does not drink.
A wall sculpture in the art deco style has three little drawers extending from a central spine on the piece. It now resides in a Boston museum.
Roger found a glass sphere 18 inches and diameter and ½ inch thick that he purchased for $4 at a garage sale. It became his Found Art Object piece, made of rusted metal and the glass sphere.
An art deco entry hall set, made of mahogany and a radially patterned tiger maple, consisted of a table and complementary mirror.
A bowling ball inspired the Cosmo box, round with a diameter of exactly 8.59 inches. Made of Australian jaura wood, it placed at the San Diego Woodworker show. The finish is hand rubbed polyurethane, his finish of choice.
A living room ensemble featured a couch, with side tables framed by two 9' tall columnar bookcases. The curvilinear molding flowing like branches to the top of the columns was the most challenging part of the work.
A more whimsical piece was the Swing on a Rope made for "A Swing in the Park", an Atherton charitable event. The purple heart wood seat is supported by two rocker arms made of walnut.
Roger made a trestle dining room table and chair set for a relative of Sam Maloof who could not afford Sam's prices. Relative discounts not available, apparently.
An earlier desk became the inspiration for his latest creation. Curved legs, curved front, curved drawer fronts, and a curved desk organizer rising from the desktop and resembling an airfoil, almost ready to fly. The top is veneered tiger maple, the legs made of solid wood.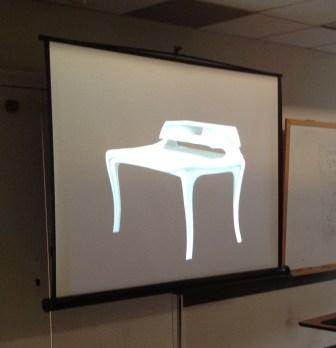 Origonal sketch for New Desk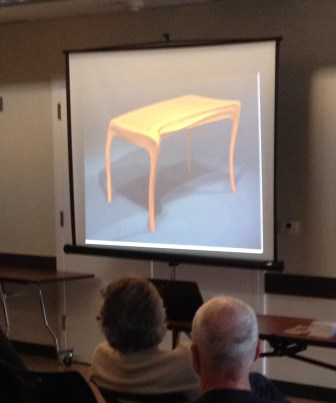 Evolved design for New Desk
The New Desk is not symmetrical, has a free form. The original sketch incorporated the flying organizer. After the initial sketches, Roger chose to model the design in clay, making an 8" scale model. Then he put the photographs into Adobe Photoshop. But he was troubled with the design and put it aside for a year. Then, he received a software update from Vector Works for his CAD program and created virtual photographs from his engineering drawings. At the suggestion of his wife, he eliminated the organizer altogether, opting for a clean, flowing design with a flat planar top. Presto the design was finalized. The finished desk features a sapele top. The curved desk carcase and legs were carved using the Heitzman carving machine. It works like a pantograph with a stylus following a pattern while the parallel, paired core box router bit cuts the wood lying next to the pattern.
The first step after finalizing the design was to create a pattern for the carving machine. Roger uses Elastafoam, dense polystyrene structural foam purchased in 4' x 8' sheets. It is 3" thick. He makes the carcase and legs patterns from foam beams. The rails and stiles of the frame are joined with Zipbolt joint fasteners. The corner angles for the legs are routed using a plunge router guided by a rail jig mounted at each corner of the carcase frame. Each leg is different and each angle is unique. Angles are determined using a laser level mounted on the corner of the carcase frame and directed to the floor showing where the leg must end. After the frame and legs are carved, the pattern is disassembled and the foam is covered with an epoxy coat to harden it for the stylus of the carving machine.
The 3" mahogany beams were laid out next to the assembled pattern on the carving machine bed. And the work began. The carving machine works like a plunge router in what we now recognize in CAD machining, except there is no computer program, only the woodworker following his pattern. The leg joints are cut by hand and finished with a router mounted to the leg angle jig.
Roger made the drawer parts from highly figured bird's eye maple. The drawer fronts were carved on the machine and dovetailed by hand. The desk is made of mahogany and finished with wipe on polyurethane, a thick spline joins the legs to the carcase frame. The desk was shown recently at a show sponsored by the Santa Cruz Woodworkers.
Suffice it to say that we were all amazed to see the heights to which woodworking could soar. This desk and chair set is amazing. Roger, thank you for sharing your passion with BAWA.
For more information on Rogers work go to: heitzmanstudios.com
---
Ken Napior—Secret Spaces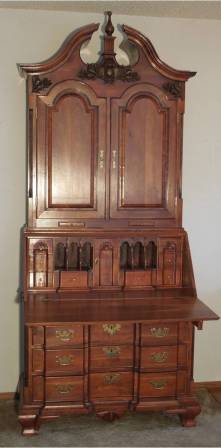 After last month's presentation, we prevailed upon Ken to amplify on his antique furniture restoration theme with more specific information on a particular aspect of this specialty. A member poll suggested high interest in creating secret space in furniture pieces.
Secret spaces can be secure, fun and delightful. Challenge your friends to find them and revel in their excitement. Some hints to consider when building in secret spaces: plan for them from the beginning, make precise, tight fits, and conceal seams on natural joint lines. Prevent wear spots because they are a give-away.
Some of the types of secret spaces include: drawer in a drawer, side slides up to reveal a drawer, false bottoms and backs, and space between drawers. Hinged panels, lock and key, rare earth magnets, springs and hidden latches can all be used. SOSS hinges can be concealed in the wood, and childproof magnetic catches offer touch release.
Ken recommends the following youtube video: The Roentgens' Berlin Secretary Cabinet - YouTube youtube.com/watch?v=MKikHxKeodA
---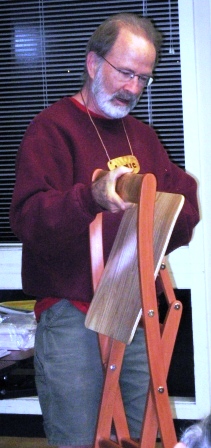 Jamie brought in a folding chair he made from shop remnants; otherwise know as scrap. Could this effort be the genesis of a new contest? The seat is molded ash and flows down in the front and up at the sides in the rear. The back rail is an oval of curly maple and the legs are made of POROVA, an Australian wood. The joint connections are made with bolts and cross grain splines.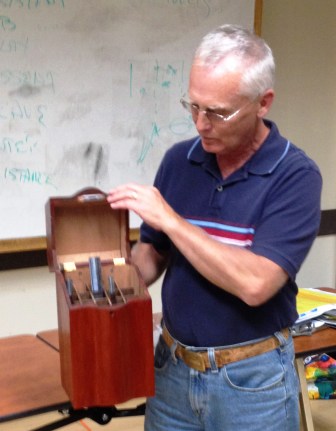 Ken Napior carries his chisel/carving tool set in a cherry box that has a handle on the back.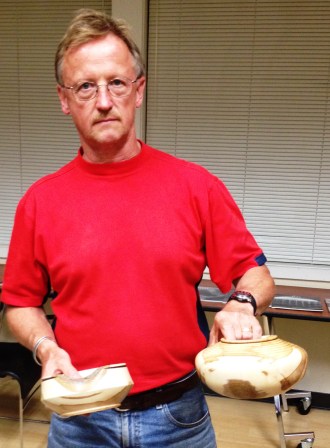 Tom Gaston salvaged some neighborhood Japanese maple and turned two bowls.
It was getting late and people were drifting towards the door.
John BlackmoreSecretary johnblackmore@comcast.net
---