Fellow Members I am always amazed at the intricacy and delicacy of Chinese furniture. I recently read a book "Chinese Domestic Furniture in Photographs and Measured Drawings by Gustav Ecke" that Yueng Chan recommended. The Publisher's Notes on the book are almost as fascinating as the book. When the book was first published in 1944 there were only 200 copies produced. It was a large book. After all the descriptive pages there are 161 plates each 11-3/8 in x 14 -15/16 that contain the photographs and diagrams accompanying the text. The author, while working at the Catholic University of Peking, had gathered the help of several people from various academic institutions around Peking. They borrowed, measured and drew these wonderful pieces of furniture, some of which were 400-500 years old. The book contains photographs of over 120 pieces of furniture-- platforms, tables, stands, cupboards etc. -- plus hand drawn plans with cross sections and description of the joinery. There are also diagrams of about 34 of the classic joints that are used on these various pieces of furniture. Complete do-it-yourself guides-just choose the correct wood and add some considerable level of skill. The designs are classic and timeless. You can go to Chinatown today and still buy identical looking pieces for use in your home. That good design can last for several hundred years is an incredible achievement. I do not think there is an English equivalent. In the 15th century there was a great deal of fine woodworking in England but it was focused on beautifying the cathedrals and churches. You can still see magnificent fine carved lattice structures in the choir stalls and naves of many churches. But the furniture of the day was largely heavy looking. I do not think many people would want it in their homes today. Do we build furniture today that will still be around in 400-500 years? Do we create designs that will survive the test of centuries? Do we even do new design or is our work mostly based on the designs of such a long time ago? We use better tools, faster tools but good woodworking is timeless. Enjoy it.

Frank R Ramsay
President
frankramsay8@aol.com
---
The meeting was called to order by Vice President Jay Perrine at 7 PM.
Steve Rosenblum announced the new Board policy on classified ads in the newsletter:
"Classified ads must be from members or ex-members or their estates who are closing down their workshops. In addition a non-member may attend a regular meeting as a guest and announce personal items for sale that are directly related to member's woodworking. The details of the announcement may be covered in the meeting minutes in the monthly newsletter, subject to editorial review."
Fred Reicher announced that we need 2 volunteers to go to Frank Ramsay's shop this coming week to cut wood for the Janet Pomeroy Center gates. He also mentioned that the talk next month would be by Toby Judith Klayman on how to market your work.
Mark Rand then described the history of the use of nametags at club meetings. Initially they were self-made tags that were handed out at the meetings, but they got lost and jumbled in the box. Mark will make up new nametags and again have them available in a box at the meeting. Members are requested to wear them so as to facilitate getting to know each other's names more quickly.
Ed Marinaro gave a brief report on the work of the Shows committee. They are pursuing two options, a juried show and an open show. They have investigated several venues including the Palo Arts League where we could have several pieces in the main gallery as well as a more extensive display upstairs for a month and Woodcraft San Carlos which is moving to a new larger location on El Camino in Belmont.
Woodcraft would have a 1000 sq. ft. workshop/classroom space that they could make available for exhibits. Individual exhibitors would handle all sales with a 35% commission to the exhibition's sponsor.
Neal White talked a bit about the September meeting which will be a handplane seminar and asked for suggestions at to what information to cover. He also mentioned that there would be a class given at Woodcraft San Carlos in September on constructing a wooden handplane.
Steve Rosenblum
Announcements
Woodcraft at Dublin & San Carlos give the club a rebate on all purchases. Give receipts to Mark Rand.
Show and Tell
Frank Taylor showed a piece of bamboo plywood which sells for $160 for a 3/4in thick, 4x8 foot sheet. It is very hard on edge tools as it has a lot of minerals in its fibers.
Below is a picture of a 1 Ton Chevy being used as a clamp during the epoxing of some siding panels.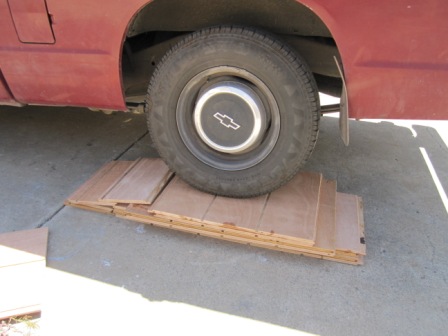 Guests
A guest, Sophia Duluk, identified herself as a woodturner and lathe metal worker from Seattle.

The lucky door prize recipients tonight were: Ed Marinaro, Mark Rand and Jay Perrine.
---
Bob Nisbett
Construction using dowels
The featured speaker for the evening, Bob Nisbett gave a detailed talked and a demonstration of the use of the Dowelmax jig to join cabinetry. This is the only method that Bob has used in the joinery of the many pieces he showed in his presentation. He was very effusive of his praise of the accuracy and simplicity of use of the jig. According to the Dowelmax literature (www.dowelmax.com) the doweled glued joints are stronger than mortise and tenon joints. Although the jig is expensive (about $300), it is very precisely made.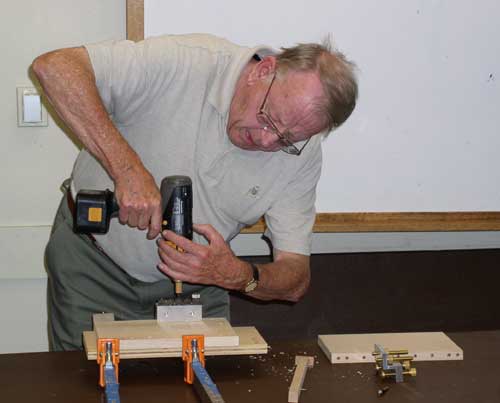 Bob demonstrated the use of the jig to drill a series of 1/4in holes in two boards, one representing the long grain side and one representing the end grain side of a corner joint about 12 inches long. He used the jig to drill a precisely spaced series of holes a few inches apart in each board showing how the jig allows you to easily and accurately align the holes to the boards so that, in the end when the dowels are inserted, everything fits together precisely. Bob then showed photos of some of the many projects he has completed with the Dowelmax. Among them were a mahogany TV table using light and dark mahogany (sapele), a blanket chest made of quila and soft red oak lined in Spanish cedar, a blanket chest made of walnut and pearwood, a cocktail cabinet with drawers with handcut dovetails, a pearwood cabinet with ebony handles, a mahogany china cabinet with rosewood and pearwood panels which was done as a project at the College of the Redwoods. He also told a funny story about James Krenov and Arnie Champagne during their time at the College. Arnie had been designing a Chinese bookcase and had shown Krenov the cardboard mockup, at which point Krenov said, "I can't help you with that", implying that he had no knowledge of Chinese furniture. Arnie immediately burned the cardboard mockups and started over. As a final point, Bob mentioned that he uses only shellac as a finish on all his projects.

John Blackmore
---
One of the most salient points of the recent survey of the membership, of which more will be reported in the upcoming months, is that the main reason that you have joined BAWA is to improve your technical skill as a woodworker. As the editor of the newsletter I have a responsibility to help with that information exchange. Several ways of accomplishing this occur to me immediately. One would be to form a group of contributing editors, who would be some of the more experienced woodworkers in our organization. They could be called upon to write short essays on woodworking skills and offer tips on techniques and skill building. Another would be to have this group of experts answer written questions sent in by the membership. A third idea would be to provide links to interesting articles on woodworking technical skills at online sites.
Because of the limited space available in the mailed version of the newsletter, this added content might need to be abbreviated somewhat to fit into the maximum four pages of text. The online version could be more voluminous and include content such as photos and videos. We could also consider setting up an index to the discussion subjects on our website so that members could refer back to the items when they had a future need. Any experienced members that are interested in helping provide this material are welcome to contact me by e-mail or by phone or in person at the next meeting to give me an idea of what they are willing to do. Of course, any feedback from members about these ideas or other ideas they might have in this regard are also welcome.
In any case, I would like to kick off the discussion and test the waters by proposing an issue for discussion which has been plaguing me lately, which is that of controlling glue squeezeout. Most of us use one of the Titebond series of aliphatic wood glues to hold our wood joints together. There is a delicate balance between getting too much glue in place leading to a mess around the joint which later needs to be chiseled, scraped, and/or sanded away, or having a glue-starved joint which might be weak and fail. If anyone has some good ideas that they have used and found to be helpful in this regard, please send them to me and we will get them published in one of the upcoming newsletters.

Steve Rosenblum
Newsletter Editor
Steve@rosenblums.us
650-322-9560
---
Classified ads must be from members or ex-members or their estates who are closing down their workshops. In addition a non-member may attend a regular meeting as a guest and announce personal items for sale that are directly related to member's woodworking. The details of the announcement may be covered in the meeting minutes in the monthly newsletter, subject to editorial review.
Do you have something to sell or trade? Let me know by the last weekend of the month and I'll put it into the next newsletter. Let me know if your item sells so I can delete the ad.

Steve Rosenblum
650-322-9560
212 Santa Rita Ave
Palo Alto 94301
steve@rosenblums.us
Note to prospective buyers:
Please take note the date of the ad. Do not call the seller if you're reading an ad that is months out of date. Instead, look for more recent newsletters to see if the item is still offered
---
Wood to give away
Gene Doucette has various species of 5/4 hardwood to give away in widths up to 8" and lengths up to 4'. Contact him at mckeebg@prodigy.net or 650-851-1142
---
For sale
* Jet Horizontal/Vertical Sander (EHVS-80CS). List - $1050.00, Selling Price $850.00. Less than 10 hours of use.
* Jet 14" Bandsaw 1 Hp (JWBS-14CS). List – $600.00, Selling Price $350.00. Slightly used Less than 5 hours.
* Jet 10" Contractor Saw (JWTS-10LFR). Newer Model List for $750.00. Slightly used Less than 5 hours. Selling Price $375.00
* Jet Drill Press (JDP-17MF). List – $520.00, Selling Price $300.00. Slightly used Less than 5 hours.
* Jet Dust Collector (DC-650). List - $300.00, Selling Price $200.00. Never Used, Like new.
* Delta Jointer (Model JD-160). List $200.00, Selling Price $150.00. Never Used, Like new.
Contact Paul at 415-218-4505 415-218-4505 or Rich at 650-346-4183 650-346-4183
---
Shop Space Available
Shop Space Available in a furniture/cabinet-making co-op. There are table saws, planers, joiners, an edge bander and a spray booth with 24-hour access to all. Each tenant has his own space. The rent is $790 a month. We are located on Egbert Street off old Bayshore. Please contact John Clark at 415-467-0638.
---