---
Presidents Message
Fellow Members
A few years ago I talked about the magnificent structure of Oakland Cathedral being built next to Lake Merritt. During construction you could see the gigantic frame that consists of 26 composite Douglas Fir ribs towering 110 feet into the air. Once the frame was completed they covered it with glass panels. It still was a magnificent structure but I missed the sight of the magnificent wooden ribs with their hundreds of angled slats looking like vast sets of Venetian blinds.
Recently I had a visitor in town who wanted to go and look at the architecture of the Cathedral so I went inside for the first time. It is a monument to what you can do with Douglas Fir and concrete. The largest, best designed wooden structure I have seen for a long time.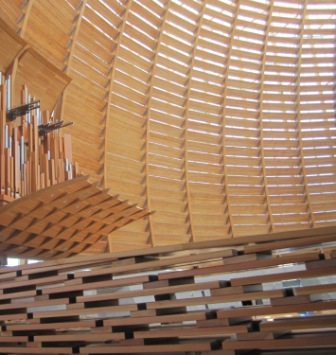 Inside you still see all of the horizontal slats set between the wooden ribs. You also see the 2 great organ pipe stacks. Many of the pipes are also made from Douglas Fir. The pipe stacks are supported on beautifully designed composite beams sticking out into the cavernous structure. Even the organ console is a custom designed wooden structure.
For woodworkers the building is well worth a visit. It is easy to find. Just drive around the lake until you see this 20 story tall glass cone shaped building. You will be inspired to what can be achieved using 2 x 6 in Douglas Fir.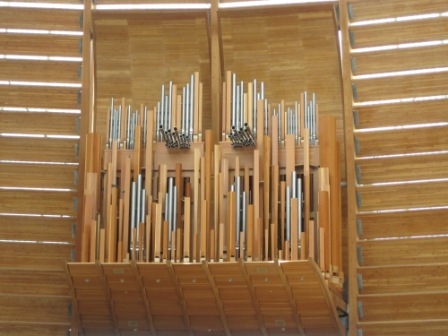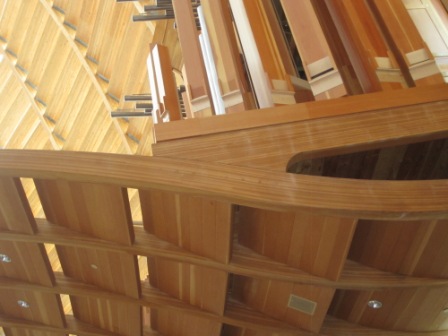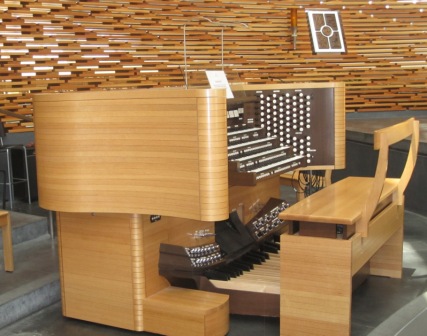 The organ console
Just a reminder our Annual Woodworking Show and reception is being held on 21-23 October. You can enter your piece(s) on-line at: Show Entry Form
Earlier this month we drove to Arcata to check out the Humboldt Woodworking Society show. The show was OK but, not being biased, I think overall the standard at our show last year was a little bit higher. The Bay Area has great woodworkers. The one thing we may not be able to beat is the quality of good timber available up north. The Humboldt show was held at the Almaquist Lumber Company. Some of the timber available had burls and figuring that were beautiful.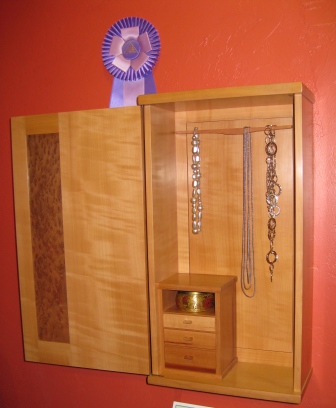 This James Krenov-inspired Madrone and Redwood Burl jewelry cabinet from Laura Zhan was exceptionally good and won Best of Show.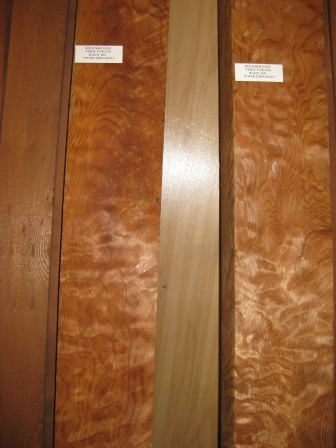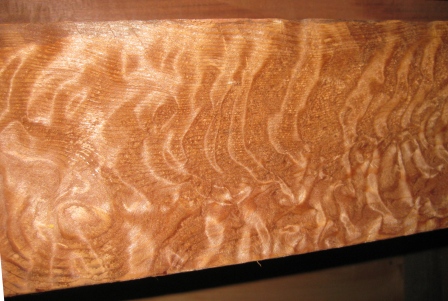 I also saw these two 6 x 6in Redwood beams that were about 10 ft long and only $320 each! Not sure what I could make with them but they would look great in the living room just smoothed and polished.
Enjoy your woodworking.

Frank R Ramsay
President
frankramsay8@aol.com
---
---
After beating people into their seats, Frank started the July meeting.
New Members:
First on the agenda was the call for guests to introduce themselves.
Jim Loudin got up and introduced himself. Details about his interest in woodworking did not survive to make it to the newsletter.
Announcements:
Eric Woodcraft or is it Eric McCrystal of Woodcraft is inviting members to make items for the store Christmas tree. The items could be ornaments or toys or whatever. They should be brought to the BAWA November meeting or to the store in November.
Claude Godcharles brought some veneer which he got from a veneering shop that was closing. There was not a stampede to get at the veneer so the owner was going to take it to the dump. Hero Claude checked with Eric Woodcraft or rather McCrystal of Woodcraft to see if the veneer could be stored there. Getting the OK, he ran home and got his truck. He loaded 1,000 lbs of it and took it to Woodcraft. It is available to clubs, events etc. A portion was placed as a Silent Auction item but there were no takers. If you are interested in getting some, contact Claude at claudeg@earthclod.com. Jay Perrine substituting for Stan Booker our Rafflemeister said that if just a few more tickets were sold for the Cherry boards, they would be raffled off.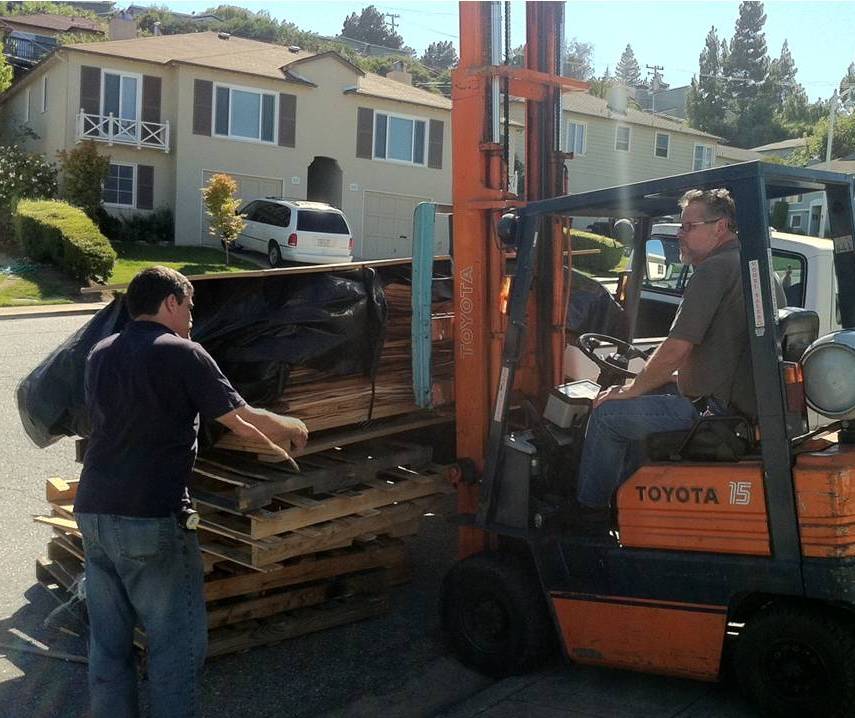 Loading the veneer
Neal White announced that there was going to be a plane making class at Woodcraft on Saturday, 7/30.
The Toy workshop was scheduled for Saturday, 7/30 at Jamie Buxton's shop.
Frank then talked about our 2nd Annual Wood Show to be held at Woodcraft in October, more details to come later. Members should start getting busy making items to display. Because of room size limitations, no items over 25 feet high would be accepted.
Frank Taylor brought up Industrial Abrasives who have sandpaper at very competitive prices. Check out their web site at: industrialabrasives.com
Jim Voos describing the Antique Hand Tool sale in Oakland on the weekend at the Hudson gallery.
John Seybold announced that on August 20 and 21 from 10 AM to 3 PM, Sturgeon' Mill in Sonoma will be running their steam powered mill. The demonstration is free and there is a barbecue lunch with items priced $7 to $11. Take a look at their web site sturgeonsmill.com
John said that you can buy big Redwood slabs for good prices. He may buy a slab for either the upcoming Box contest or an outdoor table. He may rent a trailer to haul it home. Anybody interested in participating with him can contact him at:
johnseybold@gmail.com
---
John Wilson made a box in the Beginners Marquetry Class at the College of the Redwoods.
Frank Ramsay built a small table which he described as a classic description of hidden mistakes.
Jamie Buxton built a waste basket of bent laminations bent in a vacuum press. Jamie also built a folding stool to be used at meetings where no chairs available. It was his own design and IKEA wants 10,000. He'll be busy the next couple of weeks.
Mark built a wobbly book stand or rostrum. Fitted right in with wobbly Mark.
Fred Reicher built a small table.
Frank Taylor built a 4 candle candelabra to be used to light the area for milking cows. I won't repeat where he said that the candelabra should be placed while the bottom part turns into a milking stool. He was going to demonstrate on the cow he brought but the Foster City Animal Cruelty took it away and also Frank.
John Seybold had a tea box made of small pieces which alternated between side and end grain. The box was then stained.
Marcus Miller had a plant stand which came apart for easy transport on a motorcycle.
Don Calvello reproduced an antique table lamp which he shaped on a band saw. He could not figure out how to reproduce a stained glass lamp shade in wood so he brought a real one.
2 x 4 Contest: Results
The results of the voting for the 2X4 items arrived by armored truck and were announced by Jamie Buxton.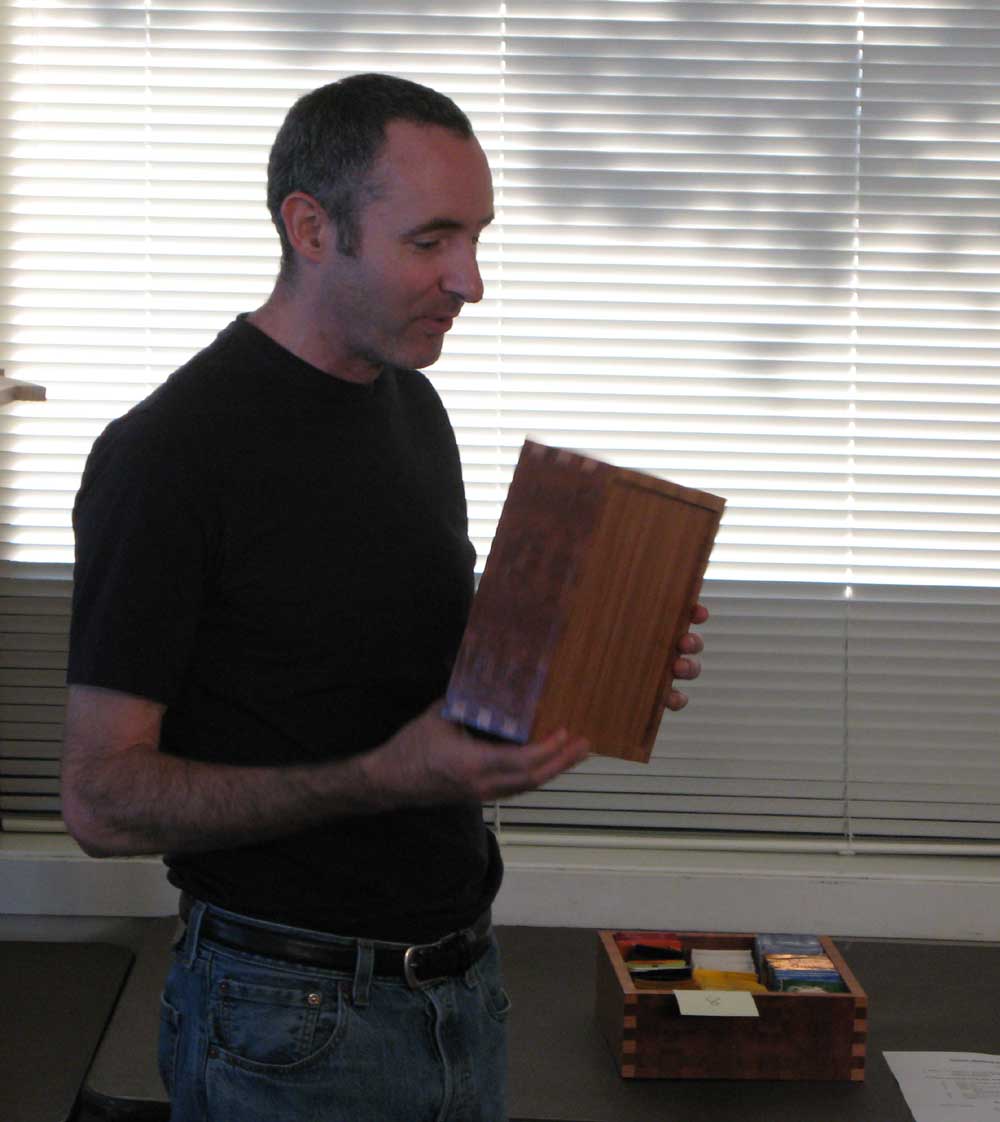 Most Intricate-John Seybold-Box for tea box AND Most Beautiful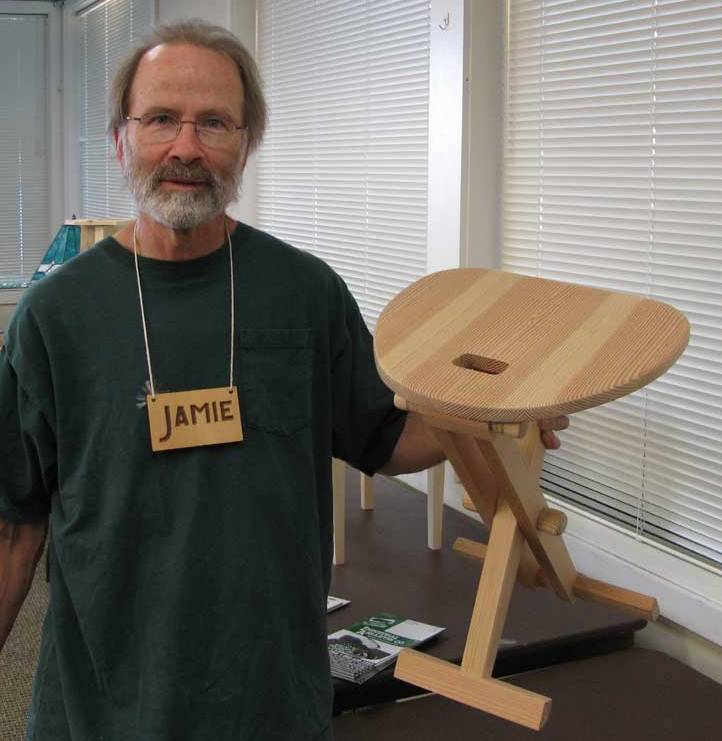 Most Useful-Jamie Buxton-Folding stool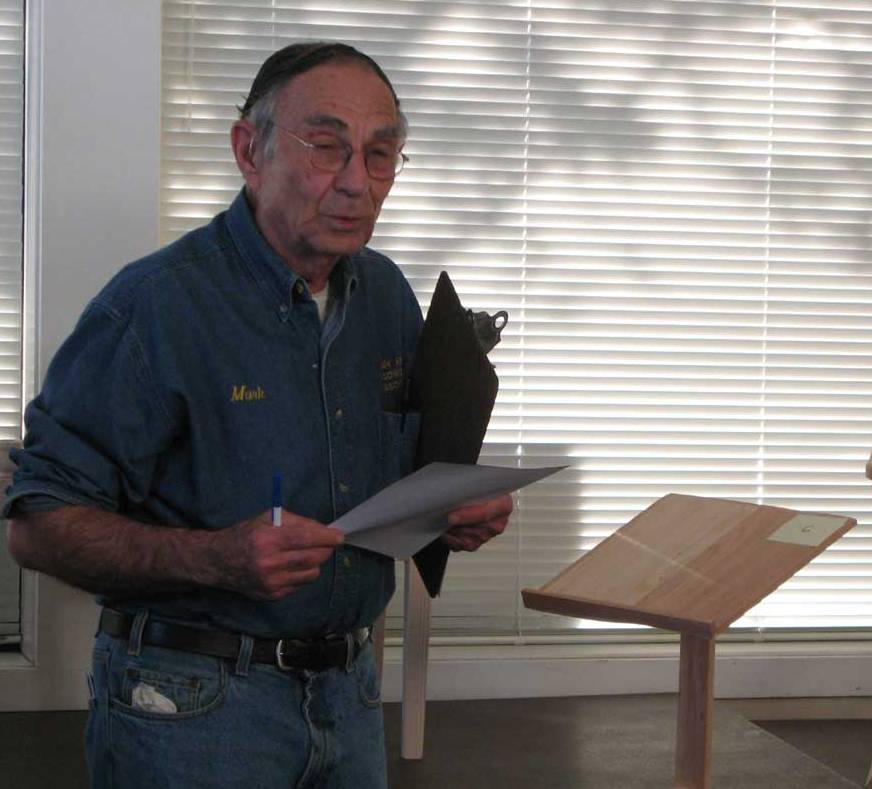 Most Puzzling-Who else but Mark Rand-Wobbly rostrum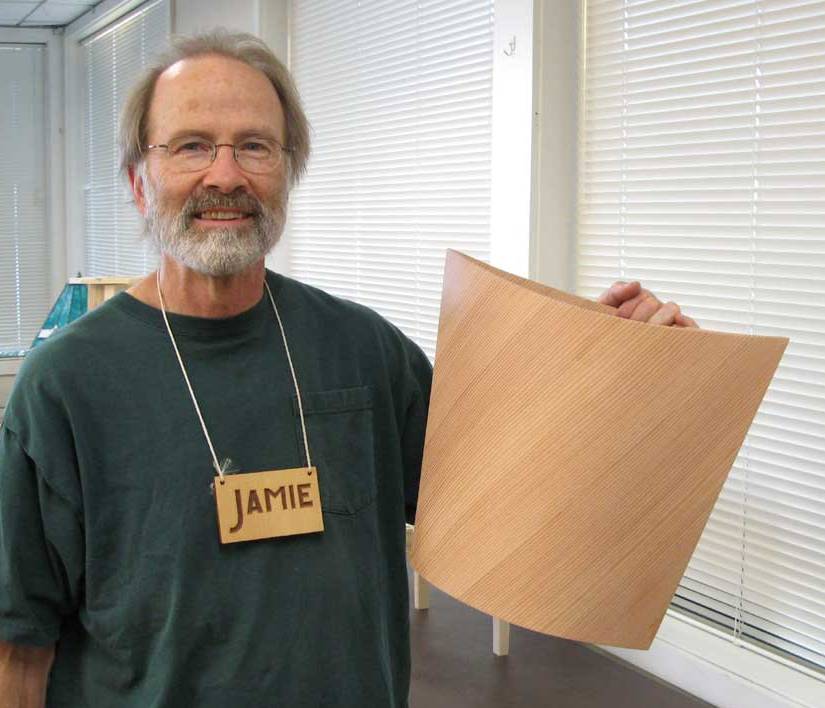 Most Original-Jamie Buxton-Laminated waste basket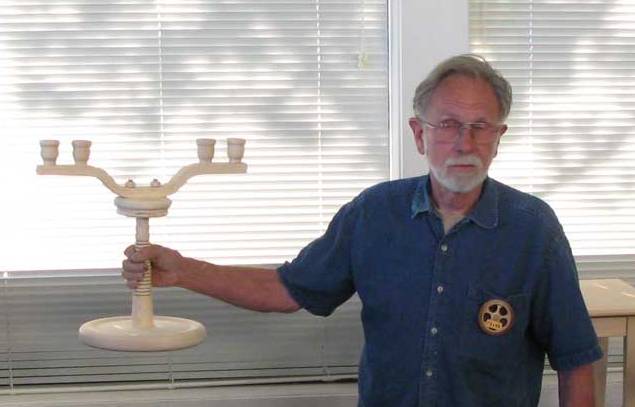 Most Wackiest-Frank Taylor-Candelabra and milking stool. The cow gets extra hay.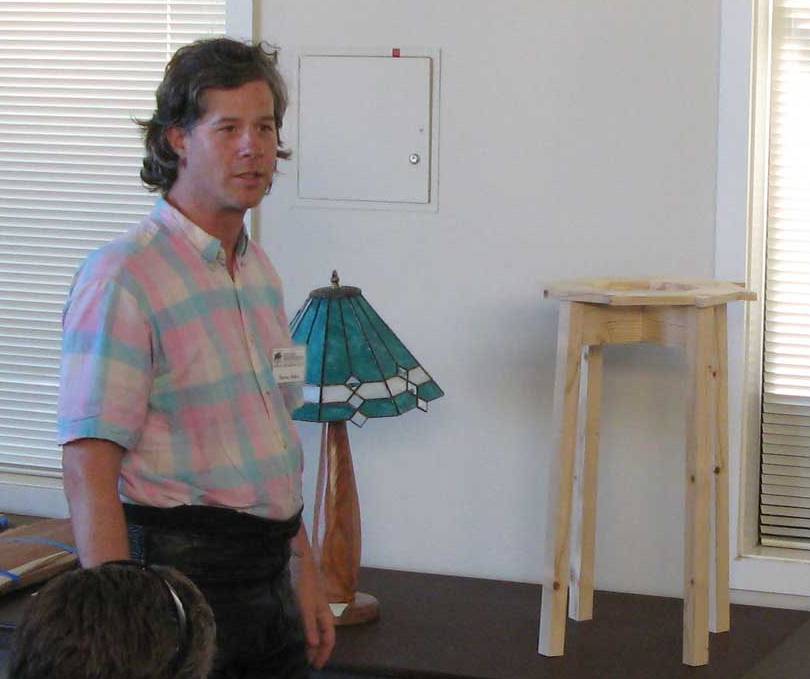 Open category-Marcus Miller-Planter stand
Open Category-Fred Reicher-Small table
Picture not avaialable - but it was worthy of a certificate
---
Mike Bray
Riving a Tree into Boards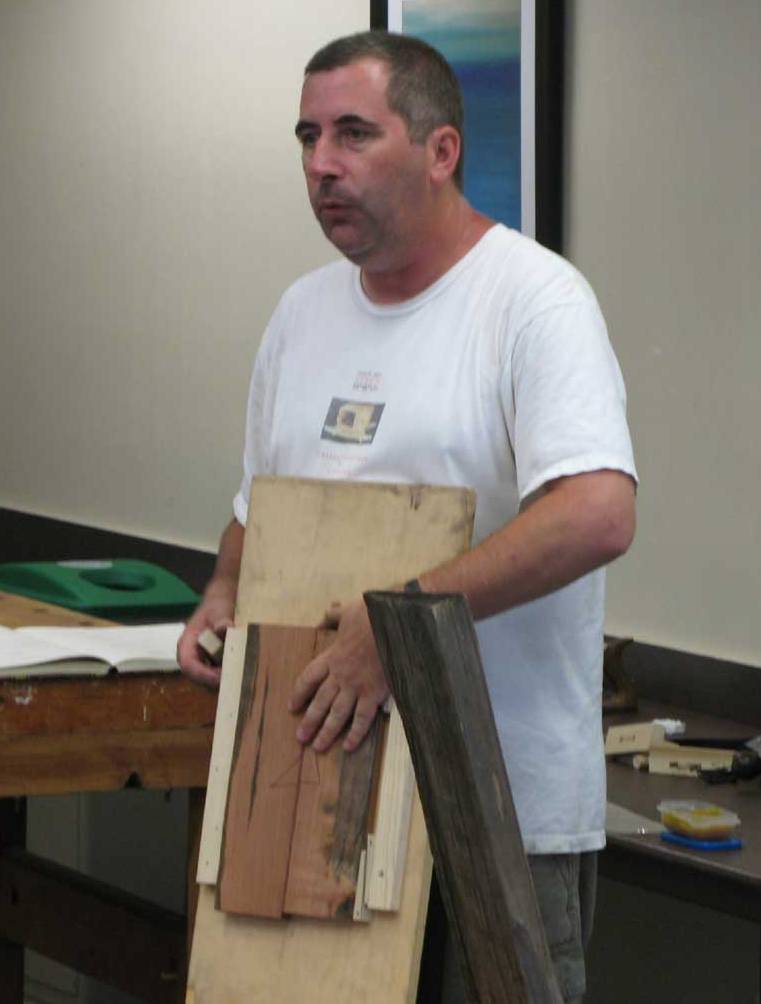 Mike Bray was our July meeting presenter. Who? Yea, our long-time member and former club President Mike Bray who was also Program Chair and probably other positions. Mike has not attended lately as he broke his back earlier this year and is now back at work every other day. Mike's presentation at our July meeting regarded woodworking techniques of 100-300 years in the past. Mike also teaches woodworking at the Randall Museum in SF and also at the Crucible in Oakland.
Mike's day job is at History San Jose, a 14-acre non-profit complex with 24 historic buildings. Mike is one of two people charged with maintaining and is sometimes asked to make items for the homes using historic construction techniques - some of which he demonstrated, others he told us about. He said that some of what has been learned about woodworking from earlier times is that the backs and bottoms of furniture were not 'good stuff' and because these parts were left in a manner that was not planed smooth or sanded they can look at the tool marks and determine HOW things were made and what tools were used.
Mike then proceeded to demonstrate (talking the whole time and even responding to questions or puns from the audience). One must choose a log with straight grain to have it split more or less evenly. Logs are split green (and they need to be green as the wood/log becomes drier they are the harder to split in this manner) with any of a series of wedged items with a series of steps he called 'axe and score' that is cut with axe swing and then fill the developing crack with a wedge, and continue the steps (which I wondered if that means the log is 'axe-scoriated'!) until the log or piece you are splitting off is separated. Using a froe is also doable when the green wood piece is shorter than you (not doable with an 8 foot log). He said that he misses his froe which he lent to someone and doesn't remember who and never got it back.
Mike then produced a tapered piece of redwood - hmm, like a piece of pie 4 feet long. He then cut it in half and proceeded to use a tapered hatchet (he discussed the two common shapes of hatchet: Kent which is most popular with women in his classes and 'coach-maker's' hatchet which Mike was using in the demonstration. Anyway, Mike had a clever (and time-proven) technique of hacking along the edge of the board and then once loosened he was able to use the hatchet cut a clean and fairly straight edge. His technique is to cut straight down and not in a circular motion. If the hatchet was to slip in a circular motion, one could also slice a piece of yourself. Also to carefully hold the board away from the cutting area. He recounted an incident in a class where a student was hacking in a very unsafe manner. He tried to stay calm and reach the student before the student lost part of himself. He thought that he would have a heart attack watching this student. Following the hatchet, Mike employed a drawknife and spoke shave or at least said it was suitable to use at this point.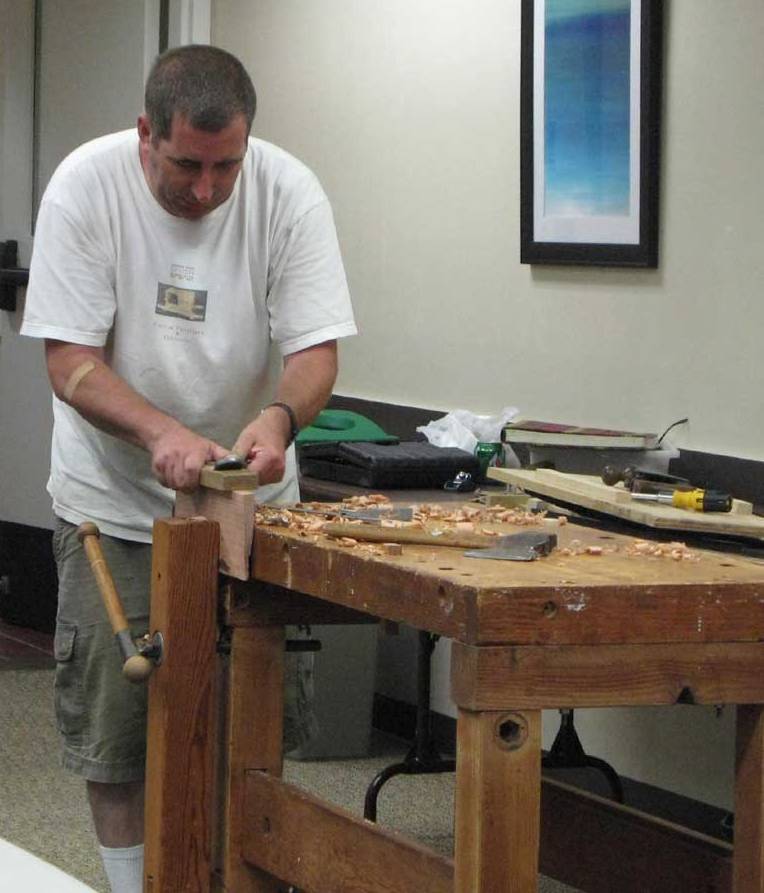 Mike then moved on to a scraper plane he used to cut at a diagonal to the grain. After removing a lot of material he switched to a smoothing plane and produced a fairly flat board getting close to the quality needed to produce a panel (which is the intended use of the board) for a small door. Also, the two pieces were book matched. He again lamented the loss of his froe. (Mike-Woodcraft $50)
A round of applause ended the demonstration. Thank you Mike!
---
Tom Gaston showed two carved items. A very elaborate sun shape in Mahogany. It took him 30 to 35 hours to carve. The other was a lizard.
The time had come for the drawing for the Cherry boards. The winner was:- John Blackmore, WHO ELSE wins all the raffles?
Finally, the door prizes. Of course, yours truly didn't win nothing. It was lucky that John Blackmore wasn't there or no one would have won anything. With that, members shuffled off to their vehicles promising to look in all the dark corners of their shops for the missing froe.

Mark Rand for Steve Rosenblum with major help from Jay Perrine
okmor@sbcglobal.net
---
---