---
President's Message
Fellow woodworkers,
Last week a few BAWA members drove up to China Camp State Park in Marin to look at the Felucca, a full size replica of the traditional wooden fishing boats that have been used in the eastern Mediterranean for centuries.
Our guide and person building the boat was John Muir, boat builder of San Francisco Maritime National Park. John previously made a presentation to BAWA in 2011 on the building of a Chinese shrimp fishing boat; the Grace Quan see link:
BAWA6NewsletterMay2011
John, and his very small team of helpers, have been working on the project, 1 day per week, for the last 7 years. The big moment will come this summer when it will be taken out of the shed and placed in the water for the very first time.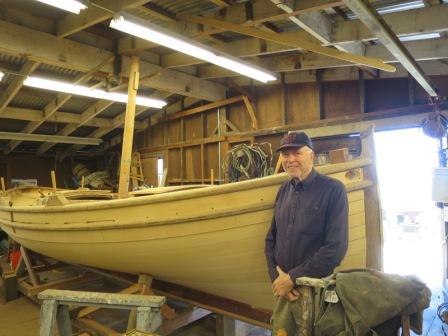 Per who arranged the visit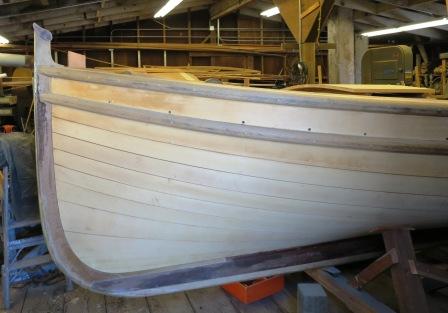 Alaskan white Ceder with Oak beams?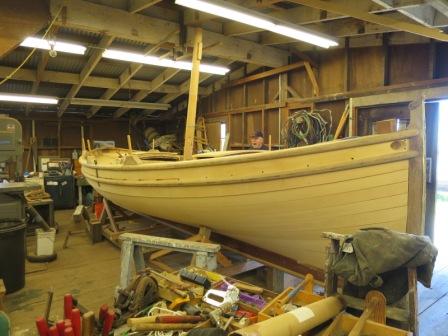 Short, temporary mast to work out fixturing - full mast has to wait until boat is outside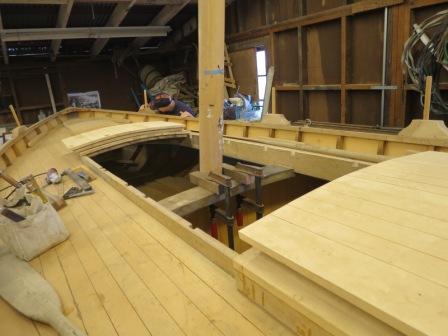 Showing the tops of the steam-bent ribs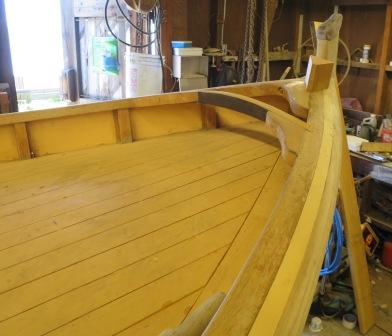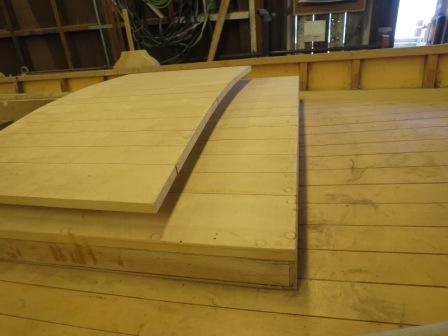 Deck covers
Door prizes
For many years our Raffle Master, Stan Booker, has been running the door prize giveaway we have at our meetings. This is a zero-funded activity, Stan has this marvelous ability to talk to wood-related supply shops in a way that keeps our stock of door prizes topped up. As Stan is retiring from this task, I am asking for your help; if you can find or donate any small woodworking-related items for our door prizes, it will be very helpful. We like new, unused items, not expensive. In the past prizes have included tape measures, clamps (you can never have t0o many), glue/adhesives, push sticks ...I have times when I buy a new "thing" then decide I do not need it so it lies around unused forever ...any prize donations will be greatly appreciated.
Enjoy your woodworking
Frank (Contact at: Frankramsay8@aol.com)
---
New Members and Guests:
Aaron, a furniture maker who is building Maloof rockers.
John, a hobbyist who is working on a tabletop.
Kevin a garage putterer who is taking up woodworking.
New member Bert Rosenzweig who is a retired mechanical engineer.
Janie O'Brien, solar pyrographer .
Announcements:
Frank Ramsay said that Stan Booker cannot attend Sunday evening meetings so we need to have someone take over his club duties-the lumber raffle and the door prize. The volunteer needs to have a truck, or a van, to be able to carry the lumber raffle pieces. The raffle lumber this time is a large walnut board 3/4in x 10.5in x 118in plus 2 pairs of bookmatched walnut panels.
Steve Rosenblum reported on the completion of the Matthew Turner Educational Tall Ship window frames at Mike Bray's shop. Steve, Mike Bray, and Bruce Powell attended the final gluing session. All 11 windows were completed and will be delivered by Mike Bray in the near future.
Per Madsen announced that we will be having a visit to the construction site of a wooden fishing boat being built at China Camp. The visit will take place on March 27th.
John Blackmore reported that membership is now 45 and he is offering a drawing for a bocote board to all paid up members at the next meeting.
Frank Ramsay noted that the April meeting will take place on the 23rd due to conflict with Easter. Our meetings for next few months:
April:The speaker will be wood turner Jon Sauer who will talk about chatter work, will include a live demonstrate some of his techniques.
May: Mike Bray will be the speaker comparing the abilities of track saws and guided circular saws. In addition there will be tech talks by Ken Napior on furniture styles.
June: Tom Gaston on workshop first aid (a presentation with very useful information we all need to know)
Harold Patterson announced that he has brought a Hercules plane for silent auction that needs re-work and a Craftsman scroll saw as well as some boiled linseed oil to give away.
Frank Taylor brought some carry cases and dust collection bags to give away.
---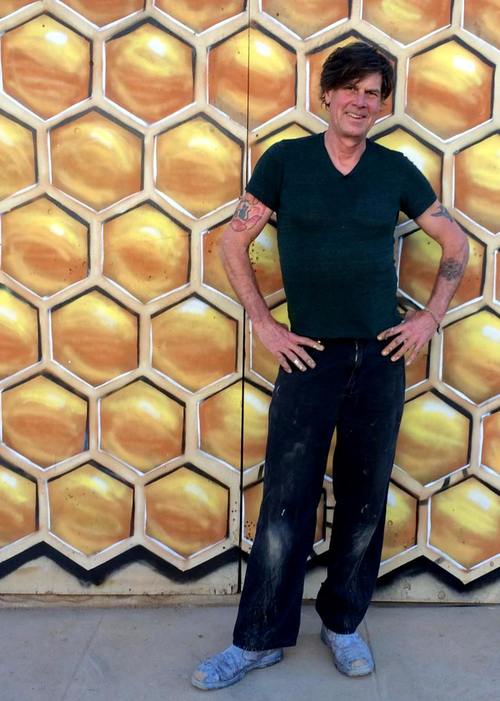 Frank then introduced our featured speaker, Steven Bauer, whose topic is finishing.
Steven has a degree in print making from the University of Louisville, is a watercolorist and furniture designer, and musician, as well as a professional finisher.
The first point of his talk was that the difference between the crafts of cabinet making and finishing is that cabinet making must be done right the first time, but finishes can be stripped and re-applied. If you use a professional finisher you need to establish mutual expectations up front. The work must be delivered to him in a glue free and sanded condition or there could be significant extra charges for cleanup. A finish he has liked recently is Gemini WB0210, which is water based and can be sanded in 30 minutes. A finish that he has used on bar tops is Rubio Monocoat, which is a zero VOC material intended for exterior decking. It is a wipe-on wipe-off oil that is waterproof. The clear version is best and the new version has extreme UV resistance.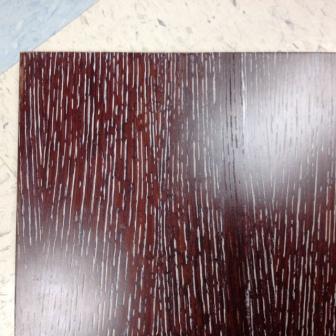 Ceruse finish example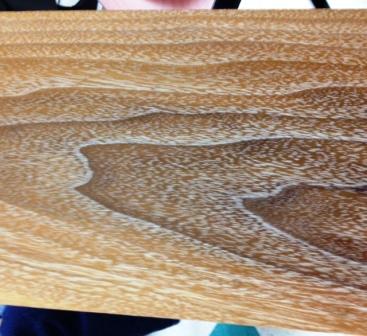 Ceruse finish example
He then talked about ceruse finishes, which originally involved rubbing white lead into the wood grain. Instead he uses paste wood filler after wire brushing the surface. The excess is scraped off using a razor blade.
To prep wood for clear coating it is best to sand to 180 grit. Use clear water to ensure that all glue is gone. If coloring is desired, one should use water based dye colors applied with a sponge. Then sand to 240 grit. At this point he prefers to use a Festool random orbital sander which he feels gives swirl free results.
Clear finishes include conversion varnish and lacquer. Lacquer can be based on nitrocellulose or acrylic and can be removed with a solvent. Conversion varnish has a catalyst added to it. Conversion varnish can be hit and not get dented, but lacquer will not survive this. Conversion varnish is heat resistant and flexible.
His finishing schedule is as follows. Glue size the edges using glue with 10% water added, sand and then spray on primer. Fix all nicks with Bondo and spray 2 more coats of primer. Sand again and clean up with tack cloth. Spray 2 coats of conversion varnish, sanding between coats. The varnish dries in 10 minutes.
For polishing he uses automotive products. He wet sands with 2000 grit and uses 3M buffing compounds.
For coloring agents you can use dye colors in solution or pigment particles in suspension. You should not use pigments on figured wood as it destroys the chatoyence. Do not use aniline dyes as they are not colorfast. He prefers to use water as dye solvent rather than alcohol as the alcohol dries too quickly. To bleach wood he uses Wood Kote 2 part bleach, which consists of hydrogen peroxide, followed by sodium hydroxide. He gets most of his information on materials and techniques using Google.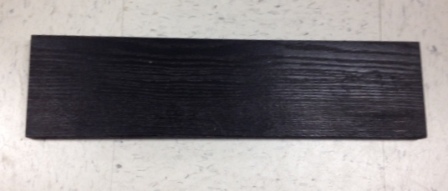 A "burning finish" - wood surface is charred with MAP gas burner then rubbed down and sealed
You can see more of Steven's work at: baumarfinishing.com/steve
---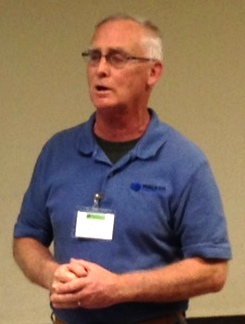 After a 10 minute break Ken Napior gave a tech talk on Arts and Crafts style furniture.
There are many English styles-William and Mary, Queen Anne, Georgian, japanned. Between 1890 and 1920 English artists and craftsmen got together and started a movement to promote moral and social health and get away from industrial furniture. August Stickley was one of the leaders who published plans in books and magazines. John Ruskin promulgated the 7 lamps of architecture. Among them were materials, construction techniques, joinery, design, decoration, and finishes.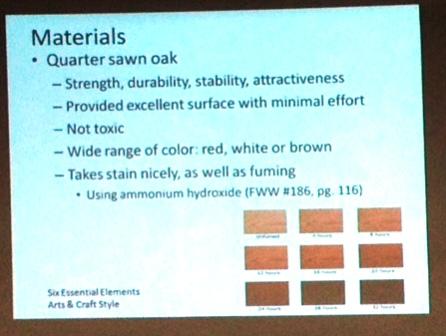 Quarter sawn oak characteristics
Quarter sawn white oak was the main material used because it is strong and durable with an excellent surface. They used frame and panel construction with solid wood, precise joinery, and unpretentious design with little use of turned legs or moldings. The joinery was mostly mortise and tenon and lap joints sometimes using pegs with the joinery often visible. The designs give the impression of squareness. Decorations on chairs included cane or leather seats. The finishes were varnish or oil and included fuming the oak with ammonia to make it darker. Fine Woodworking magazine #77 has a good article on varnishes. Good references are Arts and Crafts Furniture by Kevin Rodel and Jonathan Binzen and Arts and Crafts Furniture Anyone Can Make by David Thiel.
The movement intended to reduce the use of machinery in furniture manufacturing, although in the US machinery is often used to reduce drudgery. Some of the leaders of the movement were Ruskin who designed home interiors in the Arts and Crafts style, William Morris, and Gustav Stickley. Their mantra was to turn artists into craftsmen and craftsmen into artists.
---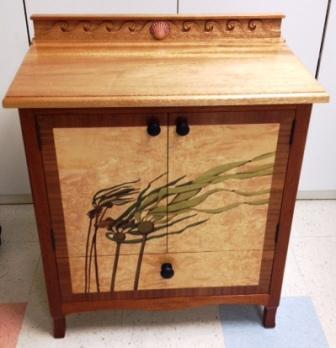 Tom Gaston showed a cabinet he made in a Paul Schurch class using packet style marquetry. He used commercial veneers on Baltic birch plywood. The piece has a carved top rail and uses mahogany, maple, poplar, and lacewood in its construction.
---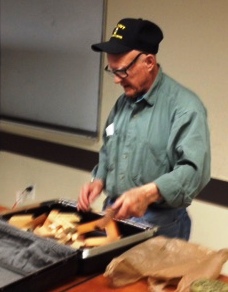 Arnie Champagne brought in a bunch of examples of picture frame moldings he has made to show the multitude of possible designs. He offered them as give aways to attendees.
---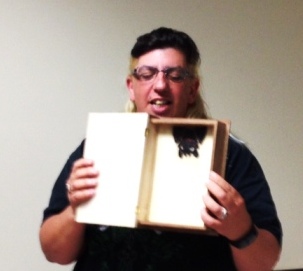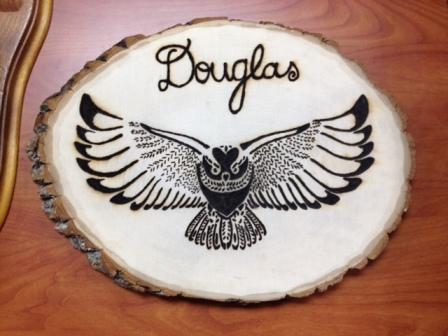 Janie O'Brien, a guest, showed some examples of Solar Pyrography she has done. It is laborious work involving the use of a lens to focus the sun on wood to burn the surface.
You can see more Solar Pyrography at: facebook.com/CharredFibersor just search on Youtube
---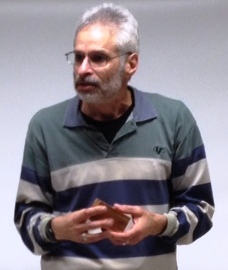 Bert Rosenzweig showed a cherry box, which was cut wet on the bandsaw to 3/8 " thick but had to be thinned to ¼" to get it flat. It was finished with oil based poly.
---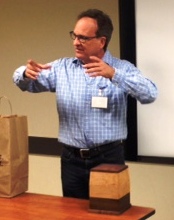 Bill Sprague showed a black walnut and maple box he had made as a memorial urn for a neighbor.
Paul Larson kindly volunteered to run the drawing for door prizes after which the meeting adjourned at 8:55pm.
Stephen RosenblumSecretary steve@rosenblums.us