Fellow Members
Continuing my dialog on the blending of Art, Craft and, sometimes, computers:
I visited the Museum of Craft and Design in San Francisco recently. (It is a "Pop Up" museum which I think means it appears in an otherwise empty shop for the duration of the exhibit then disappears until it pops up somewhere else with the next exhibition - in itself an interesting concept)
The exhibition was "Crafting Architecture: Concept, Sketch, Model" which was a display of architectural models used to show conceptions of proposed buildings. Most of the models were very detailed made of wood, paper, card etc. What was interesting is that they were mostly precision laser cut on a CNC machines. The thing I realized looking at the models, apart from the obvious ability to conceive the design, is that the skill sets needed to produce them were all computer based. There was the skill to use an appropriate CAD design program. In addition some of the models needed a great deal of computer based mathematics to calculate the complex angles involved before the designs could be output to a CNC machine. Architectural modeling is another area where CNC machines have replaced skilled woodworking requirements. Thinking ahead; if we woodworkers could embrace CNC machines it certainly widens the intricacy of design we could produce.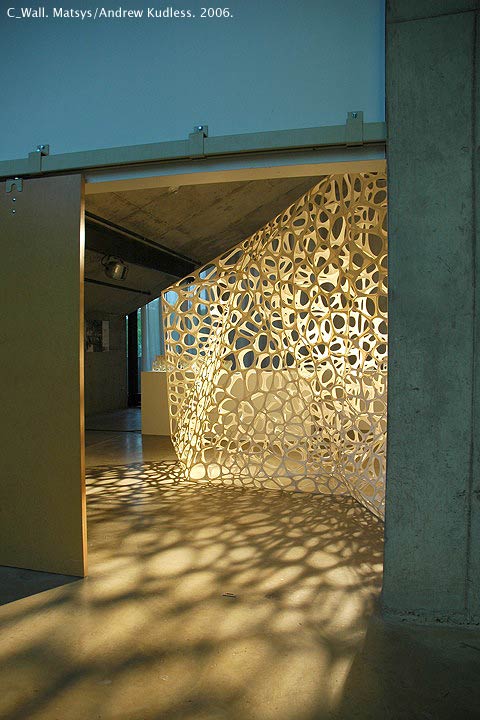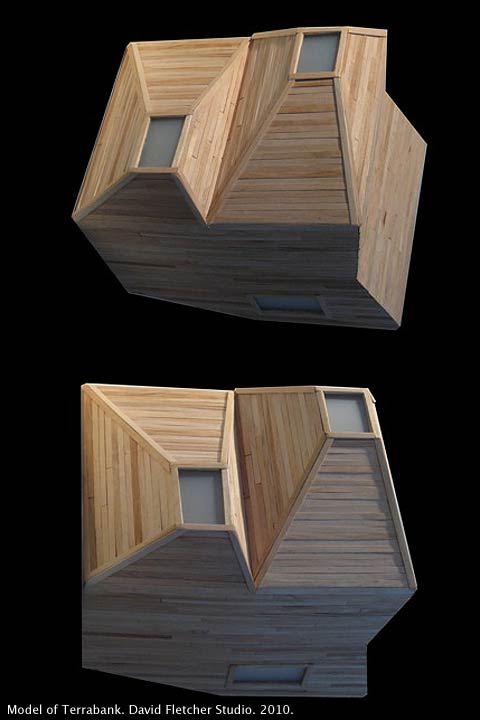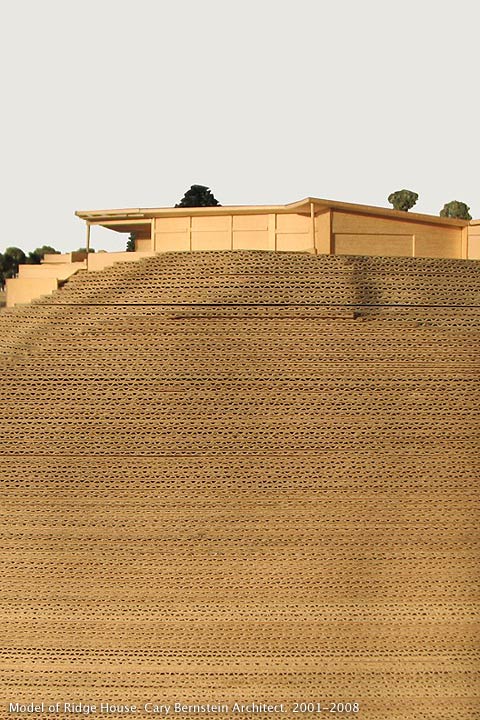 For more information see: sjica.org
Earlier this year I visited another exhibition of art/craft. It was an exhibition of work by Tony May in San Jose. The exhibition has now closed but one of the interesting exhibits was a sculpture called the T Tree House. It was a tree house made of recycled wood but you could actually climb into it a look around. The joinery was well made with solid joints engineered to take the weight of people climbing into it. A large piece of hand made solid woodwork that was also an art piece. You can still see the pictures on-line at: sjica.org/detail.html?eid=506
On the "art" side: I am currently making a small cherry and maple window table that I want to look "good" i.e: like a work of art. Buying the wood for the Cherry frame was easy; I just went to EarthSource in Oakland (the old PALS) The Maple was more of a problem. The side panels of the table are only 3in wide but had to look "good" ie: Birds Eye Maple. After checking all of my usual timber suppliers I had to go to Southern Lumber in San Jose and pay quite a lot of money for 2 small, narrow Birds Eye Maple planks. This week it was time to find some "good" Birds Eye Maple for the top. The top is 15in wide. I was not seeking the impossible, i.e: a 15in wide plank of Birds Eye Maple, just a couple of nice planks that would look "good" together. Eventually it was back to Southern Lumber. A very expensive visit. I chose the best they had but I had to compromise my vision of "good". The best I could find was OK but I would have liked a couple of planks that were a bit more perfect.
Making your own art pieces tends to be expensive. I could use veneers, but not ready for that approach yet. At one wood yard I went to I was shown a rack of very long thick rough sawn, dirty Maple planks. Would any of them have a section that was perfect enough for my needs? I was not able to judge this; plus in the long run it would have been more expensive as I probably would have had to buy about 10 or 15x more timber than I needed.
I have read James Krenov books where he seemed to acquire "good" wood as it became available then hung on to it for many years until it was needed. Not sure that approach would work for me. I would need a much bigger shop - plus it might still be expensive.

Frank R Ramsay
President
frankramsay8@aol.com
---
Guests and New Members:
Neal who was a guest last month has joined BAWA. Welcome Neal.
Announcements:
Jay Perrine - Rebuilding Together Peninsula will be held on April 30. Jay and Frank Taylor are each heading up a rebuilding project at two separate day care sites. Volunteers are needed. Members not available to work on April 30 can do some preparatory work on Saturday April 23.
Mark Rand - Igor is rattling his cage for those of you who have yet to pay your dues. Let's keep Igor happy. Mark is buying bananas to pacify the monster and needs some funds.
Stan Booker - Our trove of door prizes has been enlarged with a sizeable donation from Woodcraft San Carlos. Tonight Stan will give out four prizes. At a future meeting, Stan will update us on his project in Tanganyika.
Per Madsen - Twelve BAWA members visited the Spaulding Boat Works and thoroughly enjoyed the visit and BBQ. BAWA donated $150 to the Boat Works.
On Saturday April 9 at 9 am BAWA members will be visiting Barbara Butler's facility at 325 South Maple Ave. in South San Francisco. She gave the presentation in February showing her work to design and build play structures for children and un-grownup adults.
At the April 21 BAWA meeting, John Muir will talk about the Chinese Junk he built. Then, on Saturday, April 23, BAWA members will visit the SF Maritime National Historic Museum, tour the shop, and see John's Junk, that is, his boat.
Show and Tell:
Arnie Champagne is doing a fireplace mantle commission and has quoted the job before identifying his tool requirements. Some of the molding appeared to require expensive shaper bits ($350) verses inexpensive router bits ($50). Surprises like this are not welcome, but Arnie was fortunate. He figured out how to use two router bits in place of one shaper bit. Good lesson learned.
Silent Auction:
It must have been spring-cleaning last weekend because the tables were full of donated old tools and supplies for the silent auction. Needless to say the club gleaned a small horde of cash.
After the door prize drawings, we adjourned pausing only long enough to visit the refreshment counter for leftovers.

John Blackmore
---
Ted Fay
Furniture Restorer and Finisher
Ted has a shop in the Bay Point district where he does furniture refinishing and restoration. After graduating college with a degree in music he found that he needed a day job and wanted to stay in a music-related field. He chose piano refinishing and worked closely with a master refinisher in Oakland, learning the trade and eventually buying the business. He expanded the business, introduced the latest in painting technology, including elaborate spray booths and ventilation systems. In spite of taking all the requisite precautions, he found his health becoming compromised by the chemicals and vapors. Recognizing that his immune system was becoming compromised, he gave up the spray booth and returned to the time tested older finishing techniques and materials. His focus today is brush and wipe-on finishes.
When Ted goes off-site to do restoration work, he takes a full kit of materials and tools. With twenty years of experience he has learned that what can go wrong will go wrong. The variables include temperature, humidity, wood, client expectations, and refinishing materials.
He hates water-based materials, finding that they give the wood a bluish caste and degrade the appearance of the wood. He applies his finishes with a brush and buys good ones, frequently spending $60 for a single brush. His varnish brush is made of badger and horsehair. He buys his brushes and many of his finishing materials at West Marine. His favorite finishes are shellac, varnish, and oil. He does a lot of French polishing.
He uses Deft Clear Wood Finish, a nitrocellulose lacquer on many of his projects. He mixes in a retardant to control drying time and flow out or smoothing of the finish, also called flash off time. He recommended using butylcellulose or HET 4550 Universal Retarder. He finds these materials at auto body supply houses. Ted recommends spending the extra money for good materials and supplies. You will recover it later with superior results and less labor expended on the project.
A common problem experienced with lacquer is that the person applying the finish attempts to put on too thick a coat too often. The result is that the base layers don't dry completely resulting in a soft layer trapped under the hard top layer. Apply thin coats and let them dry completely before applying subsequent coats.
When asked to differentiate between shellac, lacquer, and varnish, Ted constructed the following matrix:
Lacquer
Cure evaporatively
Layers integrate
Varnish
Cure with polymerization, catalyzed
Layers dry separately and have mechanical or electrostatic bonding
He will sand wood receiving an oil finish to 400-500 grit. Woods receiving a varnish are sanded to 220-320 grit.
Another helpful hint is to flush wood with alcohol, allowing you to see any sanding or structural mistakes in the wood. Plywood that is made under intense pressure can have surface defects that are otherwise difficult to see.
For wood pore filling, Ted uses Wood Perfect Woodcoat in a natural shade. He thins it with naphtha, using a 2:1 or 1:1 ratio. He applies the filler across the grain with a brush and can tint it to color using Japan colors. He rubs the applied filler with burlap and then for a final rub uses a naphtha moistened piece of fresh burlap.
Wax can be removed with naphtha. He uses 4/0 Liberon steel wool and moistens it with the solvent.
One of his favorite oil finishes is Penofin Interior that is now difficult to find in California because of the VOX regulations. He can buy it in Nevada.
His favorite varnish is Epifanes, that he buys at West Marine. Applied with a brush it gives a sprayed on result. For mineral spirits, Ted uses Gansol 100% pure GMS.
Another hint of Ted's: coat wood with Smith's Penetrating Epoxy Sealer, then before it dries apply a varnish finish coat. The two layers will integrate.
On many finishes he will sand with mineral oil using 3M wet/or dry black sandpaper to a 600 grit finish. Then he uses 3M auto body finishes to polish the finish. Many of these products can be found at City Paint in San Francisco.
The questions just kept on coming, but time was getting short so Frank Ramsay suggested we come to a conclusion. Arnie Champagne asked Ted if he would be interested in holding a two-day weekend finishing seminar. This suggestion was met with much enthusiasm. Shall we ask Per Madsen to start a sign up list?
Great presentation Ted. Thank you.

John Blackmore
---
The Classifieds section of the newsletter has been moved to our Market Place page
>