Presidents Message
We practice art therefore we are artists.
At least that is the conclusion I came to after listening to a very interesting lecture given by Janet Koplos, a New York based art critic and frequent guest editor of American Craft magazine, at the California College of the Arts in Oakland a few days ago.
But is it really that simple?
In 2003 the California College of Arts and Crafts dropped the word "Crafts" from their name. Too old-fashioned? Their academic program today has about 21 craft majors including Painting/Drawing, Architecture, Fashion Design, Sculpture and Furniture. So we are artists?
Are we not craftsmen? (Or, as we are called in the modern age, craftspeople?)
A century or so ago we were craftsmen. The British Arts and Crafts movement started in the late nineteenth century as a backlash away from the industrialized, machine-produced, way of life. People wanted better, more unique hand-crafted furniture, etc. These were made by skilled craftsmen who had served a long apprenticeship to their trade.
The American Arts and Crafts movement started in the early twentieth century and produced many well-known names including William Stickley and Frank Lloyd Wright.
But over the last 30 or so years the word "craft" has been debased. It has become associated with things people make that are cute; Two cotton-reels-on-a-stick type of things. People lost the respect for "craftsmen" as they no longer knew any. Machines, new materials such as plastic and overseas manufacture meant traditional craftsmen were no longer needed and were not being trained through apprenticeships. "Craft" no longer implies skill.
The art of painting and drawing can be considered in a similar way. For example it takes great craft skill and learning for an artist to paint in the style of the great classical landscape artists. But not all art needs great craft skills. Both types of artist need the "eye"; the capability of visualizing the composition and color of their work to make them satisfying to the beholder.
So are all artists craftsmen and all craftsmen artists? No.
My view is that artists have the eye for what looks "satisfying". Good design, harmonious color. Work that invokes feelings. There are artists who may have the "eye" but their execution requires no great skill and can be copied by anyone with minimal training. Not all artists have great craft skills. Craftsmen have the skills that enable them to use their hands to execute the creation of something of beauty. There are woodworkers who can make precise, well constructed furniture but only from detailed drawings. They cannot produce the furniture that brings out the advantage of the unique characteristics of a given piece of wood. They do not have the "eye".
So how do we define the people who have both the artistic talent and the craftsman skills? - We call them masters.
But masters know that the "master level" is never reached. It is always above them. There is always more to learn and skills to improve.
Woodworking is in one of those master classes. You never get to the end of the learning road.
That's what makes it so interesting. Enjoy your woodworking this year and remember your work will always be even better next year-provided you keep on learning, which is where BAWA comes in.

Frank R Ramsay
President
frankramsay8@aol.com
---
President Frank Ramsay opened the meeting at 7 PM and announced the date and time of the next Board Meeting which will take place in the Spray Room(same building as the Bluebird Room) at the Foster City Rec Center on May 20th at 4:30 PM, just before the regular monthly meeting. All members are welcome to attend
Announcements
Dan Goodman talked about the new Rebuilding together project, taking place on April 24th , which will involve remodeling a mobile home. There is also a second project that will involve building some shelving for the Bayshore Child Care Center. Most of the work for this will take place in Per's shop and Jay asked for volunteers to help with this before the end of April. Frank talked about the replacement of the gates at the Janet Pomeroy Center in SF. The material cost for the red cedar is estimated at $1100, which donors to the Center will cover. We are still uncertain if the gate posts will need replacement as well. Harold announced that the Toy Workshops will start up again soon as the concern over imposition of lead testing requirements has been resolved. Per announced that the July presentation is still open and he is soliciting advice from the membership as to what would be desirable. John Seybold announced that he is trying to put together a group wood order. See the This and That section for details
Ed Marinaro talked about the possibility for BAWA to participate in a woodworking show. Ed was mainly interested in determining what the membership expected to get out of this participation, i.e. whether they wanted a chance to show off and sell their work or to get constructive criticism of it. Should the show be private or public? Should the exhibits be juried? Some possible venues were bandied about including the Palo Alto Art Center, Fort Mason, Los Altos Community Center and the Palo Alto High School Wood Shop. It was also suggested that we seek a co-sponsor to help amortize the cost and administrative labor required. Some suggestions were the cities of Danville and Santa Rosa, and the Rotary Club in Saratoga or Los Altos. Ann suggested that we could get a free booth at the San Jose Home and Garden Show if we were to do woodworking demonstrations. Ed Marinaro, Mark Rand, and Paul Hummel agreed to further pursue this idea.
Show and Tell
Bob Nisbett described the Dowelmax jig for drilling matching sets of dowel holes for joining pieces of wood. The jig costs about $300 and promises greater strength than even a mortise and tenon joint. He also showed pictures of a blanket chest which he made using this jig. He pointed out that he prefers to make the lid first and fit the chest to it rather than vice versa.
Yeung Chan showed off a Taiwanese #4 plane that he had just purchased for $119 at Japan Woodworker. It comes in a custom wooden box and he believes is comparable in quality to the Lee Nielsen plane. John Seybold showed a wooden box to contain his son's wooden soldiers that he had made using the dovetail jig set he had designed and made for use with his table saw. He had brought this jig for show and tell at a previous meeting.
Guests
We welcomed Anne Glynne, a former BAWA President, who has rejoined us after many years and John Clark. Chris Amy and Bill (?) attended as guests.

As the meeting was ending, Stan Booker, our rafflemeister, announced that enough tickets were sold for the large jatoba board. He drew the winning ticket, which was held by Bob Hulgan who had to have a police escort to his car with the prize. There were the usual door prizes and then the huge onslaught of Silent Auction items began. Money was thrust at our Treasurer from all directions. He reports that when he got home, he found money stuck in his ear, his shoe and on his glasses. Many thanks go to Per Madsen's six items mostly palm sanders, Frank Taylor with 2 items, Dan Goodman with a flex hose and John Seybold with a very nice drill press. BAWA made out with $141.
---
Mike Cooper
Mike Cooper than gave the main presentation for the meeting on tips and tricks for making better use of your router. The first was a trick to use when routing a stopped slot in your work. He suggests using a set of 1/8 inch thick spacers under your work which are sequentially removed as the depth of the slot is increased. In this way the router bit can be set at the correct final height in the beginning and not moved during the process. This avoids the possibility of getting stepped walls on the slot which can be caused be moving the bit depth during cutting. Mike uses a straight bit for doing this. Yeung commented that he prefers a spiral bit, which pulls the chips out. Mike then described a jig from Jasper, www.jaspertools.com which allows the mounted router to cut circles from 2 1/4 inch up to 18 3/16 inches in diameter in 1/8 inch increments. The jig requires that a 1/8 inch pivot pin hole be drilled in the work. For doing edge work with the router Mike recommends an offset handle jig to help support the weight of the router dangling off the edge. You can order the jig he uses, pre-drilled for your router, from www.patwarner.com. The fourth subject was a clever jig from US Products which allows you to cut specially sized dadoes in plywood. The jig is set up by clamping the spacer bars onto the plywood piece that you want to fit into the slot. You then install the chosen straight bit(1/4, 3/8, or 1/2 inch) and set the fence to the chosen bit size. There is an optional right angle guide for holding the jig, which is also available for purchase from US Products.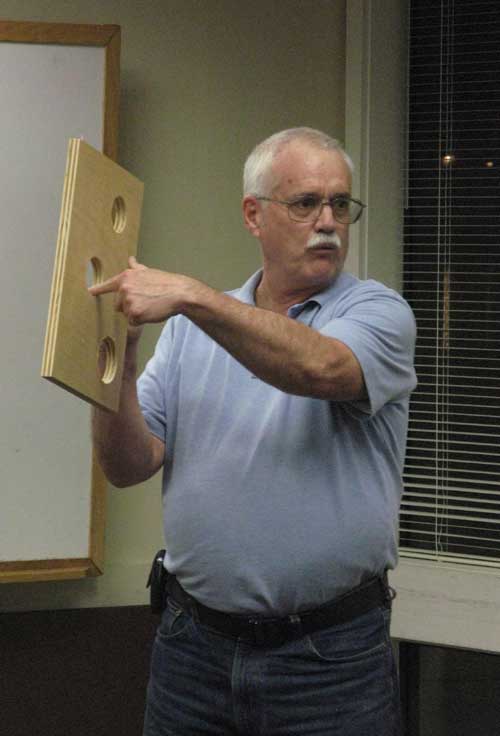 Steve Rosenblum with help from Mark Rand
---
2x4 Contest
Jamie Buxton is organizing a contest for the enjoyment of the membership. The only rule is: make something from a 2x4. Possible ideas include a box(which could also be used for the Box Contest), shop furniture or jigs and fixtures, cutting boards, puzzles, toys, models, decorative items, etc.

Entries will be judged at the June 17th meeting and awards distributed. We eagerly await the products of our members' fertile imaginations.
---
GOT SOMETHING TO SELL?
....TO TRADE?
....NEED SOMETHING?
Members ONLY-Do you have something to sell or trade? Let me know by the last weekend of the month and I'll put it into the next newsletter. Let me know if your item sells so I can delete the ad.

Steve Rosenblum
650-322-9560
212 Santa Rita Ave
Palo Alto 94301
steve@rosenblums.us
Note to prospective buyers: Please take note the date of the ad. Do not call the seller if you're reading an ad that is months out of date. Instead, look for more recent newsletters to see if the item is still offered
Shop Space Available in a furniture/cabinet-making co-op. There are table saws, planers, joiners, an edge bander and a spray booth with 24-hour access to all. Each tenant has his own space. The rent is $790 a month. We are located on Egbert Street off of old Bayshore. Please contact John Clark at 415-467-0638