---
Guests:
Xiuxiu Li, came for the carving presentation.
Hank Harper. Gyo (from Urban Moose Timber and Design). Announcements: The week before the meeting we visited Urban Moose Timber and Design in Newark. We got to see their uncut logs, cut logs, dried live-edge slabs, the drying kiln, and the machinery used to cut and surface the slabs. We also got to see the black walnut table top they were working on; it had large cracks and voids filled with black epoxy. Sections from a Large Monkey tree, Araucaria Araucana or Chilean pine, oozing with sap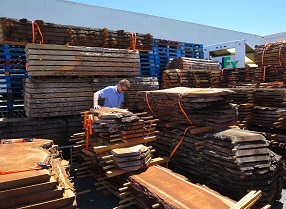 John Blackmore checking a stack of slabs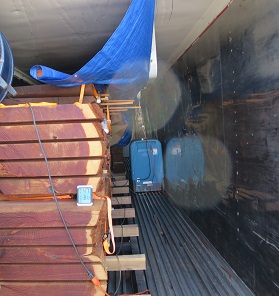 Inside the insulated container that serves as a drying room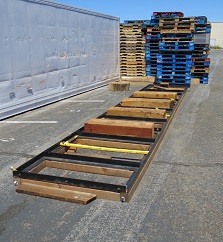 The tracks for the sawing machine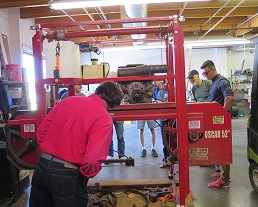 The sawing machine stowed in the warehouse when not in use
Toy Workshop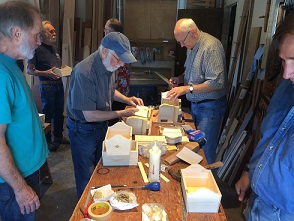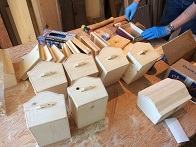 Harry talked about last year's Toy Workshops where we made Mack trucks. This year we made treasure boxes; Frank Taylor and Harry Filer pre-cut the component parts for 40 boxes and we have 37 in various stages of completion. During one of the future Toy Workshops we will be finishing them up and staining them. The goal is to have 50 completed by Christmas. We will be donating 25 to each of two different charities.
Upcoming Meetings:
August 18th: Tom Vogel will talk about Kumiko Zaiku.
September 15th: Dennis Sullivan will talk about how wood is used in architecture, with a focus on how/where wood is being used.
---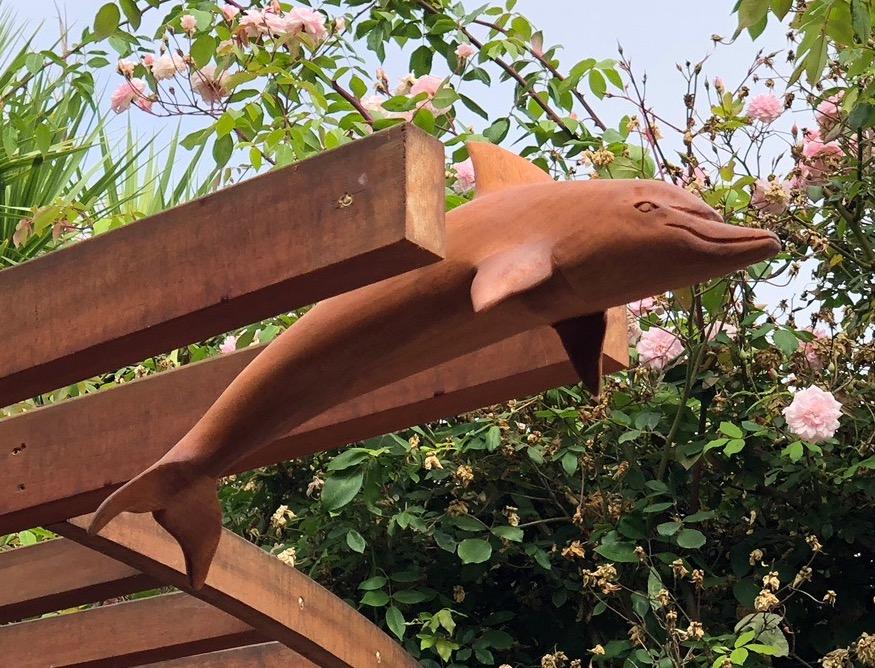 Tom brought in a nice selection of carving tools and examples of pieces he had carved.
One of the pieces was a porpoise that was placed outdoors above his hot tub so it would move in the wind.
He stressed the importance of having a good method of holding the wood stationary while carving and also being able to turn the piece around to access all sides of the piece. He told us that there are short tools for one-handed carving and longer tools for two-handed carving. There are straight-edge tool and curved-edge tools. The curved-edge tools come in different radii, depending on how small or large you want the cut to be. He talked about sharpening and how you don't want to put a hollow grind on the carving tools. You cut the primary bevel at about 20 degrees and put a small secondary bevel on the opposite side of the tool. He often uses 500-600 grit sand paper wrapped around a dowel to cut the secondary bevel on the tool. Accordng to Tom the best choice for wood that is easy to carve is basswood, also called limewood. Tupelo (cottonwood), and fruit woods like walnut, pecan, almond are also good for carving. Mahogany and jelutong are good choices, too. He said soft woods like pine tend to bruise and are not a good choice. He said that you can carve wet wood if you are doing small projects like spoons, but usually, dried wood is best if you want to avoid splits and cracks. Cutting across the grain is best, but cutting with the grain down into the grain works, too just avoid cutting up into the grain or you risk chipping the wood. Tom presented a slide show of the work of Jim Smock, who lives in Santa Barbara. Jim carves full-size figures, including famous people and Design characters. His work is superb. Bruce Powell mentioned that the De Young Museum has a carved fireplace on display that has animals carved into it and the work is outstanding.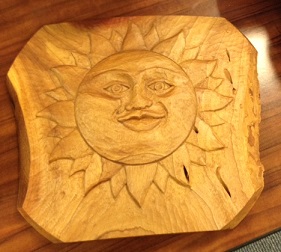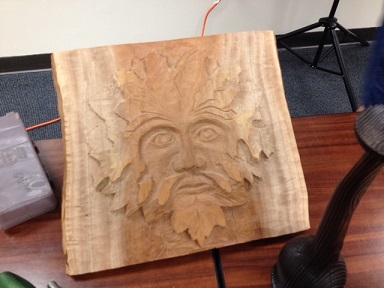 ---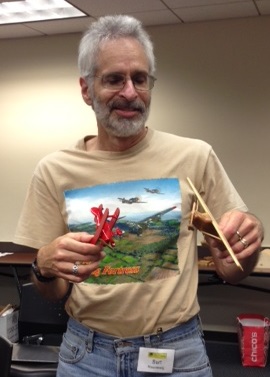 Burt Rosensweig showed his small models of the Pitts biplane and Cessna 172 and mentioned that they were made the way Tom had discussed in his presentation: roughed out on the bandsaw and then carved close to the final shape.
Hank brought in a wood puzzle he made. (sorry no picture)
Bruce Powell and Yeung Chan explained exactly what quarter sawn wood is.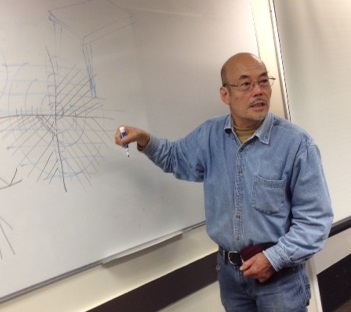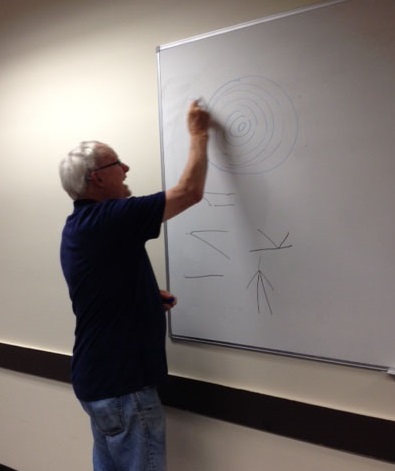 Minutes by Burt Rosensweig
---